All good things must come to an end. As the seasons change and the year continues, so to must the Ohio Renaissance Festival close its gates. But before it does, we like to end the year in a big way. The crowds were good through Saturday, even with drizzles and chilly weather. I think people were excited to spend a little more time out and about before the real cold starts to settle in. The sun broke through the clouds on Sunday, providing us with a magnificent day to finish off in a glorious blaze of orange and yellow cascading through the trees. This year the final day fell on Halloween, giving us every reason to dress up and come play one last time before the final Parting Glass.
---
Just about everywhere you turned there were costumes to be seen. I think I saw more people dressed up than I did in plain clothes. Many got their first garb this year, and you could tell how proud they were to show off their outfits. From kids to adults, we saw loads of Halloween costumes, some with entire families dressed to match. I think my favorites come from the people who handcrafted them, even if it was just the creative use of cardboard and tape.
While there was no officially sanctioned Trick or Treating around the village this year, many of the vendors and guests (IWG: Local 73/and ORFans) took it upon themselves to dispense candy to our myriad of little treaters! While I hope to see more of the contests make a return in 2022, I hope this makes its way into the traditions of Willy-Nilly. If all of our Rennies decided to start handing out goodies, kids are going to show up with a pillowcase.
---
If you're a long-time attendee of the faire you may notice that now is when the cast and performers bring out their best, throwing every last bit of their energy into their acts. They are determined to create one more lasting memory with our guests, one more connection that stays for years to come. The level of interaction this season was at a high, and I have never seen so many folks willing to jump in and play the games we play. I spoke to several people who expressed interest in joining up next year, and I sincerely hope to see them at auditions come 2022.
---

Pub Sing at the Aleing Knight always hits hard on the final day. Tears flow freely and the hugs last a bit longer as the Mingulay Boat Song careens out over the crowds. We laugh harder at the jokes because we want to keep having fun, and we fill up our mugs just one more time because the cider on tap just tastes better here.
---
This year, we were in for a special surprise. The Headless Horseman himself rode through the pub on a massive black horse. After tossing his head at the stage, he galloped off to do a loop around the village, giving everyone a perfect way to end a Halloween at ORF!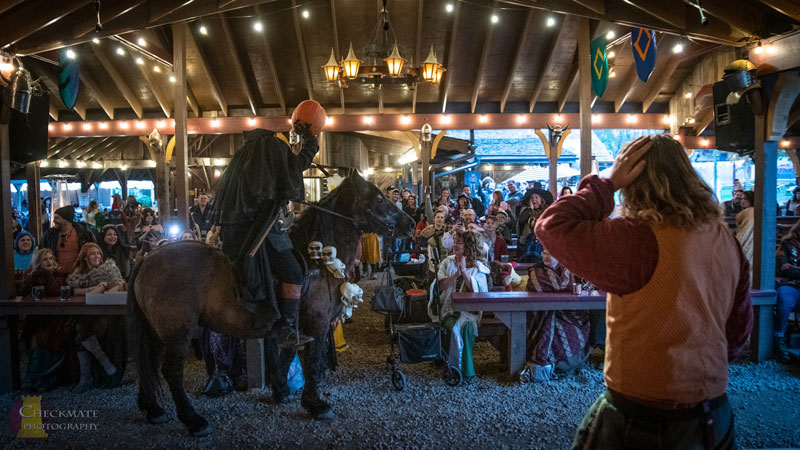 ---
The faire may be closed for the season, but the year isn't over yet! Yuletide Village opens on November 26th with more food, fun, and festivities to delight on a winter's night! Get your warmest cloak and join us to make the season bright from November 26th – December 18th.