Festival Foods
(V) = Vegetarian | (G) = Gluten Free
1572 Roadhouse Bar-B-Q
(G) Pulled Pork Sandwich or Platter, (G) Smoked Turkey Breast Sandwich or Platter, Texas Hot Link Sausage Sandwich, Baked Beans, (V) Mac 'n' Cheese, (V) Peach Cobbler, (V) Blackberry Cobbler
1572 ROADHOUSE BAR-B-Q GAZEBO
Pulled Pork Sandwiches
Aleing Knight Pub
(G) King's Weinie, Guinness 1/2 Pound Hot Dog, Fingers 'n Tots, Smothered Tots, Scotch Egg, Spicy Cheese Curds, (V) Wedge Fries, (V) Tots, Spicy Corn Nuggets, Pressed Chicken Sandwich, Fried Mushrooms, Strawberry Cheesecake, Cheesecake on a Stick
ALEING KNIGHT PUB GAZEBO
Griled Chicken Sandwiches
Archibald Drake's
Located in Poet's Crossing
Fish & Chips
Baker Benji's Bake Shoppe
Homemade cookies and cakes
Bourbon Chicken
Fresh grilled chicken covered in bourbon sauce and served on a bed of rice with gassy beans, Fresh fruit cups
Bread Bowl
Mac 'n Cheese, Beef Stew, Potato Soup, Chili, Chopped Salad, Cornbread
Davinci's Pizza
Cheese or Pepperoni Pizza by the Slice or by the Pie, Celtic Potato Pizza (Gluten Free crust available)
Earl of Corn
Located in Poet's Crossing
Fresh Roasted Corn on the Cob
Fairy Fries
Ribbon cut potatoes, plain or loaded
Garden of Eatin
Gourmet 8 oz burgers, Fresh cut potato fries served plain or loaded
Jack Frost's Ice Shack
(GV) Home of the Oh My! Dole Whip, Shaved Ice, Chocolate Dipped Frozen Strawberries, Bananas, Marshmallows
Jerky Stand
Seasoned Beef Jerky
Jerusalem Cafe
Authentic Middle Eastern cuisine including (G) Jerusalem Mix, Wraps, (G) Chicken Shawarma, (G,V) Falafel, (G,V) Hummus, (G,V) Stuffed Grape Leaves, Turkish Coffee, Baklava, (G) Kabobs
King's Nuts
Located in Poet's Crossing
(V) Almonds, (V) Cashews, (V) Pecans, Caramel Apples (with nuts and candy)
Marco Polo's Bistro
Located in Wanderer's Way
(G,V) Fresh chicken, beef, shrimp, kalua pork tacos served in a variety of sauces, Chocolate dipped cheesecake, strawberries, bananas, and marshmallows, Fresh fruit cups
Medieval Indulgences
Located in Troll Crossing
Fruit Pies and Sweet Treats
New World Knoll
Turkey Legs, Loaded Potatos
New World Knoll Gazebo
Pulled beef sandwiches
Peasant's Orchard
Located in Poet's Crossing
Smoothies
Pickle Cart & Stand
Seasoned Dill Pickles
Queen's Kitchen
Woodfired Pizza
Ragin' Cajun Kitchen
Located in Minstrel's Grove
Southern Cuisine
REVELER'S GAZEBO
Located in Poet's Crossing
Corn Dogs & Hot Dogs
Rose & Crown Gazebo
Located in Wanderer's Way
Brats & Italian Sausage
Rose and Crown
Located in Wanderer's Way
(G) Turkey Leg, Chicken Fingers 'n' Fries, (G) Poked Pig, (G) Pork Chop Sandwich, Loaded Fries, Bratwurst Sandwich, Ruben Tots, (G) Apple Dumpling, Belgian Waffle Sundae, Brownie Sundae
The korn Krib
Hot & Fresh, Sweet and Savory Popped Corn, Dole whips
Third Circle Inn – Ramen
Ramen offered in three spice levels – mild, medium and hot
AN AFTERNOON FILLED WITH OF FOOD, DRINK, SONG, AND A SHOW!
Enjoy a 5-course meal including starters, multiple course entrée, a dessert PLUS alcoholic and non-alcoholic drinks and
a keepsake ceramic pint glass.
One seating per festival day, 3:00 – 5:00 pm
Please arrive by 2:45 pm
---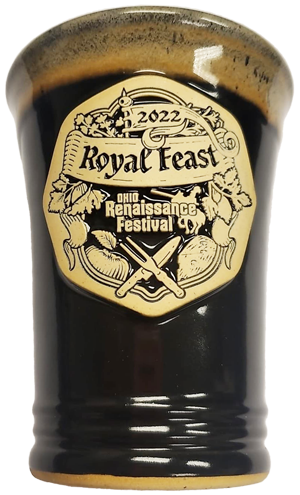 Exclusive Royal Feast Mug
Get this exclusive 16 Oz ceramic pint glass ONLY at the Royal Feast!
---
2022 Show: A Hero's Journey
Hear the call to adventure, and join our hero(s) through trials, conflict, and their eventual return home. But
they won't make it through without your help!
2022 Menu
Starters
Fruit & Cheese Platter
Onion & Mushroom Bisque
Sides
Honey Roasted Carrots
Herb Roasted Potatoes
Main Courses
Beef, Poultry, and Pork
Desserts
Chef's Selection
BEVERAGES
Bud Light
Michelob Ultra
Guinness
Harp
Smithwicks
Woodchuck Hard Cider
Red or White Wine
Pepsi Products
Water
TICKETS: $75
Tickets may be purchased at the 3 Fools Pub or the Special Event Booth.
Online ticket sales end on Fridays at 4pm proceeding the weekend.
Vegetarian options upon reservation.
Price does not include Festival admission. Each seat requires a ticket for ages 5+ due to
limited seating. Though this is a family-friendly show, please be aware that the Royal Feast may contain some suggestive humor.