Flood Waters & Faire Folk
I consider myself an unusually lucky person.
I get to do what I love for a living, spending my weekends at Renaissance Parks, going to concerts and festivals, writing articles, and spending time with some of the most amazing and heartfelt people I have ever met. That is a rare thing in this world and I always strive to show how much I appreciate being a part of the Rennie group in my own small way. This also means that I get to walk behind the curtain and see just how much work goes into making an event happen. It is an often underappreciated aspect of faire, yet every year it is undertaken as a labor of love by those who care deeply about this lifestyle.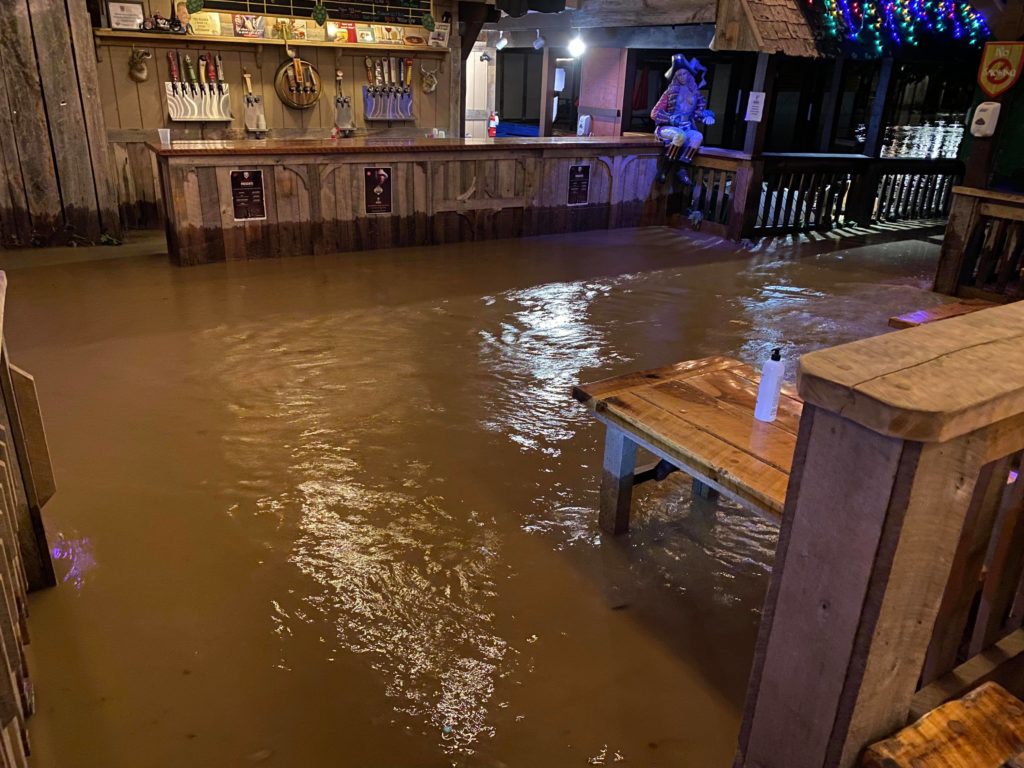 Most of us know by now that last weekend's storms brought a deluge of rainwater into the festival grounds. The good news is that once the rain stops the water recedes relatively quickly and with a little patience and hard work things can be put right. But before any of that can happen everyone still has to get through to that point. This means that while most of us were snug and safe in our comfy beds on Friday night, the boothies for Celtic Fest Ohio were fighting the storm to get their product above the waterline.
This is one of those instances in which we are reminded how much the Rennie community looks out for one another. Boothies were helping to put tarps up over open-faced pavilions and get exposed creations into storage boxes for their fellows who could not get back to the grounds during the storm. They tracked down items that had gotten washed down the lane, helped one another cleanup, and pushed to reorganize and set up while guests were arriving at the front gate. Much of the staff arrived at the break of dawn if not before to start assessing potential troubles and didn't leave until well after the last guest had driven off.
All because we wanted this. Maybe even needed it. There's no denying just how bad we've all looked forward to the return of events this year, and CFO feels like the big kick-off of the season. And I think those of us who tightened our boots to come out truly appreciated all that effort.
---
Celtic Fest Ohio 2021
Despite a rough start in the early hours of the festival, CFO '21 was determined to see it through in style. If you were willing to brave a bit of mud and humidity it was well worth the effort to go out and take in the music and atmosphere of the day. There was plenty to see and do all over the place, and I have to admit I got my weekly workout just trying to keep up! Once the gates were open people rushed in, ready for their dose of Celtic culture, Guinness, and kilt-wearing bagpipers. Most found their way to the Main Stage (Shipwreck Stage) across from the 3 Fools Pub and got to rock out with the Piper Jones Band. I really took a liking to these guys! I've never met a piper who isn't enthusiastic about the history behind the music, and EJ Jones is an excellent example. I appreciated him taking the time to give the crowd a few anecdotes and introduce us to how the tradition of Celtic music has survived for centuries.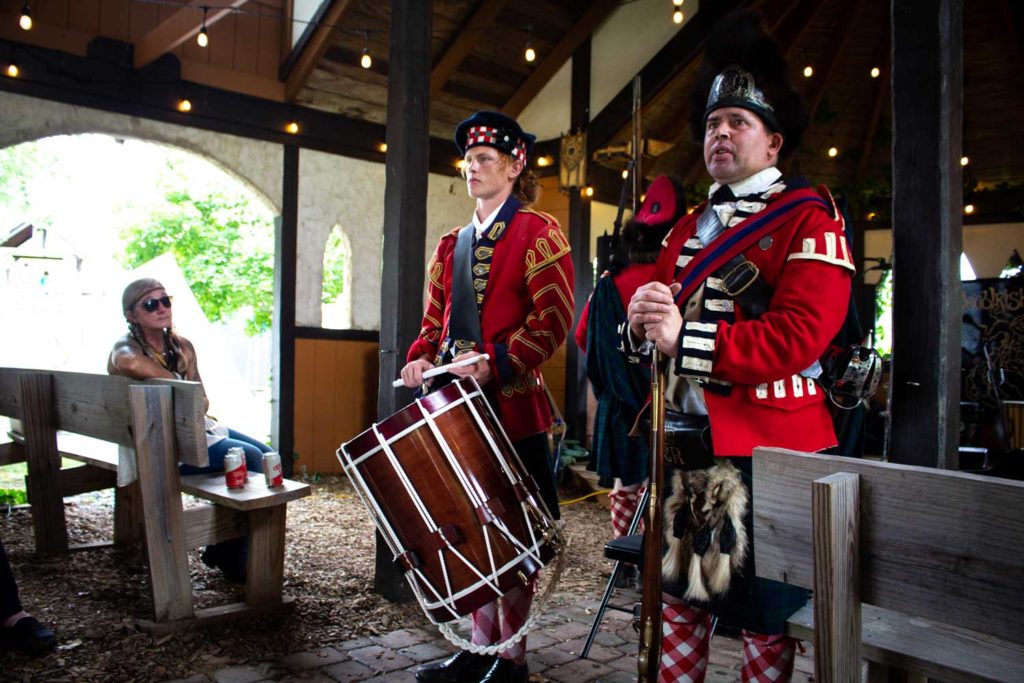 I rushed over to the chapel to have a chat with the 42nd Royal Highlanders who showed up to march the lanes and give a quick lesson in the military fashion of the times (roughly 1700s–1800s). There was a lot to learn, like how the wool for their coats was dyed red, not because it looked 'fancy', but because the red dye was cheap and plentiful. Everything on the military uniform had a purpose, from the color to the shape of the trim and the distinction it gave to each member. They gave a fellow quite an experience while teaching how to pleat a great kilt and the many ways in which it could be utilized for warmth and protection from the elements.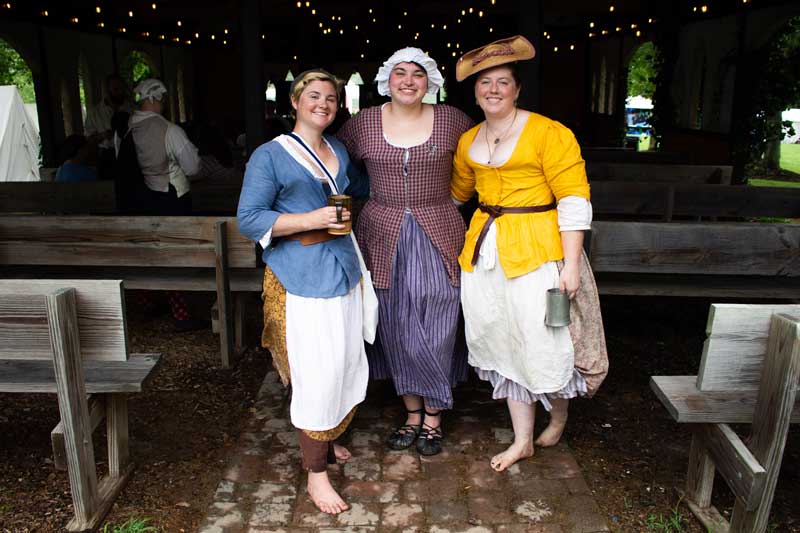 There was a lovely trio of ladies dressed in Scottish fashion of the times and I got a chance to have a casual chat with them about reenactments and garb. While military styles served a functional purpose in identifying rank in the field of battle, women's clothing often had a more domestically practical purpose. Layering created protection from the weather but also allowed for storage in the folds. Natural colors like burnt orange and earthy yellow were very popular because most clothing was dyed by hand unless you had the means otherwise. I hope they all return next year and if they do, I would love to see an opportunity for the ladies to discuss their clothing and applications.
By this time full power was back on throughout the festival and food lines were quickly wrapped around the aisles! I want to give a massive shout-out to the vendors and kitchen staff for getting food into their hands so quickly. I know that could not have been an easy feat and people looked very satisfied to chow down. Full bellies and full mugs put everybody in a grand mood, and by around 2-ish things start to feel like a regular day at the festival. The booths were packed with folks who had been waiting for the opportunity to show their support to the artisans of faire, which I'm sure made the day much better for those who quite literally weathered the night.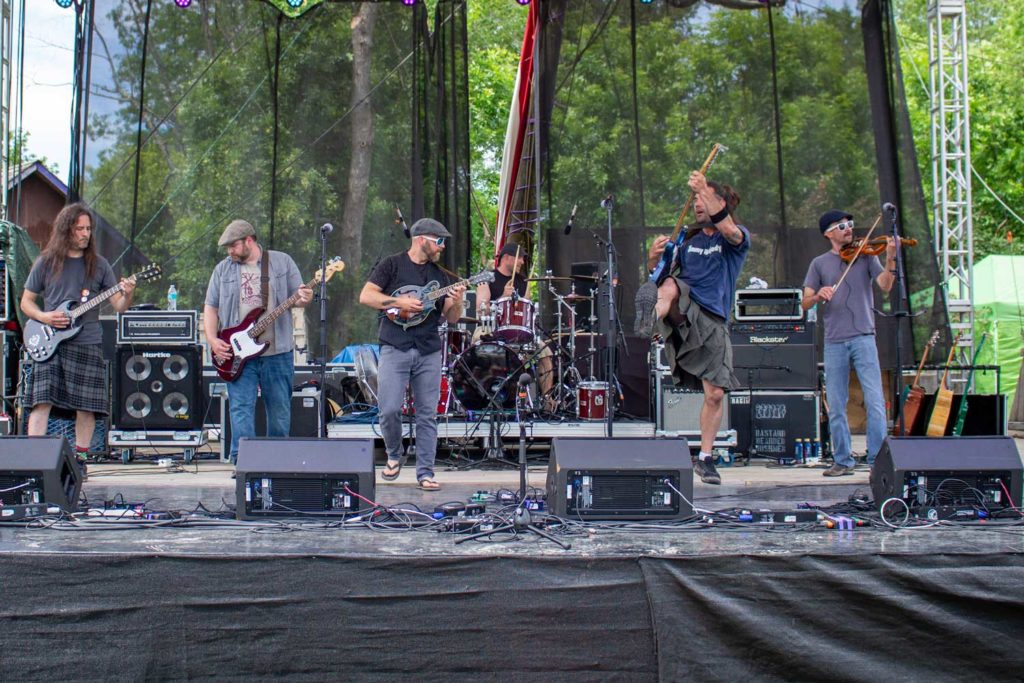 Next up on the agenda, I hit the Bastard Bearded Irishmen for their set. This group made for an interesting mix of traditional Celtic songs with a modern twist that reminded me of mid-90's alt-rock like The Offsprings and Foo Fighters. I was all in for the guitar riffs and rowdy fun that took over the stage! They were putting out some phenomenal energy that day, which made it so easy to slip into the moment and start dancing. Even with the sun out and the humidity rising people were in a positive mindset and it showed.
I swung down to the Dance Stage at the front of the festival to catch the formations of the many Celtic & Irish Dance academies that grace our stage each year. Step-dancing has been developed off of traditional Irish dances from the late 17th and early 18th century, though its roots likely go back much further. Competitive dancing started to take on around the 1890s, with codification finding its footing in the 1920s. But it was in 1995 when Riverdance took hold and people became fascinated with the style to the point of soaring popularity, bringing hybrid styles and modernizing the trend. The complex dances along with group displays of prowess are always enchanting to behold and draw a really good crowd.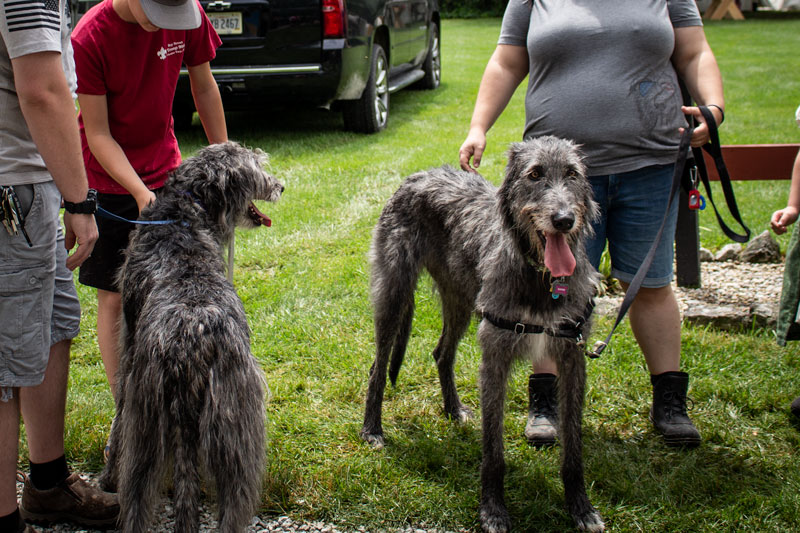 Now obviously I could not miss out on the furry friends of the CFO! Cu & Craic returned with a bevy of shaggy Irish Wolfhounds who were more than happy to spend the day lounging around on the hill and getting plenty of attention. These sweet-tempered canines might look intimidating due to their sheer size, but really all they want in life is to lounge around and be adored. Across the hill on the Chess Field, the guests were treated to a Border Collie demonstration, allowing for these highly intelligent and well-trained dogs to show off their herding skills to the crowd. Nobody is ever ready for that moment when they swerve through legs and past benches to come around and help guide the sheep in the right direction. The display always draws a big cheer from the crowd, and it's a delight to watch.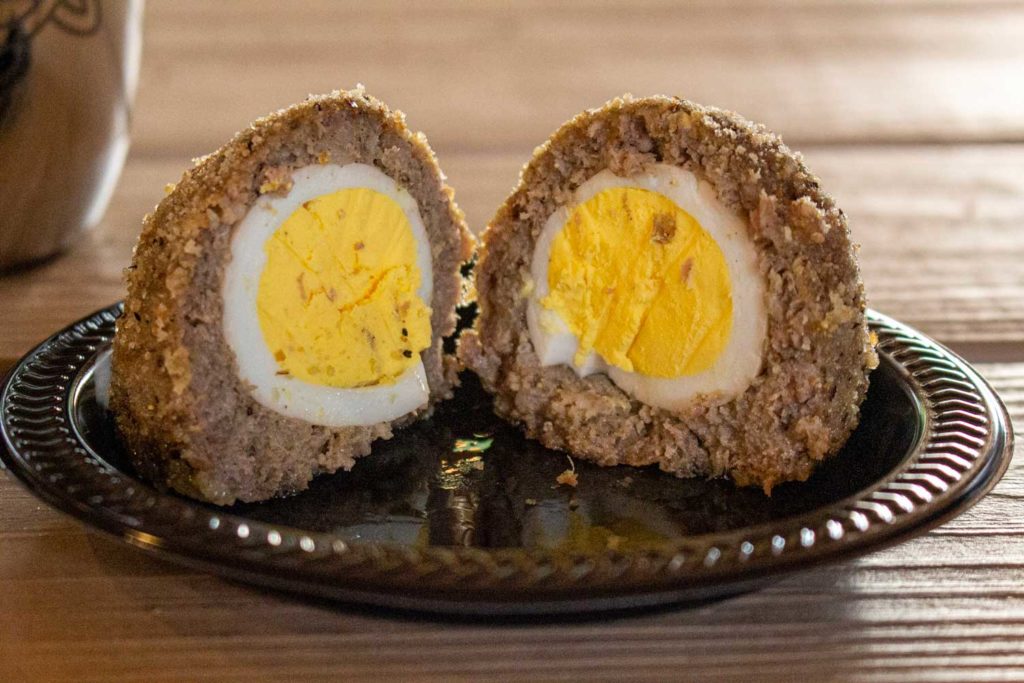 Last but not least I managed to run across the grounds and get to the Feast Hall just in time for a Taste of the Isles! I did a good job of staying hydrated all day but by this point, my stomach was starting to growl! Taste of the Isle included a lovely commemorative mug with the CFO logo etched on the front, two drinks (alcoholic or non), five courses to delight, a wonderful dessert, and a chance to learn a jig or two between courses! While I can safely say I've had about all the pork I can handle for a week or so, the food was so delicious! I was especially fond of the sausage roll, the peppery meat pairing well with the buttery, flaky crust, and generously dipped in baked beans really hit the spot. The steak and ale pie was phenomenal and cooked to perfection! The steak was so tender it practically fell apart and the juice inside was so rich I wanted to savor it. The Irish Slammer cupcakes made for a perfect finishing touch, and the rich dark chocolate made me such a happy person that I ended up taking one home to my wife who unfortunately had to skip the day. Between courses we were again treated to the Piper Jones Band, who was kind enough to teach the crowd a fun and easy to learn folk dance with a few willing volunteers!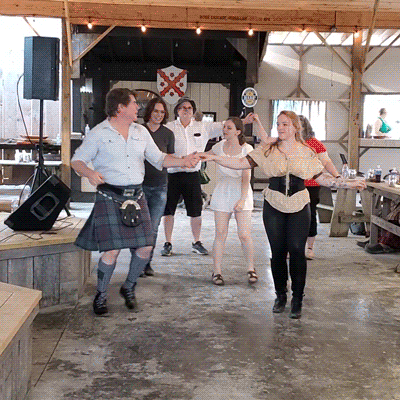 Nothing beats ending the day full and exhausted! Even as the sun was going down the part was still alive and kicking for the final performance of Off-Kilter at the Main Stage. Despite a rough start, CFO ended on a high note with crowds thrilled to have been a part of everything. Most of us went home with mud up to our knee caps and I can safely say that many parents gave up on trying to keep their kids clean and just sacrificed the days' outfit to the laundry gods. I do not envy the grounds crew and the work they have ahead of them, but I am so grateful to everyone who made this day possible. Remember going forward that for every person you see wearing a staff shirt and carrying a walkie-talkie, there are five more you never catch sight of running at full tilt to ensure every event goes as smoothly as possible. Give them a shout-out if you can on the Celtic Fest Ohio FB page and let them know how much you appreciate their hard work!
Next week is the Ohio Ren Fest Auditions on June 26th and 27th! Sign-up starts at 9 am so come ready to spend the day with us! Check out our previous Cast Auditions blog posts from 2019 and 2020 for the insider's scoop on what to expect!
---
Celtic Fest Ohio 2021 Gallery