The sun is out, the air is clear and we are working our way to the 2020 season of the Ohio Renaissance Festival! Our faire just wouldn't be complete without the vibrant cast of characters from history and imagination wandering the lanes. They help make the experience a memorable one for our guests through song, dance, stunt show, and improv scenes throughout the day. Each member of the ORF Cast devotes weeks to the creation of their role, working with the veterans of the festival to ensure that they operate as a part of the whole.
Last year we gave you a look inside the process as it occurred in our post "Behind the Gates." In that post we talked about the close friendships that are built over the course of rehearsals and how the veteran cast supports the newbies. This year, we're going to give you some advice on how to prepare for a Street Cast audition at ORF so you can hit the ground running!
---
1: Take Care of Yourself and Your Health
Every year is a little bit different, but since auditions take place during the last two weeks of June you can expect hot days and plenty of humidity. Dress appropriately for an active day in the sun. Shorts, t-shirts, and sneakers are your best bet for comfort and function. Don't worry about showing up in garb/costume! ORF is pretty firm about their historical accuracy when it comes to clothing and if you make it on the cast you will have costume lessons to attend. Make sure you pack plenty of sunscreen and reapply often. You don't wanna go home with a sunburn on your first day (or any day after that really)! Pace yourself for rain or shine and remember to put your health first.
A Note on the 2020 Cast Auditions: With COVID-19 still a concern for many people, our auditions will look a bit different. We will be working in small groups with no physical contact during the exercises and auditioning process. Please take everyone's good health into consideration and utilize hand sanitizer, masks, and social distancing where appropriate.
---
2: Time, Date, and Requirments
Dates: June 20th and 27, 2020. You only need to attend one audition
Times: There will be 2 time slots per date to practice safe social distancing guidelines; 10 am and 12 pm. It is advised you arrive an hour before the audition time for registration.
Parking and Registration: Please use the main parking lot off of St. Rt. 73 and register at the front gate. Auditions are held at the Aleing Knight Pub.
Audition Guidelines:
– Please wear comfortable, weather-appropriate clothing. Auditions are being held outside.
– Headshots and resumes are welcome, but not necessary.
– Hand sanitizer will be available on site.
Cast Member Requirements:
– Must be 16 years of age.
– Must have reliable transportation.
– Must be free on weekends from July 11th to November 1st & Labor Day.
Returning Cast Members: Returning cast members will all be contacted individually. Most returning cast members will NOT need to re-audition in order to speed up the process.
---
3: RSVP to the audition Facebook Event
Though not a requirement, RSVPing to the Facebook event helps us know how many to expect. You only need to attend one audition.
---
4: No Experience Necessary
Never been on stage before? No problem! Have no idea how to do an English accent? Don't worry about it! Even if this is your first time trying out for a role, just focus on putting your best self forward and interacting with others positively. If you make it onto cast you'll have two months of rehearsals and practice to help hone your skills. Nobody expects you to show up speaking in perfect 16-century dialect. Everyone will understand if you aren't a trained actor. It's nice if you are, but not a requirement. Put effort into your willingness to learn from others and you'll do just fine.
---
5: Break Out Your Improv Skills and Come Prepared to Play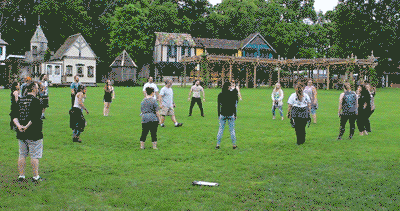 Get ready to get outside your comfort zone and get to know one another! It's okay to be introverted when you arrive. If you are placed on the cast you'll come to know a lot of your cast members over the next few weeks. But the initial auditions typically involve some general improvisational games meant to help you come outside of your shell and interact. If this worries you, remember there's no such thing as pass or fail! The vets are watching to see how you react and how you use the prompts you are given. Work with your fellow actors, not against them, and see where it takes you.
---
6: Be Open to Critique
As you go through the day, expect the veteran cast members to talk to you about your process and actions. These pieces of advice come from years of experience and development. Take their words to heart and let them help redirect your energy. Not only is this a valuable way to get yourself oriented to the improv style of acting necessary for faire, but the vets are watching to see how well you take critique. Be flexible, listen, ask questions, and apply feedback.
---
7: Can You Dance, Sing, Play An Instrument, or wield a sword? Our Entertainment Guilds Want You!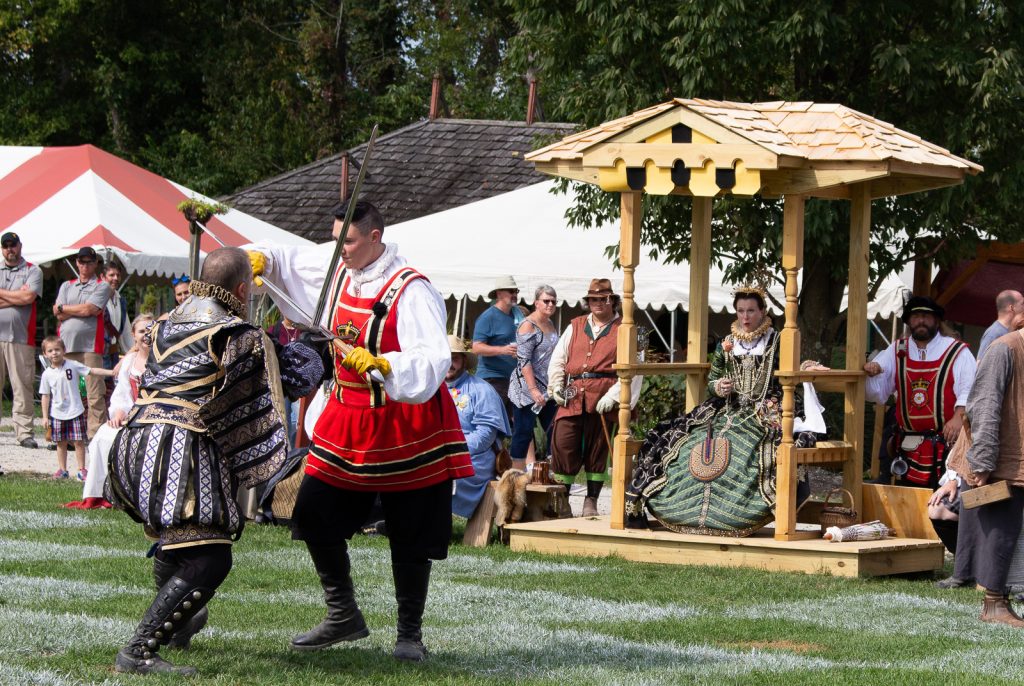 ORF is always on the lookout for talented participants, even more so on the cast. If you play an instrument, love to sing, or want to dance let them know. The ORF cast has three main entertainment guilds: Dance, Choir, and Stunt. If you can play an instrument, bring it along with you. Don't know much about faire music & dance? Don't fret! It's all part of the learning process and if you make it on the cast you will be taught more.
---
8: Want To Play a Pirate or a Fairy? We have a Group Guild for that!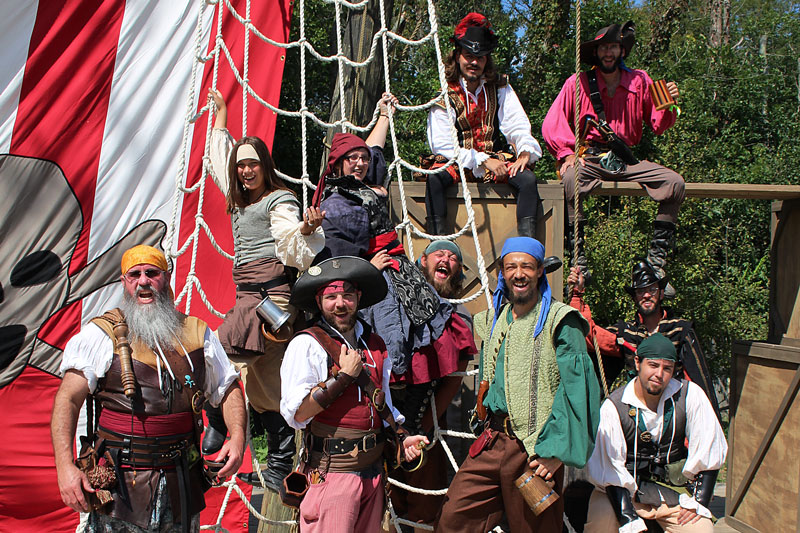 One of the most important things you can do is show your willingness to participate in the work that needs to be done around faire. The easiest way to do this is by signing on with one of the different groups in faire. There are the entertainment guilds as mentioned above, but also the group guilds like Pirate, Fairy, Witch, Wench, Court, and Village. Many of the group guilds have a more extensive vetting process, so let your interest be known but don't take it personally if you aren't picked. There's always something that requires a few extra hands to get done. There are the Jouster Rousters who get the crowd pumped up before a match in the arena or you can lead a wedding procession and provide entertainment at the reception. That will give you jobs to do and appointments to keep up with.
---
9: Preparation
While a world of experience isn't needed for you to go and audition, I know some of us out there feel better if we get to study beforehand. I liked the book Guerrilla Theater by J.Paul Moore. There are many methods out there for how one can lean into the unusual improvisational acting utilized in a faire environment and I encourage you to do your own research. I feel Moore gives a good baseline for interacting with fellow cast members and patrons. He talks about improv games, rehearsal ideas, quick shot characters, and how best to leave a memorable impression on the guests. Don't take it as scripture, but if you're someone who likes to know what you're getting into this is a good place to start.
---
10: More Than A Summer Job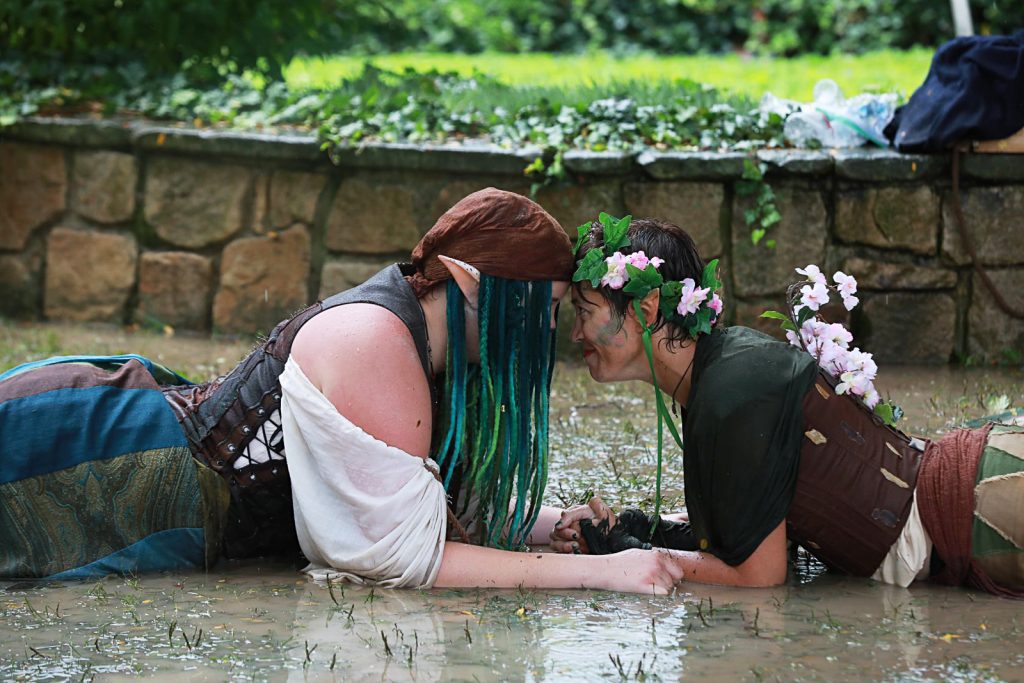 When you're looking at the possibility of signing up to be on the cast for a festival season run it's important to recognize that this isn't like any other path you could choose. On one hand, it is a commitment. There will be hot days, cold days, and rainy days. On the other, ren faire is a community that builds from within and expands outward, ensuring every day is creatively fulfilling and fun. Auditions are a way of opening up this world to let people find out if they want to be a part of it.
Personal anecdote time; I've gotten more out of being a part of the festival than I have from any other group environment I've been involved in. Being on cast means taking on a challenge. It takes a lot of stamina and dedication, so be aware of this when you come to auditions.
You won't regret a moment spent here!
---
Next Post: The Fairy Community of ORF and the Summer Solstice!
Coming Friday, June 19, 2020