So long 2020! Hello 2021! With last year's cavalcade behind us, Renaissance Park is looking forward to brighter years ahead. I know many of you are excited to get back into the faire grounds to greet old friends and catch the new events. Let's go over some of what you can expect from us in the coming season.
---
Bike Nights at the 1572 Roadhouse Bar-B-Q
Thursdays, May 20 – September 23, 2021
Last year, the 1572 proved itself the perfect venue for outdoor get-togethers and plenty of fun, so plan to spend at least a few evenings at this venue in summer and fall. The 1572 Roadhouse Bar-B-Q restaurant opens on May 20th for the year, bringing you BBQ and brews every Thursday through Sunday. Thursday Bike Nights return to the 1572 starting season opening day (May 20) along with musical guests for your continued entertainment.
| Date | Band |
| --- | --- |
| May 20, 2021 | Sarah Sugar & the High Crimes |
| May 27, 2021 | Barley Able |
| June 3, 2021 | Blues Power |
| June 10, 2021 | Jamie |
| June 17, 2021 | Flashback Band |
| June 24, 2021 | Barley Able |
| July 1, 2021 | Blues Power |
| July 8, 2021 | Jamie |
| July 15, 2021 | Sarah Sugar & the High Crimes |
| July 22, 2021 | Barley Able |
| August 5, 2021 | Blues Power |
| August 12, 2021 | Shawn Bell w/ Blowing the Damn Fuses |
| August 19, 2021 | Sarah Sugar & the High Crimes |
| August 26, 2021 | Barely Able |
| September 2, 2021 | Blues Power |
| September 9, 2021 | Jamie |
| September 16, 2021 | Sarah Sugar & the High Crimes |
| September 23, 2021 | Element 3 |
Bands subject to change
---
The Roadhouse Presents Concert Series
Select Saturdays this summer, May 22 – August 28, 2021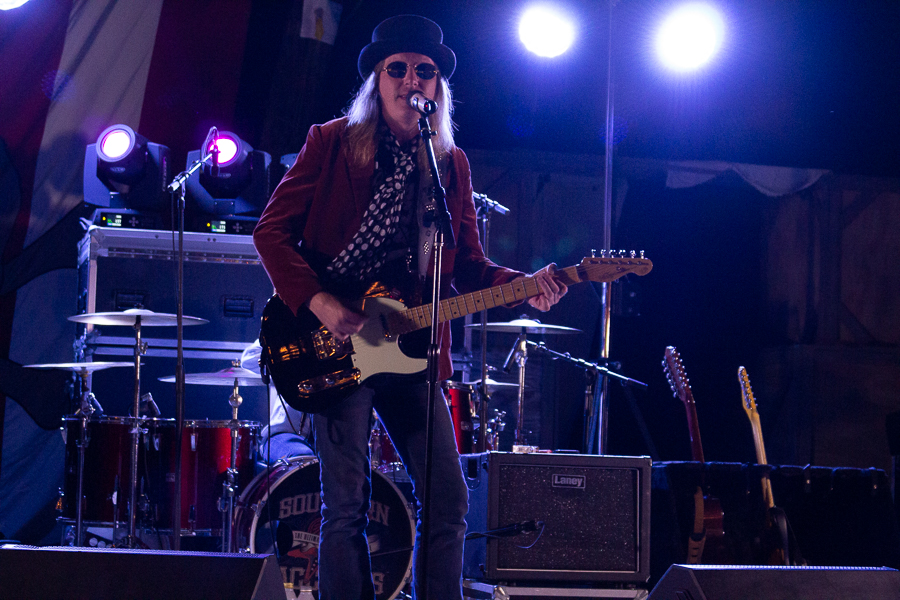 The Roadhouse Presents concert series will return on May 22nd with Alexis Gomez performing on the Shipwreck Stage. Other concert dates are TBA so stay tuned to the 1572's event page or Facebook page for updates!
| Date | Band |
| --- | --- |
| May 22, 2021 | Alexis Gomez |
| June 12, 2021 | TBA |
| July 10, 2021 | TBA |
| July 24, 2021 | TBA |
| August 14, 2021 | TBA |
| August 28, 2021 | TBA |
---
Celtic Fest Ohio 2021
Saturday, June 19, 2021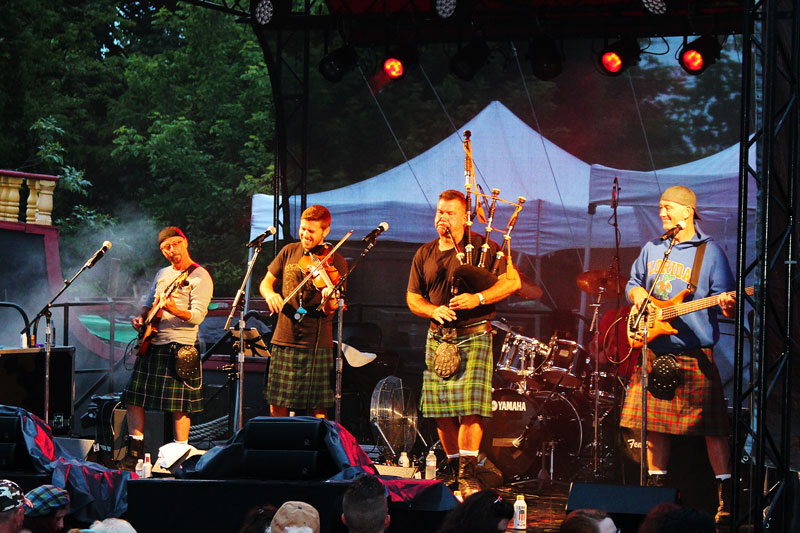 Get your Claddagh and bagpipes ready! CFO returns on June 19th to celebrate Celtic heritage on the grounds of Renaissance Park. This event will be one day only, so plan on arriving early to pack in as much fun as possible.
We have a new event this year with a Celtic Tasting Menu presented at the Main Feast Hall from 3 to 7 pm. Seating is limited, so get your tickets as soon as possible for favorites like pork pie, haggis, and scotch eggs!
Our festival lineup and activities will be updated as we get closer to the festival date. Be sure to check with the website frequently for more info.
---
Steak Cook-Off at the 1572 Roadhouse Bar-B-Q
Saturday, June 26, 2021
You wanna know what good steak tastes like? Hit up the 1572 Roadhouse on June 26th to find out! This event is free to the public, running from 10 am to 5 pm. There are ten prizes available for steak, three each for shrimp, and the mystery box category as well as five prizes available for the kids! If you'd like to compete please complete the registration process.
---
Muddy Princess
Saturday, June 26, 2021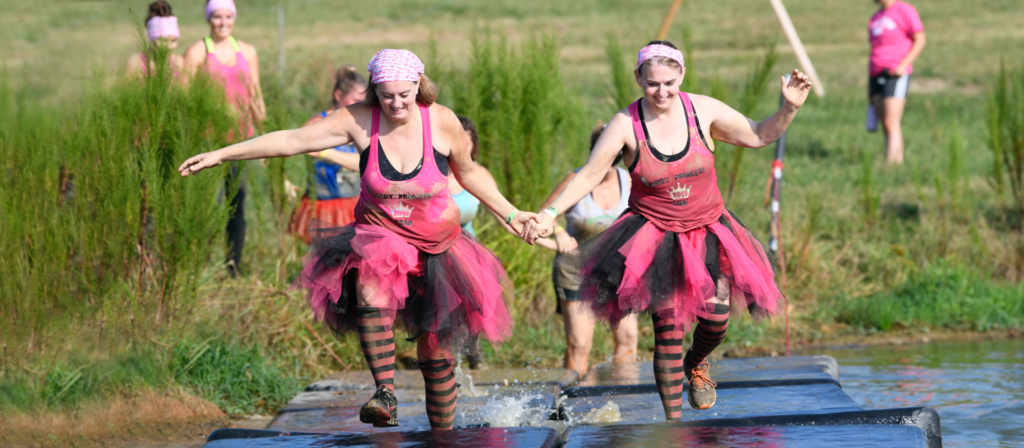 Are you prepared to get dirty? Mark your calendar for June 26th and come to the grounds of Renaissance Park! The Muddy Princess Run is all about fun and teamwork, encouraging women to support one another as they work their way through a 5K obstacle course that is just as wet and muddy as it sounds! This is for princesses including wives, mothers, daughters, aunts, nieces, grandmothers, and friends from ages 9+. Supportive spouses and family are welcome to come and cheer them on but may not participate in the race. Visit their website now to sign up as a runner or volunteer!
---
Friday Night Flicks at Renaissance Park
Friday nights, July 3 – August 27, 2021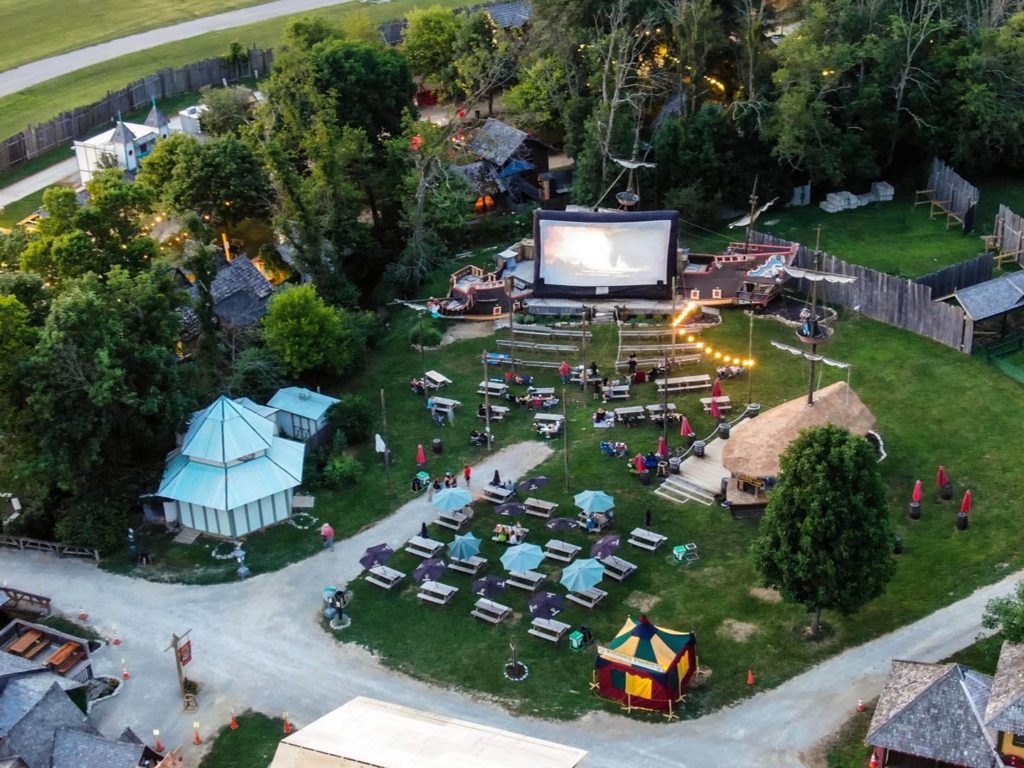 Bring your blankets and lawn chairs! Renaissance Parks is happy to bring you the return of Friday Night Flicks on the Shipwreck Stage starting July 23rd for an evening of nostalgic movies under the stars. Entry to this event is free, giving you the perfect excuse to take the kids out! Doors open at 7 pm so arrive early to grab a good spot. Last year featured classics like Willow, Labyrinth, and The Goonies. The 1572 will remain open until approximately 9:30 pm, at which point hot dogs, popcorn, candy, and soda can be purchased from the concession stand.
Look for updates regarding movie titles in late May/early June
---
Lights Fest
Saturday, August 21, 2021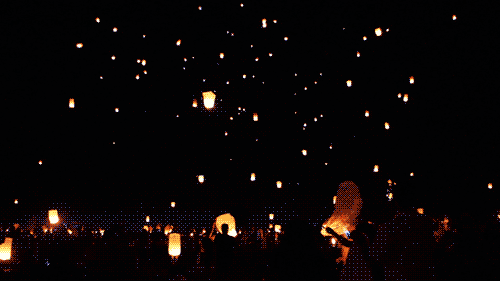 Plan for music, fun, and a chance to light up the night! The Lights Fest promises a fun, family-friendly event full of live entertainment including musical performances, dancing, and giveaways. When the sun goes down the event truly begins as participants decorate their lanterns with messages of hope and sincerity and light the wick, allowing them to float above the crowd in a whimsical display. This event takes place on the grassy knolls in front of the ORF village gates on August 21st so get your tickets now for this event.
---
Midsummer Masquerade
Saturday, August 7, 2021
Looking for the perfect opportunity to show off your fancy garb and dance the night away under the stars? Keep the evening of August 7th open from 7 pm until midnight and join us for the Midsummer Masquerade. This event typically includes vendors, food, and some of your favorite performers. This event is hosted by the PB&J Circus (formerly Pickled Brothers Circus) and is held on the grounds of Renaissance Park. Tickets will become available as the date nears.
---
Ohio Renaissance Festival
Weekends and Labor Day, September 4 – October 31, 2021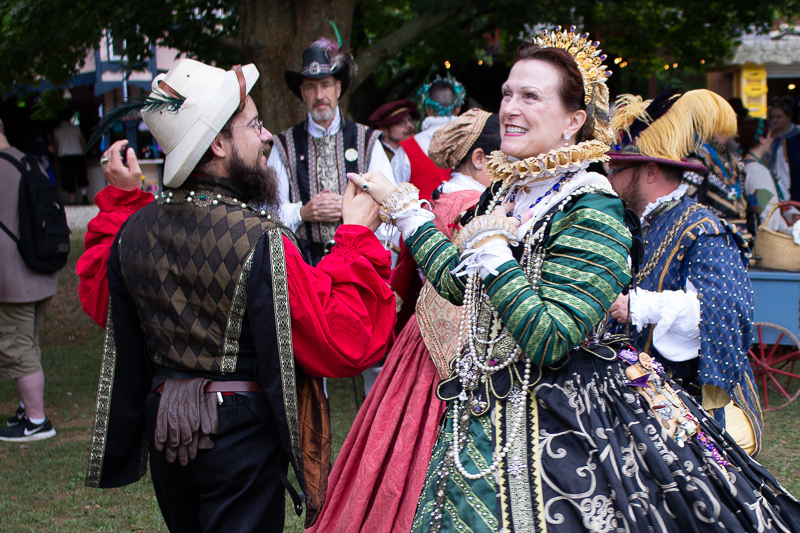 Dust off that garb and cinch your corset, the faire is about to begin! ORF kicks off its 2021 season with a return to form, celebrating 9 weekends of Tudor era revelry! The gates open on September 4th for Labor Day weekend and continue right on through Halloween. Each weekend has its own theme from pirates to fools and welcomes you to join in the fun!
We listened to your feedback on Magical Days, Madrigal Knights and we are proud to bring you the return of the feast! Ticket sales coming soon, seating is limited.
Browse the artisan's marketplace, take in the shows, and buy a ticket for the tastings. You don't want to miss out on the experience!
Interested in Joining Cast?
Auditions are set for June 26 & 27, 2021
You may want to read 10 Things to Know and Behind the Gates
---
Brimstone Haunt
Friday and Saturday nights, September 24 – October 30, 2021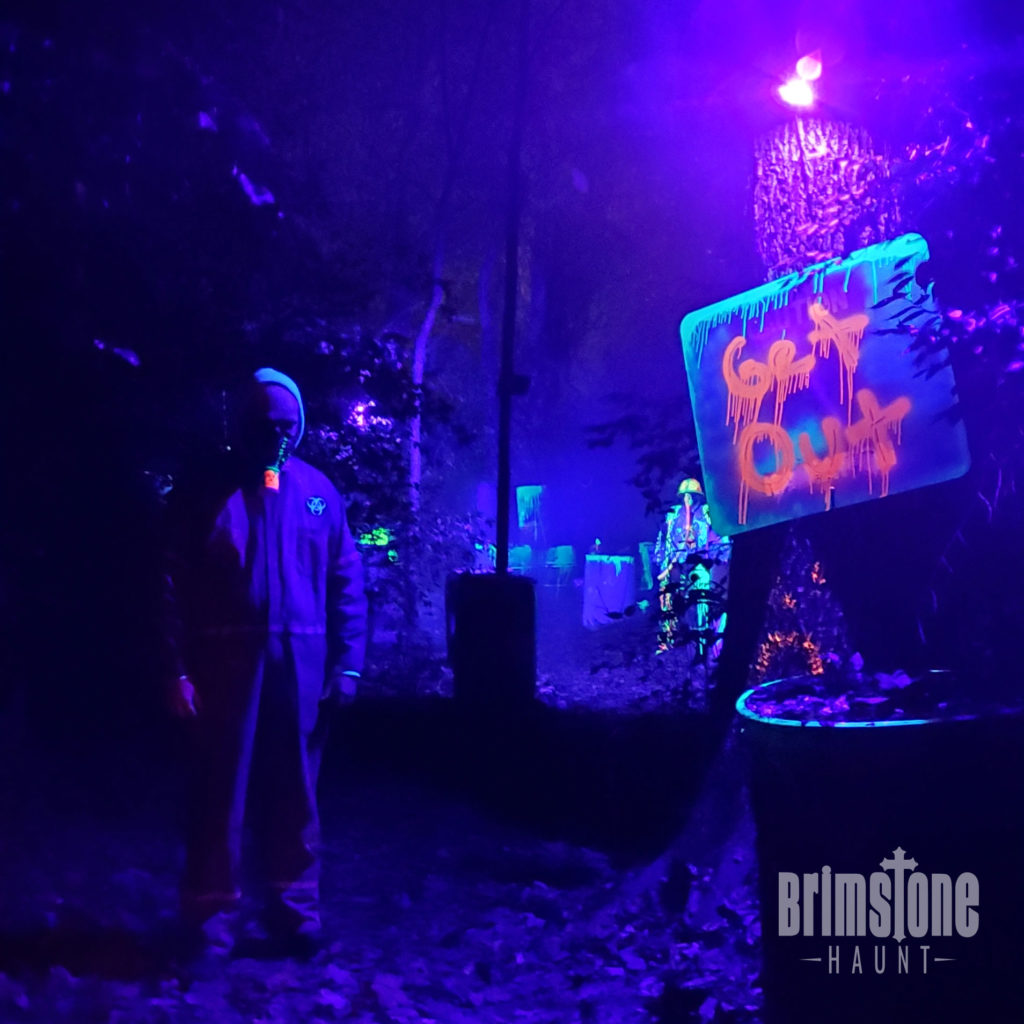 It's never too early to begin thinking about Halloween! Brimstone Haunt will open its gates on Fridays and Saturdays starting September 24th at 7 pm for all the terror you can handle! Ohio is known for having a plethora of haunted houses every fall but BH is one of the best with four different attractions of varying intensity so you can choose your nightmares. It starts when the sun sets, which means you can begin your day at ORF and end it here. Concessions are available and there is a cozy firepit for those of you who aren't up to the scares.
---
Yuletide Village, Season of Lights
Fridays and Saturdays, November 26 – December 18, 2021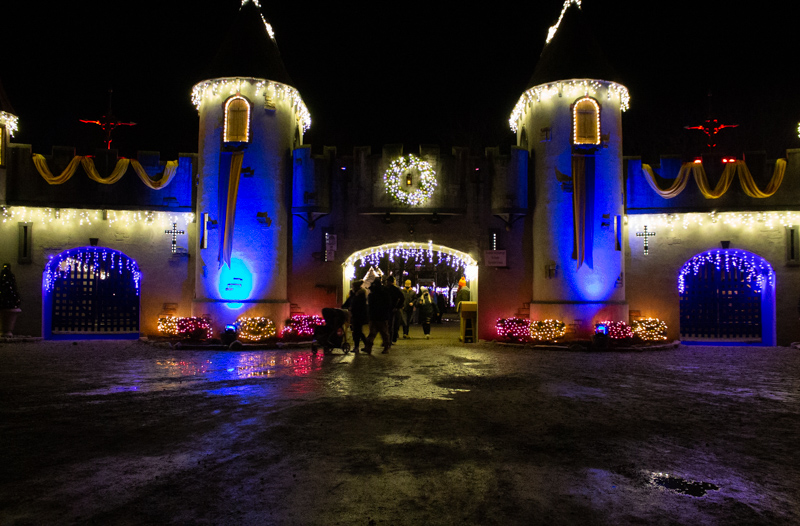 'Tis the season! Once ORF and Brimstone close their doors, you have just a few weeks to wait before we bring you another year of Yuletide Village! Celebrate the winter season by wrapping up and coming out to enjoy the rustic setting of the ren faire lit up with thousands of holiday lights and displays. Do your seasonal shopping with our vendors for truly unique gifts for the family. Visit Santa and Krampus for photo opportunities. Enjoy carolers and stage shows into the evening and while you're at it grab a hot bowl of soup and some spiced cider.
---
Looking to hold your event at Renaissance Park?
The festival grounds are available for your corporate, private and public events, and weddings! Get more info at renparkusa.com
---
Covid-19 Policy
It is important to remember that we are still in a pandemic. As such, Renaissance Park will strive as always to provide safe, socially distanced family fun. Our Covid-19 policy is subject to change as per the state guidelines at the time of our events. Please read through our Covid-19 Policy and stay up to date by visiting our website regularly.