Last Friday marks the first time my wife and I attended a public event since March 23rd, 2020.
I'm one of those people who need social interaction to thrive. But like so many others I knew the only responsible thing to do was to stay at home to help lower the risk of transmission of Coronavirus. I wore a mask and gloves if I had to go out. I tried to shop responsibly for what I needed. I started talking to all my friends online and finally took advantage of DnD campaigns and digital meetups. And, little by little, time went by.
In some ways, I was quite nervous to go anywhere. Walking out the front door was stressful. But when I found out the 1572 Roadhouse Bar-B-Q at Renaissance Park was hosting an outdoor event, I wanted to go. I have talked before about the way faire calls to me, about how the scent of the air and the feel of the grounds is incomparable to anything else. Like many others, I also wanted to see what they were doing to effectively manage the concerns of visitors.
The short answer, they're doing a LOT.
---
The Event
Free Friday Flicks coincides with the hours of the 1572 Roadhouse BBQ on site, allowing visitors to grab a bite to eat along with enjoying a movie as the sun goes down. Last week's movie was an all-time favorite, The Princess Bride. As we parked we saw most of the people entering were taking their own precautions by wearing masks and giving people time to walk in before going in. The bar had plexiglass shields hung between customers and bartenders. The 1572 enforced social distancing in their food line by placing markers six feet apart and were limiting the amount of time people spent in any enclosed space, keeping the line moving quickly and efficiently. There was multiple hand sanitizing stations available that were constantly replenished.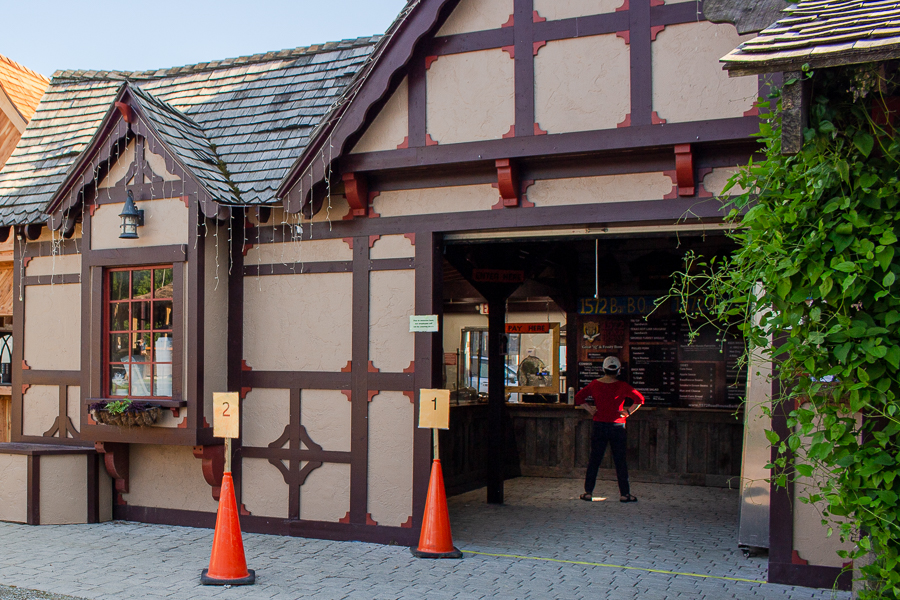 As I walked around to take a look at everything, I noticed something that put me at ease. Many of the guests were taking the onus on themselves to utilize social distancing rules. Family groups were staying together, giving others room to get past or move around. The seating had been rearranged, allowing people to remain comfortably apart while they ate and talked. Even when people stopped to chat, they kept six feet between them, many wearing masks.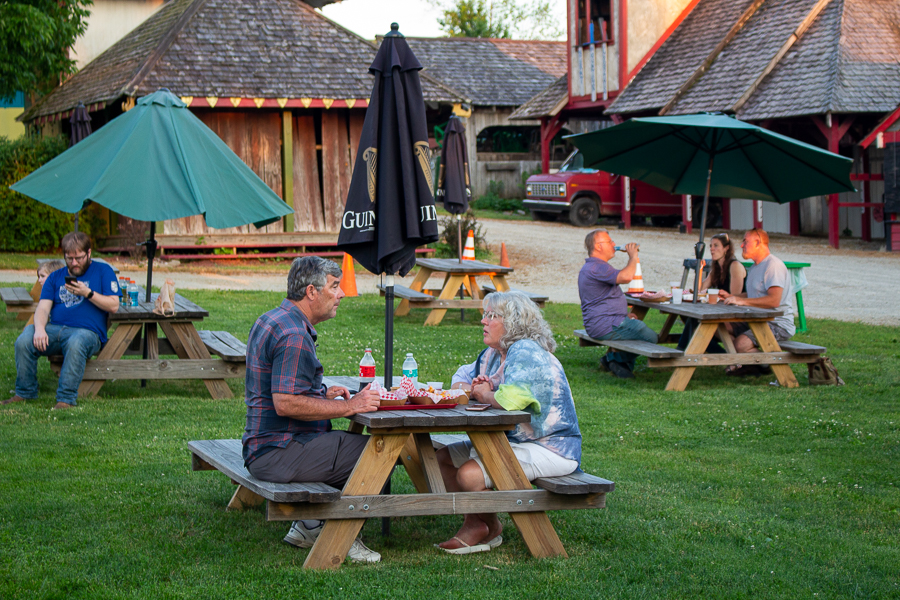 All of this went a long way to help me release the breath I was holding (safely behind my own mask of course).
---
A note from David Smith, Entertainment Director
With the opening of the Ohio Renaissance Festival still over two months away, it's good to know that the staff is putting so much effort into monitoring the situation and changing their plan in accordance with the needs of public safety. I took a moment to speak with David Smith, the Entertainment Director of ORF and the man who set up Free Friday Flicks as a way to help the community safely find some joy during this difficult time.
We want our patrons to be safe. We are following all the guidelines given by the state to ensure the best possible experience for our guests. The situation changes almost daily and we will keep up with the information and adjust accordingly."

David Smith, Ohio Renaissance Festival Entertainment Director
---
Grab some BBQ and Brew before the movie starts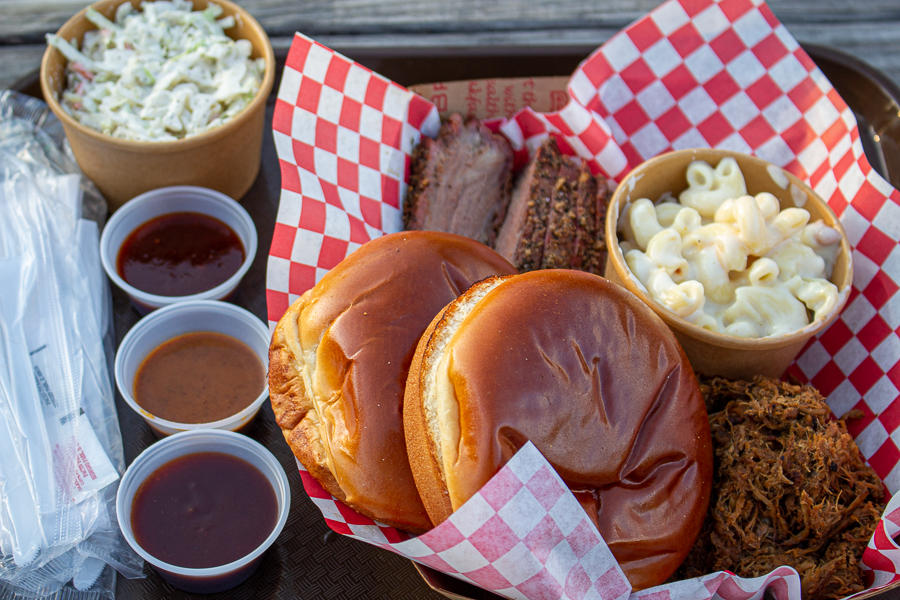 With my worries soothed, I ran to grab a platter of BBQ before the movie started. My wife is a big fan of the pulled pork with coleslaw, but I like the peppery tri-tip dipped in smoky sauce with a big helping of creamy mac and cheese. Add in a peanut butter stout from the 3 Fools Pub and we were all set to enjoy the evening!
The 1572 opens at 5 pm and closes at 9 pm. The 3 Fools Pub is open from 5 pm to 9:30 pm. Movie theater style concessions – such as popcorn, hot dogs, candy, soft drinks, tea, and water – are available througout the event.
---
Showtime!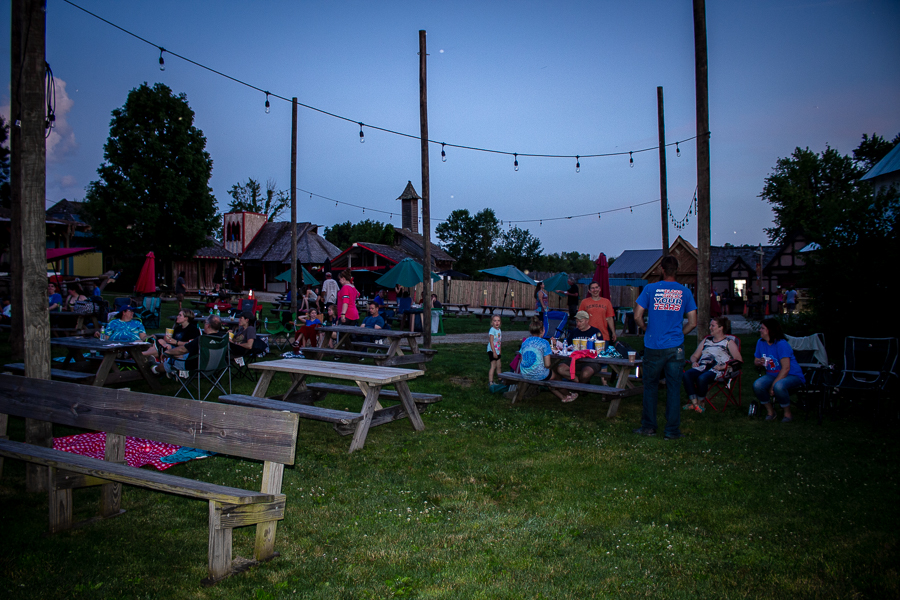 As people started to mill over to the inflatable movie screen (set up on the Pirate Shipwreck stage mind you), folks put out blankets for kids to lounge on. Some even brought their own chairs for comfort's sake. Conversation and laughter filled the air. Dusk settled in and we realized that along with hand sanitizer and sunscreen we ought to have packed some bug spray. The mosquitoes weren't bad but it'll be a good idea for next time and we highly recommend it for you too!
The Princess Bride is one of those movies I file under 'fairespiration'. Meaning it isn't about the renaissance faire, it has nothing to do with history, and yet it seems to encapsulate the fantasy we all like to bring to a festival. I find more and more of the Gen Z folk claim to have heard of the movie but never actually seen it. In which case there is a massive part of their education being denied to them!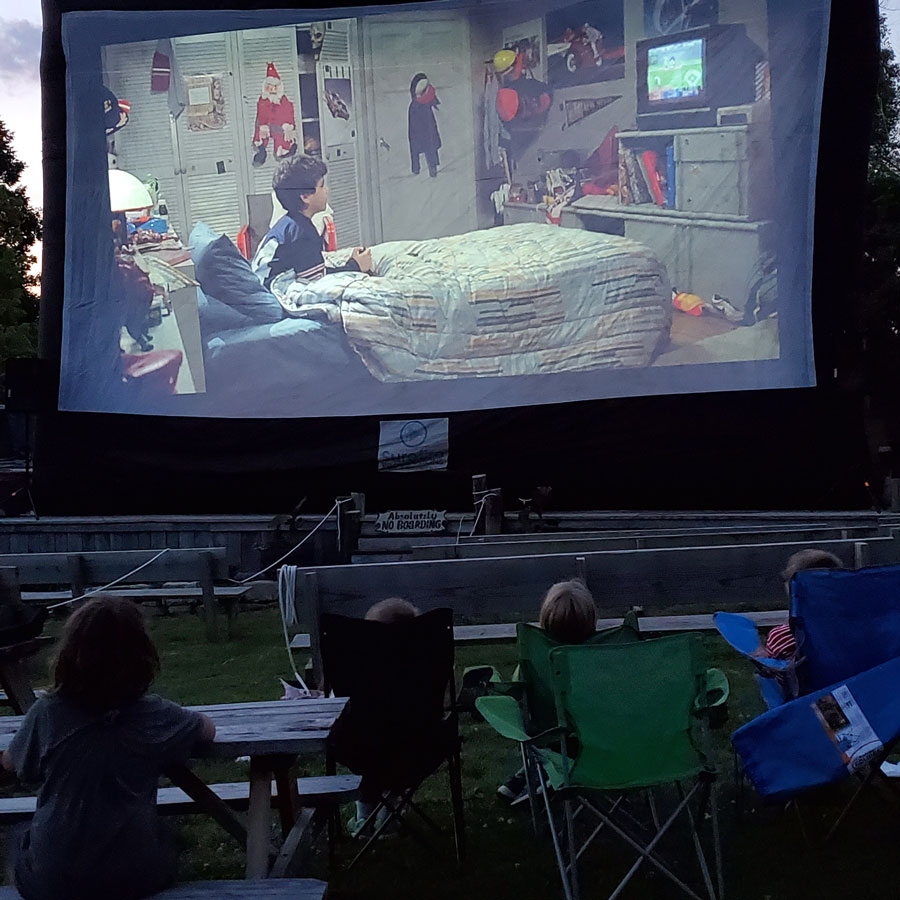 It warmed my heart to see so many people in the audience repeating the lines without a single hesitation. Many of us enjoy The Princess Bride so much that we can recite the entire thing without missing a step. We heard laughter bubble up from around us as we sank into the fairytale adventure we've known since childhood. I could hear children reacting for the very first time; gasping as they see the shrieking eels closing in, freaking out when the Dread Pirate Roberts is revealed, and one little girl looking up at Prince Humperdink with narrowed eyes as she said in a confident tone, "I don't like him."
Same, kid. Same.
There is nothing quite like watching a movie like this at an outdoor venue. The summer air was slightly damp and smelled of grass as the large expanses of Florin roll across the screen. A bullfrog in the Willy-Nilly wash started a very vocal reframe during the Fire Swamp scene, blurring my sense of what was inside and outside of the movie. Around us, fireflies and children flitted about.
Putting on an event like this takes a lot of time and effort. It's good to know the ORF is so involved in the community that they want to spread some joy and give people a brief escape into a world where good wins, evil loses, and love reigns triumphant over all. I found myself tearing up a little at the end, a renewed appreciation for the magic of storytelling in my heart. We went home that night tired but happy, and even more excited for the faire season to come.
---
Event Details
Dates: Every Friday until otherwise stated
Times: 1572 Roadhouse Bar-B-Q opens at 5 pm. Movie starts at 9:30-ish
Cost: Parking, admission, and the movie are free
Location:
The 1572 Roadhouse Bar-B-Q located at Renaissance Park
10612 East State Route 73, Waynesville, OH 45068
Follow the 1572 Roadhouse Bar-B-Q on Facebook to keep up to date with the movie schedule.
Next Week's FREE Friday Flick
Labyrinth