Every season brings new people in through the gates to celebrate the renaissance festival. With faires around the country reporting record-breaking weekends 2021 promises to be no exception. I'm looking forward to the throngs of newbies coming to experience nine themed weekends of bombastic fun and frivolity. As we sit here smack dab in the middle of July, with only a month and a half left before faire, it comes time to ask that question of questions. Namely, what am I gonna do for garb?
A few times in the past we've talked about how to source renaissance festival garb to make yourself look like the fantasy you want to see in the mirror. While there are plenty of garb sellers at the festival we encourage you to support, as well as a bevy of online retailers to select from, some of the more budget-conscious among us may want to dress up without emptying their purse too early in the season!

With that in mind, we searched the racks and reached out to our local community in order to provide you with inspiration along with a gentle guide for how to thrift for a day at the Ohio Renaissance Festival! From the smallest knight in your family to fabrics fit for a queen, there are dozens of ways you can snag a bargain or even create a masterpiece to show off this year. So check the tags and get out your sewing machines, cause here we go!
---
Get Inspired
Whether you want to meet up for a fairy picnic or attend pirate training, everyone has a favorite theme to dress to. When heading out for a day of garb hunting, it helps to have some idea of what you are after. You can hit up Pintrest and search for terms like 'fantasy garb' or just browse through this blog to give yourself some inspiration to go off of. If you can narrow it down to a theme that's great, but even knowing what color pallet you are looking for will go a long way towards your goal. Don't turn down promising finds that pop up along the way! A piece here and a piece there can turn into a vibrant wardrobe quicker than you can say "God save the Queen!"
---
Know Where to Go
Any thrift shop, such as Goodwill or Ohio Valley Thrift, can garner a lucky find or two, so make sure to hit them up first as you can typically find several within any given city. That being said, it never hurts to go searching for something with a little more pizzazz. Ohio has its fair share of specialty vintage and reseller shops where you just might get your hands on a bargain piece for less than it would cost anywhere else. We hit up Out of the Closet and Flower Child in Columbus and found a treasure trove of pieces that could be paired together. So search for vintage clothing spots in your area if you're willing to spend a little more for the special piece.
Check out the finds below from the Wench Guild's Columbus thrifting trip to Flower Child
---
Basic Components
There are a few basic components to any garb which you will need to get yourself off the ground. Depending upon the current and previous trends, these pieces are relatively easy to find or modify if necessary with little effort on your part. Ideally, they should be versatile, giving you layers to work off of as you add to your garb over time.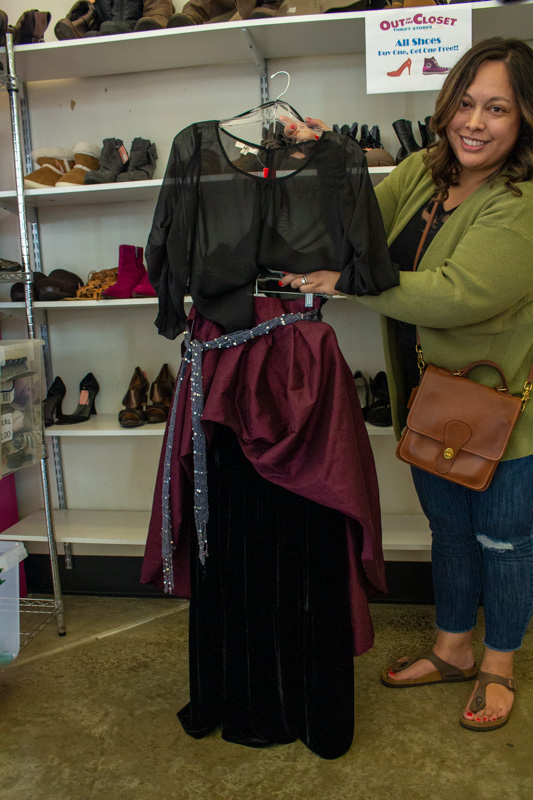 If a feminine look is what you are after, you're in luck. Peasant tops are easy finds this time of year so grab a couple if you can. They make for perfect starter pieces and can be embellished with a little trim or embroidery if you so choose. They tend to be made of lightweight fabric, like cotton or muslin, which is a key factor in staying cool. Next, take a look at the skirt section. Ideally, you'll be after two skirts which can be layered and tucked for a more stand-out texture. Aim for flowing circle skirts that twirl when you spin, don't be afraid to mix solids and patterns, and if you can find a wide belt to finish it off then you're well on your way! From there you can look for additions like vests and sashes to add a bit of flair to the composition. The final outfit lays somewhere between boho-chic and casual bellydancer, which is a good place to start.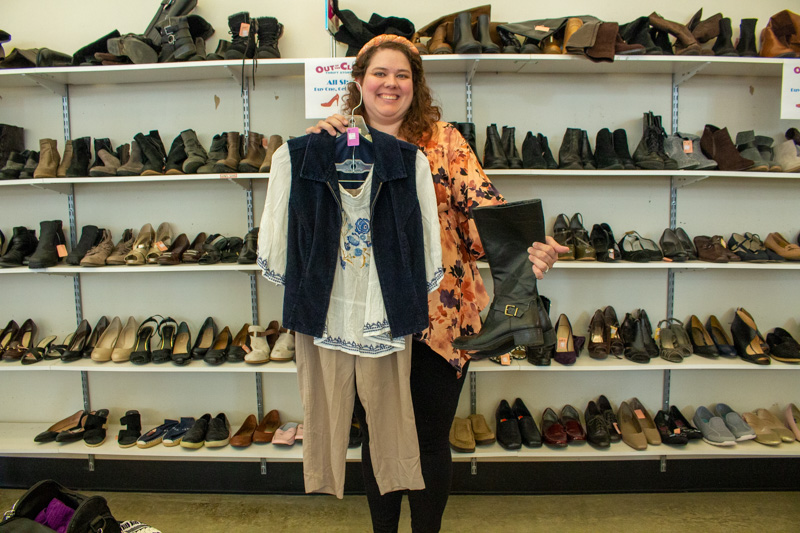 For a more masculine set, you'll want to start by finding a button-up shirt that is a size or so too big for you. Why? Well because you'll be modifying it later! Once you've got a few of those together, take a look at the trouser section and look for twill or tweed pieces. Don't be afraid of patterns like plaid, but stay away from anything too modern looking like denim or slacks. Once you've got this put together, look for a waistcoat or vest you can pair with it. Depending upon what you can get your hands-on, you'll likely end up with something very reminiscent of the hobbit, though I wouldn't try to go shoeless at ORF!
Take your time and don't be afraid to hit multiple shops over a week or so to see what you can find. For me, it helps to take photos of what I already have so I can always be on the prowl for new pieces. It can be difficult to compose a whole outfit from a single thrift run, so I look at this as a long-term challenge to see what I can create over time. It also helps to have friends you can head out with who will bring to your attention anything you might have overlooked.
---
Sew It Up
Up for a bit of a challenge? Break out the sewing machine and check to see what patterns are on sale! If you're willing to undertake a little more work you can really broaden your garb horizons through modification. A button-down shirt can be turned into a workable chemise by cutting off the collar and button sleeves, adding in a gathering stitch, and adding a drawstring. A plain dress can be split up the side, given some trim, and put under a corset for a wonderfully fanciful garb.

A good way to save on the cost of a piece is to thrift your fabric by utilizing bedsheets, mattress covers, and pillow shams to cobble together a truly unique look. This often takes a lot of patience and a willingness to make something work. But I promise it can be done. Just make sure to thoroughly check the sheets before purchasing them for any rips, tears, or stains.
Youtube has thousands of tutorials on how to sew basic pieces such as a chemise, kirtle, bodice, skirts, vests, pirate tops, harem pants, and more. I've put together a small list to help you get started. If you want to really make your garb pop, check out some of the following creators for a more developed sense of what you are getting into.

Historical & LARPing Costumers
Costuming Drama
LARP Mix
Living Anachronism
Morgan Donner
---
Accessories
Even if you can't find anything to suit your tastes, thrifting offers a wide variety of accessories that can help build up your outfit and take it to the next level. Poke around for a while and you'll inevitably find a few of these pieces for yourself.
woven baskets
wide brimmed straw hat
wide belts
scarves & sashes
pewter mugs
wooden plates/bowls
---
There you have it! We've gathered some inspiration from our ren faire enthusiasts to help you see just what can be done with second hand and a sewing needle. So have fun, go forth, and make your dream garb come true!