Fair has been a safe and including space for me, my chosen family. There are always smiles and hugs. I choose to ignore the haters and surround myself with loving people at fair. Be yourself, love yourself."

Linda Chute (Queen Mab)
Pride isn't limited to one month a year. It's something the LGBTQIA+ community at faire strives to keep as a part of themselves all the time. Pride is as much an expression of the self as it is a reminder of how hard the community has fought to get where they are and how far we all have left to go. For a lot of people, faire represents a place in which they have an opportunity for self-expression. For many, it's a found family within a larger community.
The world has always existed in a state of change, some more tumultuous than others. So now more than ever we all look towards the communities that have always offered support. Towards the people who have reached out and shown that this is a safe space for those struggling to find acceptance and validation. Faire has a reliable tendency for providing this.
Perhaps it's because of the origins of the festival; coming into existence during the early 1960s after the prosperity of the '50s bolstered a renewed interest in European culture. The well-noted original Renaissance Pleasure Faire started as an educational fundraiser attracting history enthusiasts, artisans, musicians, actors, and various performers. The Renaissance is, after all, about a metamorphosis from the old into the new. This zeitgeist came at the same time as the counter-cultural clash, emphasizing anti-establishment feelings, the Civil Rights Movement, women's rights, and the unfolding acknowledgment of human sexuality.
Looks like history really does repeat itself, huh?
I recently came out in the last few years. I have to say, all of my faire friends and family have accepted me and the partner I brought with me to faire with open arms. Even though that partner is no longer in my life I appreciate all the love that was shown to me and her. We have some amazingly accepting and generous-hearted people in our faire family."

JoHanna Lucas
It shouldn't come as a surprise that many people within the extended community look to the faires and festivals as a place where they can exist as they are. For many, the homes they were born into have not always provided the love and safety needed. The prospect of taking up with this protective, soul-nurturing group wasn't just appealing, it was an act of self-preservation. Even if you could only hit the faire once a year, you looked forward to it the other 364 days you couldn't be there. A lot of LGBTQIA+ culture has been like that in years past.
As we learn more about the spectrum on which gender and sexuality exist ORF has begun making room, giving their cast members the ability to express this through their characters. One of the members of the Singing Sirens has used this to great advantage, creating the dual persona of Butterfly/Dragonfly to express their gender-fluid nature.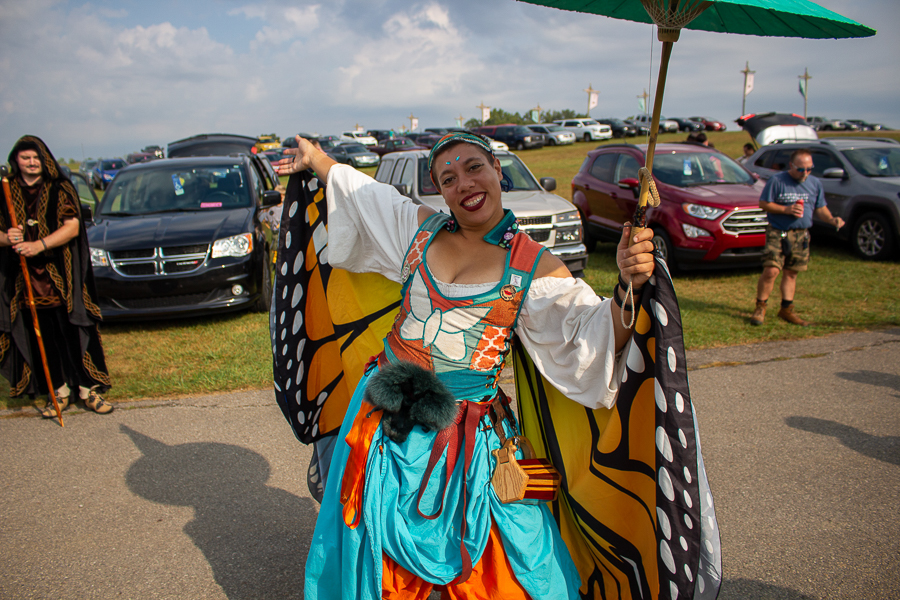 I don't often go out of my way to look a particular gender. My day-to-day wardrobe is a pretty even blend of clothing from the 'men's' and 'women's' clothing sections. I don't think of my wardrobe that way though. They're my clothes and I wear them, so that makes them, well, whatever I feel at any particular moment. I'm a person first; most of the time for me personally, gender is irrelevant, and therefore my clothing has no inherent attachment to gender. Of course, there are always exceptions, special occasions where I specifically choose to fully express my femininity or masculinity. Faire is one of those special occasions. As a character, there is an emphasis placed on making yourself recognizable. Being Butterfly has taught me so much about being comfortable in my femininity and feeling empowered by using my body to portray a bawdy character. However, I was beginning to feel a bit of emotional pushback… So when we introduced Dragonfly last season, I was super excited to be able to explore the masculine side of things as well. There was quite the learning curve to catch up on, and I'm definitely going to be working on using mannerisms to make a more defined separation between the two characters. I also made a few tweaks to Dragonfly's garb to give me a definite anchor for getting into his character, so I'm really looking forward to seeing how I can amp up the masculine qualities this year. Overall, I feel like being able to portray both characters is a great way for me to express myself at faire! It's been good for me emotionally to not be pigeonholed into just one expression of myself. It was also wonderful to receive so much positive feedback on having a genderfluid actor play a male and a female character; I had many patrons come up to me and say that they felt seen and represented, or that they planned their visit to come see me as Dragonfly because they loved the character so much."

Ashley (Butterfly/Dragonfly)
ORF even has a few well-noted (and even famous) members of the community, such as Dayton's own Big & Beautiful Beared Drag Queen, Holly Berry who worked for The Potter's Haus.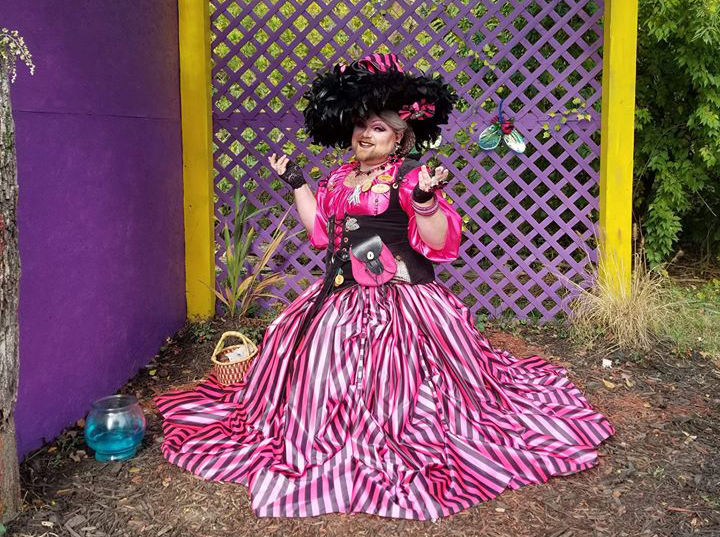 Day 1 walking into faire I didn't expect it would have such a PROFOUND impact on my life and become such a huge part of who I am. I felt comfortable and comforted even at the level of love and support from everyone. As a drag performer, I hoped I'd be able to incorporate my aesthetic with the period and I've had variations from a pirate to a demure lady to a loud and proud LOOK AT ME spectacle! I've never personally experienced any negatives. In fact, quite the opposite has been true – being Poodle and expressing who I am (whether in drag or not) has empowered others to approach and talk to me. I've helped people through dark times and shared their joys and sorrows equally. I was very fortunate to find a tribe that loves and supports me and whether I'm at my shop or walking about I know I'm always looked after. Whether it's your first time coming or you're a seasoned veteran know you are loved and welcome – however you feel comfortable. A phrase I've told all people- you can be anything you want to be, except an jerk!"

Holly Berry
While working together and forming bonds within the community, it's not unusual for someone to find the kind of welcome needed for them to come to accept their preferences. This can come in the form of a new romance, or even just having others who you can rely on you help you on that path towards self-validation. Some find themselves at the end of a wonderful summer romance, while others walk down the aisle in matching pirate garb to pledge their troth to one another.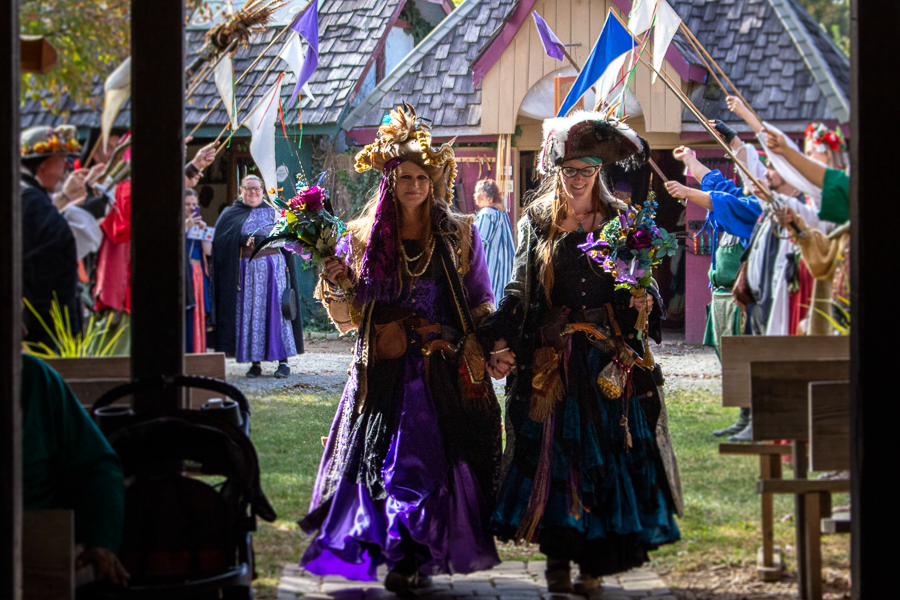 Every trip we've ever had to 'The Ren' has always been like a pilgrimage. We've always been welcomed and it's always genuinely painful going home at the end of the night. I remember our actual first year of going we were taken off guard because we know that not everyone is accepting of people who live 'alternative' lifestyles. We met several LGBTQ+ couples and realized that we were actually not alone at all. I think our decision to get married at the festival was just perfect for us as we have come to know it as a sort of home away from home. The people of the Ohio Rennaisance Festival are my Family. It's a place that we feel safe and comfortable to be ourselves without concern."

Billie & Lilith Jo Black
As Pride month rounds out remember to open your arms and make room in your life for all the amazing people you can get to know. There is so much love out there worth sharing. You never know what kind of a family you can build and become a part of.
---
Correction: in a previous version of this post we used Ashley's dead name.