Every year after The Ohio Renaissance Festival finishes its run, the boothies and stage acts move on to their next festival. Those of us in cast and crew, however, snuggle up in our houses to wait out the unpredictable Ohio winter for the next three or four months. We decompress from the season, take in the holidays, and while a few smaller crews may get together, most of us won't see one another outside of Facebook for a while. But every February, we all start to get the faire twitch. That's when Pub Sing happens.
Faire twitch – the excited sensation that comes when it's been too long since you last went to a faire/festival and you miss all your friends.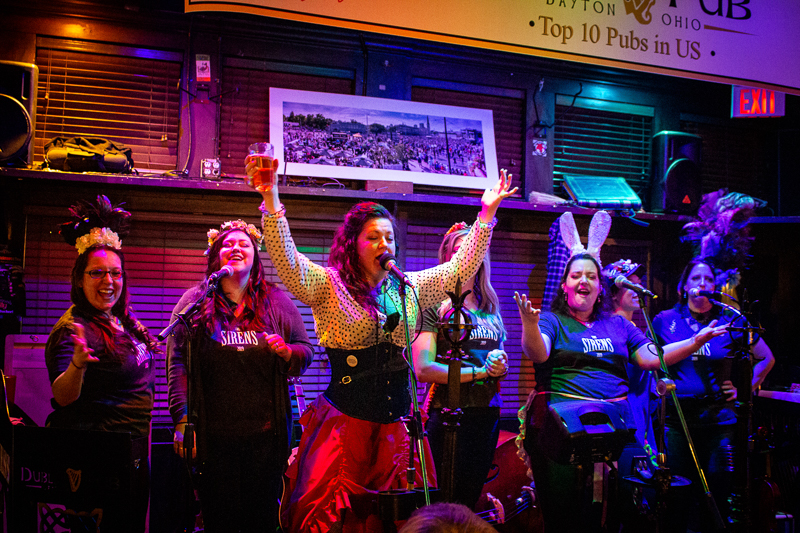 Pub Sing is our event. A time when we venture out in rain, sleet, and snow to the Dublin Pub in Dayton's Oregon District to get together and have a party. While the event is by no means a closed one, until recently it's only been cast, crew, and the occasional stage act that could make the trip. In the last few years it's been expanded to the ORFans group, bringing in some of our favorite playtrons and friends to reconnect.
With the expansion of the pub, there are now two stages to keep everyone entertained, which allows more of our local acts to really showcase their talents. Music, comedy, belly-dancing, and damn good company take over for just about the best party you could ask for. This is usually what kicks off my countdown until the Ohio Ren Faire opens up again.
---
Father Son & Friends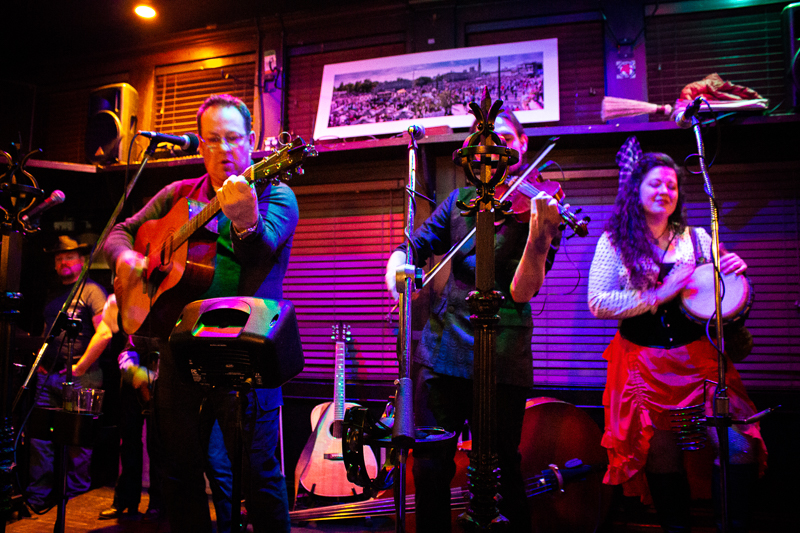 Father Son & Friends opened the night with some beautiful music to get everybody up and dancing! They're a real family act and while the 'father' of the group has decided to spend his winter down in sunny Florida, the youngest member of the family took the stage to play alongside his dad, much to the crowd's enjoyment. Music culture runs in the family with a lot of faire acts, passing down a tradition from generation to generation. You see this with other acts like Jameson's Folly.
---
The belly dancers of Troupe Roja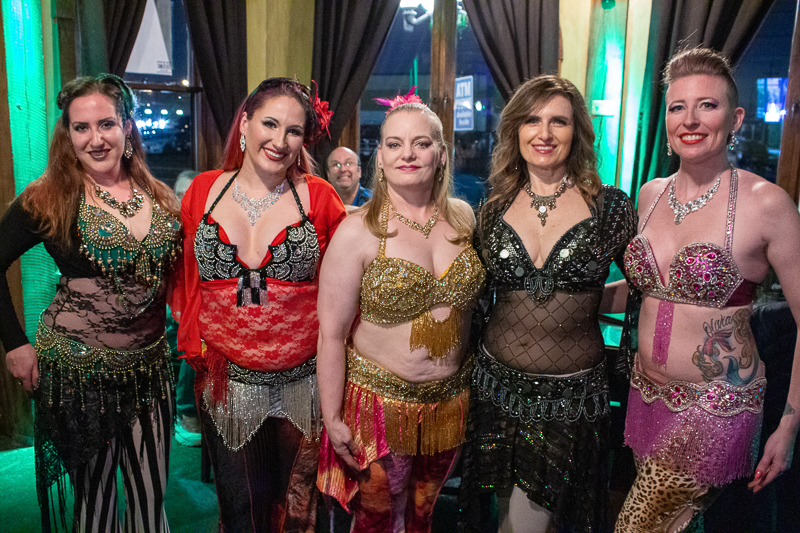 The belly-dancers of Troupe Roja came out with some glitzy costumes to grace the audience with their rhythmic beats. Not only did we get to see their talented exploration of improvisational dance, but our very own Queen Elizabeth 1st, Connie, got up on stage to dazzle in a fittingly royal purple costume. She handed out her spare coin belts to anyone who wanted to get up on stage and learn a few of the basic moves to get started.
---
Pocket the Fool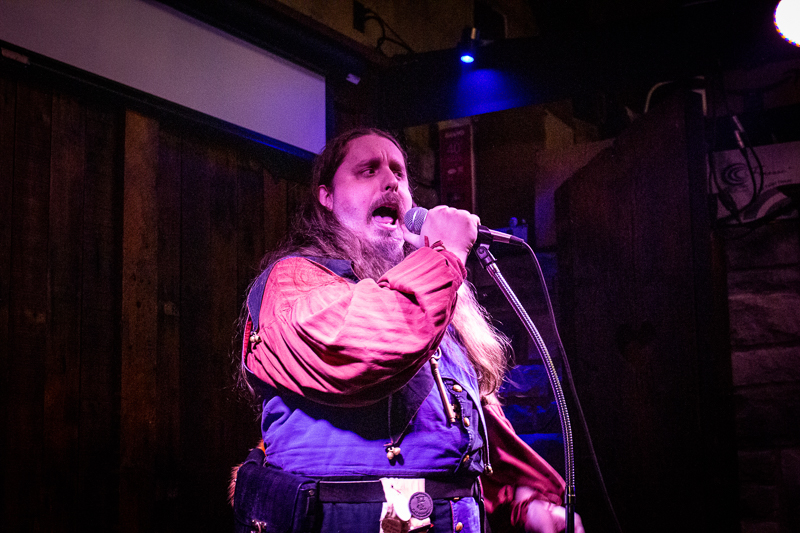 I was so happy to see Pocket the Fool come all the way from Kentucky to join us! He really made an impression at last year's festival, though he was only able to stay for a weekend. He has a knack for drawing the crowd in with stories and foot-stomping beats, perfect for a Saturday night pub crowd. I really hope we're gonna get him back for the 2020 run. Whats faire without a few fools running around to keep things lively?
---
As the party kept on, I paid attention to the people in the room who had come here with no idea what was going on. The people who come to the faire ground walk in the gate with at least some preparation for what's about to happen. But the ones who hit Dublin Pub last Saturday weren't expecting what they got when they walked in the door. Which funnily enough makes them the best people to ask if you wanna know what they think of all this. I met some Canadians who had never been to a faire before, a couple of folks who had come here to meet friends and ended up blindsided by the party, and even a few who had been to ORF before but had no idea this was going on! It was a pleasure to get to chat with them and hopefully, we'll see them all in September when the gates open!
By the end of the night, I was exhausted in the way one can only be when they feel unparalleled joy. I missed so many of these folk over the last few months and this makes me all the more excited for the weather to turn warm so I can get myself over to the next event and spend time with them again.
Our next event is the Horror Hound Weekend in Sharonville!
---
Captured at Pub Sing
Love At Faire
We have a special Valentine's Day blog releasing this Friday, Feb 14th! Come learn about romance at the renaissance festival as we talk about finding your love at faire!