Imagine you're sitting in a tavern. The room is dimly lit by the warm tones of the hearth. The cheap beer clings to the sides of your mug in much the same fashion as it does your throat. Rain beats at the thatched roof and you aren't looking forward to the long walk home. Tomorrow is a long day of labor that will begin and end with the sun's path. Just as you reach for your cloak and rise from the table, a voice begins to rise in song. As the melody carries through the room, the tune rings familiar in your ears, and you smile as you return to your seat. There's no harm in staying a while longer, you think, and you are proven correct as others join in the song.
---
Music In The Renaissance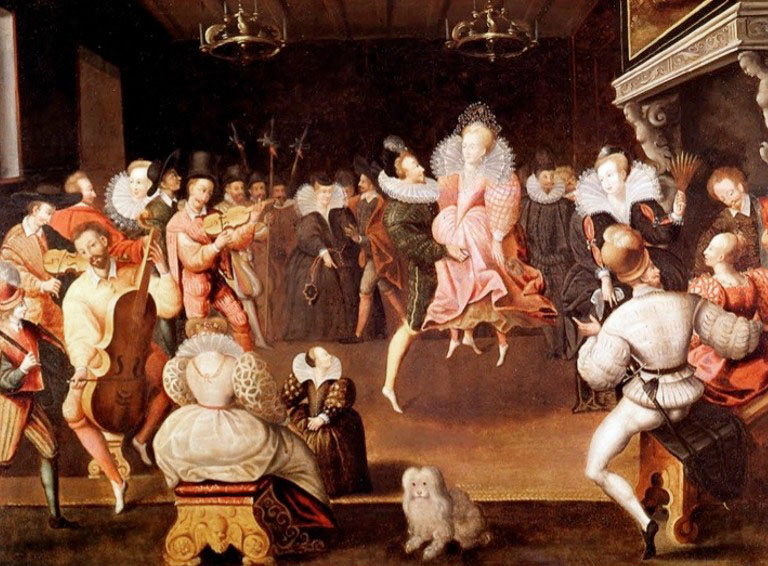 Music is a part of one's cultural heritage. It trickles down through the ages, passing folklore and history onto the next generation. It was a method of storytelling, entertainment, and worship in a time where people had precious few resources for any of those. It was also one of the few pleasures of life which were available to every class of the Tudor Era; from the lowest born peasant to the royal court itself. Music was a part of secular life in the taverns and festivals, it was a function of religion in the church choirs and chapels, and it was a part of any well-bred courtiers education. Queen Elizabeth I was herself proficient in the lute and the spinnet (also known as a virginal or harpsichord).

---
Music Sets The Stage at Faire
It should come as no surprise then, that music is an essential facet of the ren faire. No renaissance festival would be the same if it wasn't for the music present in every corner of the grounds. From the whimsical tones of the glass harmonica to the bawdy ballads of the pub, music is a part of what gives birth to the atmosphere of faire. It is an indubitable aspect of festival culture and I truly think many people underestimate the role it plays in making one's visit to ORF a memorable one.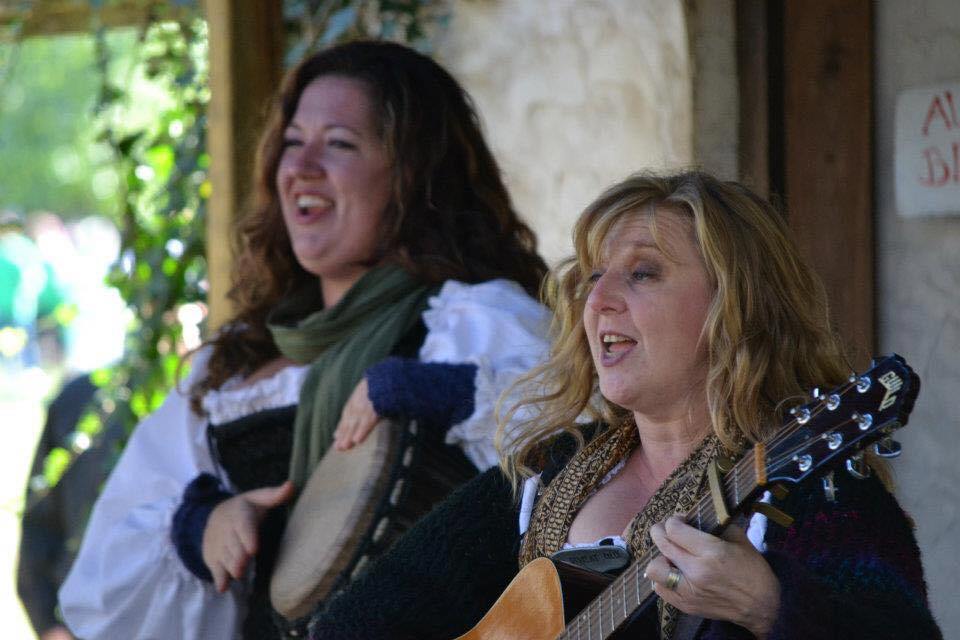 During my time on the cast, I had the pleasure of being in the Choir under Jennifer Brough, ORF Music Coordinator & Wenches'a'Wailing Member. It gave me some insight into the kind of music favored by ren faires and let me discover a lot of independent musicians who help keep this art form alive. It's funny, thinking back to that time in my life, my playlist consisted of Rob Zombie, Ozzy Osborn, and Marilyn Manson. So you can see how this would be a major departure from my usual tastes!
---
Q&A With Jennifer Brough
Jennifer was kind enough to answer some questions about her own experience with music and how it lead her down her path at ORF. As I read through her answers, it is easy to see it as a glimpse of the larger picture. British and Celtic influences run strong, as well as the more American mixture of bluegrass and folk music.
What/who were some of your influences as you developed musically?
Jennifer: I'm at least the fifth generation to play music in my family, so my biggest influences were in my own home. Everyone sang and played an instrument – from my grandfather on guitar, mandolin, and steel guitar to my dad and uncles on guitar and bass. My grandfather used to talk about "folks from the college coming to write down the high mountain songs" that his grandmother sang. Years later, those mountain songs became part of my ren faire repertoire – they hadn't changed much since coming to America with immigrants from the British Isles.
Other performers helped shape my music as well – Rick Fannin and Hillary Wagner, Chris Noon, Bob Ford, Silver Arm, and too many others to name. If you're looking for famous names, though, I would say, Bill Monroe, the Country Gentlemen, Leonard Cohen, The Band, Old Crow Medicine Show, and Allison Krauss.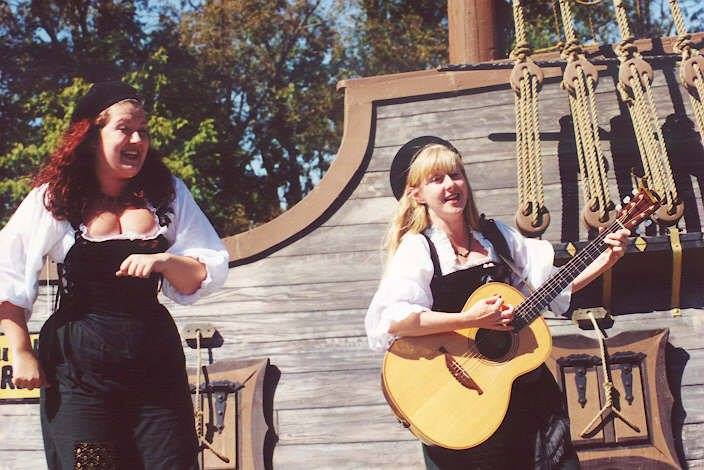 What made you decide that you wanted to become a part of the musical culture of ren faire?
Jennifer: I played the flute, oboe, and sax in school, but stopped playing in college. A few years later, my grandpa and I ran across a flute in a pawnshop in Florida. For some reason, he really wanted me to buy it. After intense negotiations – and $35, tax included – we left with the flute. My cousin had been to ORF the year it opened, and he thought I'd fit in there, so I contacted the entertainment directors. The first time I set foot onsite was my audition; and to this day, I've never been to a renaissance festival as a patron – I've never even gone through a front gate.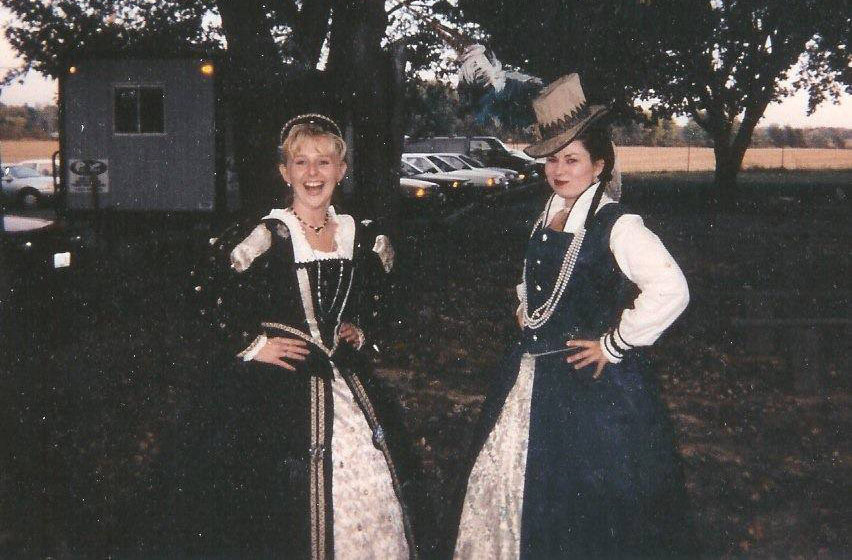 What was your first stage show like?
Jennifer: I played flute in the dance band as Melody Fiendish, wife of the undertaker. It was grueling, playing in the sun all day (there wasn't much shade at ORF in the early years, and I wore a lot of black). And it was tough being the soundtrack, not the main focus of a show. But I was hooked. I remember thinking, "I can't believe they pay me to do this!" I have so much respect for all faire musicians, but especially those in the background – from the pipers that lead the parade to the brass players that herald the Queen's arrival, and of course, the dance band, where my own sons play the tunes I played.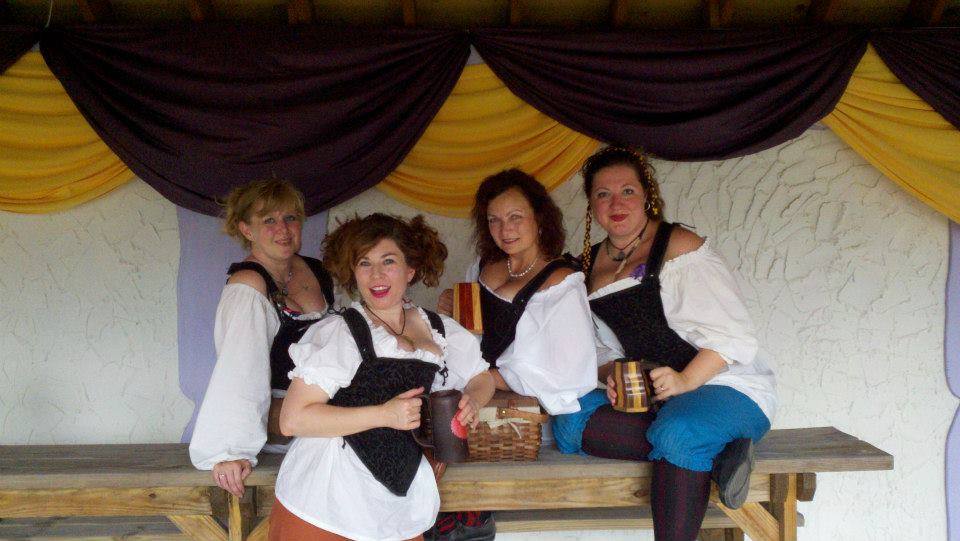 When did you decide to form Wenches'A'Wailing?
Jennifer: I played with the dance band for a few years, then with Menagerie for several more. I was working up a new two-wench act with another young lady who dropped out unexpectedly. This was around June, and with rehearsals rolling around and contracts going out, I really wasn't sure what to do. Johnna stepped up, and here we are, 21 years later. We were so bad at first that my newborn son cried when we sang together. But her voice was so powerful and commanding – I just couldn't believe the raw talent. So after countless hours of practice, and several bottles of white zin (don't judge – we were young), we had a solid act. From the beginning, we tried to balance comedy and music, making us at home on the pirate ship stage and in the pubs.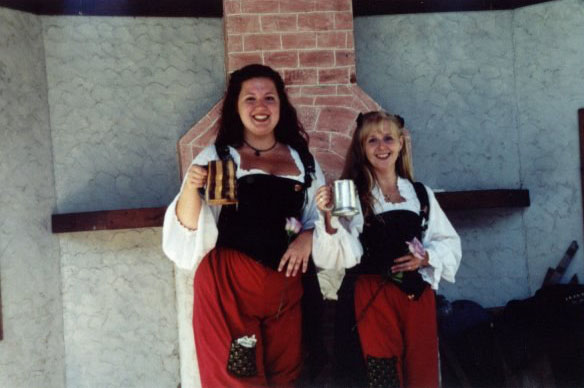 Do you have a favorite style of faire music?
Jennifer: Between the bawdy pub songs, the big choral pieces, company songs, dance tunes, bagpipes, and even the quiet harps in the lanes, I really couldn't pick a favorite. I love them all, and each has a special place in my life – it just depends on mood and situation (FYI, don't listen to fast fiddle tunes if you're stuck in traffic). My favorite to play, though, would have to be those improv pieces in the pub. Whether it's a quiet session in the morning, or the last minute parody for Pub Sing, it's that adrenaline rush from hearing it all come together. I love those organic moments when you join another act for a tune or invite someone new to the stage and it all just clicks.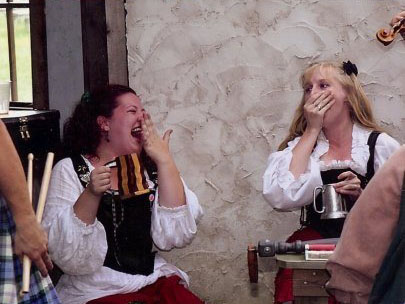 When we look at the culture of the renaissance festival, music plays an undeniably significant role in its development. Why do you think that is?
Jennifer: Music plays such a tremendous role in all our lives. When I hear "Against All Odds," I'm instantly transported back to my junior prom, and I can smell carnations, and feel the butterflies in my stomach during a slow dance. Our brains process memories differently when associated with music – it's just part of us as human beings. So it's no surprise that music has shaped our ren festival culture.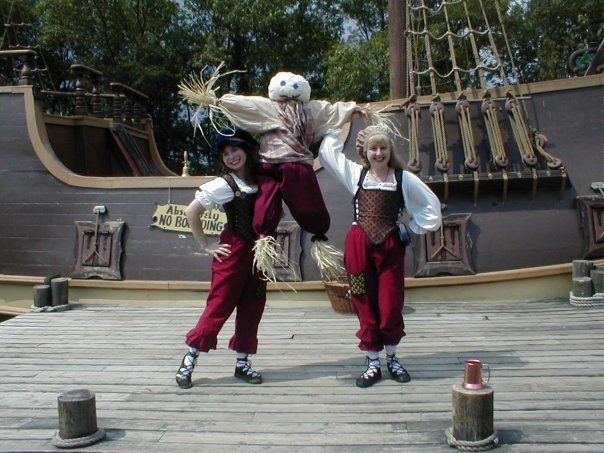 Renaissance festival music is an eclectic mix of traditional songs and original compositions. A lot of those originals quickly spread around, becoming mainstays at their home fair, even moving from festival to festival. Are there any songs like this that you've developed or that you have added to your repertoire?
Jennifer: There are so many – from classics like "Do Virgins Taste Better?" to "Twiddles," and of course, "I Like Moose!" But I love seeing young performers discover hidden talents like songwriting, so my all-time favorite would have to be "All Friends Here," written by one of the singers in the Queen's Choice (our street cast choir). It's a great pub song, and will always be special to me because it came from a young singer sitting around the Aleing Knight with a couple of musicians, hashing out a melody together.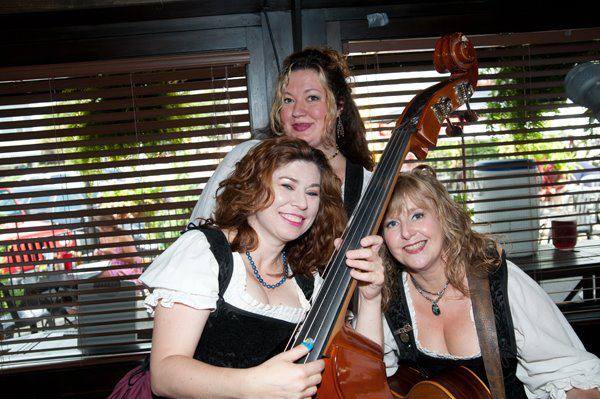 How much has the scene changed since you first began?
Jennifer: When I first started at ORF, music and the overall look was more traditional, with wooden recorders and guitar pickguards covered with leather. Electronic tuners were rarely used. But the crowds got larger and louder, so performers had to rise to new challenges. Metal whistles and composite flutes showed up, parlor guitars became dreadnaughts, and lavaliers popped up in all the stage shows. You still see those traditional instruments, but players keep the volume in mind. Audiences can hear the shows better, and singers don't lose their voices as often!
Renaissance festivals are one of the last outposts of vaudeville in our society – short performances with tons of variety (ADD theater, as I like to call it). And it just keeps getting better and better. Faires embrace pop culture with themed weekends and fantasy characters. Special events, like pub-crawls, whiskey/wine/cider tastings, costume contests, the 21+ pub show, kid-friendly shows, and activities all give the crowd so much to choose from. I can't wait to see what the next 30 years hold for ORF!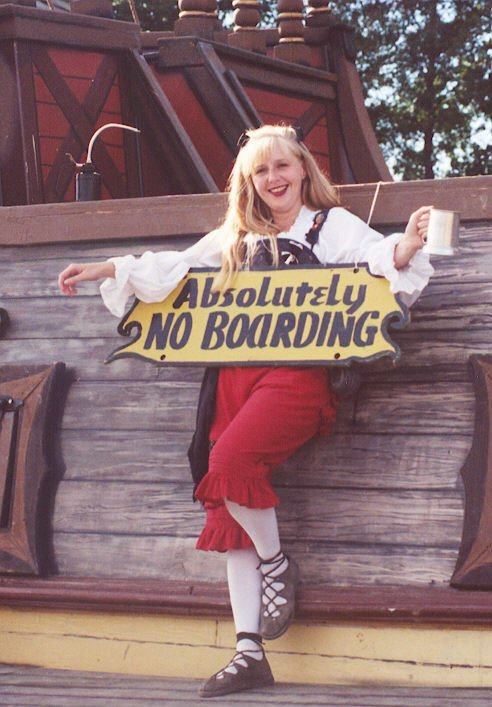 ---
Faire, Helping To Preserve an Art Form
Even as the paraphernalia changes, the intentions remain the same. ORF, along with just about every renaissance festival and faire around the country, help preserve an art form that is being neglected. Every week we hear about school systems that are forced to de-fund their theater and music programs. Fewer people have the time or money to dedicate to music being a part of their children's education. Considering the evidence supporting music's influence in developing minds, it would be a mistake to underestimate its importance in modern times. Much like Tudor era music culture, we have a responsibility to pass these things on to the next generation. Can taking your kid to a renaissance festival do that? I don't know. But it certainly can't hurt.
---
Let Me Leave You With a Playlist
I'd like to impart to you a few of my own favorites gathered from years attending ORF and other festival events. Oh don't worry, I still have my Rob Zombie playlist and likely always will. But these favorites always manage to pull me back in, especially when I'm counting down the days between now and opening day.