There's no such thing as down time when you're running a renaissance festival. Every year the Ohio Renaissance Festival gets a little bigger. With our growing popularity in-mind we put additional effort into improving the park for all our wonderful visitors. This means spending months curating new events, building or updating our village, and scouting for new talent to bring in. There's plenty coming your way for the 2022 season. Read ahead so you can be prepared for nine weeks of fun and fantasy!
---
New Places
10 New Food/Beverage Gazebos
You talked, we listened! We're bringing you 12 new gazebos with food and beverages to help mitigate long lines when you've got a craving. Take a look at our Festival Map so you can better plan for your mealtime needs. Remember that the best time to go for lunch is between 11:30 am – 12:15 pm, before the midday joust lets out.
FOOD
Pulled Pork Sandwiches – Pulled Pork Gazebo
Pulled Beef Sandwiches – New World Knoll Gazebo
Grilled Chicken Sandwiches – Aleing Knight Gazebo
Corn Dog/Hot Dogs – Reveler's Stage Gazebo
Brats/Italian Sausages – Rose & Crown Gazebo
DRINK
Feisty Mead Gazebo – Across from DaVinci Pizza
Rheingeist Gazebo – Across from 3 Fools Pub
Guinness Gazebo – Next to Guinness Arena of Champions
Brother's Drake Mead Gazebo – Across from Pirate's Treasure
Sonder Gazebo – Next to Witch's Hat
Twisted Tea Gazebo – Across from Gamer's Grove
Warped Wing Gazebo – Across from Kamikazi Fireflies Stage
---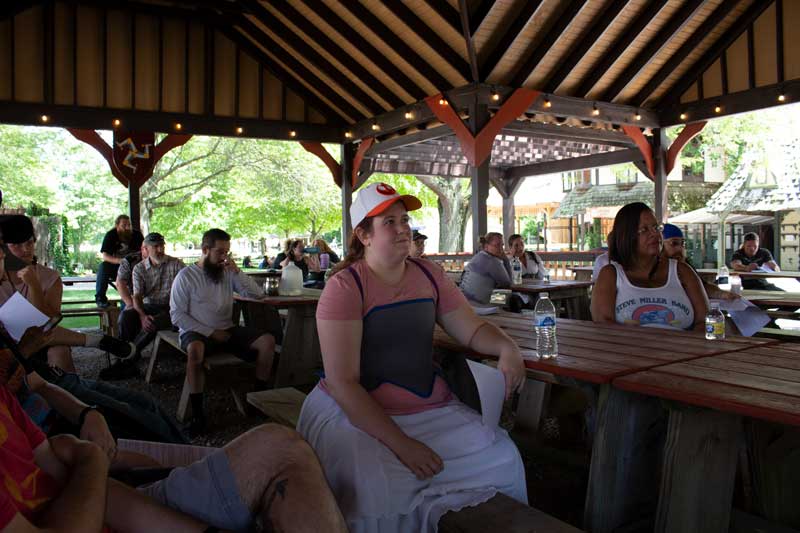 REMODELED – Tipsy Cauldron
No more raindrops on your head! The Tipsy Cauldron has been remodeled into it's own pub with additional seating, a splendid stage for performers, and a fantastic roof to keep you covered in rain or shine. Be sure to check them out right across from DaVinci's Pizza and spend your meal enjoying favorites like Axel the Sot, Friar Finnegan, Lady Victoria, Two Unicorns, and the Whiskey Witches of Willy Nilly Spirits Tasting!
---
BRIMSTONE HAUNT – Dead Shot
Are you ready for Haunt Season? Well, we are! Head on over to Brimstone Haunt to check out Dead Shot, our new Paintball Gallery. Find out how well you would survive the Zombie Apocalypse when you fire off at the undead. Keep your eye on the Brimstone Haunt site to grab your tickets as soon as they go on sale.
---
New Faces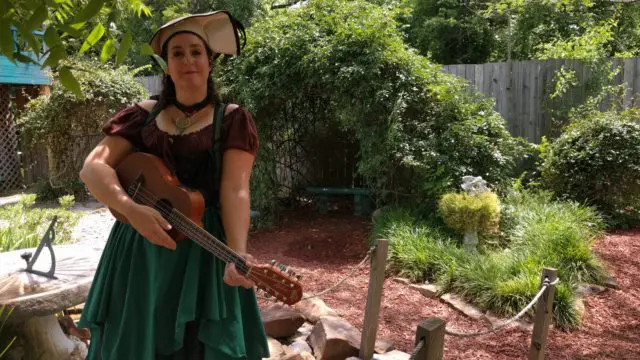 Bettina Bawdville
Like your entertainment a little wicked? Reece's alternate ego, Bettina Bawdeville, brings original risque pub songs to the Renaissance Festival crowd. Don't worry, the euphemisms will go right over the little ones' heads. So catch Bettina at the Rose & Crown Gazebo at 12:30 | 2 | 3:30 | 5.
---
Blades of Death
You cheered for him during the 20th Century Circus, you adored him in the Wheel of Death! Now be prepared to scream as Ichabod Wainwright brings you Blades of Death on the Pub View Stage. Find him there at 11:30 | 1 | 2:45 | 4:30.
---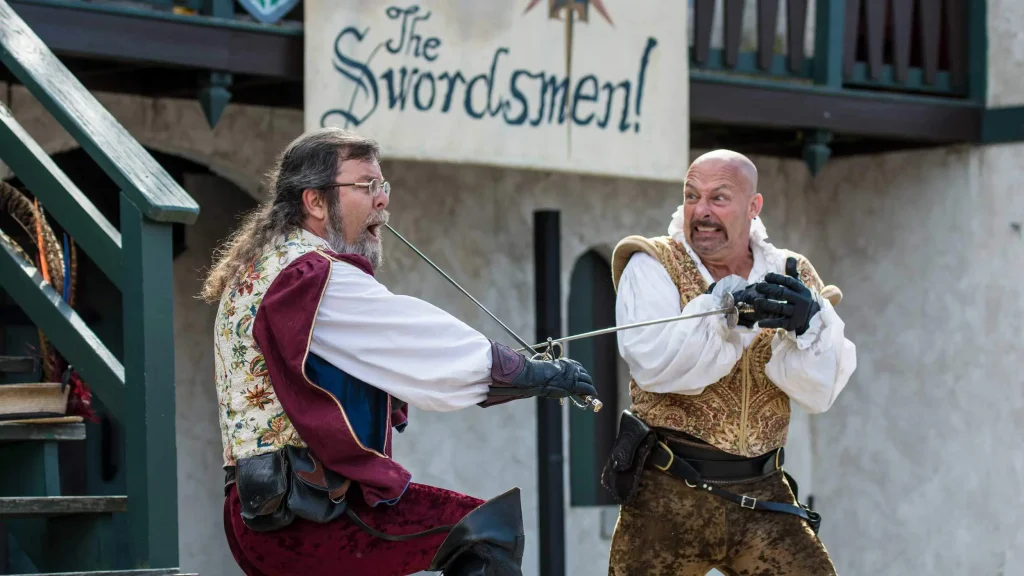 RETURNING – The Swordsmen
You heard us right! It's been two long years without the daring duo of Dirk & Guido to keep us entertained! We are thrilled to see the Swordsmen return to us this season with comedy, flirtation, and swordplay. Be sure to herald their return with a big cheer at the Swordsmen's Stage 11 | 12:15 | 1:45 | 3:15 starting Sep 10 through the rest of the season.
---
New Events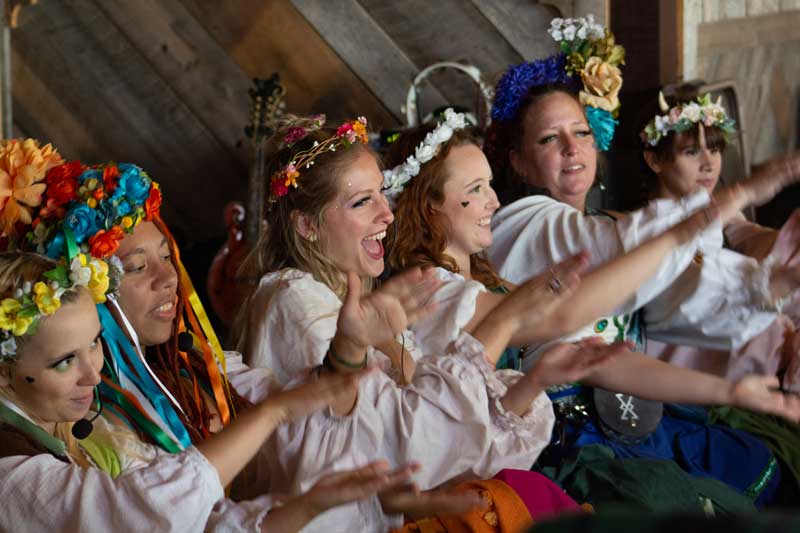 VIP Naughty Bawdy Tickets
The Naughty Bawdy has certainly gained a fan following from our die-hard guests. Now you can show your dedication by getting V.I.P tickets for the show! These tickets include front row seating, pulled pork sandwiches with chips, two alcoholic or non-alcoholic beverages, and a commemorative pin! Seating is very limited so be sure to get your tickets early and show up for this tongue-in-cheek good time!
---
Tipsy Cauldron Tasting Rotation
The Whiskey Witches are expanding their repertoire. The 2022 tastings at the Tipsy Cauldron will now include bourbon and scotch for a well-rounded sample of spirits. You can buy your tickets online, at the Special Event Booth, or from the Tipsy Cauldron from one of the Fiendish sisters themselves. Be sure to check out the rotation schedule so you know when to come back for a whole new experience.
Bourbon Tasting
September 3 – 18
Irish Whiskey Tasting
September 24 – 9
Scotch Tasting
October 15 – 30
---
Royal Feast – Vegetarian Options
We are proud to offer Vegetarian Options for the 2022 Royal Feast! Enjoy a five-course meal while our very own in-house entertainment, Made Up Mayhem, presents to you A Hero's Journey. Be sure to let us know if you would prefer a non-meat selection upon arrival so we can inform our chefs. Get your tickets now or from the Special Event booth on the festival grounds.
---
You'll need a season pass just to catch all the new faces and events at the Ohio Renaissance Festival and Brimstone Haunt! Which shows are you most looking forward to? Remember to tag us with #orfstories and #orf2022 so we can watch your adventure unfold.

Want to share your story with us? Submit your content to Village Voices to be featured on our social media page!