As the Ohio Renaissance Festival draws new visitors from all over, we continue to explore deeper into the world of history and fantasy created for our guests. Each year brings fresh possibilities, encouraging the imagination of our hard-working staff members. We listen to your suggestions and ideas about how to make our festival even better, adding improvements and expansions to help accommodate.

This year we invite you to explore beyond the boundaries of the village of Willy-Nilly and venture forth to the shaded trees of Whimsy Woods.
---
Whimsy Woods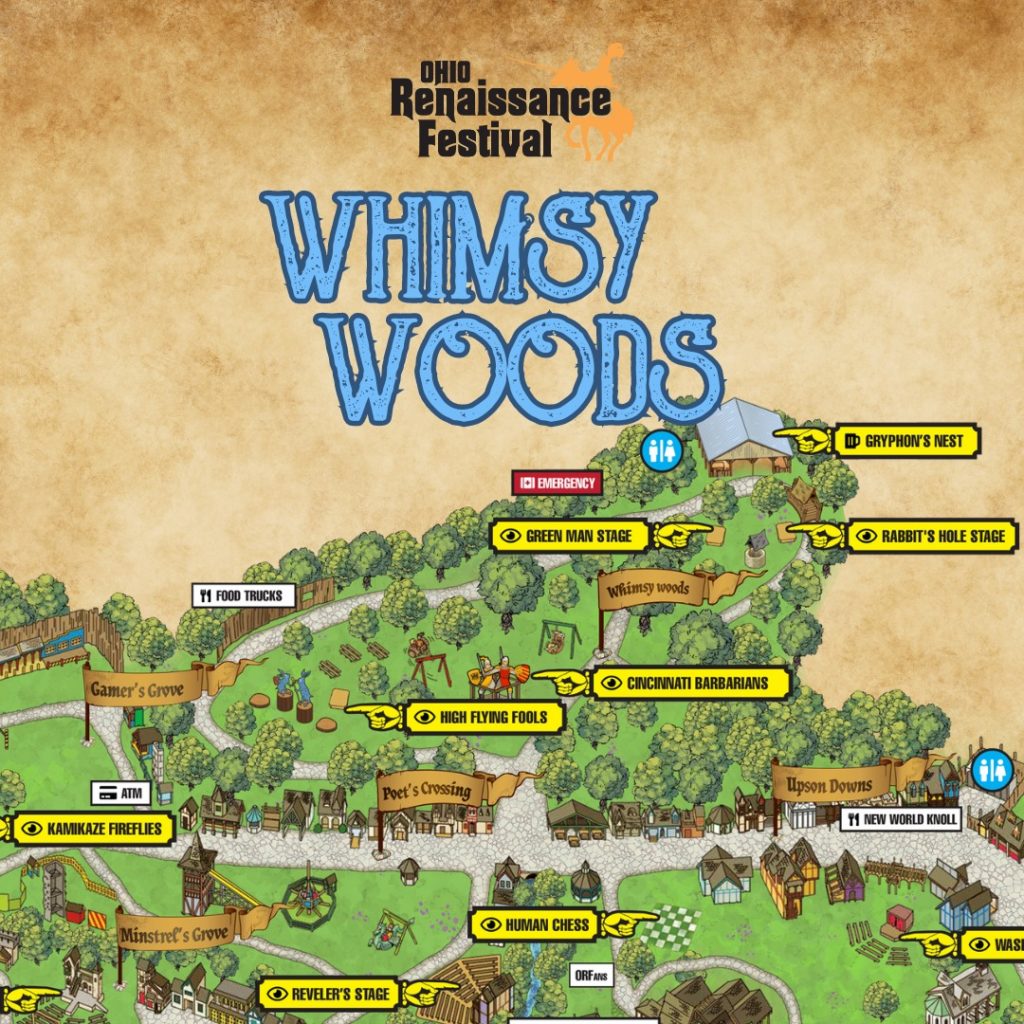 Whimsy Woods is a five-acre expansion that brings new opportunities for our guests to get even more out of their visit to the faire. The winding path through this enchanted glade starts right across from The Pirate's Treasure. Cross the bridge and be welcomed by rolling hills and dappled sunlit grass while you take your time amid the many stages, play areas, and feasting opportunities available.
---
New Stages
Ready for more entertainment than you can shake a turkey leg at? Whimsy Woods has four all-new stage areas with performers familiar and fresh arriving soon. Stop by the Rabbit's Hole stage for Bettina Bawdeville, Filthy Irish Stories, and more! You can travel on over to the Green Man stage for the lyrical lyre of Bettina Solas and Muse's Melodies before heading over to the High-Flying Fools for their comedic acrobatics. Or would that be an acrobatic comedy?

And of course, arrive early for a close-up seat of the carnage! The Cincinnati Barbarians have their own arena, Barbarian's Ring, nestled in the peaceful woods where you can hear the slashing of steel and roar of the crowds as these combatants battle it out in full armor.
---
The Gryphons Nest & Gryphons Row
Looking to stave off the heat with an ice-cold drink? The Gryphons Nest is ready to offer up a wide selection of alcoholic and non-alcoholic beverages along with plenty of seating for your family and friends. Grab a table and spend the day rabble-rousing with friends, or take a walk down the neighboring Gryphon's Row where you can pick from a variety of foods and delicacies fit for the royal court!
---
All Natural Playground
Nothing beats the freedom of the playground. Bring your wee ones where they can explore this natural play space! It's the perfect spot to let your kids run out a little bit of energy after lunch or before the carriage ride home. Don't be surprised if you find them making new friends and battling imaginary dragons as they let their imaginations soar.
---
Sneak Peek Photos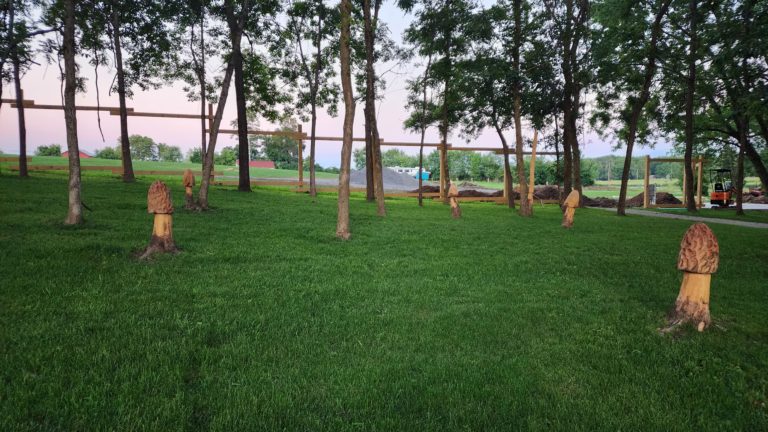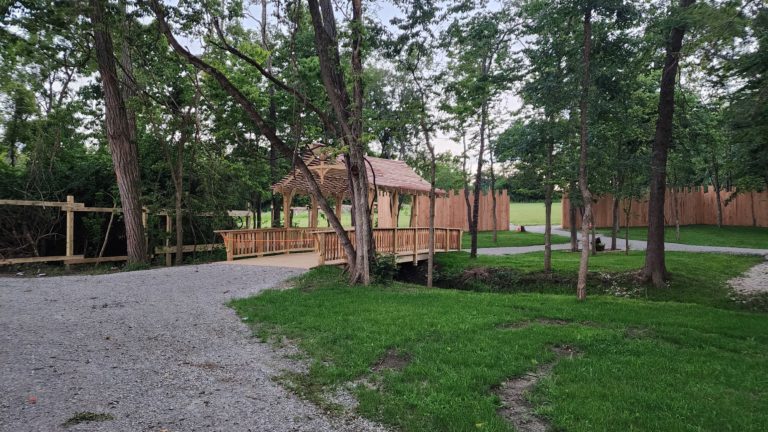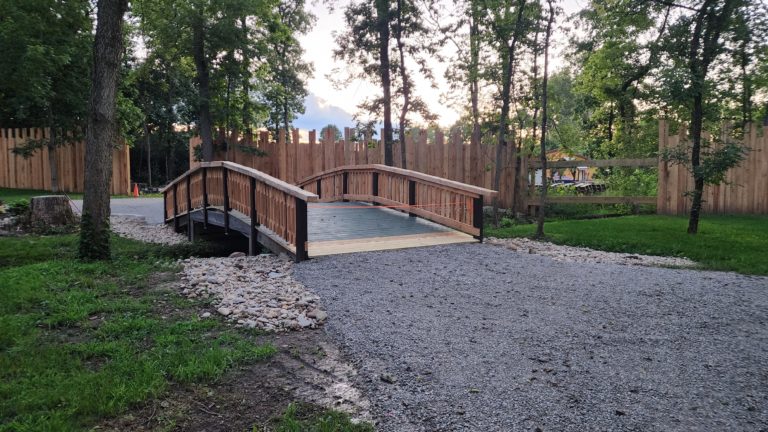 ---
More to Enjoy
Fairy Playtime – Care to frolic with the fae folk? Look for the Faebles from 12:30 – 1:00 as they invite you to Fairy Playtime at their new home in Whimsy Woods.

Clove & Hive – Come and grab a honey-sweet treat or candles from these buzz-worthy sellers.

Idle Hands 3D Treasures – Amish furniture, 3D dragons, and other artistic creations are waiting to be discovered!

Sage & Salt Apothecary – Pagan supplies for rituals, crafting, and decoration!

Sir Leggsalot – Get your turkey legs at the perfect spot for these traditional ren faire treats.

Gazebo Drink Selection – There's no shortage of spots to grab a frosty brew on a hot day!
---
Festival Additions
Don't go away thinking that's all there is! While the new area has garnered a lot of attention since last season, it is far from the only addition to the Ohio Renaissance Festival!

Improved Reception Garden – Event Reception Tent
Improved reception area for your wedding, reunion, or corporate event.

Celtica Fae – Dragon's Lair Stage
Music and mirth as you enjoy your feast.

The Bard O'Niell – Dragon's Lair Stage
Songs and music from the bard's lips to your table.

Equestrian Chaos – Arena of Champions
Horseback stunts and acrobatics.

The Tom Timon Show – Shipwrecked Stage
Magician, juggler, sword-swallower, and clown.