While the 1572 Roadhouse opening signals the beginning of summer, Celtic Fest Ohio is the start of our festival season out at Renaissance Park. There are multiple events each month as we move forward to the end of the year, from Muddy Princess to the 20th Century Circus, the Ohio Renaissance Festival, Brimstone Haunt, and Yuletide Village. But it's CFO that tells us the time has come to get out, enjoy the sunshine, and have a good time with friends.
---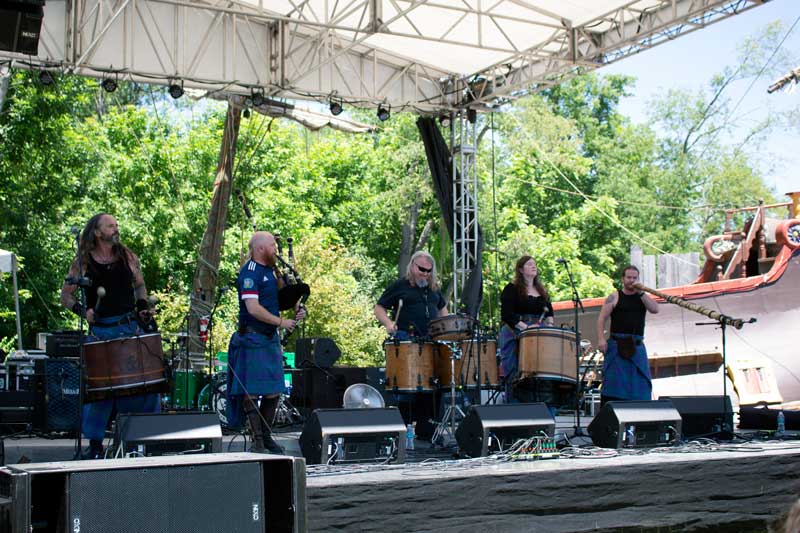 Nothing gets you up and going like the pounding of drums and the blast of bagpipes. Music was to be had in every corner of the festival; no matter where you turned, there was a show going on. The lineup has only gotten better, showing off the diverse growth of Celtic music throughout the years. Bands like Jameson's Folly & Father, Son, & Friends bring to us some of the more classically known Irish pub songs as well as some original pieces for the crowd's enjoyment. Showstoppers like Albannach & the Bastard Bearded Irishmen rock the stage and get the crowd to their feet with pounding drum beats and shredding guitars.
---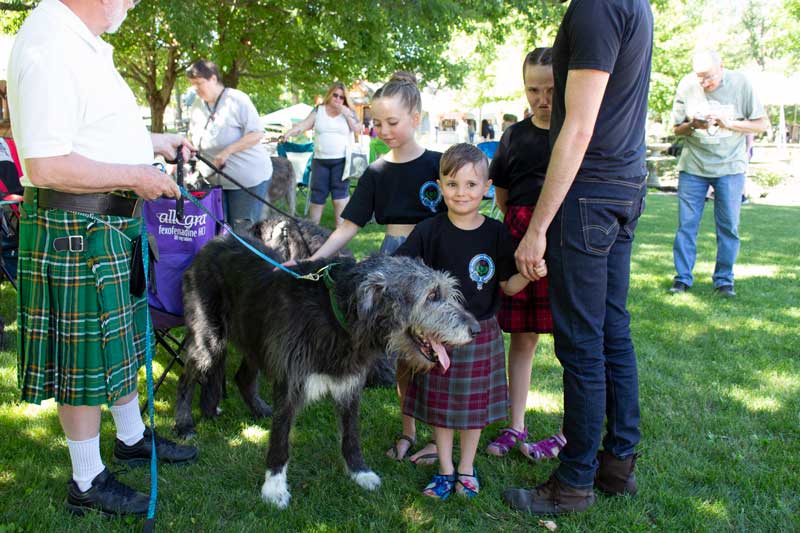 Celtic Fest is so much more than a pint, although there was plenty of that to be had! With families pouring in through the gates looking for a way to make this Saturday special, CFO delivered non-stop entertainment across the grounds. One of the first places to visit each year is the Cu & Craic Irish Wolfhounds, giving folks a chance to pet these gentle giants for themselves. These sweet creatures are always happy to be given so much attention from their adoring fans while they relax in the shade. They weren't the only furry friends to be seen. A wonderful petting zoo was set up shop near the Aleing Knight with donkeys, miniature horses, and a few mischievous goats for folks to visit.
---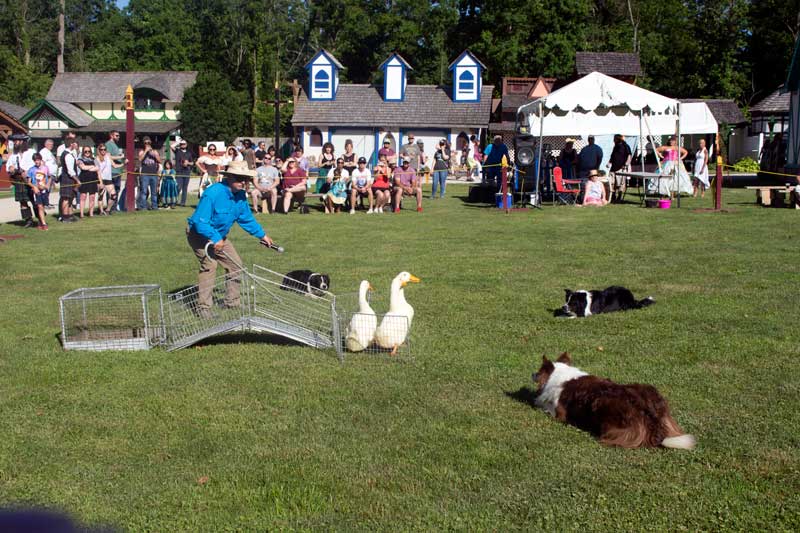 "They're working dogs, but they're also our pets. I can't understand people who just keep their dogs in the barn. This one, [Rosco] slept in the hotel room with us last night."

– Lorie
Nothing draws a crowd quite like Miller's Border Collies! We see these amazing dogs every year and it never fails to entertain us. With professionals like Johnny, Tipp, and Rosco herding sheep and ducks with precision through the obstacles, it's easy to see why farmers have relied on these dogs to keep their stock in check.
---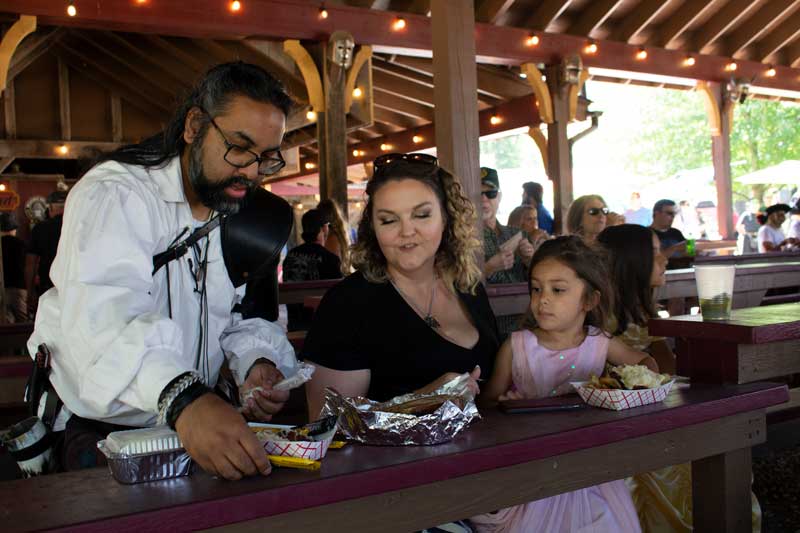 No festival is complete without an armload of treats to chow down on. With a slight menu change that better reflects the Celtic theme, there was no shortage of delicious options during the day. From more traditional selections like bangers & colcannon potatoes, scotch eggs, and even haggis, to a more modern take on regional delicacies like Irish nachos, Celtic pizza, and lamb burgers with apple chutney. Those of you with a sweet tooth didn't need to go far with stops like Celtic Confections where you could grab a gigantic cream puff or a 'build-your-own' layer cake.
---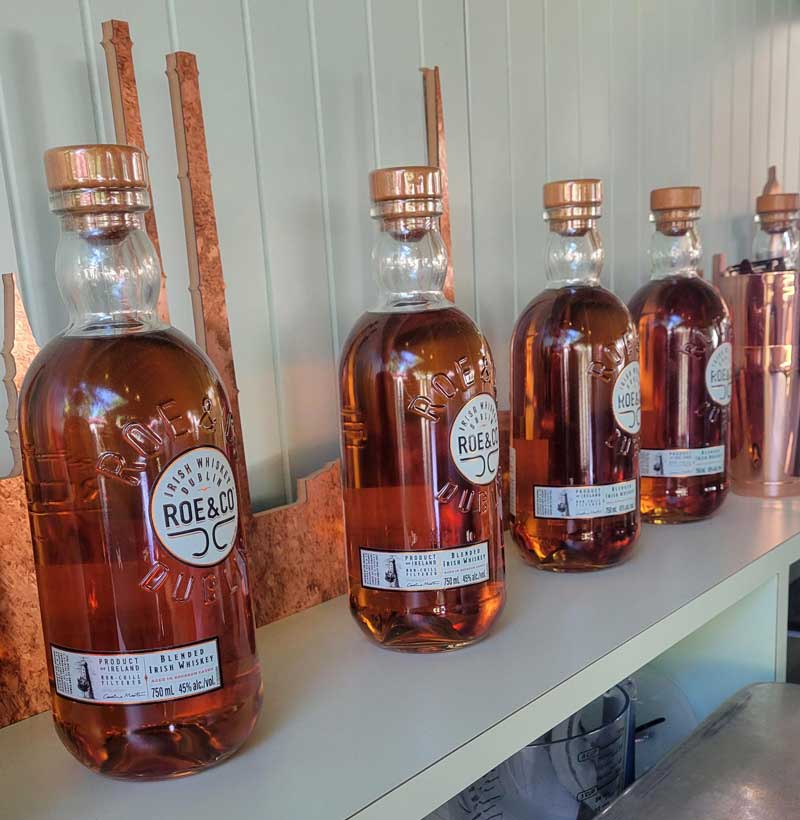 Special events abounded this year with chances to take in a bit of the culture for yourself. Roe & Co. made their premier showcasing their whiskey with a selection of cocktails in the newly rebuild Tipsy Cauldron. I'm not a whiskey drinker myself, but I had to admit their mixes really hit the spot, especially the whiskey sour with a couple of cherries to sweeten up the brew. I found their whiskey smooth, rich, and easy to drink, which means I'll probably end up with a bottle in my cupboard!
---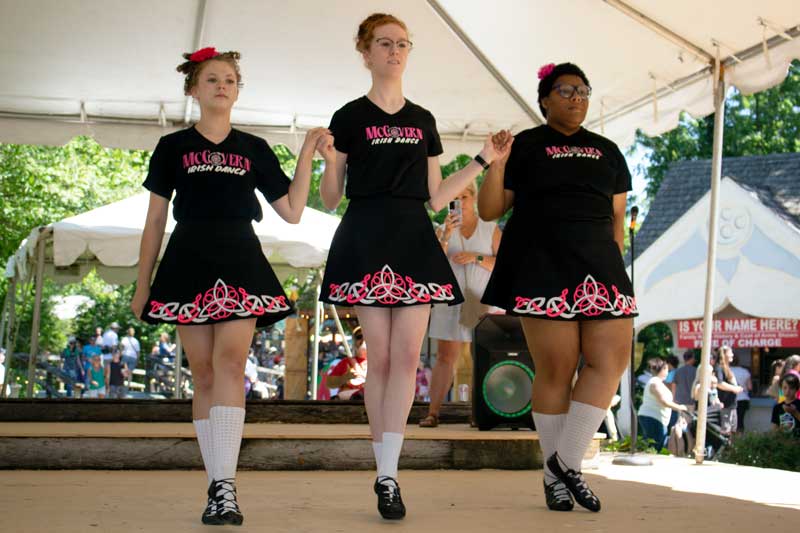 If you heard the clap of shoes against the boards then you couldn't have been far from the dance stage. Every year CFO presents an opportunity for dancers across the region to come out and display their talent to the crowd. From the littlest troopers just learning how to tie their laces all the way up to world champions, it's always a thrill to see their precision develop. There are moments when I swear you don't even see their feet touch the ground between steps. Many of the schools showcasing their talents during the festival are accepting students, so there is still a chance to get your kids into this longstanding traditional dance.
---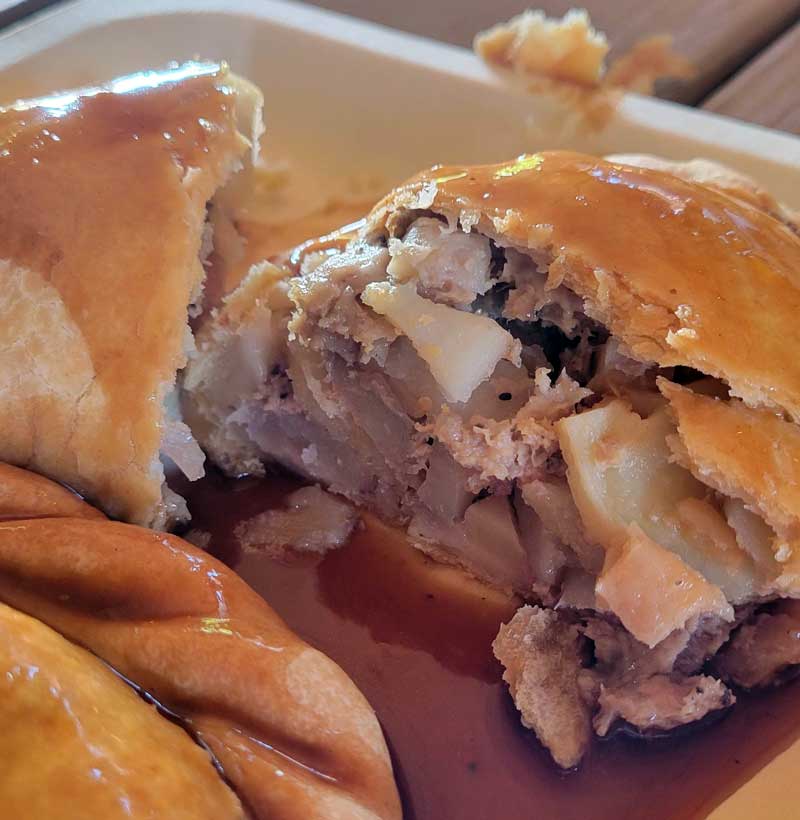 If you didn't get your tickets for Taste of the Isles, you really missed out! With five courses to make your way through this meal was worth every penny. Starting off with a rich and silky Guinness beef stew for the first course, we worked our way through light and flaky Cornish pastry, stuffed pork pies with a demi-glace, smoked haggis, and Bailey's Irish Cream cupcakes with Irish soda bread cookies. All that with drinks and entertainment meant you walked away with a full belly and a souvenir CFO tumbler to take home!
---
CFO 2022 GALLERY
---
Though Celtic Fest Ohio 2022 may be over, the fun has just begun! What was your favorite moment from this year's celebration of Celtic culture and heritage? Tag us with #celticfestohio or submit your content through Village Voices so we can share the memories together.