Few things capture the magic & wonder of the season quite like a sprawling village decked out in millions of lights. The ring of carols in your ear, the bustling of the outdoor market, the visit with Santa, or catching sight of Krampus. All these things are brought together at Yuletide Village, Season of Lights 2021, held on the grounds of the Ohio Renaissance Festival.

Outdoor holiday markets are something of a tradition in European countries, with places like Austria, Germany, Estonia, Sweden, and Hungary sporting some of the most popular markets, drawing thousands of tourists each year. This tradition goes back centuries to the late 1300s, where stalls would sell meats for holiday feasts. This tradition soon expanded to include little treats, baked goods, and even performances, becoming a true event over time. Dresden's Striezelmarkt, first held in 1434, is considered to be the first official Christmas market, though the tradition has clearly expanded since then.
Yuletide Village brings together a bit of the old and new, blending traditions to create a truly unique experience in midwest Ohio for the whole family. There is so much to see and do that it is well worth it to arrive early and take your time to experience the whole event. From the front gate to the Aleing Knight Pub, there was plenty to keep us busy during our winter visit to the village.
---
Light Up the Night
Once the sun goes down and the lights come up, you really get the opportunity to see how much work has been put into ensuring the Season of Lights lives up to its name. Everything that could be lit was lit, with trails of lights hanging off every tree branch and booth. A living river of lights cascades off from the Y-bridge as a weeping willow of twinkling strings hangs in front of the pond. The pirate ship dazzles with its own colorful display as the projection-mapped show by Brave Berlin creates majestic scenes across the dais.

Personally, I was very impressed with how the boothies outdid themselves this year! The Lost Viking Hoard put up a sitting area in the Skychairs booth, complete with an electric fireplace, pine trees, and candles all over for the perfect holiday backdrop. Immortelle Bijouterie turned their whole booth into a Nutcracker tribute hall, with delicate ballerina skirts and a 6 ft tall parade-float nutcracker. Damsel in this Dress created a beautiful tree and every mannequin was dressed in coordinated holiday-themed layers just waiting to go home with someone. It was a treat for the eyes across the village.
---
Playing Dress – Up
We had a smattering last year, but I think this time folks really took to heart the opportunity to put on their seasonal finery and come out to play! Many people brought out their layered garb, taking advantage of the chill to wear their furs and thick cloaks. I am forever in awe of the creativity people show off when making themed outfits, with everything from homemade Krampus costumes to winter fairies coming in the gates. It's heartwarming to see how much people want to participate in Yuletide however they can, and I look forward to seeing more in the coming weeks.
---
#orfinderskeepers
A fun little game has popped up this year with the IWG: Local 73, with a chance for the clever and observant to walk away with a little something special. Every day of the event you can follow the #orfinderskeepers on Instagram, Facebook, and TikTok to see where some of your favorite wenches have stashed their gifts. Follow the clues and be the first to spot the drop! If it has a tag that says "Take Me, I'm FREE!", then congratulations! It's yours! These little trinkets include hand-painted miniatures, beautiful art pieces, jewelry, and more. The only thing you need to do is post a photo of yourself with the gift and the hashtag to let us know it was picked up. While this game is not sponsored by the Ohio Renaissance Festival, it's just another delightful way in which the larger faire community keeps us all tied together.
---
Santa & Krampus
It just wouldn't be a holiday event without Santa and Krampus in attendance! Each of these seasonal figures has its own spot on the grounds, with Santa located up at St. Peter's Church where you can get a commemorative photo at our Woodland Santa display. Krampus has his own arena next to the Rose & Crown, perfect for a creepy Christmas pic with this wicked creature. I will be doing an interview with each of these figures in the coming weeks, so keep an eye open on the blog!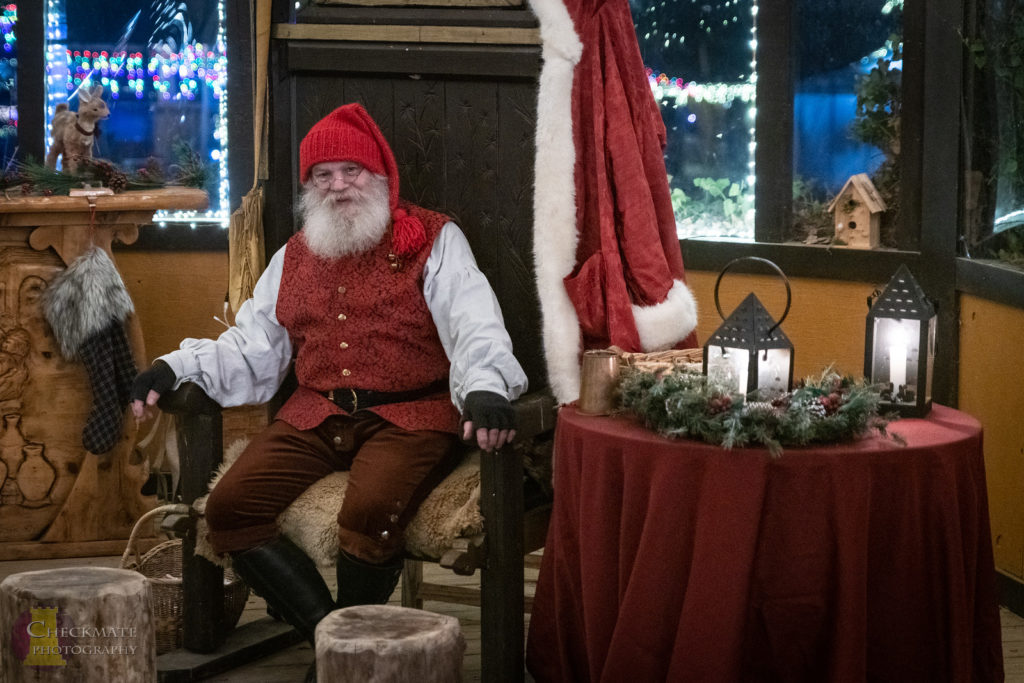 ---
Handmade Ornaments
Looking for a special activity for kids from 1 to 92? Check out the tent behind the Tiki Bar for an ornament-making experience! We keep it nice and toasty inside, where you can select your own wooden ornament and spend some time decorating it with friends and family. This is a great way to take home a little keepsake from the festival, and a lot of fun to do.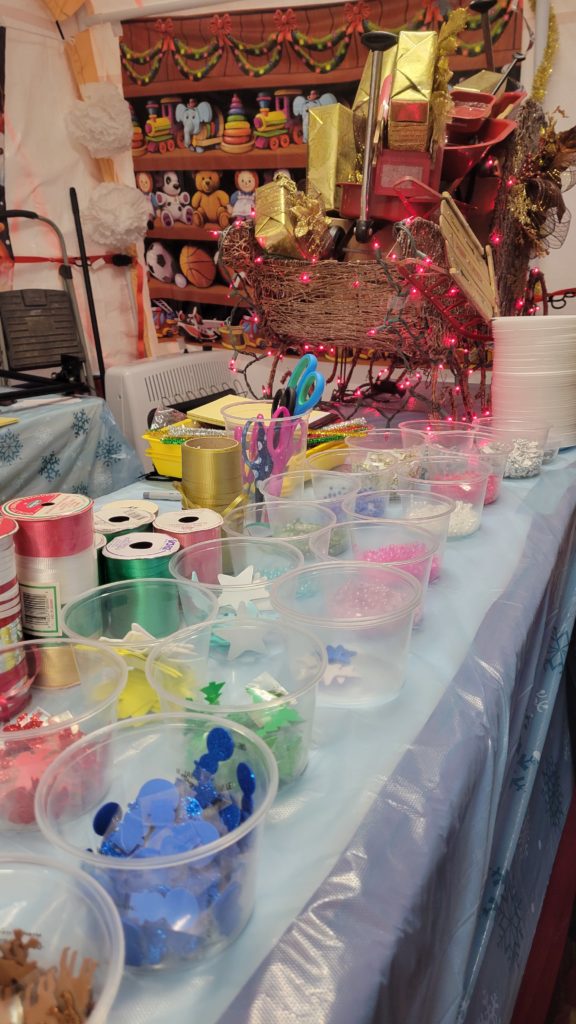 ---
Photo Ops
As you wander through the village, keep an eye open for the glowing lanterns with the Yuletide Village logo next to them! These mark the perfect spot for you to get that photo for this year's card. There are several of these through the village, with one under the weeping willow tree and another at the arching bough near the Brown Cow. Be sure to tag us #yuletidevillage so we can see your pictures!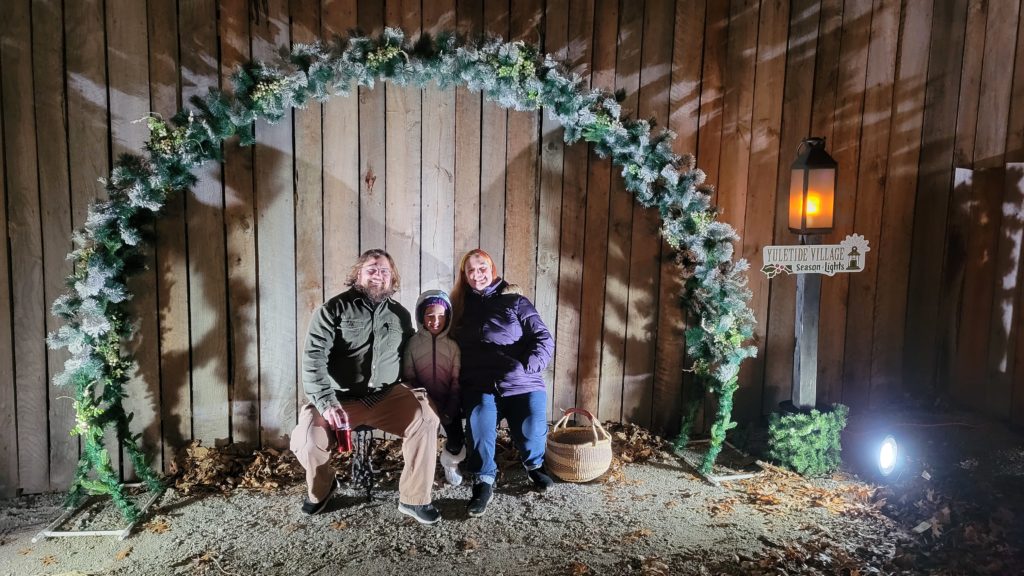 ---
Deliscious Treats
Nothing keeps the cold at bay like a hot meal, and I am a sucker for the gumbo at KJ's Cajun over near the Petting Zoo. It's rich, peppery, and really helps warm the belly while you take in the Wenches A' Wassailing over at the 3 Fools Pub. We snagged a Christmas Burrito, a lovely bit of turkey, mashed potatoes and corn all wrapped up in a hot tortilla, and fried Apple Eggroll from the Marco Polo Grill, both of which proved to be a treat. But we just couldn't leave without stopping by and grabbing some sugary confectioneries from Benji's Bakery, located in what is usually DaVinci's Pizza. I cannot stress enough how amazing these baked goods were. The sugar cookies were the exact right amount of firm yet crumbly. The hot chocolate cupcakes were moist with decadent, flavorful icing. We spent the whole ride home just munching away on them and listening to our Christmas Spotify list. I can honestly say I'll be back there again before the end of Yuletide to snag some of the brownies next!
---
Have yourself a SCARY Little Christmas! Brimstone Haunt opens next week for 4 days of tinsel and terror! Visit Brimstonehaunt.com for more information!