As we look forward to the turning of the year, the holiday season has already begun! Thanksgiving is behind us with the winter celebrations just ahead. From Christmas to Yule, the Winter Solstice and New years, there are plenty of reasons to keep the days merry and bright. Many of us have already decorated – some beginning as early as September – in order to bring a little bit of joy to their home.
It is amid this time of hope for the future that the Ohio Renaissance Festival will host its very first Yuletide Village, Season of Lights event! For three magical weekends, Renaissance Park will be open to visitors for a display of lights, food, shopping, and entertainment in a blend of old Christmas cheer and modern holiday celebration. Each booth will have its own light display, and there will be several areas for you to explore as you move about the village.
---
Magically themed areas for every holiday mood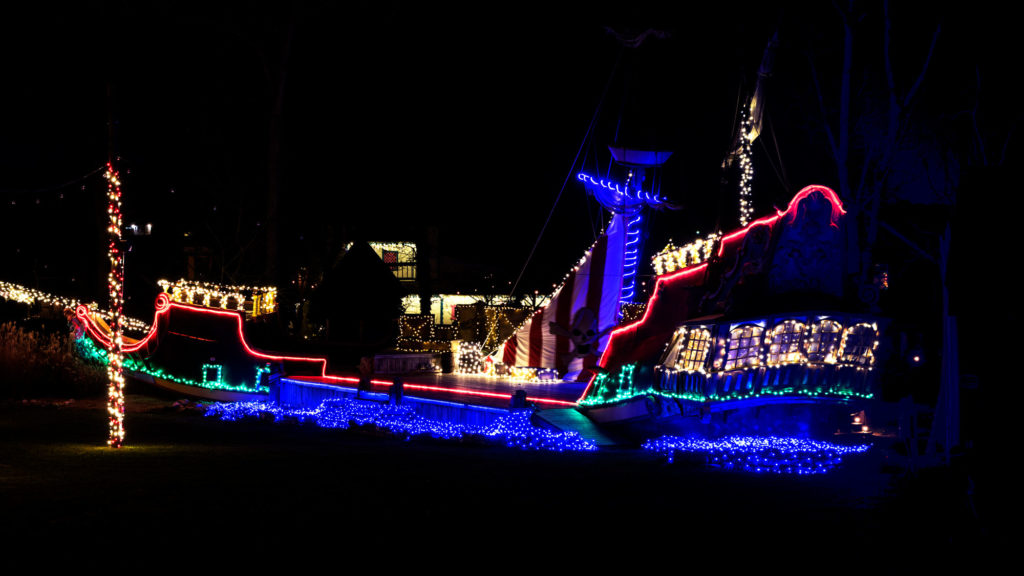 As you enter the front gates, the gentle glow of Fairyland beckons you over. Amid the shimmering trellis, you can dance with the fae folk in their winter revelry to keep warm. Bring your blankets and take a seat at the Pub View Stage next to the fountain and enjoy clips from classic holiday movies.
When you stroll down the lanes for the village walk-through, don't be surprised if you see The Queen's Choice gathered. Stop for a moment and listen to the dulcet tones of our choir as they entertain you with acappella carols. If you look, you may see the embodiment of Fall and Winter looming around in the form of stilt characters, along with the Krampus himself! Around the corner at the 3 Fools Pub, we have the Wenches A'Wailing on stage. From there you can find Gumdrop Alley with our Candyland display of bright, colorful lights flashing in the air in a display of childlike wonder.
How often do you get the chance to see a pirate ship strung up with Christmas lights? Not often I'll bet! Head to the Shipwreck Stage for some great photo ops with the family.
Then jump on over to the jousting fields for our Christmas tree lights and music show! Towering above the crowd at the top of the hill near the jousting field will be the Tree of Light strung from the Maypole. And if you make a stop at the Y Bridge you can see our River of Lights streaming through the wash.
Be sure to @ohiorenfest & #orfstories so we can catch up with you on social media.
---
Hot food and drinks to stave off the cold
Afterward you may find you need a bit of a warm up. Head over to one of our 3 pubs for a selection of Christmas ales, hot ciders, mulled wines, or hot chocolate with optional adult add-ins.
By now I'm sure you're getting hungry. Well have no fear, Yuletide Village has several options to keep your belly full. From bowls heaped with chili or beef stew to s'mores kits (hint, take them to one of our two fire pits!), caramel apples, and cinnamon rolls there will be plenty of treats throughout the event.
---
A Yuletide Market bursting with unique creations and gifts
Looking for the perfect gift this year? Vendors alley, as well as several of our booths, will be open and available for your shopping needs. Be sure to support independent artists and crafters this year and give a truly unique gift to the people you care about. Nobody says no to a sword in their stocking!
---
Tell all of your holiday wishes to our Woodland Santa (or Krampus)
What holiday village would be complete without a visit from the big man himself, Santa Clause? Yuletide village has its very own Woodland Santa! Visit the Aleing Knight Pub for an opportunity to visit this old world Santa Clause for yourself. Santa is helping to keep everybody safe, so please let the kids know they may have to sit next to Santa this year. There will be stool available for photo ops and participants must be wearing a mask. Keep your eyes open though, because that naughty knave Gruss Von Krampus is always around, looking for anyone misbehaving themselves!
---
Join us in ringing in the holiday season for the first time in our village!
With this inaugural winter festival comes the rare opportunity for winter garb! We've kept our ears open and it seems like many of you are hard at work preparing outfits so you can visit us in style! We look forward to seeing your holiday apparel in the lanes. Please remember that your safety is key. It is December in Ohio, so be sure to dress in layers and utilize good, protective footwear. We will have fire pits and burn barrels in the lanes and braziers available at the pubs to help you stay toasty.
Remember, Santa has a big job coming up soon, and we need to keep him safe for his yearly run. Please review the Covid-19 Safety Guidelines before visiting our village this season.
Yuletide Village will be open Dec 4th – 5th, 11th – 12th, 18th – 19th from 6 pm – 9 pm.
Tickets are only $7 with children 4 and under free.