Bundle up! In just three days' time, we will open the gates for the second year of Yuletide Village, Season of Lights! With guests from all over Ohio looking for ways to spend time with the family this holiday season, Yuletide Village offers a welcome outdoor event to the young and old alike. This venue marries traditional pastimes with the modern, giving a little something for everyone to enjoy. We've even been named Stop #6 on the 2021 Ohio Holiday Lights Trail!
Read ahead to discover what you have to look forward to during the 2021 Yuletide Village festival!
---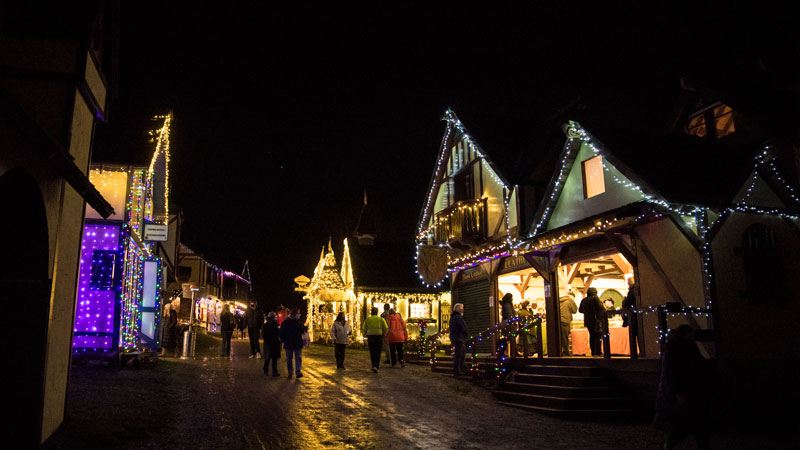 Outdoor Market

Holiday markets are a seasonal pastime, featuring hand-crafted pieces from independent artisans across the nation. This presents the opportunity for some truly unique pieces such as bespoke jewelry, woodwork, fine clothing, and weaponry to be found under the tree this year. With shipping and stock being a concern for large-scale retailers, now would be the time to support local businesses and bring that special piece to your loved one. Yuletide Village will have dozens of crafters for you to visit across the grounds as you peruse the event space.
---
Campfire Mugs
Are you a hot chocolate lover? Stop by the souvenir booth or anywhere that mugs are sold for your 2021 Campfire Mug! Hot chocolate refills are only $1 with this special purchase, or you can grab a 20 oz. mug and pay just $2 for a top-up. This lasts all Yuletide, so if you're planning to make multiple visits be sure to pack your mug and keep your belly full of frothy, chocolaty goodness.
---
Special Guests: Santa & Krampus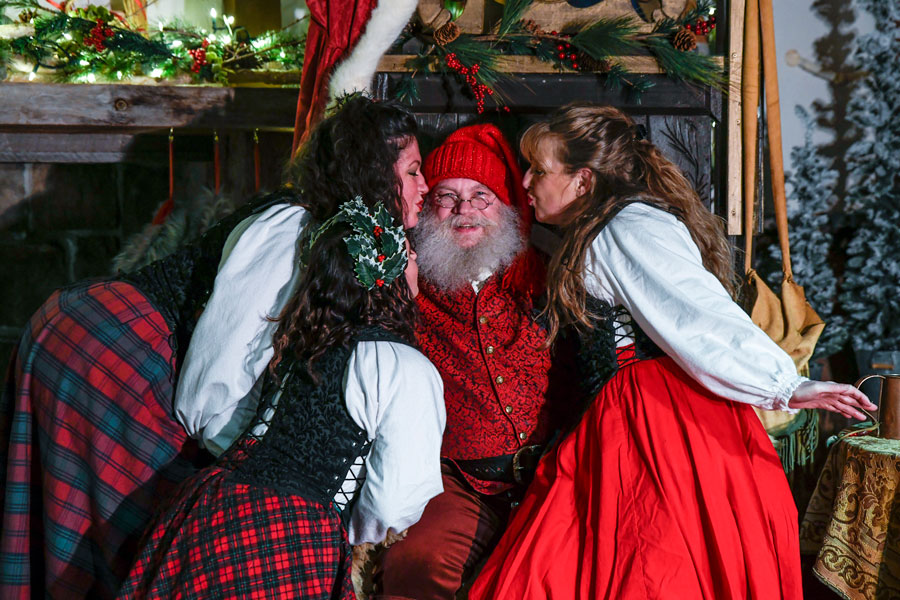 Looking to get that perfect photo for your holiday cards? Stop by St. Peter's Chapel to get your picture with our charming Woodland Santa in this idyllic setting. In the mood for a more creepy sense of cheer? Krampus will be over by the Rose & Crown Pub, waiting for all the naughty folk to stop by and pay him a visit.
Santa
Fridays 5:30 – 9:30 pm
Saturdays 3:00 – 6:00 pm & 6:30 – 9:30 pm
Krampus
Fridays 6:30 – 9:30 pm
Saturdays 6:30 – 9:30 pm
Krampus Walk-about starts at 9 pm
---
Winter Magic – By Brave Berlin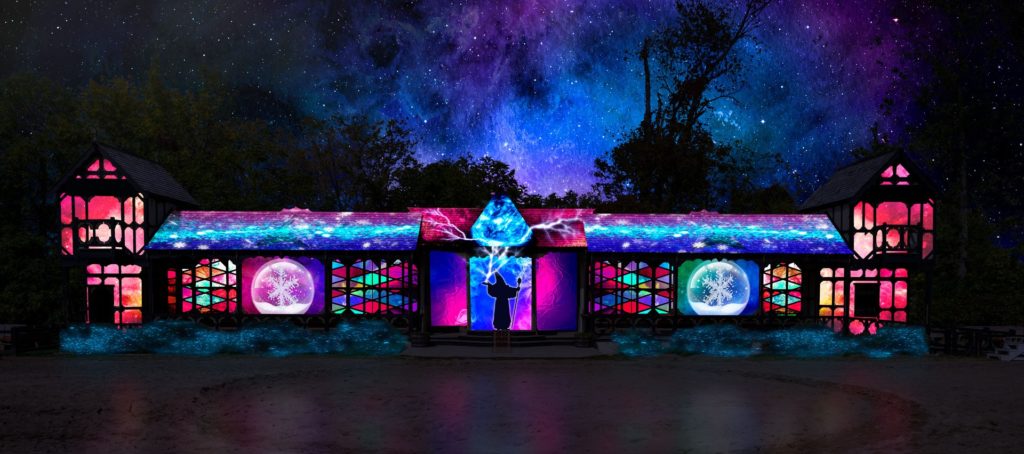 Looking for a brilliant display of winter lights and technological magic? Stop by the Jousting Field for Winter Magic, a projection-mapped display by Brave Berlin. This stunning show is sure to impress as it turns the dais into a kaleidoscope of color & sound. This show will loop about every 15 to 20 minutes once the evening comes, so you will have plenty of opportunities to catch it in person.
---
Light Displays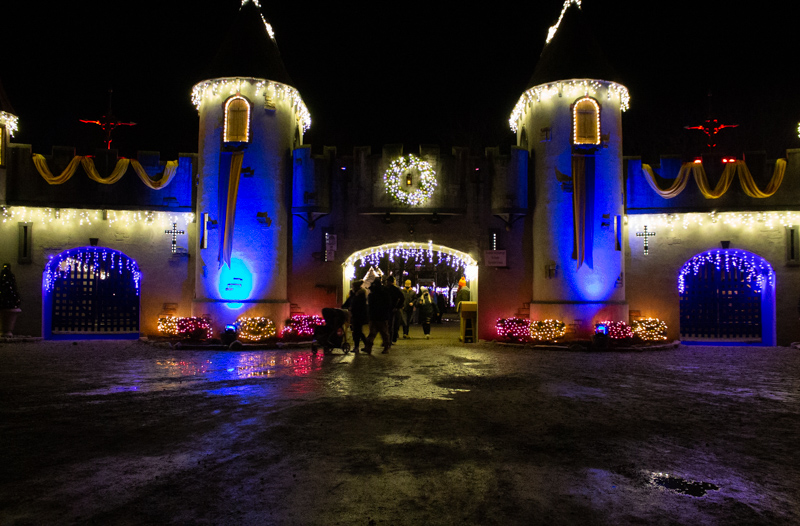 It wouldn't be a season of lights if we didn't have tens of thousands of glittering bulbs everywhere now, would it? When the sun goes down the village lights up. From a bedecked front gate to the whimsical Fairyland display, the elegant draping of the Y Bridge to the towering Christmas tree on the Upson Downs field, a lane full of gumdrops and candy canes, and every single booth covered in holiday lights, you can keep the darkness at bay with each step you take.
---
Hot Food & Drink
Nothing like a hot bowl of soup or a mug with steaming cider! Hot food and drink will be available at multiple locations across the grounds. Be sure to check the village menu so you can choose where you'd like to eat.
Food Locations
Hot Soup Cauldron
1572 Roadhouse
3 Fools Pub
Aleing Knight
Burger Shack
Ciderhouse
Starstruck Cafe
DaVinci's
Hot Chocolate Gazebo
Hot Chocolate Front Gate
Bread Bowl
KJ's Cajun
Marco Polo
New World Knoll
Tiki Bar
---
Live Music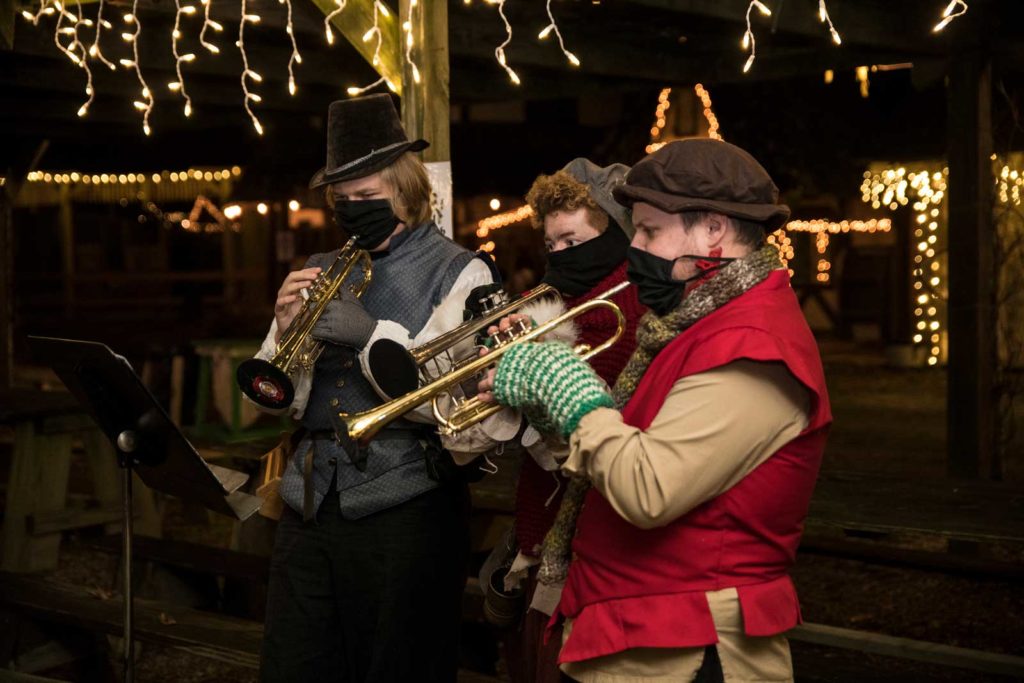 After some joyful carolers and live shows? Have we got the place for you! Everywhere you turn there is music in the air, with live carolers and entertainment in the lanes and the pubs. Stop by to see some of your favorite performers keep the season bright.
3 Fools Pub
– Wenches A-Wassailing
– The Sirens
– Handbell Choir
Aleing Knight Pub
– Two Unicorns
Tipsy Cauldron
– The Sirens
– Brassband
---
Costumes Characters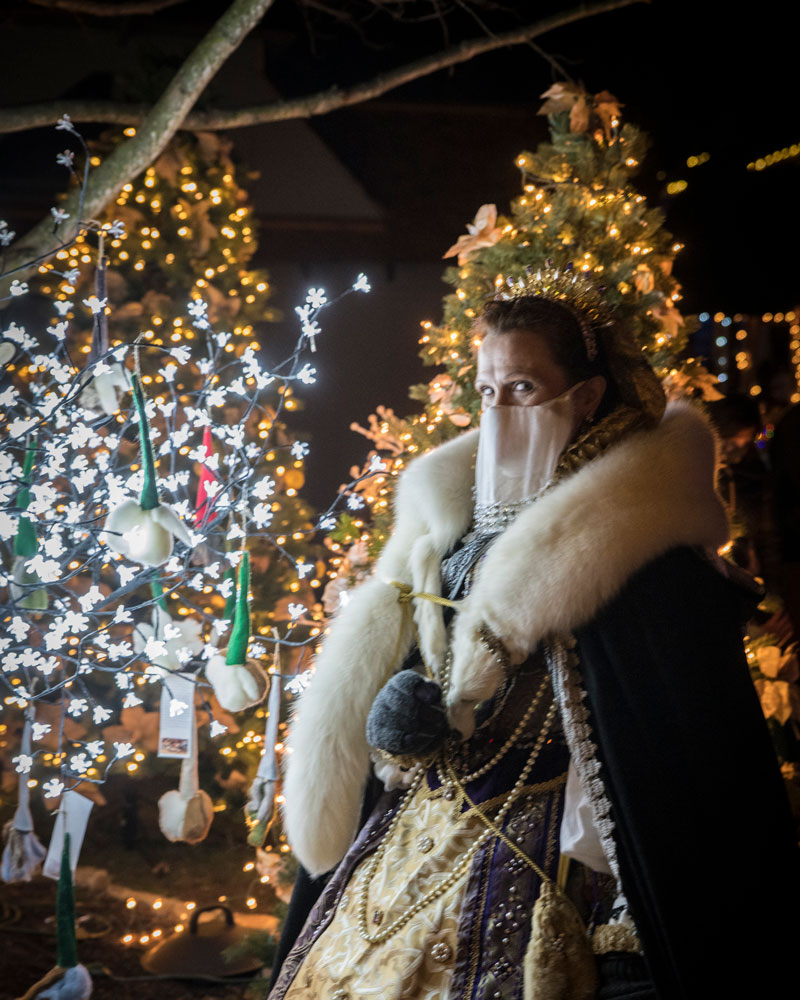 With Yuletide growing after only one year, we'll have more costumes characters out in the lanes for you to meet and grab photos with. This year will add elves, angels, and a living statue to the list along with your favorites like Santa and Krampus. Dressing up is highly encouraged, but be sure you add some leggings and layers under your garb so you stay toasty all evening long.
---
Petting Zoo & Owl Encounter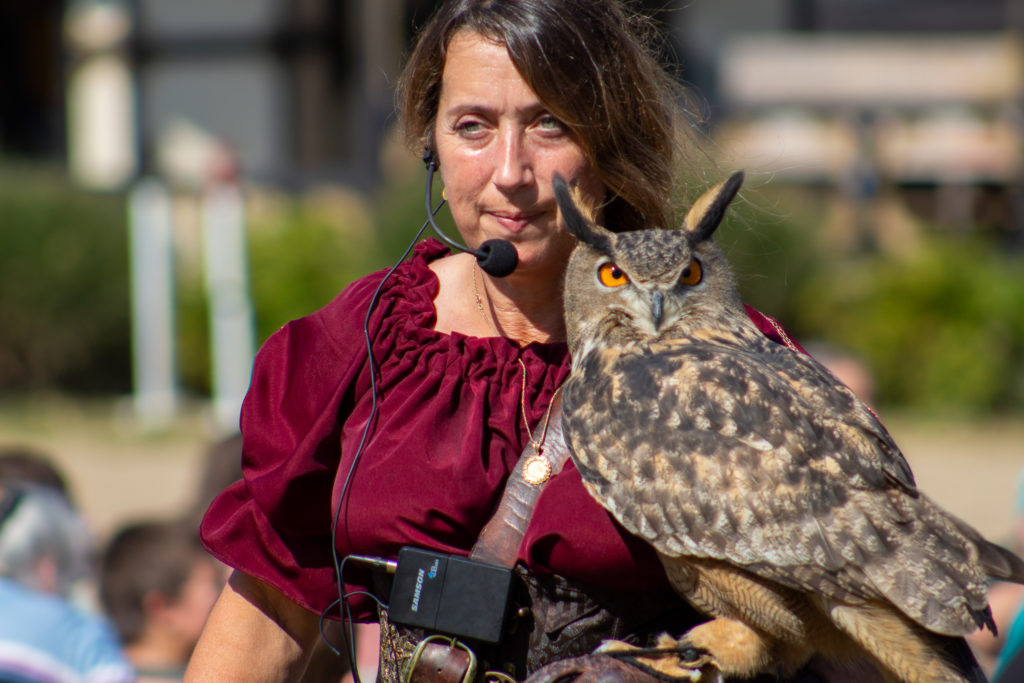 Take a peek behind the Aleing Knight and for a special treat with our petting zoo full of animals waiting for your attention. Ponies, goats and more are available for photos in exchange for a small donation to help with their upkeep. And if you enjoyed Miami Valley Falconry during the Ohio Renaissance Festival, you can look forward to a very special Owl Encounter behind the maze. Take the opportunity to see these magnificent nocturnal raptors on display when you visit the village.
---
Yuletide Village:, Season of Lights 2021 starts Friday, November 26th, and runs all the way through to Dec 18th. We open Fridays at 5 pm to 10 pm and Saturdays 3 pm to 10 pm. Tickets are Now Available online and will be sold at the ticket booth on the property. Parking will be Free for this event.