With three weeks left of ORF21, Viking weekend tipped the scales with plenty of fun from one end of the grounds to the other. We get some of the most enthusiastic guests during this time, with many taking the opportunity to dress in their nordic best with historical and fantasy-inspired Norse garb. They invaded with a thirst for mead and merry-making that can only be found here in Willy-Nilly.
---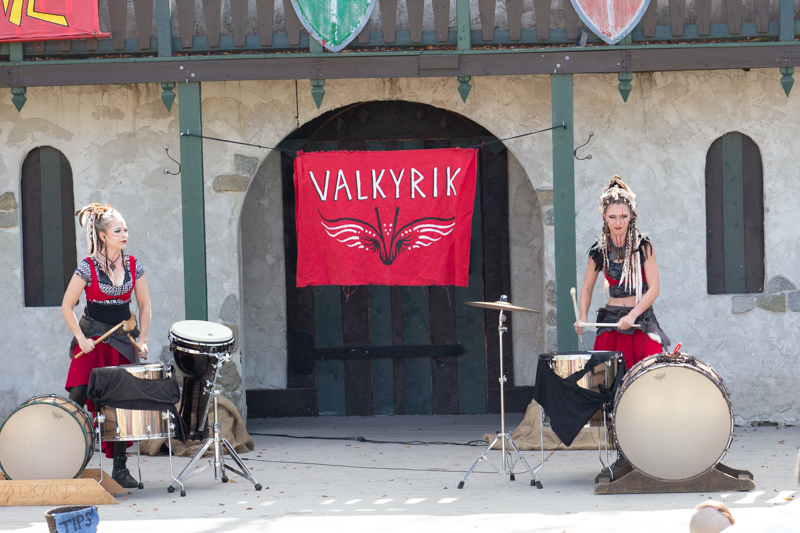 Valkyrik has taken hold with fervor, the inspired duo of Sam and Tegan bringing a vibrant tribal beat forward with original compositions that draw from the rich Viking musical tradition. My personal favorite is Treasure These Moments, a love song with a note of enemies to lovers to combatants that is irresistibly balladesque. Valkyrk recently changed stages and can now be found on the Swordsman's Stage at 12:15, 1:45, 3:15, & 5:00.
---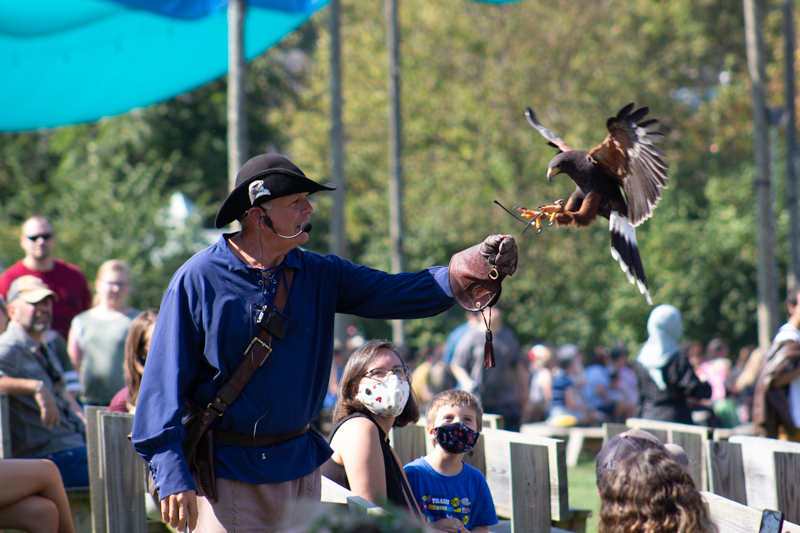 We've all spied a red-tailed hawk on the backroads up to the festival. But that can't beat seeing one fly right over your head or between your arms as they swoop through to their handler's glove! The sport of falconry carries with it a long history going back to at least the 7th century. While it was most popular during the middle ages and renaissance, the Vikings were no strangers to the skillset. Birds of Prey, a display of raptor history and sportsmanship given by Midwest Falconry gives you a chance to see how these magnificent creatures work up close.
---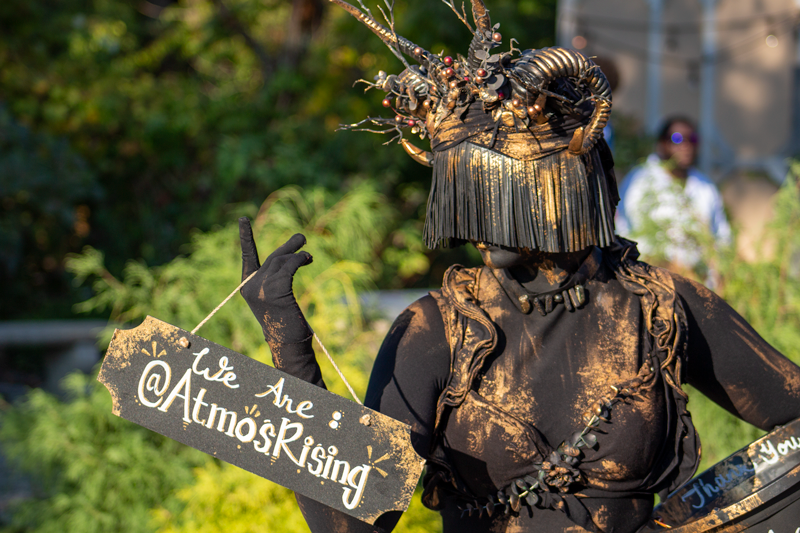 You may have noticed this dark, ethereal duo pacing the lanes as they pantomime to the crowd like otherworldly beings. If so, you've been lucky enough to come in contact with Atmos Rising.
Atmos Rising are creatures of obsidian and ash, Guardians of the Realm. We have wandered far from our Homeland to connect with other living beings. Atmos creatures communicate in the form of gestures and, on occasion, the melody of our metal drums.

Atmos Rising
---
And it just wouldn't be a good Viking weekend if we didn't have a look at all of the amazing outfits and groups that popped in to have fun with us. I maintain that historical Norse garb is some of the most comfortable stuff out there, but maybe not in 80-degree heat! We saw plenty of leather bikinis and fur wraps alongside the more historical outfits, making for a vivid tapestry of takes on this favored theme.
This has been a productive season for the festival with record-breaking attendance every weekend. I have watched the people who make the festival happen practically set up a cot in the office and sleep there over the week just to be sure they have things well handled. I have seen boothies run out of stock on Saturday and spend the whole night producing more just to spend Sunday running off coffee, determination, and joy to be back doing what they love. The performers are giving their all every single time they take the stage to the point of which they seem to glow with the revelry they share. The cast throws themselves into every single opportunity to entertain. This is faire in its most personal and most powerful form; a community that comes together and makes an experience possible for those who come through the gates.
---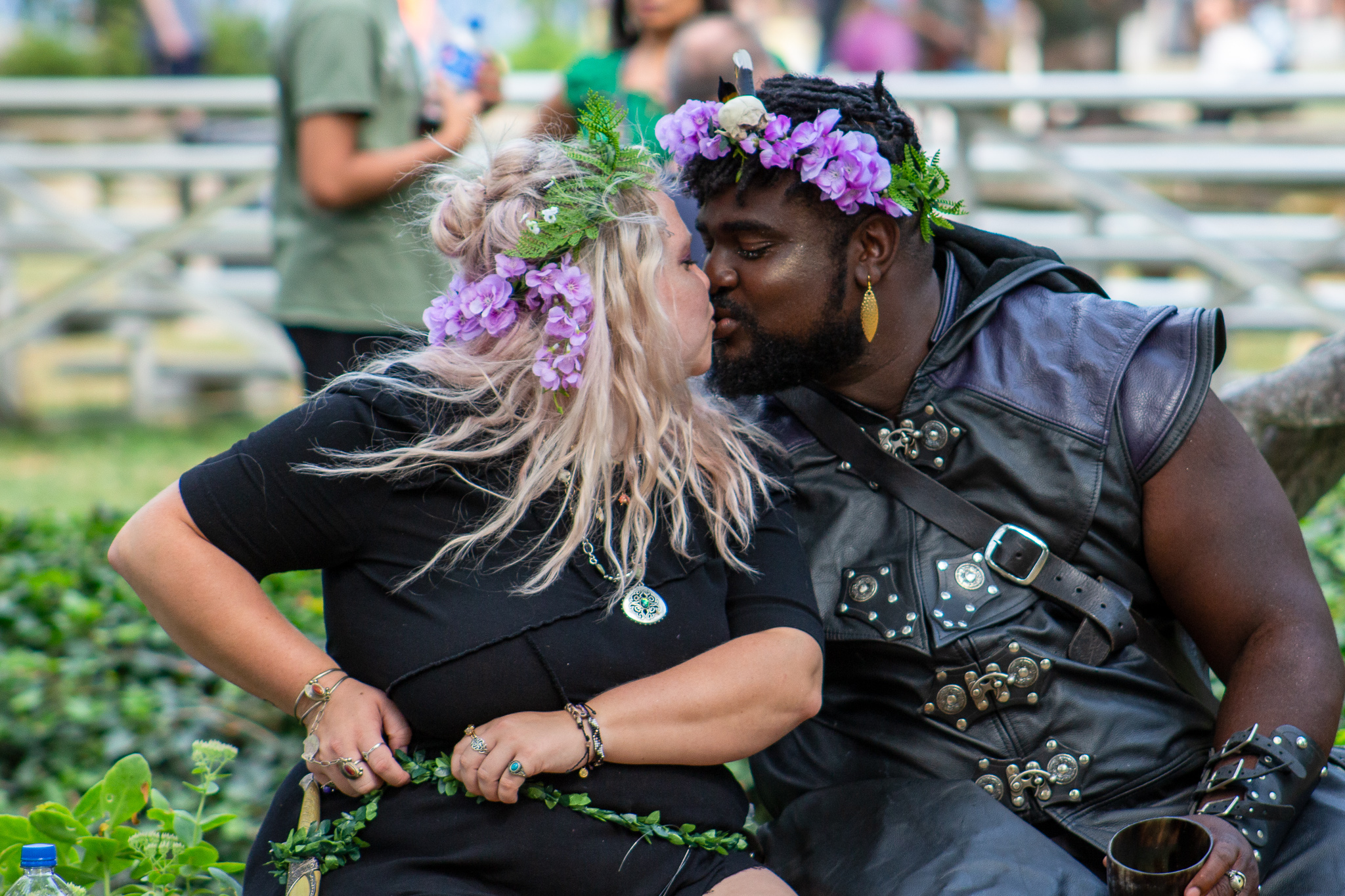 Romance Weekend is Coming!
October 16 and 17
Celebrate Sweetest Day with us!  Hearts a-fire as couples renew their vows in a free Mass Renewal of Vows Ceremony held at St. Peter's Chapel at 12:30 Saturday and Sunday. Please arrive at the Chapel at 12:15