Imagine if you will a theater troop. Each member assigned their roles, devoted to the part, and committed to making the play a success. Through rain or shine, wind and snow they take the stage to tell you a story. Only instead of tales of knights and dragons, it's the story of an unassuming little village in the middle of England. Once a year the Queen pays a visit to this village, and everyone gathers together to celebrate her arrival.
And then things get weird.
From pirate invasions to fairy playtime, every year the cast of the Ohio Renaissance Festivals brings a new tale to the village of Willy-Nilly On The Wash. This feat is a result of months of planning and coordination from the people behind the scenes, the ones who make sure everybody can come together and create an atmosphere of play. Rather than standing on a stage that separates the audience from the story, the cast creates an invitation to the guest by performing in the streets, asking you to be a part of their theater.
For many of the cast members, their role in the village is one they take to heart season after season. Their character is built, not merely over the course of rehearsals, but through introspection throughout the year, improving upon their dynamic within the show. Some cast members change roles over time, but their accumulated experience offers new insight and makes for some memorable characters we've come to know and love.
Someone who returns to the faire as a part of the cast or crew for many years is sometimes called a 'veteran' of faire. They have made the decision that this is much more than a hobby and their lives wouldn't really feel complete without those four months spent in rehearsal and performance. They may take on many different roles during their time at ORF, both on and off cast. But every year the people who know them look forward to their arrival.
One of the veterans who truly stands out is Courtney D. Beekman, known on cast for her portrayal as Elizabeth Talbot, the Countess of Shrewsbury. Historically, Elizabeth Talbot was a capable and tenacious businesswoman who used her political connections through marriage to improve her position and estate. For the sake of the story, Courtney plays the Countess as a high-class, metropolitan woman with an eye for fashion and a longing for adventure. But Courtney has been a part of ORF for much longer than her role. She was kind enough to answer a few questions about how she ended up a part of ORF's longstanding traditions.
---
An Interview with Courtney Beekman- ORF's Elizabeth Talbot, Countess of Shrewsbury
When were you first introduced to ORF?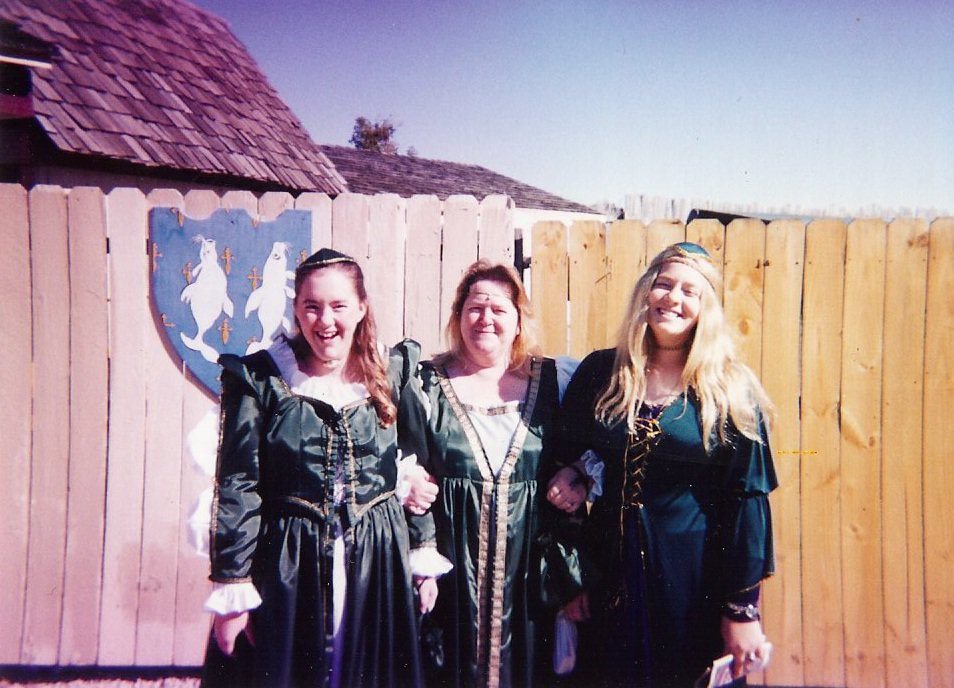 Courtney: Probably around 2001, when I went with my Girl Scout troop; I was about fifteen. I had begged my mom to buy me something to wear and we bought a Halloween medieval costume for me to be able to dress up. I remember walking around to all the clothing booths and trying stuff on with my friends and watching the Swordsman perform.
How did you participate in faire before you joined?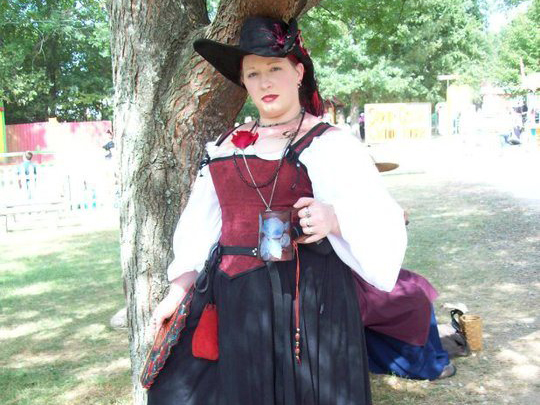 Courtney: I was a playtron for many, many years. Once I turned eighteen, I went at least once a season with my friend Tangela and dressed up however I could. Once I was in my mid-twenties or so I started collecting real garb and my character wandered around the grounds a pirate for quite a while. My first year working was in 2013, when I was 26.
What was your job?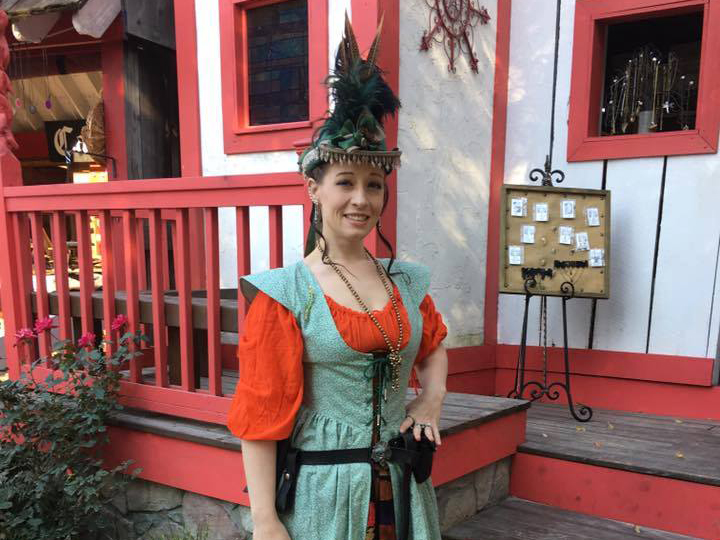 Courtney: I started out as a parade walker for Nigel Sade, then the next year I was a "breaker" for White Pavilion. I would go to the booth for three hours a day and make sure everyone got a chance to take a lunch. My most memorable time was on a cold day, I just stood in the doorway with my arm stuck out holding cloaks and shouting for people to get warm. In 2014 I started working at Ear Art and sold jewelry for them until 2017. They were (and still are) my second family. There are too many fun times to count at Ear Art! One year was particularly memorable because I had collected enough garb and, through my cosplay experience, I was able to create a new look for every single day of the run. People begin to look for me just to see what I had come up with.
What roles have you taken on in cast?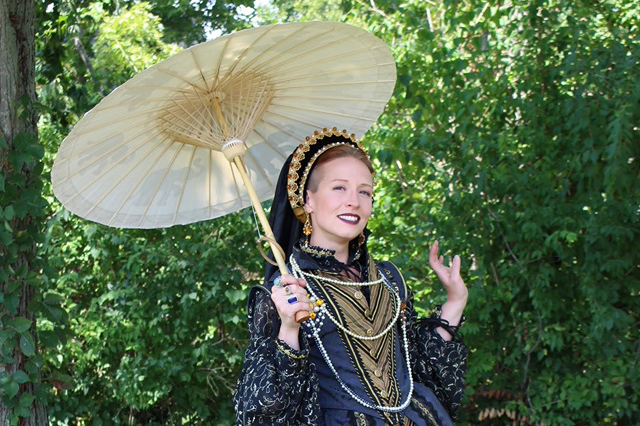 Courtney: I joined cast in 2018 as Elizabeth Talbot, the Countess of Shrewsbury. So far it is the only role I've played. Lady Shrewsbury is a member of Her Majesty's court and has traveled with her to the village of Willy-Nilly. Personally, I have concocted a backstory in which the Queen had to convince her to leave the renovations of her home and "take a day off" to enjoy the festival. But within my role I have been a part of Stunt Show, Chess Match, and the dance group "8 Hands Round." I really can't pick one thing as my favorite. Every activity I am apart of is something I truly look forward to and enjoy. But I did NOT expect to enjoy the stage combat. I joined Chess Match my first year on cast and fell in love. And now I have my own sword so I can practice at home!
What went into the creation of your character?
Courtney: To create my version of Lady Shrewsbury I did as much research as I could. She was a meticulous record-keeper so there was so much about her to discover. To pay homage to that I made sure that every movement, piece of fabric, jewelry, and speech pattern matched the vision I wanted to create. I learned embroidery to help get into her mindset (she used to do needlework with Mary, Queen of Scots while she was her warden). I try to be energetic to show off just how busy and determined she was, and I made sure to have a reason or explanation for any and everything she does. Overall, I hope I have paid homage to what a fascinating and wonderful woman this historical lady was.
Who are the people in your faire squad?
Courtney: My Ear Art family and of course the entire ORF cast.
Are you part of a guild or group?
Courtney: I am a member of the International Wenches Guild and the International Fellowship of Royal Privateers.
---
Courtney at Faire Throughout The Years
---
In the end, the most important thing to know about the veterans here at ORF is what keeps them coming back year after year. What makes it worth all the work and toil that goes into being a part of this tradition? Courtney had some keen insight into this question.
Festival has become a part of who I am. I can't imagine not being a part of it. It's not all fun and games and playing dress-up. There's hard work and dedication no matter what you are doing. We work hard and, and then we play hard as our reward for a job well done. It's a job, and there are bad days, but one with glorious personal satisfaction that comes from it."

Courtney Beekman
Want to join cast? Keep an eye out on the ORF Employment! The try-outs start June 20th & the 27th, 2020
Correction: In a previous version of this post, Courtney's Madain name "Beekman" was not used.