The way in which faire can change us is often unexpected. It often feels like a rediscovery of something we forgot was within us. That vague sense of joy and free play we had as children that escapes us as adults comes rushing back and suddenly our imagination is limitless. During cast auditions it is not uncommon for someone to join with no real idea 'who' they want to be, only knowing that they have to be a part of this somehow. That call to action is important, it tells that something about being here speaks to you on a deeper level. If you take heed and follow the call, you never know what will happen next, and there is a sincere joy in that.
Erik Dolphin has been a part of the Ohio Renaissance Festival since 2016, ascending from the role of gravedigger up to the respectable privateer Sir Richard Grenville. Grenville is one of the historical figures on cast, a noted sailor and captain of the Revenge, an English galleon with 46 guns. Grenville was a military officer as well as a member of Parliament, and a cousin of Sir Walter Raleigh. Conveying a noted historic character always presents its own set of challenges to be loyal to the spirit if not the factual deed of the person. Erik seems to relish this challenge, providing a cavalier and ribald portrayal of the staunch sailor
---
Interview with Erik Dolphin
When were you first introduced to ORF?
Erik: I was first introduced to ORF only fairly recently, having first visited the festival as a patron in 2016, which was my first year living in Ohio, having moved from the Philadelphia, PA area.
How did you participate in faire before you joined?
Erik: I had only visited ORF once before deciding to join cast, so I really took the deep dive pretty quickly.
What was your first year 'working' during the run? What did you do?
Erik: I first started working ORF in 2017 as a member of the cast. I decided to audition for cast on a whim after seeing the audition event on Facebook. I had no acting experience and I figured to be something cool to try and if I didn't make it in, whatever. I made the audition and was given the role of village gravedigger. That season, I largely spent the faire day walking the streets, absorbing what I could and getting my bearings on the whole thing. I was a jouster rouster, but I would help out with Knighting Ceremony from time to time to just try different things.
What roles have you taken on in cast? Who were they and how did they fit in the village?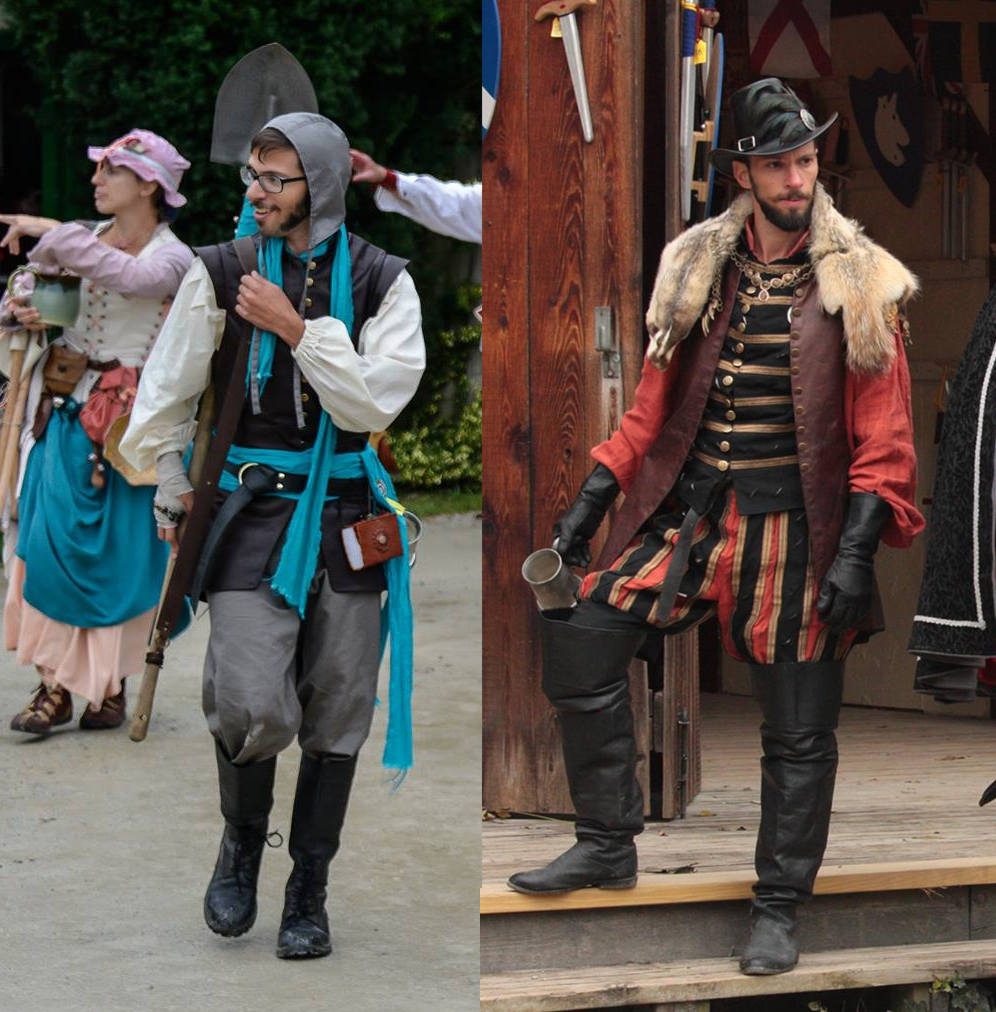 Erik: My first year on cast was 2017, where I portrayed Duncan Graves, the oft upbeat and optimistic gravedigger. About halfway through the run, I started looking at other historical figures I could play, having caught the bug quickly. I started to read about Sir Richard Grenville, one of Queen Elizabeth's privateers. There was a lot of allure to the character not only from a historical standpoint but how I could play him personality-wise.
I ended up making the switch to Grenville the following year in 2018, where he was a member of Queen Elizabeth's court and one of her privateers (albeit a junior one). I was with the Queen as she toured the village and helped preside over the Knighting Ceremony. I also began performing as a fighter in Human Chess Match and became engrossed in the world of stage combat, which quickly became my focus at ORF.
I continued to play Grenville in 2019, but moved guilds from Court to Pirates. In that transition, the character evolved into a full-fledged Sea Dog/Privateer and I really got to explore new aspects of the character that I couldn't as the courtlier version of him. I also became part of the Pirate Comedy Stunt Show and continued performing in Human Chess this past season, further developing my skills in stage combat.
---
Which was your favorite?
Sir Richard Grenville by a long shot. The gravedigger was a good role to ease into the world of ORF with, but I feel that I really found my groove playing Grenville, especially during this past year as a member of the pirates. He's been a lot of fun to portray, especially when playing with a group where I can be the scowling or snarky straight man to other folk's wackier characters- a David Spade to their Chris Farley, Ron Swanson to their Leslie Knope.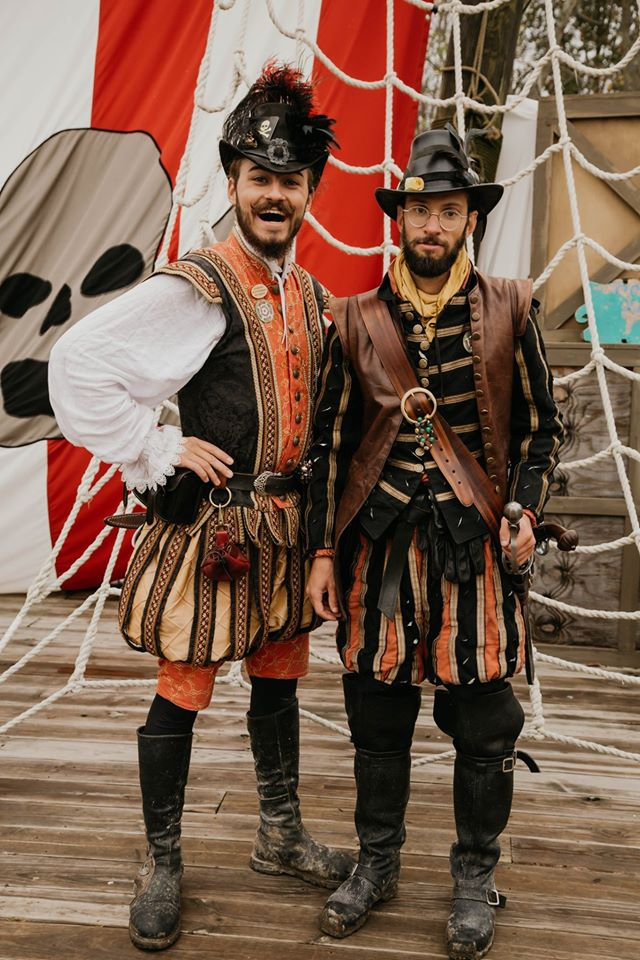 I find him to be a fascinating historical figure largely in part to the fact that depending on the source, he was talked about in very different lights. He was painted gallant and brave hero of England, and also a bit of an unstable lunatic that had done some nasty stuff. So there's a lot to play with there personality-wise. That and I've gotten to iterate and evolve on the character and build reputations/relations with other characters of the villages.
What went into the creation of that character?
Erik: When I decided I wanted to play Grenville, I first began researching his history thoroughly. Grenville had a lot of notable contributions to the Elizabethan era, such as leading the Roanoke Expedition, but he was often overshadowed and outshined by other figures like Sir Walter Raleigh and Sir Francis Drake. All the little tidbits and historical accounts all helped inform his chip-on-the-shoulder, fame-hungry personality I played him with.
Along with researching his history and personality, I designed the garb I wore as well. As a character artist by trade, it was pretty much a requirement that I draw out concepts of what his garb would look like. This came with its own research obviously, figuring out what designs, patterns and motifs were period accurate. These designs went through numerous iterations before I handed off the final design to our staff costumer, who worked her magic and made my ideas a reality.

And last but not least, with Grenville history as a soldier, privateer, and a fairly hard-nosed guy, I knew I wanted to be part of the fighters on the ORF cast. This translated to a lot of training in the off-seasons: practicing weapon targeting in my living room, attending stage combat workshops such as the Cincy Stage Combat Workshop (Cease and Desist) and the Winter Wonderland Workshop in Chicago. I even took up Muay Thai for a bit to train my footwork and balance!
Going into my third year as Grenville and fourth year on cast, I continue to make new garb designs/additions, research his history and advance my skills as a stage combatant. The ball is always rolling.
Who are the people in your faire squad? Are you part of a guild or group?
Erik: Having been a member of Village, Court and now Pirates, I've gotten to interact with the majority of the cast on a character-to-character level. However, I think this past year I found my home with the pirates. From everyone having a role on the 'ship', singing sea shanties in the mornings after gates opened, to simple things like walking together throughout the day, it really did feel like a crew. And I think that's part of the allure of being part of the pirates: the aspect of a tight-knit family.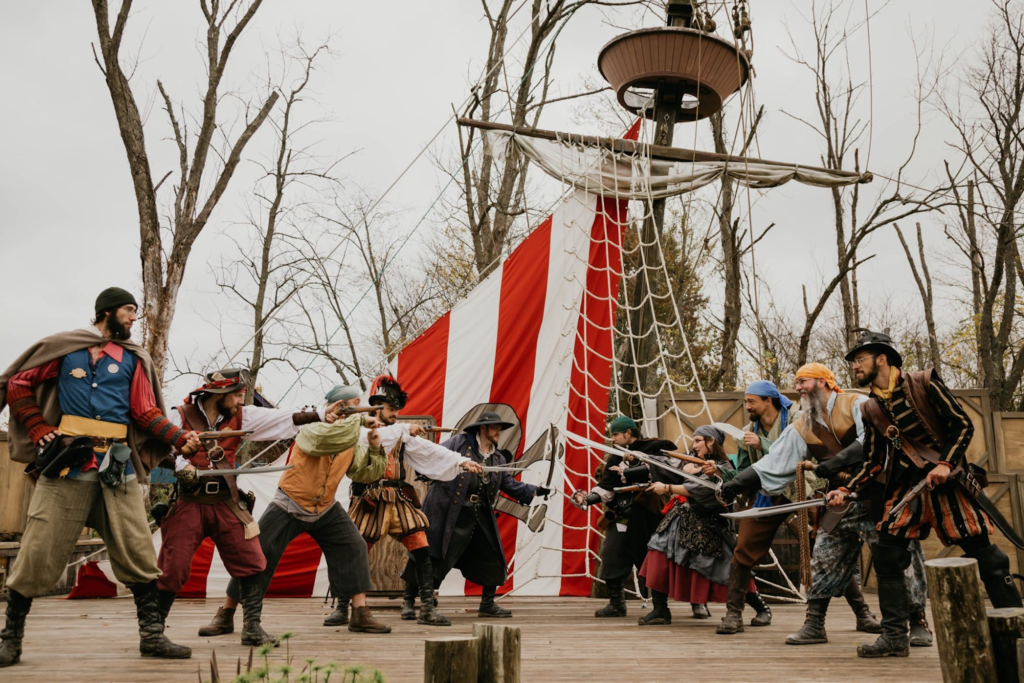 Being part of the ORF cast fighters has been immensely fun and rewarding. Being able to learn and grow there, as well helping train new fighters has been a great joy. It's one of those things that you develop a type of comradery in- everyone's practicing hard, sweating their butts off and exhausted, but they're all doing it together.
What keeps you returning year after year?
Erik:
It's the people- both cast and patrons. With cast, you're with these people every weekend for four months, practicing, learning, collaborating and creating together, then putting it all on display for the folks that come through the gates. You have a lot of fun with your fellow castmates in all of that, but there's also the rough days- be it heat, cold, rain or snow wearing you down, or even personal hardships. You lean on each other to get through it, and in that, you truly do build up a family.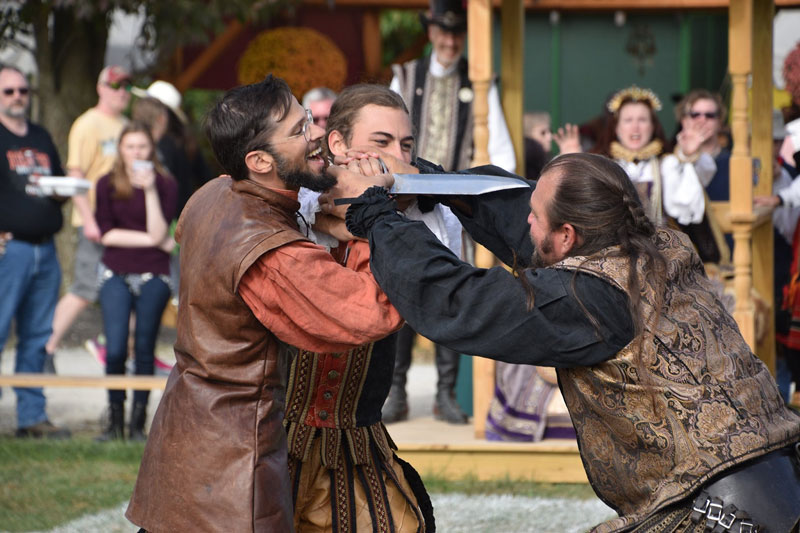 And the patrons are why we do it all. When I have someone remember me, whether they saw me earlier in the day or from the year before, I remember why I put in all the hard work. When a kid lights up after I give them a gold plastic coin from my 'personal treasures', I forget that my feet are killing me and my doublet is soaked in sweat.
---
The term 'labor of love' is best applied when one looks back at all the toil and effort they amounted to produce something and come to the realization that they did it all enthusiastically. Though removing the doublet and stockings at the end of the day comes as a relief, you get up the next morning and put it on just as gleefully, ready to greet the day. It's an experience you owe yourself, as Erik can attest.
Being part of ORF has been a great experience. When I moved to Ohio, I only knew a small handful of people. Joining cast has given me a wealth of friends, new hobbies and great memories. There are not many places I can say I get to swing swords and pretend I'm a privateer from the 16th century, so I'd definitely say its a place where you can really let loose and have fun."

Erik Dolphin
Erik at the Faire
---
Want to join cast? Keep an eye out on the ORF Employment! The try-outs start June 20th & the 27th, 2020
Feature image by David Burns