There are many places in the world that take away from you. Faire gives.
The last weekend is always a difficult one to experience. All the merriment of the run culminates in two days of bursting energy. We're all excited, determined to give our very best before the final gate closes. Even in the pouring rain of last Saturday, every performer was ready to go! That's right. Ren faire doesn't stop for rainy days! With propane heaters at the 3 Fools Pub and the Aleing Knight, not to mention the happy smiles of the Band of Pirates, there was plenty of warmth to go around.
You get a specific group of people who come out during 'bad weather' at faire. Some people call them 'Rainies'. I prefer to think of them as simply dedicated. On the last weekend of the run, you don't want to skip a day and regret what you missed.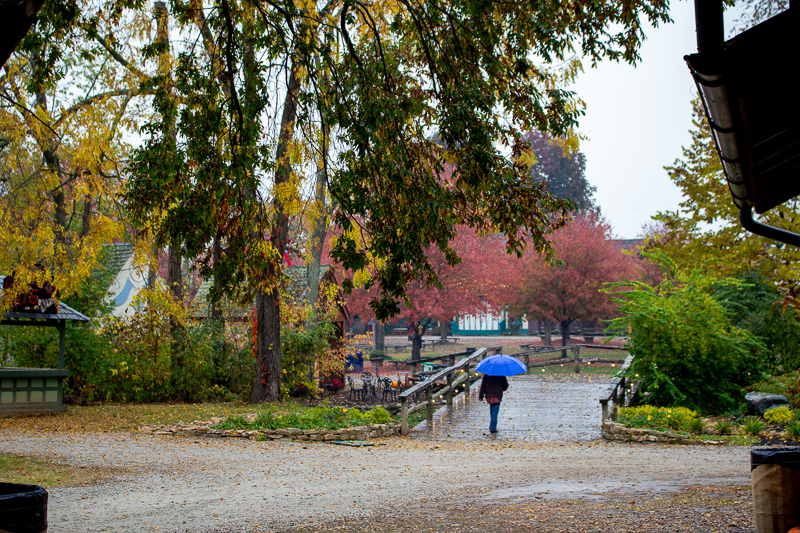 A lot of people don't realize that the shows change whenever we have a rainy day. Many of the performers who do their acts under a covered roof will retain the same show. But some of our fire shows, acrobats, and jugglers may not be safe doing their usual routine on a slippery wet stage! But never fear. This is a fantastic opportunity to come out and see what else they have to offer you! Since the crowds are smaller they can interact more! This makes for a delightful source of entertainment.
Another plus side? The lines are shorter for everything from beer to apple dumplings. If you were willing to brave the showers last weekend then you got your pick of just about any food stall on the property to enjoy.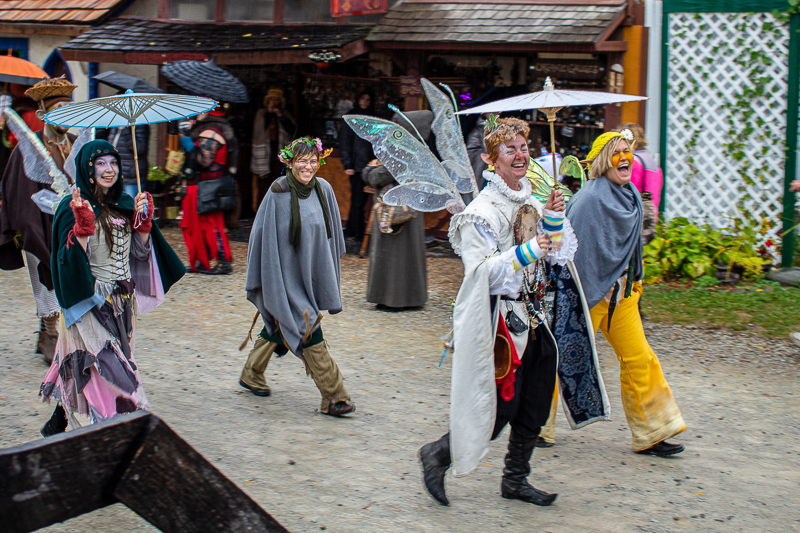 Band of Pirates and Lads on the Lash teamed up for a series of well known modern favorites to keep the crowds who braved the weather happy! The people of Willy-Nilly turned out to march in the parade in the mud and still had bright smiles to share with everyone who waved to them. But much of the joy from Saturday came from taking the time to relax and talk to people. It was as if the whole world faded away into the mists and for a time all there was or ever could be was here and now.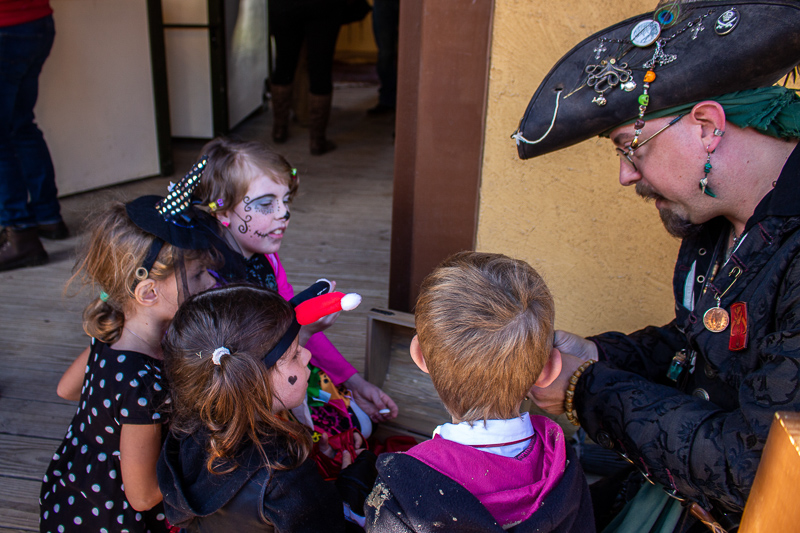 On top of this, last weekend was Trick or Treat! That means that everyone was showing up in costume! How would that be different from any other ren faire day? Well by dressing up as your favorite characters of course! We didn't get a lot of kids until Sunday, but when we did they were a determined bunch! Between going booth to booth for free candy plus the Viking trade, these kids were going home with pails and pouches full of treats to enjoy.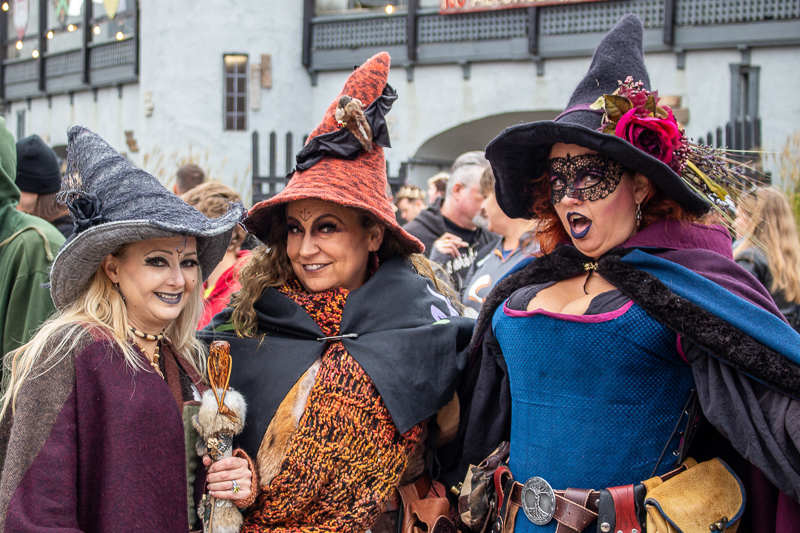 And let us not forget the trio of witches that make your holiday season spooky, The Fiendish Sisters! Playing to the delightful wickedness inherent in the role, these three do an amazing job entertaining and serving out whiskey during the Jameson's Whiskey Tastings!
The best part of being a witch is that the kids instantly recognize us for what we are. I adore that magic has been brought to Willy-Nilly and getting to be part of it was alluring."

Allura Fiendish
There are so many things that are great about being a witch. The way the kiddo's eyes light up when they see us is one. I am very friendly with all of the village people and always willing to help out with a potion or herbal remedy if they are in need."

Vesper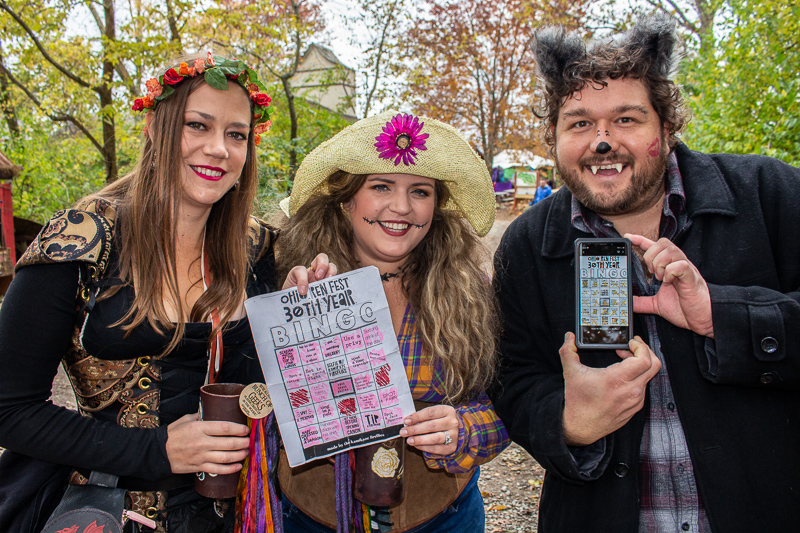 How much of your Kamikaze Fireflies Bingo Card did you get filled out this year? Over the course of the last 9 weeks, I was given the pleasure of getting to know Jess from the Youtube channel Jess Dresses She and her friends visit all kinds of places in Ohio, but they are frequent visitors of the Ohio Renaissance Festival! Go take a peek at some of her wonderful videos to see what you may have missed during the season!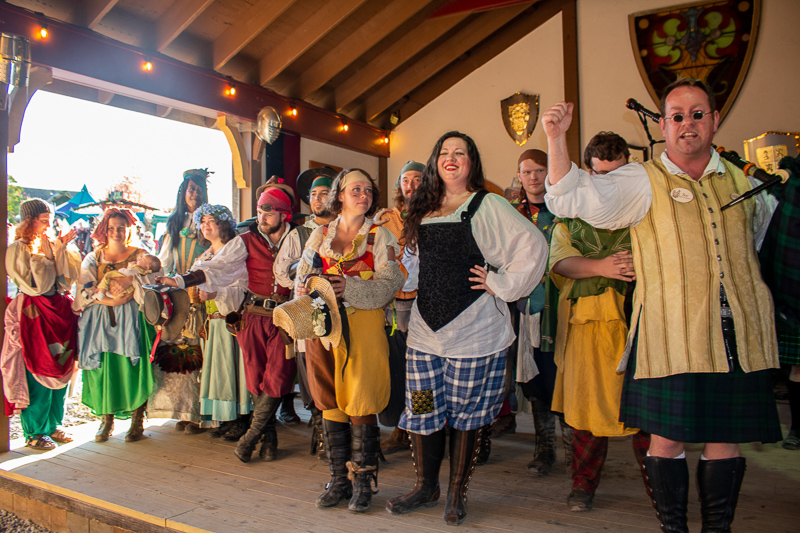 As the day began to wind down, people popped out of the woodwork to rush to the last Pub Sing of the season. As Father, Son & Friends lifted their voices to the last round of the Mingulay Boat Song, you could feel a sense of joyful sorrow lingering in the Aleing Knight. Everyone who knew the chorus sang out clear as hands were clasped and mugs raised. There was nary a dry eye in the house when the time came for closing gate. The charisma lasts until the very last patron has departed, and even then you can feel the longing for it to last just a little bit longer.
If you are involved with faire to any extent, you'll find you spend a great deal of time during the last weekend just saying goodbye to people. A lot of the stage acts and booth people move on to the next faire in their circuit, so it's a good chance you won't get to see them until next season. A few people are locals and there are always events where we all seem to congregate. I spent a good part of the day hugging people I knew would be heading off. From the ORFans to the cast, I've made so many new friends this year and I'm very sad to see them go.
---
But Wait…There's More!
The season might be over, but we aren't! There's much more to come from the ORF Blog and we hope you'll continue to be there with us as we explore the vast world of faires and festivals! We will continue to update every Tuesday and Friday with new posts, so come back and take a peek at all we have to share!
---
Trick or Treats Weekend in Photos