Going to the Ohio Renaissance Festival is a trip in time all the way back to 1572 when the Elizabethan Age was at the height of its pageantry and power. So you'd think every weekend would be a time travelers weekend right? Not quite! Time Travelers weekend stands out during the run as an opportunity for some of the many spheres of geek culture to gain 'steam' on the grounds.
Steampunk, science fiction, and geek culture make these two days its very own by coming out en force to show off their pride. Nostalgia is the perfect term to epitomize the crossover of this last weekend, whether it's a sense of longing for a time you never experienced or just for the things you grew up with. I was so happy to see people showing off what they love.
---
Geek Culture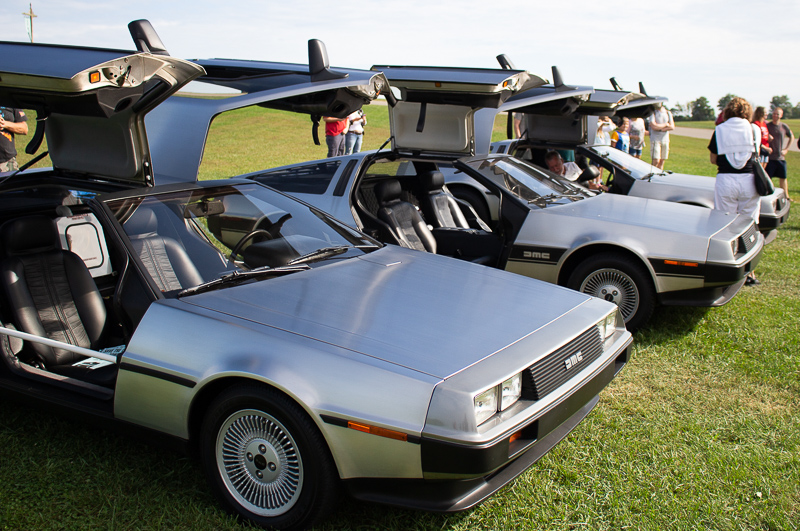 This is a weekend where you don't even have to get in the gate before the fun starts. Sliding in at '88 miles per hour' comes a collection from the DeLorean Club of Ohio. If you ever wanted the opportunity to get your photo taken next to a flux capacitor now is your opportunity! They even have free newspaper clippings encouraging you to "SAVE THE CLOCK TOWER" which make for a cute keepsake from one of my favorite 80's movies of all time.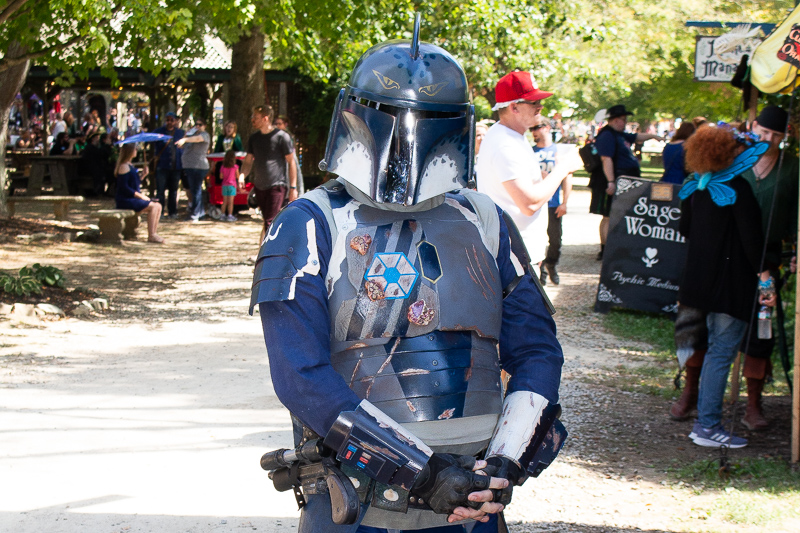 I got a big kick out of wandering the lanes and seeing the many interpretations of Time Traveler that wandered around. There was a large group of Mandalorians wandering around in a rainbow of armor and weaponry! I think it's fascinating how they each have their own backstory for their iteration of this ragtag group of bounty hunters. I saw plenty of Jedi from every generation of Star Wars fans and some pretty fancy custom light-sabers making their way around. Trekkers made the rounds, including a Spock in a fun and high-spirited version of the 'slave Leia' outfit. I got to see tons of people in Marvel cosplay, or portraying their D&D character with head to toe body paint. The joy of geek culture has always been the dedication with which one throws themselves into the composition of their passion, and it has the ability to sweep you away in mere moments.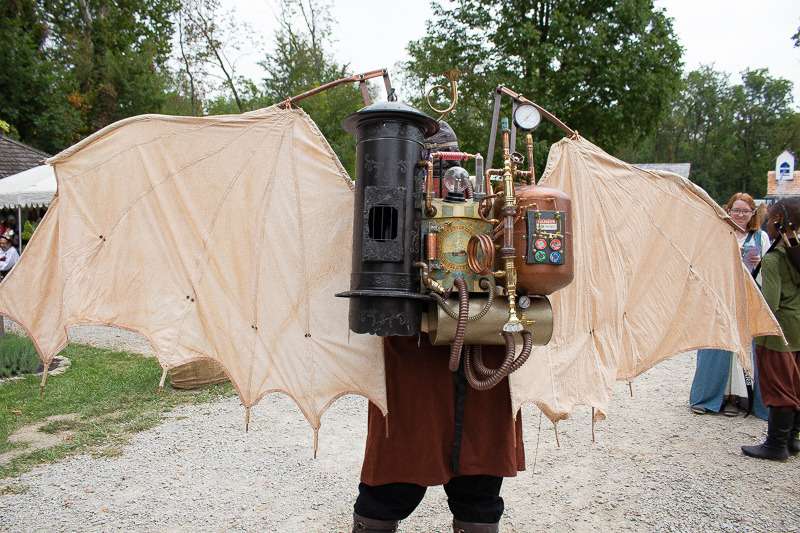 One of the biggest groups to land during the weekend is the Victorian & Steampunk enthusiasts. If you've never heard of steampunk before, you're in for a treat! Imagine a world where the technology is all developed off steam as a power source. Fashion is quasi-Victorian, and there is a decisive amount of favoritism shown towards copper, brass and visible gears. This movement has inspired artisans, musicians, and fashion designers since the 1980s with it's romantic and complex concepts.
Steampunk enthusiasts borrow strongly from the themes of 19th century authors such as Jules Verne, H.P. Lovecraft and Sir Arthur Conan Doyle."
There are many cogs in the steampunk machine. There are the artificers who are determined to make their aesthetic choices not just attractive but functional. You find the garb addicts who are out to make their garb as aesthetically pleasing as possible. There is an element of Victorian goth that comes out, brave enough to wear black from head to toe with yards of lace in the heat and humidity. You find the players who aren't just dressing up, but have an entire character concept developed to thrill and entertain.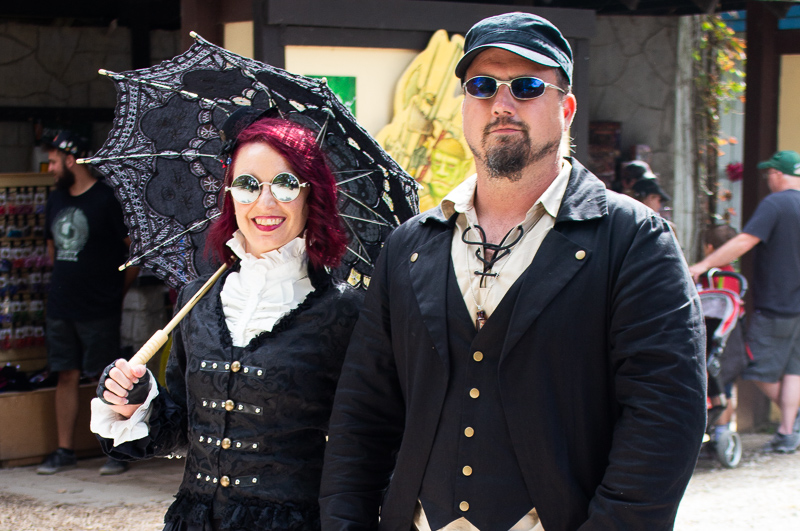 ---
Costume Contest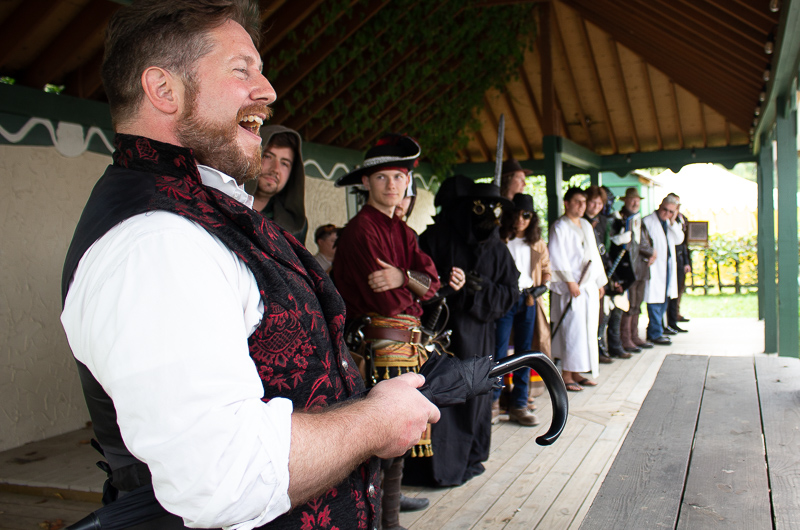 This burst of 1880's and 1980's came together during a Costume Contest sponsored by the Steampunk Symposium over at the Jamesons Whiskey Tasting booth. I was there both days and let me just say the sheer creativity people brought forth was wonderful to see. Everyone did such a great job on their costumes and cosplay. I had a soft spot for a T-1000 cosplay, as well as the Al & Peg Bundy couple that was super into playing their characters.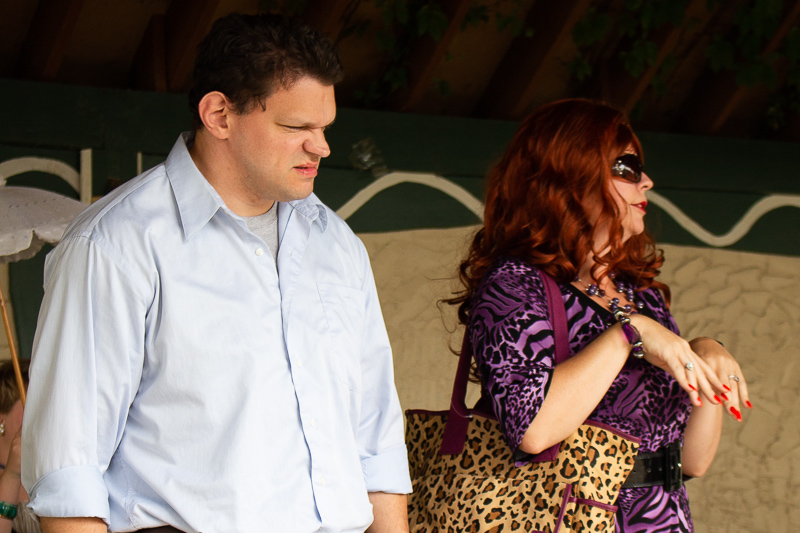 But I must admit, there was a Warrior Belle from Beauty and the Beast that floored me with her cosplay and the detailing on her shield, which took 4 months to make BWT! The Steampunk Symposium provided great prizes, including free tickets to Titus Andronicus which will be done in steampunk motif by the Cincinnati Shakespeare Company. Prizes also included tickets to the Steampunk Symposium convention coming up next year. I'm hoping to go for myself!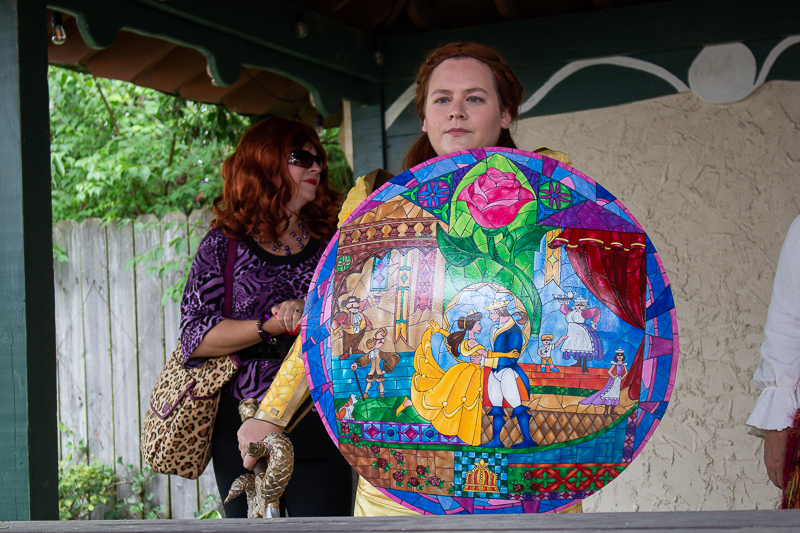 ---
Count the Doctors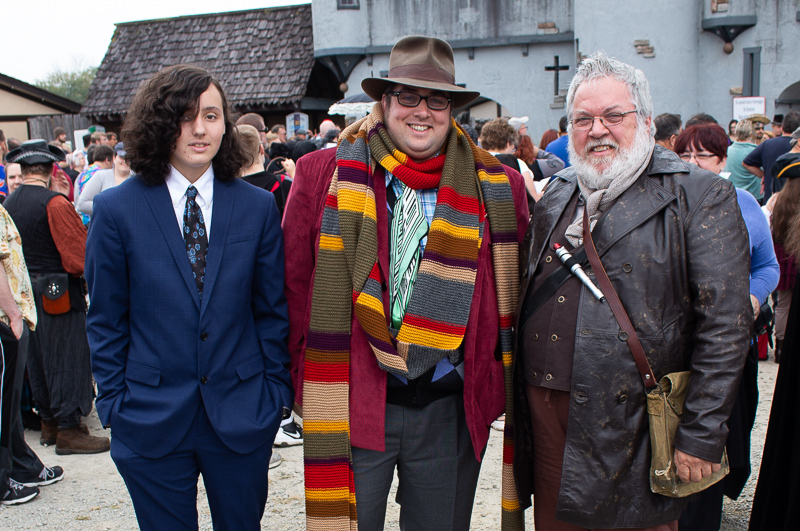 Every time I go to a sci-fi convention I like to play a little game with my friends. Seeing as how it was Time Travelers weekend, I thought I might share this with you for your next venture. This game is called "Count the Doctors." All you have to do is stop and take a pic with/of as many of The Doctors are you can in a day! The rules are pretty simple overall.
1: Ask permission before taking a photo.
2: Each individual Doctor is worth 1 point.
3: Don't photograph the same Doctor twice.
4: More than 1 Doctor in the photo is an extra +2 per Doctor
5: Companions are +1 pt if they have a Doctor with them. -1 if they are on their own.
6: The TARDIS is +2 pts if they have a Doctor with them. -1 if they are on their own.
7: Getting ALL 12 Doctors in a single photo is an automatic win!
8: Non-Dr.Who Doctors are ½ a pt. (Mc.Coy, Doc Brown, Stephen Strange, Zoidberg, et cetera)
Here are all the Doctors we found – 10 points!. Did you score higher this weekend?
---
Coming Up: Pirates, Spooky Stuff, And Our Birthday Party!
Time flies when you're having fun, and this weekend flew all too quickly. Thankfully we still have seven weekends of the Ohio Renaissance Festival left to attend! Coming up next we have Pirates Weekend, full of scurvy sea dogs and wily wenches. The opening of Brimstone Haunt is only a few more weeks away, and you can bet I'll be there for the spooky season!
If that isn't enough, we have a very special 30th Anniversary Birthday Bash happening on September the 28th and 29th! There is a SPECIAL DISCOUNT happening where you can get 2 adult tickets for $30 ($4 savings per adult) & 2 children's tickets for $10 ($2.50 savings per child). Even better, there will be an after-party after the gates close at 6 on teh 28th, so come join us at the 1572 BBQ for more fun, food, ale, and fireworks! This event is open to ticket holders only.
---
Photos from the costume contest
---
Stand Out Patron Costumes and Cosplay
---
Next Week The Pirates Land!
Next weekend is Pirates weekend. Join us September 14th & 15th for scurvy dogs and wild wenches! Stop by the blog Tuesday, September 17th for a recap of all the fun on the high seas!