Looking to dine like the Queen while enjoying the best that the Ohio Renaissance Festival has to offer? The Royal Feast offers up a wonderful five-course meal, from appetizers to dessert, including your very own special edition ceramic mug to take home. While our servers refill your drinks and bring each selection to your table, our in-house comedy troupe, Made-Up Mayhem, takes the stage to keep you smiling.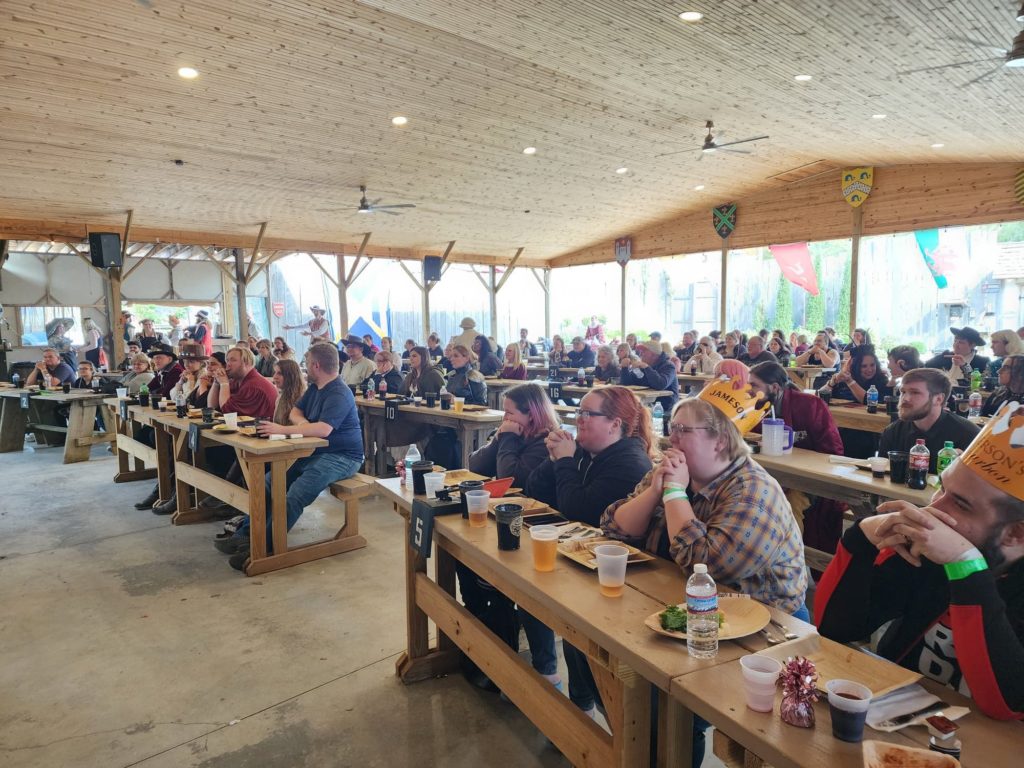 But all this doesn't happen by magic alone. Setting up the Royal Feast for our guests takes a lot of hard work behind the scenes. The Feast sets up each day according to how many tickets have been sold. They average between 80 – 100 people, so there's no shortage of work to go around. Prepping for the kitchen starts early in the morning with Lisa, who you may have seen running the 1572 Roadhouse Bar-B-Q during the summer months. Her day begins before the park even opens, making sure that the marinades have begun!
Amber is in charge of making sure the feast runs smoothly, communicating with our serving staff so the food arrives piping hot to your table. It's a lot to manage with such a big crowd! Our serving staff is made up of cast members who have offered up their time to help out. If you're a vegetarian or vegan, just be sure to let one of our serving staff know so they can be sure you get the proper menu adjustments. We also have a bartender to help keep your cup full to the brim with the rise of a flag!
Once everyone gets settled, get ready to laugh until your sides split as Made-Up Mayhem brings you hours of entertainment! Our improv troupe was born and bred here on grounds from our cast veterans, though they do hold auditions during the off-season to find promising talent. They might make it look easy, but there is a lot of practice involved in long-form improv. The troupe creates a brand new story for each feast based on suggestions from the crowd. I've yet to see a feast that isn't left howling from their upbeat and creative plays.
So the next time you want a full meal for the family and two hours of hilarious entertainment, be sure to get your tickets to the Royal Feast online or at our Special Events booth on the grounds. We'll save a seat for you.