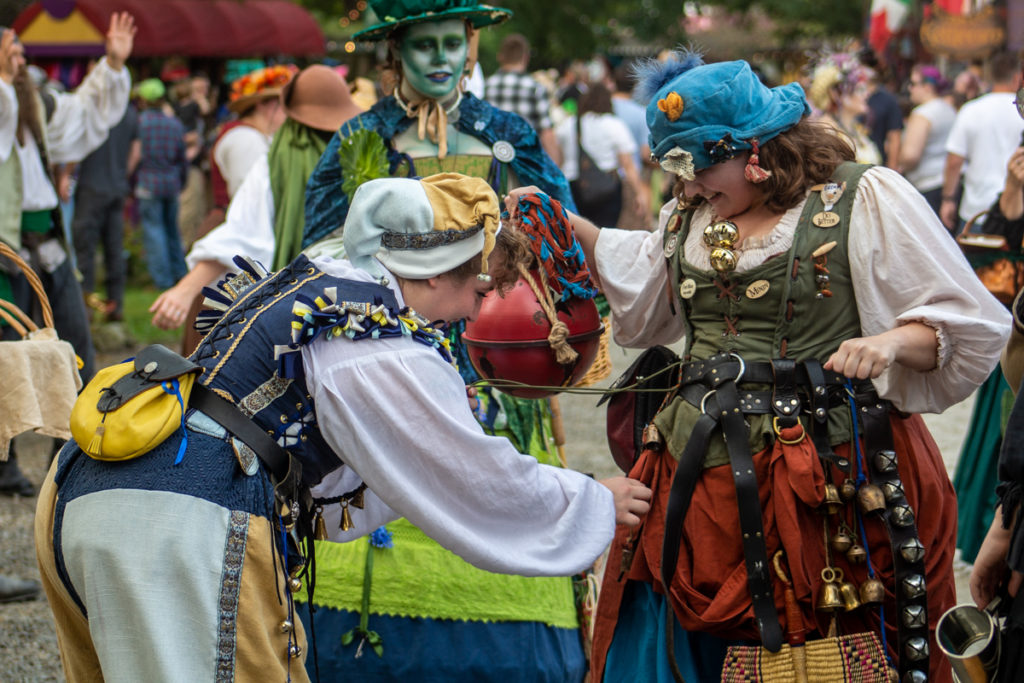 You've held on with bated breath and mugs in hand, but now the gates are open and the fun has begun! The Ohio Renaissance Festival is back for its 32nd season of magic, music, and mirth within the rural village of Willy-Nilly-on-the-Wash! As ticket lines formed and crowds gathered outside the opening gate, cast members and musicians are bustling about just inside, ready to share their joy with you. The booths unlock their doors and you can even get your first pickle of the season before you finish your first lap.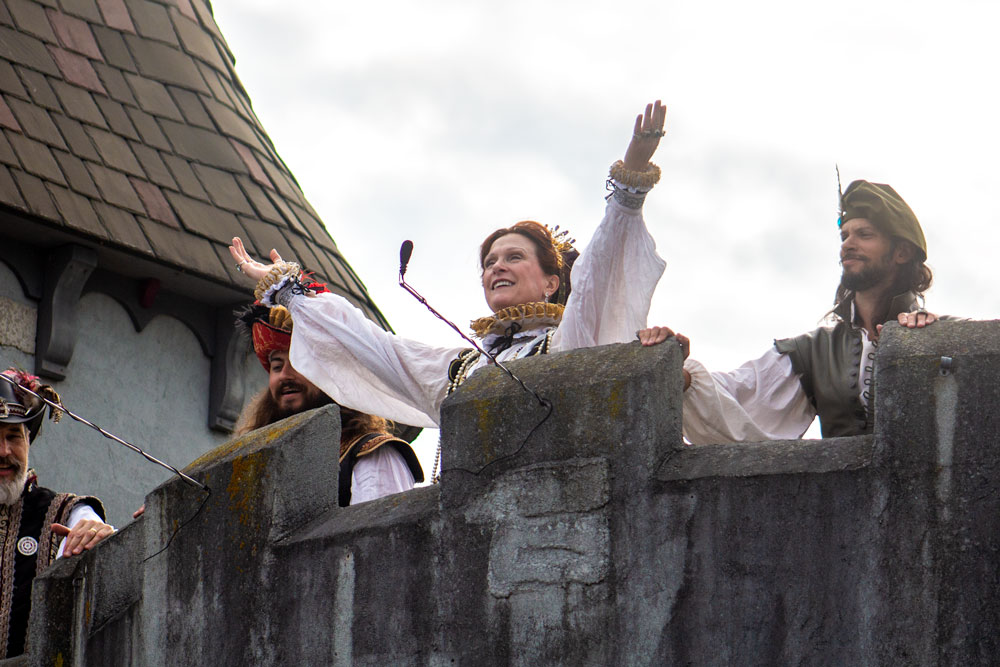 The day begins when the Queen takes center stage at the top of the gates to announce a day of festivities with her very own special guest in attendance; the bard himself, William Shakespeare! Shakespeare is looking for talent to perform in a new play he is working on. But who will stand out as the star performer? You can follow the story throughout the day and see for yourself by attending the following shows:
Opening Gate – 10:30 a.m. – Front Gate
Court Dance – 11:30 a.m. – Rose & Crown
Chess Match – 2:00 p.m. – Chess Field
Closing Gate – 6:30 p.m. – Front Gate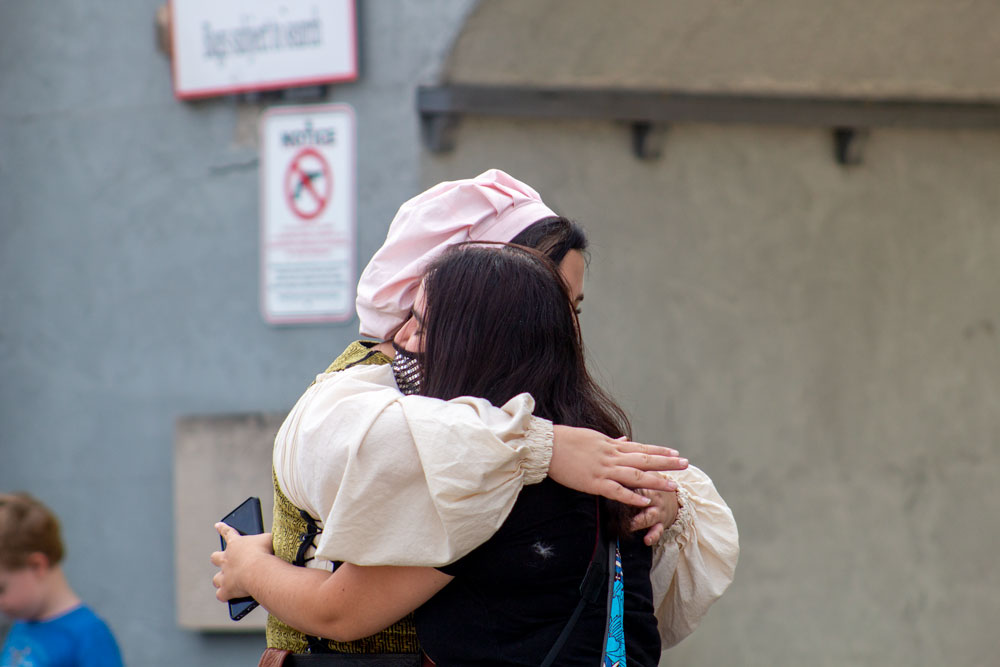 When the cannon sounds the grounds unfurl, allowing the throngs of festival-goers to return and enjoy the village once more. Planning a day at ORF can be challenging, especially with so many new shows and familiar favorites to get a look at. We had our hands full making the trek back and forth, but it was well worth the effort. There were so many people I haven't been able to see since 2019, which means lots of shrieks and hugs (with permission) along the route. It was good to see friends coming out of the woodwork again and I look forward to reconnecting with them over the coming months.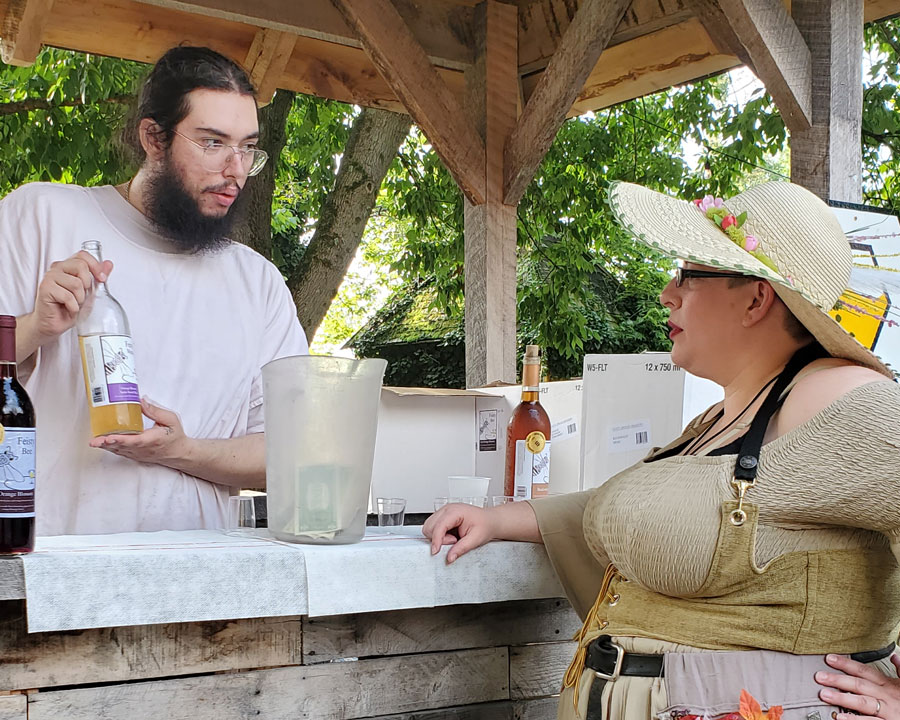 Helping to sample and promote new finds at faire is in my job description, so I don't let myself feel too guilty about having a sip of two at 11 o'clock in the morning! A new mead booth has gotten set up at ORF, bringing us a chilled cup of Feisty Mead to start off the day. I'm a big fan of this honey brew, but very picky when it comes to brands as many of the larger commercial ones are too dry and taste of chemicals. Feisty Mead had my heart from the second I took a sample of their Citrus Inspiration, and continued to impress with their lineup. The Buckwheat Mead really grabbed a hold of me with its rich, complex flavors gently coddled in a blanket of smooth honey sweetness. Be sure to stop by and get a bottle or two if you can!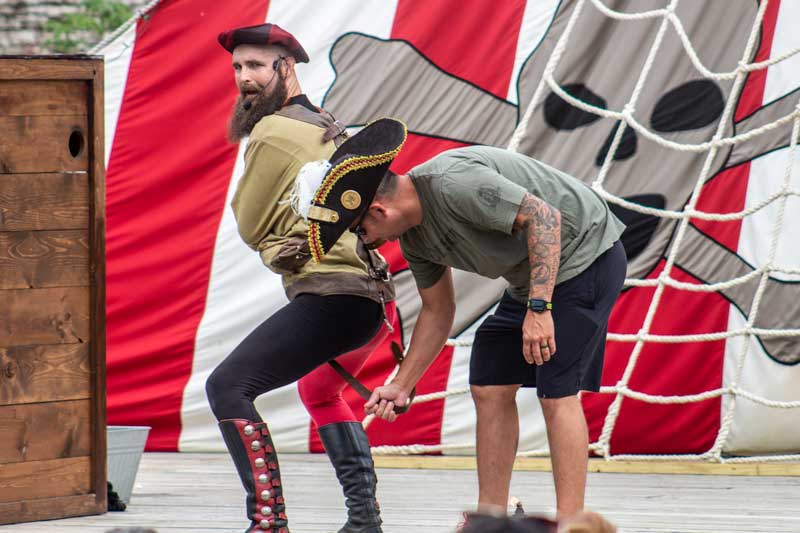 We turned the corner and headed on over to the Shipwreck Stage where new guests Judas and Magnolia were setting themselves up for a show of comedy and terror. Judas is easy to spot by his 'devilish' get-up as he stands in the lanes and guides folks over to the shady benches by the Tiki Bar. His lovely wife Magnolia gave us a wonderful opening aria along with fire hoops spinning and dancing along the stage, helping to draw in the crowd. Their act began with a fantastical tale of bold Dr. Judas being kidnapped by a terrible pirate named Big Daddy (dubbed as such by the audience). Determined to end the dear doctor's life, he is subjected to the most perilous of predicaments as he is chained, gagged, bound, and shoved into a box only to be set on fire for the amusement of the crowd. Does Dr. Judas escape in time? We certainly hope so because he has four shows every day!
11:30 am – Shipwreck Stage
1:00 pm – Shipwreck Stage
2:30 pm – Shipwreck Stage
4:00 pm – Shipwreck Stage
Next up was Carnival, fulfilling our need for a rollicking pirate adventure and plenty of swashbuckling action. When Turkish sailors accidentally end up buying a stolen ship, they find themselves playing 'host' to Her Majesty's very own Sir Francis Drake, who is less than thrilled with his current troubles! What follows is an extravaganza of firepower and swords as the crew battle one another back and forth across the deck. This show does include loud prop gunfire so keep that in mind when you attend.
12:00 pm – Shipwreck Stage
1:30 pm – Shipwreck Stage
3:00 pm – Shipwreck Stage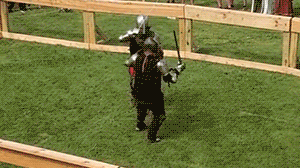 If you fell into armored combat TikTok the same way I did over the course of the last year, then you are in luck! The Cincinnati Barbarians put forth one of the best displays of competition and sportsmanship I have ever seen! These guys were spectacular! It was such a thrill to see them work together with real hand-to-hand techniques that showed off an impressive level of training and control. That armor is no joke. I got to hold one of the helmets and that alone was a hefty weight, so I can't imagine what it must feel like to be in full gambeson padding and metal plate. Even with all of that offering some protection, the swords and axes are brought down with incredible force, knocking combatants to the ground and pounding them up against the barriers at full strength. Nonetheless, the degree of self-control and healthy respect these 'barbarians' show for one another is admirable. During a fight, one of the competitors noticed that their 'enemies' helmet had come loose and was starting to slip. He brought his ax up to call a halt and let the referee know that there was a problem, giving him a chance to fix it. Once a combatant is down, the fight is over, and the teammates can be found laughing and hugging one another in the wake of it all. It is the same kind of respect and consideration you find in any disciplined style of fighting, and it was a heck of a lot of fun to watch. Catch them across from the chess field on the Upson Downs.
12:00 pm near the Chess Field
3:30 pm near the Chess Field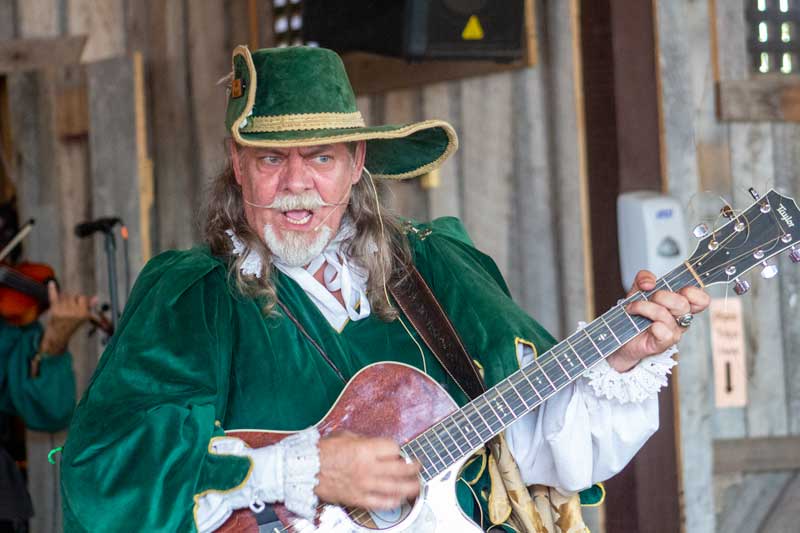 I've made no secret of how much I love the music here at ORF, and this year we snagged some truly high-class performers with Celtic Mayhem. There is a level of stage presence expected from ren faire acts, one which doesn't end at knowing how to play an instrument. This trio of talent performs to a degree that can only come with years of practice and expertise, bringing a combination of Irish rock as well as hot crowd-pleasers that get the whole pub to sing along. When they busted out The Devil Went Down to Georgia it was impossible not to sing along, and that was before Jack Stamates cut the air in half with his fiddle skills! I hope to catch them again soon at the 3 Fools Pub.
12:00 pm 3 Fools Pub
2:00 pm 3 Fools Pub
5:00 pm 3 Fools Pub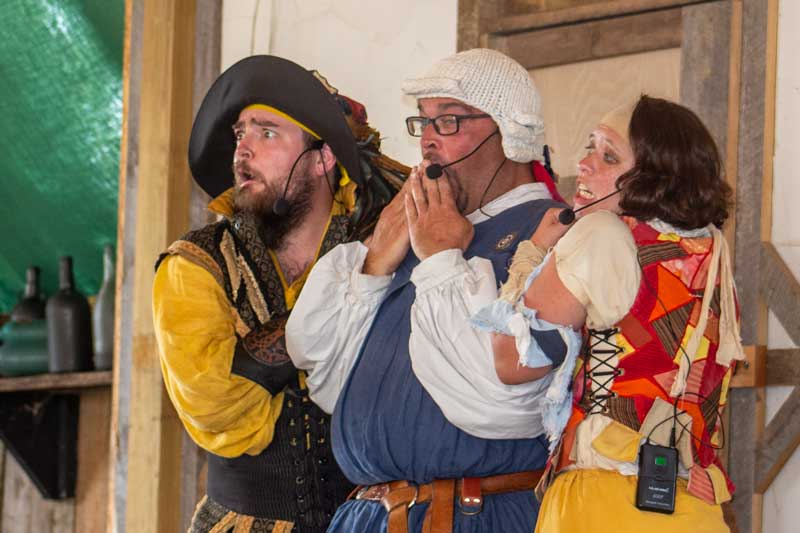 Do you love murder, mystery, improvisational theater, and a five-course meal? Well, I do! We headed on over with a healthy appetite to enjoy a late lunch along with a show at the Royal Feast. This year's theme is a titillating murder mystery with the improv troupe Made-Up Mayhem providing a healthy dose of comedy to keep the mood fun. Once you enter you are provided with a beautiful copper mug that your servers are happy to keep full as well as a lovely placemat where you can keep track of clues throughout the meal. As the courses are severed, you can relax with the musical interludes of Father, Son & Friends, Wenches a' Wailing, Lads on the Lash, and the Queen's Choice Choir to go along with your food. Believe me when I say they do not skimp on the portions here! The real stand-out for me was the pork shanks served on the bone. Tender, juicy, and flavorful, they paired very well with the herb potatoes and honey roasted baby carrots, and a healthy swallow of Woodchuck cider washed it all down. The Royal Feast happens once a day at 3:00 pm, and you can choose to get your tickets online or buy them right across from the 3 Fools Pub along with tickets for the Naughty Bawdy Pub Show and the Pub Crawl!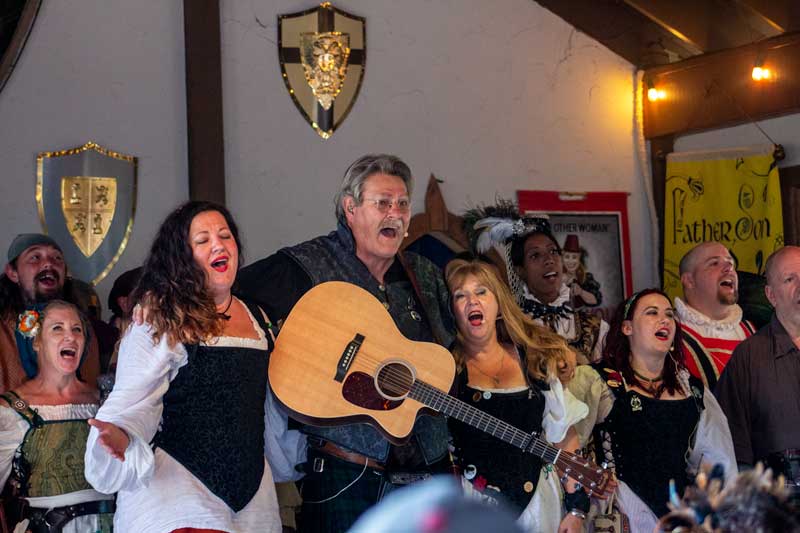 At the end of the day you have a hard choice to make; grab some tickets to the Naughty Bawdy Pub Show (adults only) at the Feast Hall, or grab a spot at the Aleing Knight Pub and fill your mug for Pub Sing! For us, Opening Weekend has a traditional feel to it, which means we picked Pub Sing to indulge in the boundless energy that permeates the air around this place. It's a great way to find your friends in the final hours of the festival as well as get one more cider from the bar. While the show starts at 5:30, for me it's not official until everyone gets up on stage to sing the Mingulay Boat song which transitions into Scotland the Brave played on bagpipes by Father, Son & Friends. Think of Pub Sing as one big party and the whole village is invited! Musical acts from all over Willy-Nilly take a spot to bring the best-of-the-best right to you while cast members dance around the aisles and invite you to join in with them. It's the perfect way to round out your visit to the Ohio Renaissance Festival.
---
Stay tuned because we're just getting started! There are eight weekends left of the season with Fantasy Weekend coming on Sep 11th & 12th!