I am thoroughly enjoying the plethora of events that have been gracing the grounds of Renaissance Parks this summer! It feels like I have spent almost every weekend up there with one experience or another pulling in my attention, providing me with plenty of stories to share with all of you. But it's far more fun to come and get those stories for yourself, as last weekend's venue proved.
---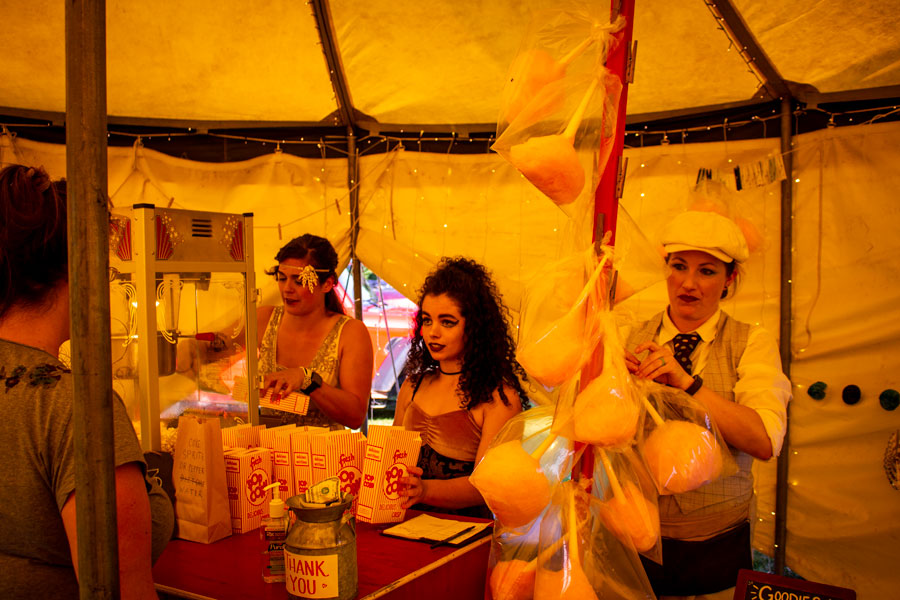 20th Century Circus took over the campground outside the Feast Hall on Friday, Saturday, and Sunday with a huge blue and yellow circus tent, inviting ticket holders in for a taste of magic, acrobatics, and comedy with the backdrop of a 1920's aesthetic. Bouncy swing-era remixes of modern songs played through the arena as we got our tickets, grabbing a box of popcorn, some cotton candy, and a few stickers to take home as souvenirs.
It was a packed house, with many people standing up to get a better view of the stage. While the evening was fairly temperate, it would have paid to bring a hand fan with us as being inside the big top made the humidity much more apparent. Do yourself a favor and grab a couple of drinks from the concession stand before heading in to enjoy the show.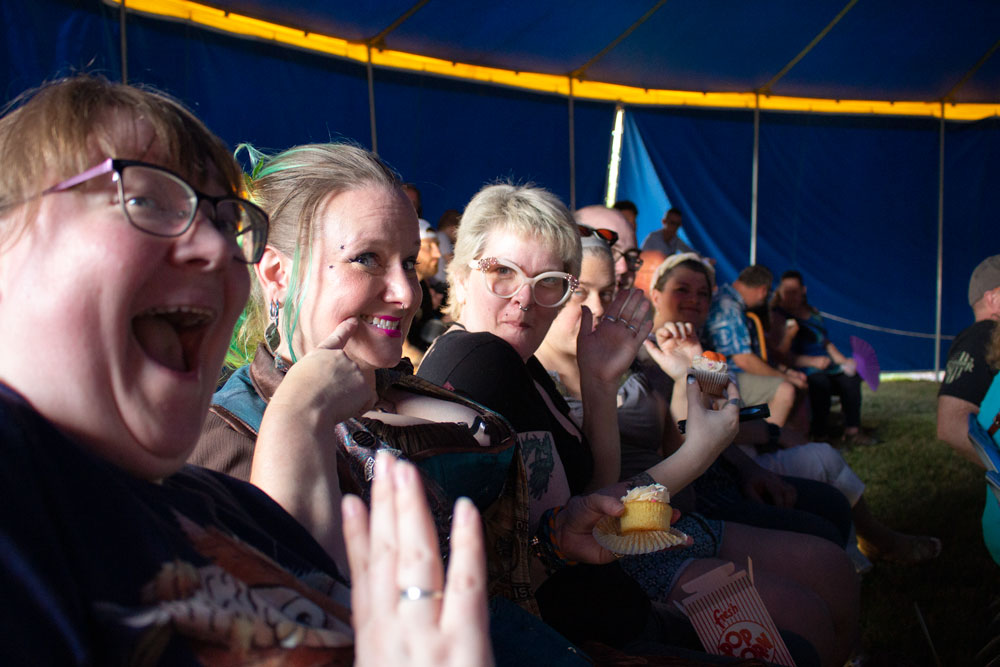 As the music picked up, Jacob Jax popped onto the scene performing traditional stage magic and sleight of hand skills to wow the audience. This man slung cards like someone right out of an X-Men comic, popping them up till they scratched the tip of the big top. He offered up some classic magic tricks, pulling out new variations on Three Cup Shuffle and Egg Bag, his quippy and charming sense of humor giving us plenty to clap about.
Next up came the skilled Topsy Turvy duo of Lily & Amanda, starting the crowd off with a few cracking good whip tricks as they danced in the lights with sequined dresses and dapper suits. Their talents included an act I can only call Dueling Whips, a well-executed move that you have to come and see for yourself. The second half brought out their grace and precision with balancing work and fire utilizing spinning poi and fan dancing.
If acrobatics and aerial spins give you a reason to cheer, you can look forward to some beautiful work from Mary Nerad! Her light-footed pirouettes made for a whirlwind that certainly left me dizzy! I loved the spinning ladder act, which is something I've never really come across in any of the stage shows I've been to. Her bottle balancing work made me way more nervous than I expected. I kept waiting to see one of them break! She proved her poise wonderfully and it was such fun to see her work.
You may recognize this fellow if you happened to stop by last year's Magical Days, Madrigal Knights! Ichabod Wainwright stunned us with the Wheel of Death in 2020, but this time he showed off his talents in a little bit of everything. From juggling flaming axes to dancing on the ladder with Mary Nerad and turning himself upside down on a tower of chairs, he has a knack for getting us invested in his antics with a wink and a smile.
---
The evening flew by so fast that it was over before we knew it! The audience was invited to take photos and spend a few moments saying 'hi' to the cast, with encouragement to post online and let everyone know how much they enjoyed the show. While the 20th Century Circus won't be able to join us for ORF, they do have three shows remaining at Renaissance Parks on July 23rd, 24th, and 25th at 7 p.m. You can get your seats now at Big Tickets before they sell out!