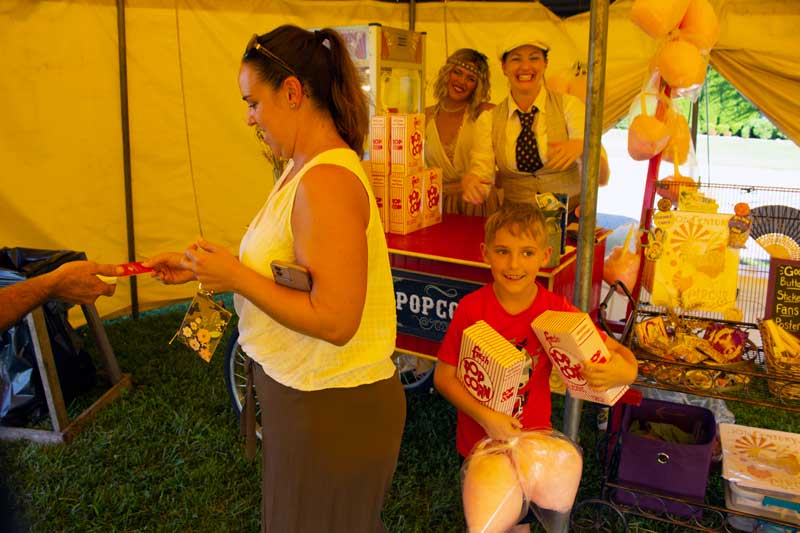 The circus is a special place, one that carries with it a history going back over 250 years. The contents and scope of the big top may have changed over time with well-known shows either undergoing massive re-imagination or falling to the wayside. However, it would be a mistake to overlook the interaction and skill of a group like the 20th Century Circus that showcases their brand of joy across the US every year.
---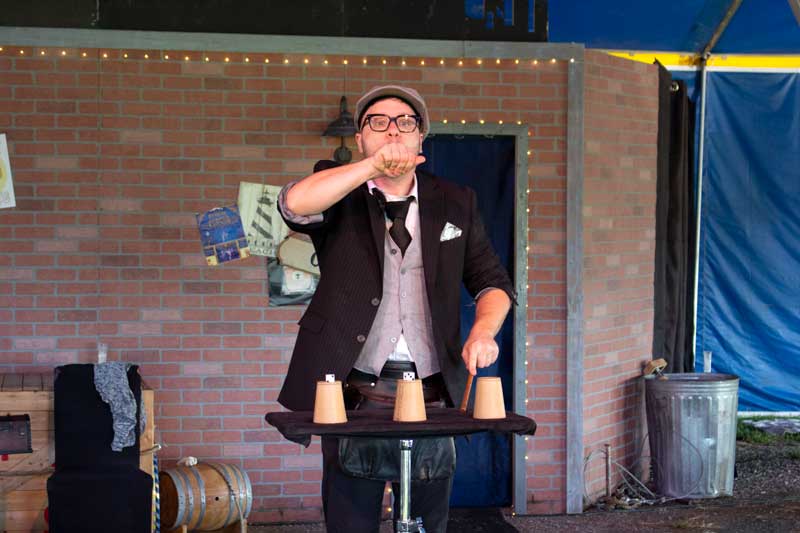 You can tell how much this group truly loves their act. Postmodern Jukebox plays through the tent as the ring is set for the first half of the night. Plenty of folks showed for the first weekend despite the heat, and the performers were determined to show them a good time. Before the show even starts they are talking to the crowd, performing card tricks for the people who got there early. Young minds boggle as Jacob Jax unfolds a deck of cards from his mouth and finds the Queen of Diamonds one of the guests selected earlier. He followed up this introduction with a glib sense of comedy as he performed classic sleight-of-hand tricks with the help of willing assistants from the crowd.
---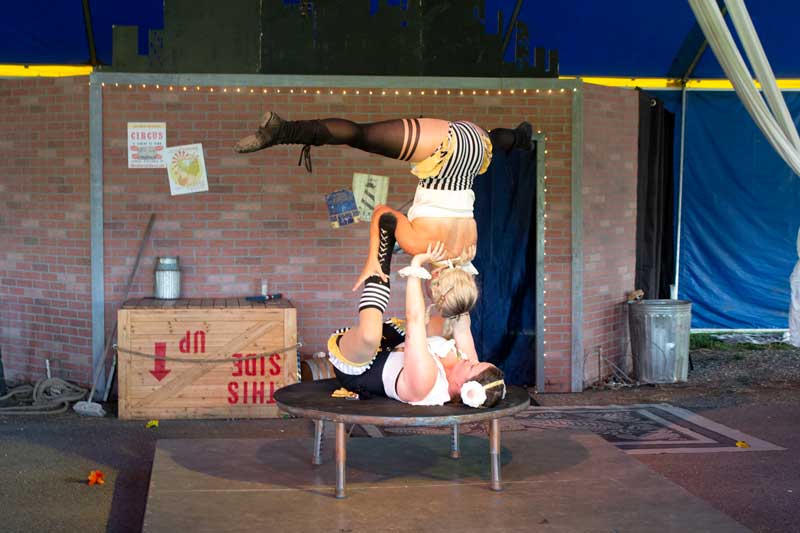 Topsy Turvy's Lily and Amanda made for a spectacular duo as they bent backward and whipped each other into shape. The sharp crack of the bullwhip in a tent is louder than you think even when it's snapping through newspapers. I've always wanted to ask how many times they've caught themselves while learning how to work with such a tool. I suspect the answer would be "Enough to know not to do it again."
---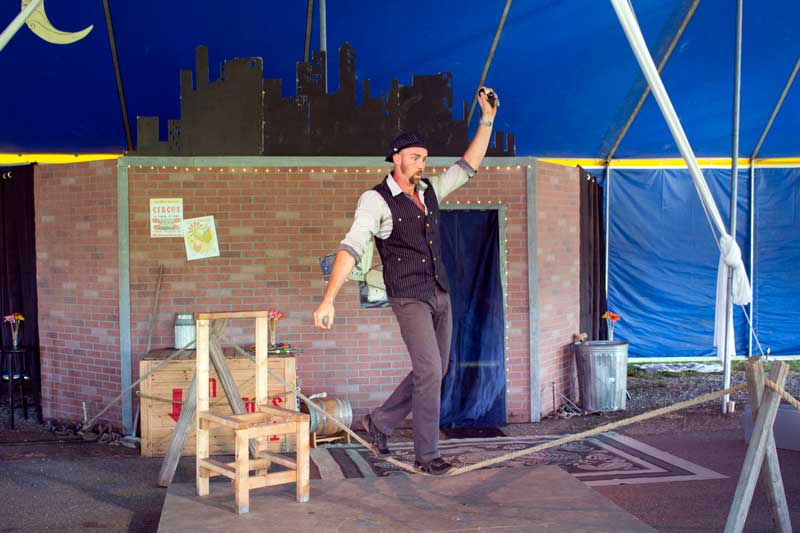 Ichabod Wainwright, The Wheel Walker, brought people to the edge of their seats as he performed. The spinning ladder was one of my favorites from 2021, and I loved to see it make a return for this season. I wonder how they avoid getting dizzy? Between the flaming axes and tower of chairs, I can't wait to see him come back for the Ohio Renaissance Festival on his Wheel of Death.
---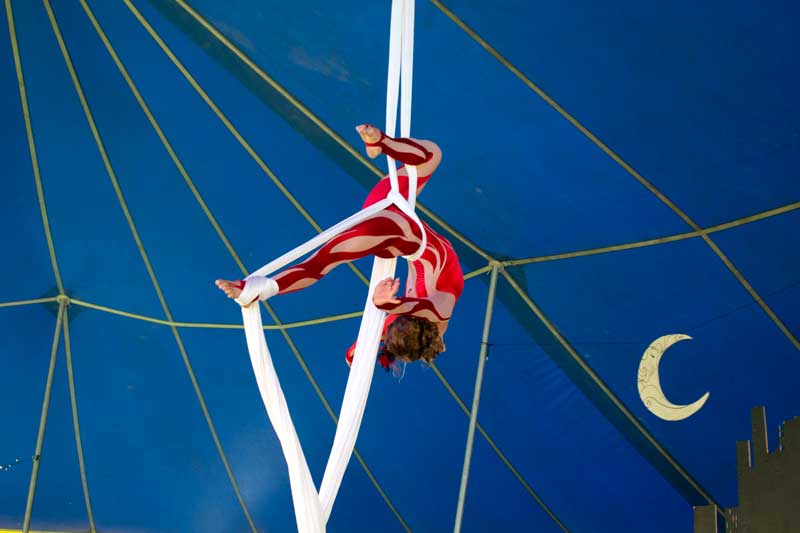 The 20th Century Circus did more than just bring back our favorites from 2021. This year they added new stunts and performers to the roster, keeping the show fresh with a generous sprinkle of glamour! Lei Lei Noone made for an awesome display as she danced above the crowd, wings of silk gripped in her hands. After a brief intermission, she wowed the crowd with an impressive display of muscle control and contortion as she balanced precariously on spinning bars. But the real show stopper was when she fired a bow and arrow at a target with her footwork!
---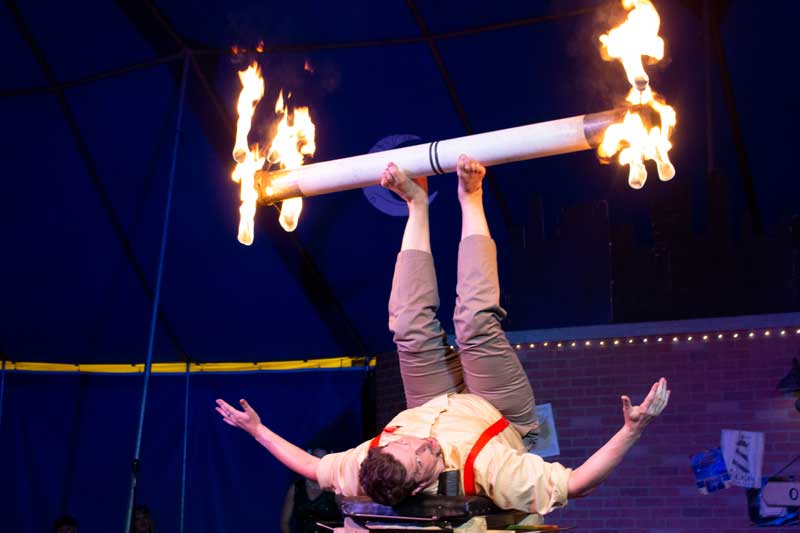 James Freer gave us an awe-inspiring show as he juggled bowling balls, (yes, real bowling balls), with his feet in the air. Nothing makes the crowd cheer like playing with fire, but I don't think anybody expected to see him balance a flaming tube over his head before he began rolling it like a log rider! When those flames came close enough to nearly singe his eyebrows there was a resounding gasp from the guests and a huge cheer when he jumped up unscathed.
---
These folks are such a delight to watch and some of the most friendly people in showbiz. They're always so happy to see folks come in and thank them for coming out to see the circus. It reminds me a lot of ren faire in the sense that these performers truly enjoy their work. They want to stop and shake hands with people who bought a ticket to help support the art form. It makes the whole show feel so much more personal when you're close enough to feel the heat off spinning poi. I was so glad they returned this year, and I hope to see the 20th Century Circus again in 2023.
---
The 20th Century Circus will be performing at Renaissance Park every Fri/Sat/Sun from July 22nd – August 7th. Get your tickets now at 20thcenturycircus.com/tour