"Love is not love
Which alters when it alteration finds,
Or bends with the remover to remove:
O no! it is an ever-fixed mark
That looks on tempests and is never shaken."
William Shakespeare, Sonnets 116
Sweetest Day marked the beginning of Romance Weekend at the Ohio Renaissance Festival. Love was in the air as the crowds flooded into the festival grounds, prepared to bring their paramour a rose (or a cookie) as a token of their affection. It's easy to think of this as a cheesy theme, but as you take in the atmosphere, you can see people running amok with their willingness to show their significant other just how much they care for them. Declarations both bold and quiet bring a tear to your eye as you witness love, Twue wuv.
---
Wedding Bells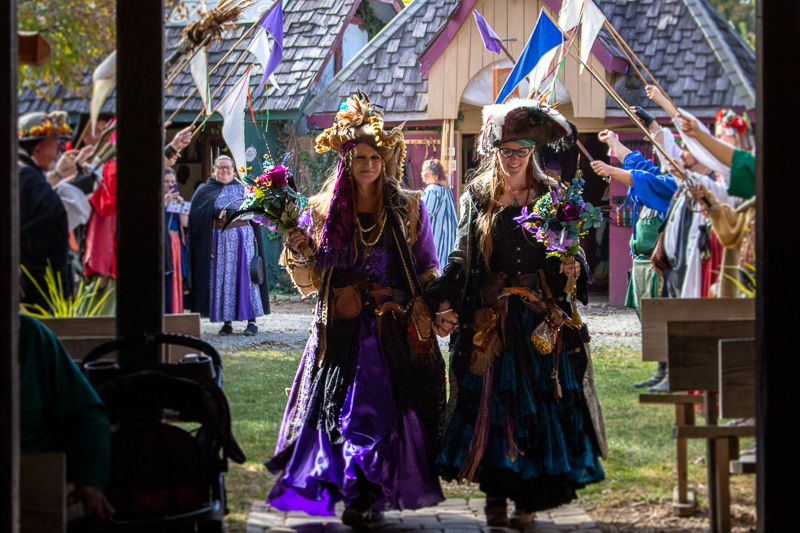 One of my favorites things to see at ORF is a wedding. I love to sit off to the side and watch two people share this moment together. The clasping of hands as they gaze into one another's eyes to make their vows. All of it culminates in that moment where lips meet and the bells of St Peters Chapel ring out in clear proclamation that love has conquered once more.
A lot of the people who choose to have a wedding here at ORF put a great deal of time and effort into really making the theme their own. Everything from Maid Marian and Robin Hood to a couple of scurvy pirates have appeared with party in tow. I think the atmosphere of a ren faire offers a unique venue that people can really enjoy even after the reception is finished.
ORF offers a multitude of amazing wedding packages for every price range! If you're looking to add music to your ceremony and reception, contact our hammered dulcimer player Lady Victoria or The Queens Choice (look for Jennifer Brough in Facebook).
If you are interested in holding your wedding at ORF we have plenty of info and packages available.
---
Mass Vow Renewal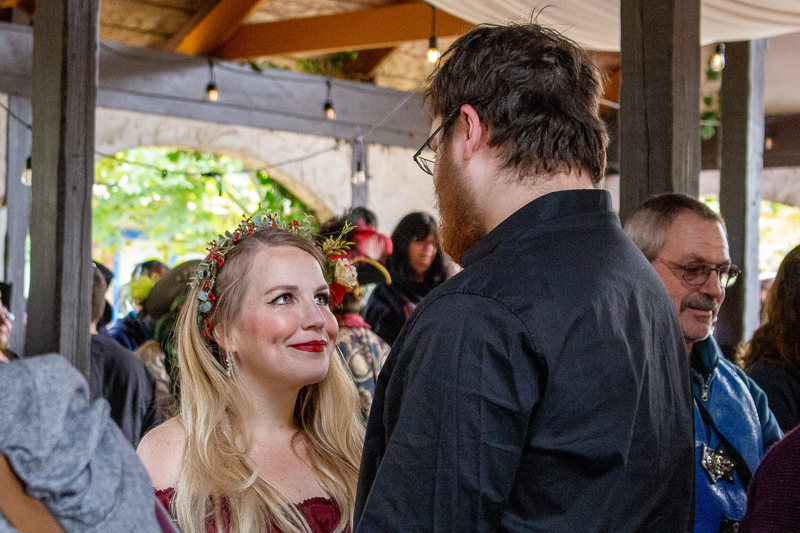 Speaking of love and marriage, this weekend was the mass vow renewal at St. Peters Chapel. This free event allows people all over to come to the ceremony, ready to join again with renewed vigor their commitment and intimacy to one another. It's no surprise that so many people cry during this ceremony. I shed a few tears myself just watching them. The world goes silent as a soft breeze carries a sweet aroma through the chapel. You can feel the room joined with one heartbeat and, for now, all is right with the world.
Check out the Mass Vow Renewal photo gallery at the end of the post!
---
The Singing Sirens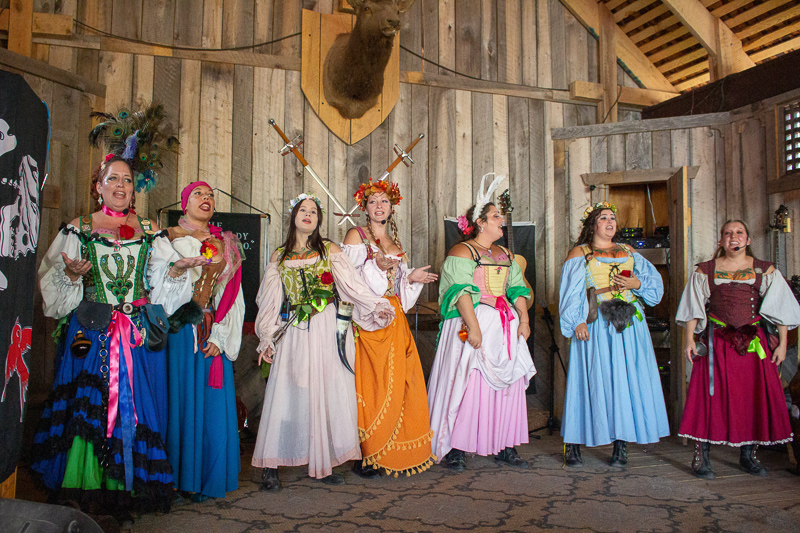 And what would romance be without a few pretty ladies to keep you company and charm you with their angelic voices? The Singing Sirens of the Shady Lady 'Theater' Company are more than happy to make your acquaintance! The Sirens are the local persons of negotiable virtue, and their bawdy brand of entertainment is sure to leave you with a smile on your face.
Headed by Madame Kitty Peacock, the Sirens play at the 3 Fools Pub for the enjoyment of the crowds, but where they really shine is at the Naughty Bawdy Pub Show at 4:30 at the Dirty Duchess. This is a special event where the drinks flow, the wenches get wicked, and the humor is R-rated! I got a chance to talk to the Sirens and ask them a bit about what it takes to sell romance for profit!
All day we are comedians, singers, revelers, and fools! The best part of the act is when we get a BIG laugh from the crowd. I get this euphoric feeling, it's the best drug in the world!"

Bunny Silverbuckle
We love to bring happiness to everyone in just about any way possible. We play games with kids, sing songs for patrons, brighten days with jokes, and bring the bawdy with the 21+. I love our goofing off with one another on stage and how often our crowds sing along or get into our acts."

Vixen, AKA, Princess of Performance
We sing about romance; both the epic 'swept off your feet' side, and the humorous and at times naughty side. I love getting our audience to laugh. It's just the best feeling in the world!"

Chastity, AKA, Princess of Purity
---
Best Bloomers Contest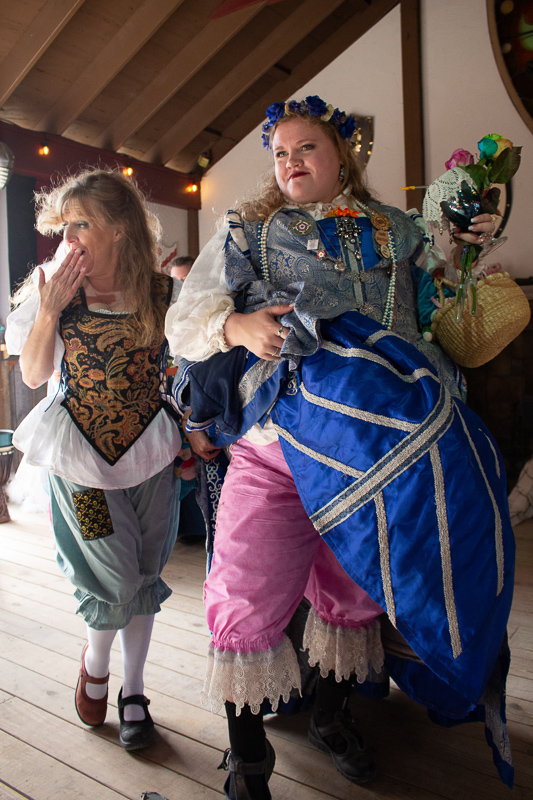 Naughty puns and a little cheeky humor is a big part of what makes faire so much fun! We get to come out and have a good time with one another. The Best in Bloomers Contest at the Aleing Knight Pub was a delightful way to rally the troops and show off your scandalous Elizabethan undergarments to a roaring crowd! Even if you didn't bring any of your own, the Wenches A' Wailing had plenty to spare! The competitions strut across the stage, hiking up their skirts and giving the pub a spin to show off their frills and laces! Everyone was welcome to come and compete, but if bloomers aren't your thing there was also a Men in Tights competition!
---
Naughty Bawdy Pub Show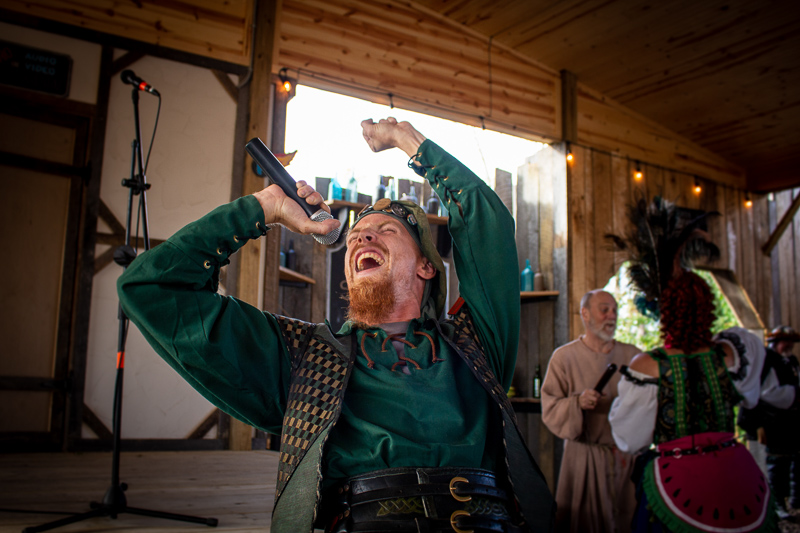 If you haven't been the Naughty Bawdy Pub Show as of yet, allow me a moment to explain. There are very good reasons why you can't go in unless you are 21 or older. In the Lanes (the rest of the village), ORF keeps the environment very family-friendly. The ren faire is supposed to be for everyone and we love seeing everybody from babies to grandmothers come and have a good time. But the NBPS is there for some of that low brow, pub crawl, lewd, crude and socially unacceptable humor we all know and love. Various acts from around the festival come over for some adult songs, the Sirens serve the tables, and the occasional consenting motor-boating occurs. We all share in the revelry with high spirits and it makes for a grand way to spend the evening. So take a chance and come without the kids one weekend! You won't regret it.
---
Swordsmen 30th Anniversary Surprise Party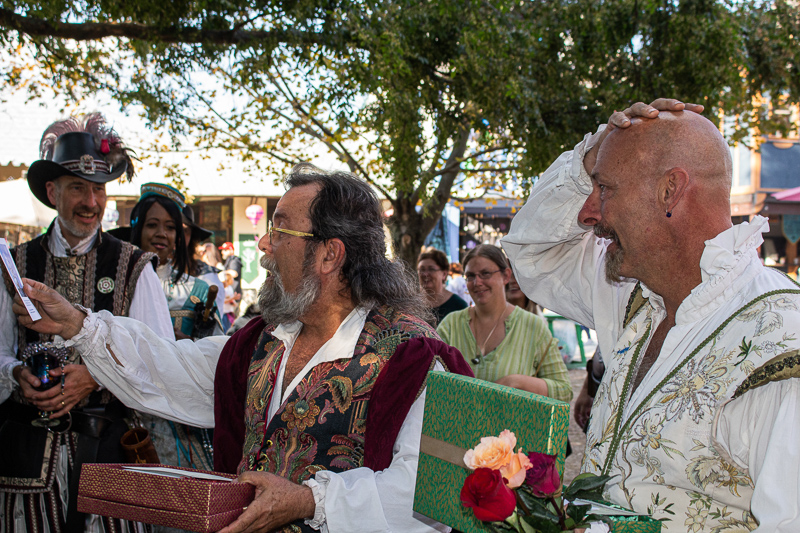 I don't think there is a more ubiquitous act at the Ohio Renaissance Festival than Dirk & Guido, also known as The Swordsmen. For thirty years, these two have been entertaining crowds across the nation and it's safe to say that a faire season just isn't complete until you've been to see them. Known by their own proclamation as "Bold & Stupid Men", they are an absolute delight to know. So how to thank them for the years of joy and revelry they have brought to our hearts?
With a giant surprise party of course! For the first time ever we got to see Dirk and Guido utterly speechless as they were brought down to the Y bridge and greeted with a huge "SURPRISE" from the crowd, balloons, and a face cake! This was a magical moment where dozens of us came together to show our appreciation for these two wonderful people.
Little did they know that a huge secret operation had been going on at faire for the last few weeks to organize the party, collect testimonials about what the Swordsmen mean to their fans, and crowdfund some very deserved anniversary gifts. Dirk was gifted the watch of his dreams. Not only that, but soon Dirk, Guido, and their wives will be cruising around the Mediterranean in a much-needed vacation!
Here's to another 30 Years of Itinerant Gentleman Adventurers!
Check out the Swordsmen 30th Anniversary Party photo gallery at the end of the post!
---
Lifelong Romance
With all this love and affection in the air, I was curious to find out what Romance means to the people of Willy-Nilly! Needless to say, the answers were very enlightening!
---
As the sun sets across the jousting field, the pub lights up with music and couples from romantic to platonic sway back and forth like a Rennie prom night. In the end, romance is about so much more than marriage. Romance is about love in all its various forms, allowing people to form a network of support and intimacy that keeps us going through the years. There is not enough love in the world today, and it is more important than ever to know there are those around us we can turn to.
We only have one week of the Ohio Renaissance Festival left! Thrills and Chills are right around the corner. Don't miss out on Trick or Treat Weekend, where children 12 and under get in FREE!
---
The Mass Vow Renewal in Photos
---
The Swordsmen 30th Anniversary Party in Photos
Next Weekend is Tricks or Treats
Bring your wee ones 12 and under for FREE and enjoy trick or treating around the village. Costume contests for adults and kids and pumpkin decorating for the kids. Enjoy your favorite show, mug of ale, and delicious foods one last time because after the 27th, we're history 'til next year!
Come back to the blog October 29th for a recap of our last wekeend!