It's time again for dust on your boots and barbecue between your teeth! The 1572 Roadhouse Bar-B-Q opened its doors for the 2021 season to bring us a summer full of great food and fun activities. If you managed to get a table last Thursday then count yourself lucky. They were bursting at the seams with customers eager to get together and bikes lined from the taps to the front gate. The serving staff kept going 'til the last call of the night, and even then they were right back to work on Friday, ready to knock their first weekend out of the park.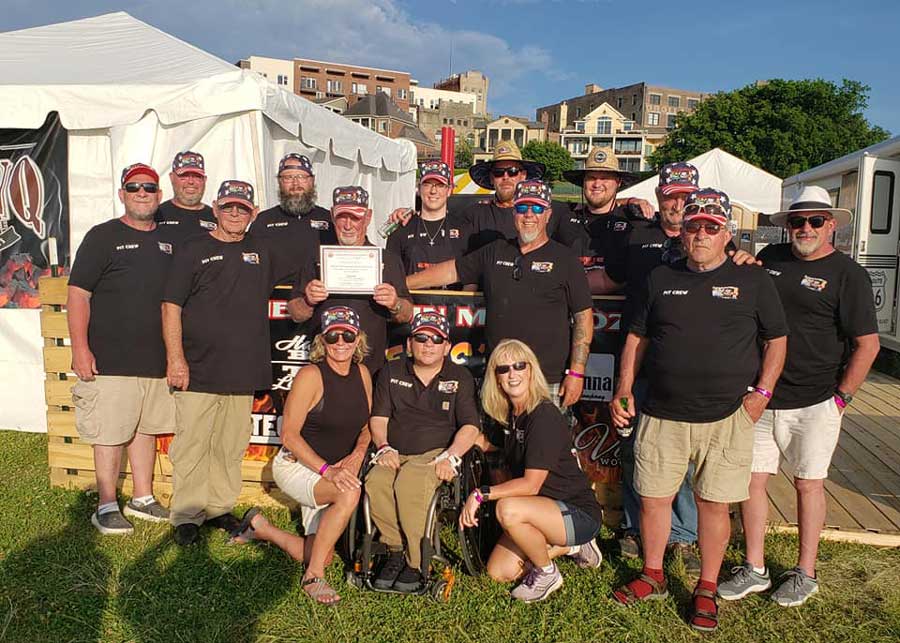 Someone at the Roadhouse has a very special reason to celebrate. Pitmaster Chris Cavender and The Dirty Old Basters took 7th Place in the Whole Hog Division of the 2021 World Championship Barbecue Cooking Contest. Placing anywhere in the top 10 among pitmasters from all over the world is truly a stunning performance. It goes to show the kind of dedication the people behind the 1572 Roadhouse put into their craft. Take a moment of your day and stop by the Roadhouse Thursdays – Sundays this summer and grab a piece of their award-winning eats.
We entered whole hog 'cause it's the hardest thing to do. Out of 30 competitors from all over the country, and [competitors] from Britain and Mexico, we came in 7th place. So 1st – 10th you're really doing something. Everyone that was on our bucket list to beat, we beat 'em! So doors open up for us for sponsorship and that kind of thing. We'll have a big trophy on display for ya'll out here soon."

Pitmaster Chris Cavender
I got down to Renaissance Parks to get my first taste of the season. Call me weird, but I think a big cheeseburger from the Burger Shack topped with 1572 coleslaw and Smokey Maple bbq sauce is just about the perfect way to start the summer. Add to that a cold cider and some blueberry cobbler with whipped cream and the whole world feels like a perfect place. But what really brought the evening together for me was all the familiar faces coming out. Now that I've been vaccinated, there were so many people I couldn't wait to hug! Imagine two (or more) people running at one another, arms wide, screaming with excitement, then skidding to a stop on the gravel and going "I got vaccinated! Is it okay to hug?" followed by launching into a big squeeze once they got the okay. That occurred multiple times in just a few hours, and I gotta say I forgot how much I missed just hugging the people I care about.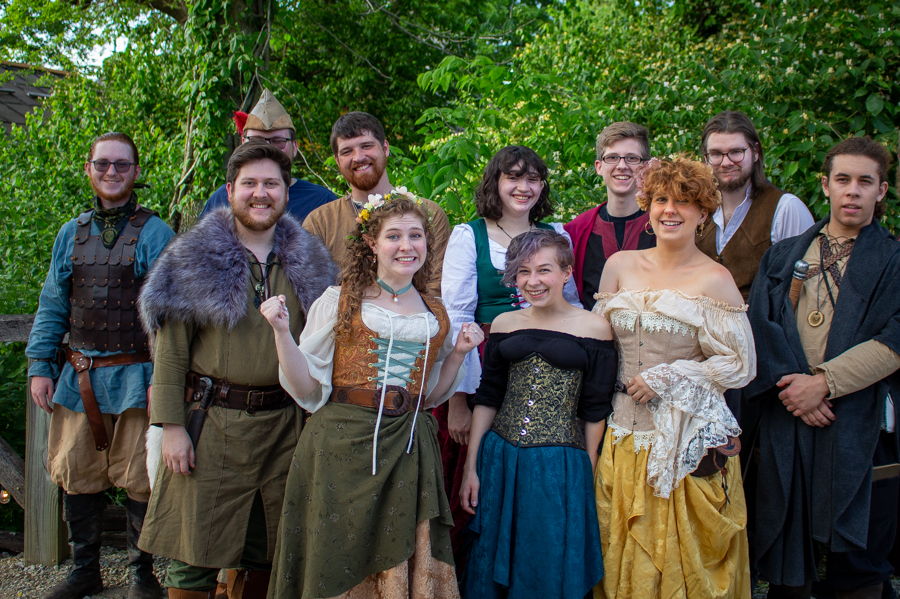 It's nothing unusual to see people in garb at ORF, but these folks hit us a little early in the season! Turns out they had gotten together for a LARPing excursion a few miles away only for it to get canceled last minute. Since they were all dressed up they found somewhere to go. While the ren faire might not be open yet there are no rules against showing up in full garb with a bunch of friends. They'll certainly be plenty of opportunities between now and September.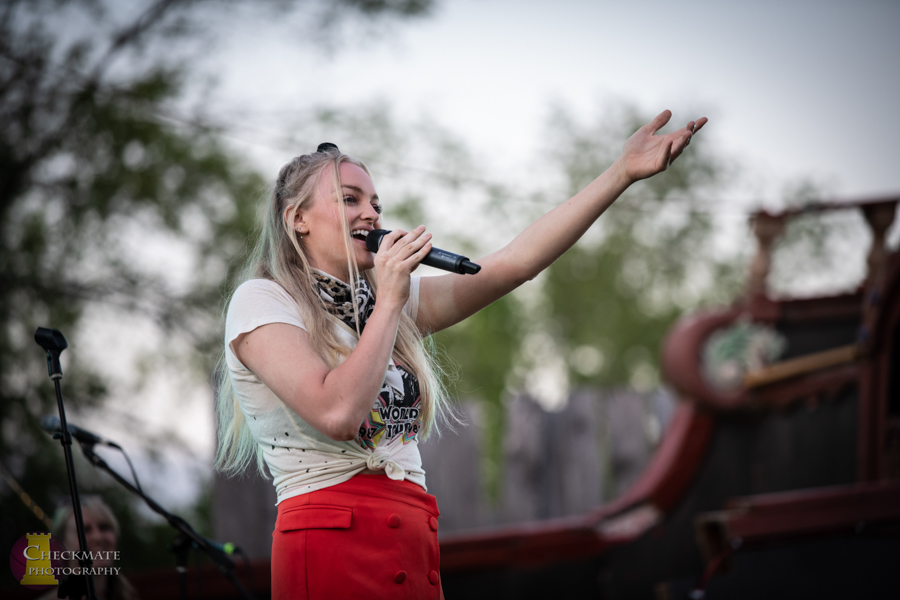 The night's The Roadhouse Presents concert featured the Miami Valley's own Alexis Gomez from season 14 of American Idol. She made it to the top 16 in the competition with her country music renditions, charming audiences with her charismatic performance and approachable demeanor. Alexis was absolutely gobsmacked to be at ORF, excitedly talking about how cool it was to be performing on a pirate stage for the first time!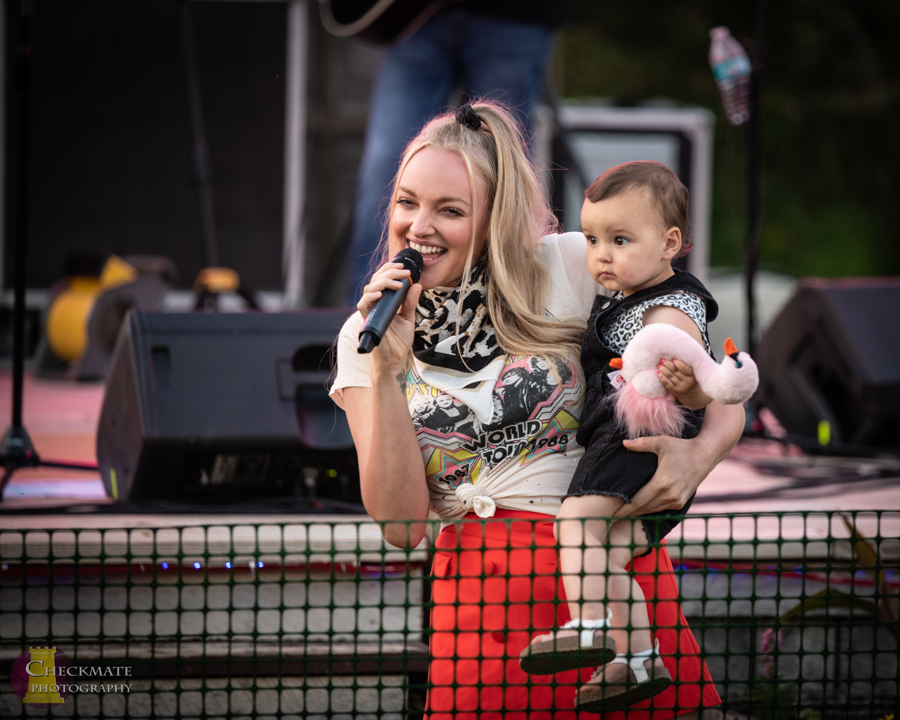 She started off strong with a combo of old and new country songs like Boot Scootin' Boogie (Brook's & Dunn), Mama's Broken Heart (Miranda Lambert), and the ubiquitous Jolene (Dolly Parton). She peppered in a few of her original compositions while carrying her niece, Mia, around with her as her nephew got up on stage to give a shy hello.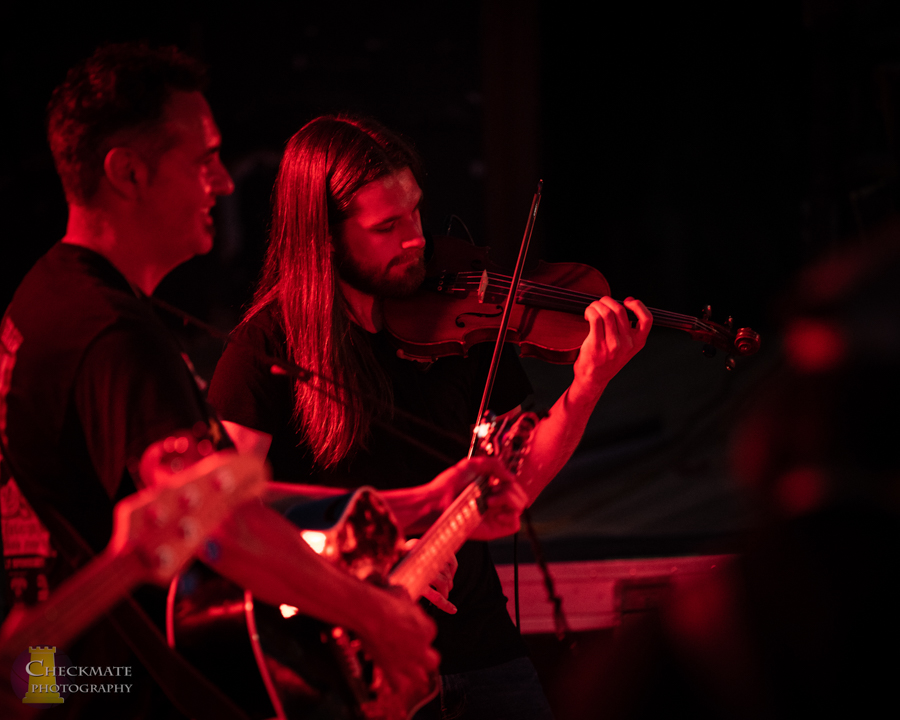 When the time came to do Devil Went Down to Georgia (Charlie Daniel's Band), ORF's very own Chance Brough took the stage to set that fiddle on fire! I knew this kid back when he was still shorter than me and now he looks like he should be the frontman for a heavy metal band! Everyone there who knew him rushed towards the stage for photos and to cheer him on. Chance will be back along with dozens of other musicians for the 2021 season, so see if you can catch him in the lanes this year.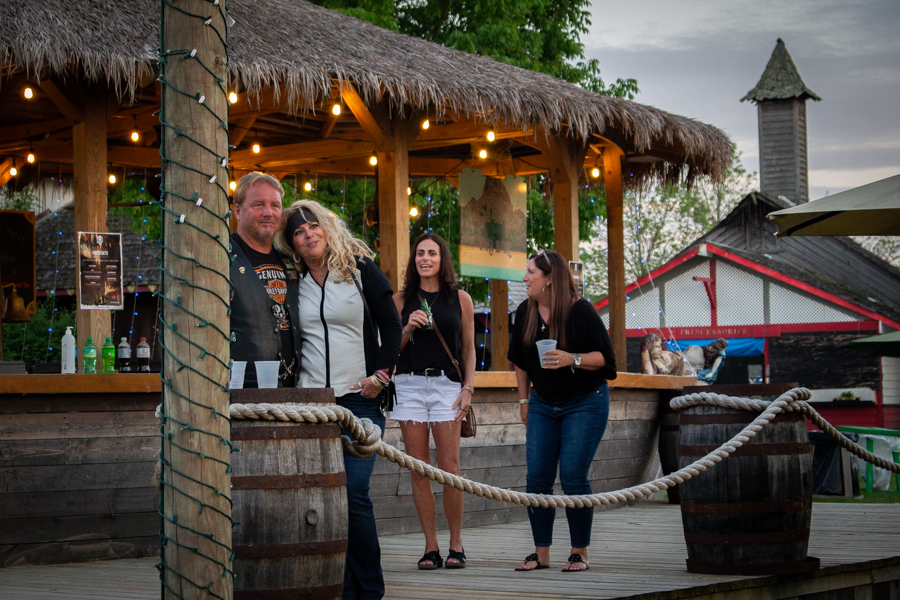 I think with the pressure finally starting to relieve, people came out in a good mood. With most if not all of the events at Renaissance Parks being held outdoors it's going to make for a very busy year so now is the time to get tickets early for things like Celtic Fest Ohio and the Ohio Renaissance Festival. There's plenty more in the Roadhouse Presents summer concert series and Free Friday Flicks picks up again in July. Mark the dates and meet me there!
See all the upcoming shows in the Roadhouse Presents summer concert series
Get tickets to the Roadhouse Presents
---
Feature photo by Jeff Rooks – Checkmate Photography