A kind brew and good company are the staples of any self-respecting pub, and the Ohio Renaissance Festival has thirteen of them for you to enjoy. While most of the pubs are a part of the village of Willy-Nilly, each with its own unique history to discover, many of our sponsors have their own gazebos throughout the grounds where you can enjoy their brands for yourself. With a delightful atmosphere and rambunctious entertainment, you can visit each in turn throughout the season and find something new to enjoy each time.
---
Ale Trail Challenge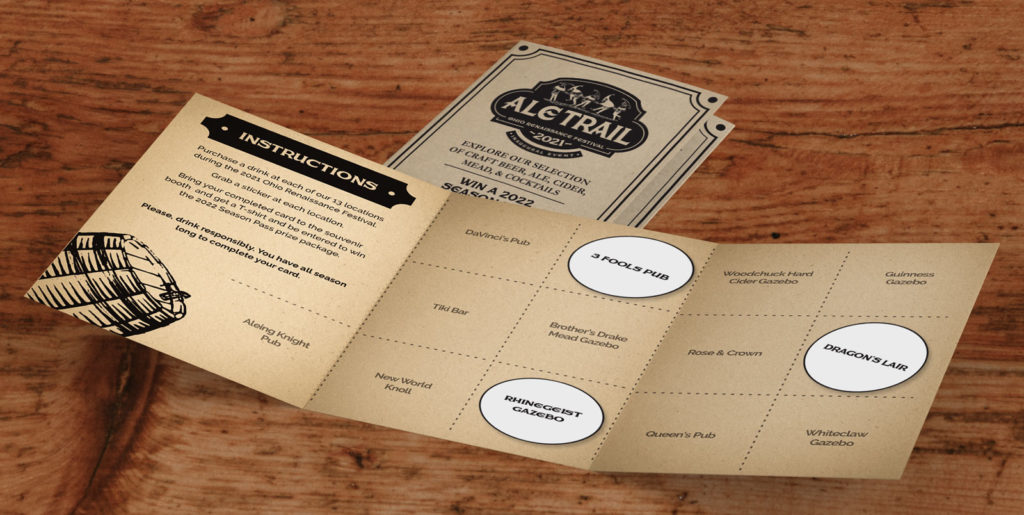 We will be introducing an inaugural event for the 2021 season, so get your mugs ready for the Ale Trail Challenge! This fun-filled trail is an opportunity for you to peruse the grounds all season long and enjoy each of the pub venues ORF offers to help you stay merry and give you the opportunity to win some very special prizes! The challenge lasts from Opening Weekend (Sep 4th – 6th) to the final weekend (Oct 30th – 31st), so don't feel like you have to rush.
Go to the Souvinere Booth or any participating pub to get your official Ale Trail Card.
Spend your weekends visiting our 13 pubs and sponsored gazebos to fill your mug and get a sticker.
Turn in your completed card at the Front Gate Souvinere Booth for a tshirt and to be entered to win a 2022 Season Pass Prize Pack!
Remember, you can only get one sticker per pub, so be open to trying new things as you get your card filled up. Take your time and bask in the atmosphere while enjoying some of your favorites and a few new suggestions.
---
The Pubs
The Ohio Renaissance Festival has a total of thirteen pubs for you to experience, 8 of which are mainstays at the village of Willy-Nilly and 5 that come from our sponsors. These locations are spread out around the grounds so please ensure that you can safely walk from one to the other without tripping over your laces! For those of you visiting us for the first time, let's take a look at where you will be heading.
---
DaVinci's Pub
As you take a right from the front gate, you will find DaVinci's Pub across from the Lorelei Biergarten. Grab yourself a fresh slice of pizza from the kitchen and your first sticker of the season when you fill your mug here. My personal favorite is Queen's Tea, a sweet blend of Woodchuck Hard Cider and Valley Vineyards Honey Mead that can be served hot or cold depending upon the weather.
---
3 Fools Pub
Continue wrapping around to the 3 Fools Pub right next to the 1572 BBQ for good food, entertainment, and another sticker on your card! They serve a variety of tap beverages and cocktails to select from so you'll have plenty of options. The summer favorites seem to be a refreshing Blackberry-Lemonaid Vodka or a shot of creamy Banana Nut Bread. Take a look at the menu while you are in line and try something new for your troubles!
"When the 1572 carries pineapple cider, you can get Queen's Tea made with it and it's a total game-changer. Be careful of how many you drink!"

– Kat Mekratrig
---
Tiki Bar
Just across from the Shipwreck Stage is the aptly-themed Tiki Bar waiting to serve you with a fine selection of mixed drinks and participating sponsors like Rhinegeist and White Claw. The stage here features some of our best acts including the cast's own Pirate Stunt Show to kick off the day with comedy and adventure for everyone.
---
New World Knoll
After a nice hike to the top of the hill, you'll be pretty thirsty. Best stop at the New World Knoll for some delectable wines and bold Guinness before moving on. There is a covered trellis area with plenty of seating where you can do some people watching and take a quick break. You can even catch a Washing Wenches show.
---
Aleing Knight
The biggest pub at the festival with the most enthusiastic crowd, the Aleing Knight is where you can grab a pint and enjoy some of our most popular musical acts such as Wenches'a'Wailing and Father, Son & Friends. Get yourself a Spider Cider, which is one part Guinness and one part Woodchuck, for a frothy brew to keep you company while you cheer on the Human Chess Match at the Chess Field across the way.
"My favorite 'secret' drink is the 'Bloody Knight.' It's hard cider with a shot of Chambord in it. Also off-menu, the 'Johnny Jump Up', hard cider with a shot of Irish whiskey."

– Johnna Brough
---
Queen's Pub

NEW IN 2021! Introducing the Queen's Pub, right across from the Kamikaze Fireflies stage and the Mudd Show, this newly constructed building brings frosty beverages and wood fire pizza to the far corner of the faire. Be sure to give this place a try while gallivanting about the games area during the new season.
---
Dragon's Lair Pub
Located around the corner from the Bourbon Chicken stand you can find the Dragon's Lair pub. This location is perfectly placed for you to enjoy a bit of middle eastern cuisine from Jerusalem Cafe, or just take in a show at the Dragon's Lair stage.
---
Rose & Crown

Complete your circle around our village by stopping at the Rose & Crown and slake your thirst. Got a hankering for turkey legs and steak on a steak to go with that beer? Bring a friend so you don't have to wait in line twice! Be sure to take a break under the shade of the trees and enjoy the Court Dance featuring the Queen herself.
---
The Gazebos
In addition to the pubs, we have five brands hosting gazebos around the faire. The lines here tend to be a little shorter than they are at the pubs, so this is a great way to add a couple of stickers to your card while refreshing yourself. Keep an eye out for them as you travel the village!
Rheingeist – Across from the 1572 near the Shipwreck Stage & Tiki Bar
Woodchuck Hard Cider – Ciderhaus Gazebo across from the Human Chess Match arena
Guinness – Between the Aleing Knight Pub and the Joust Field
Brother's Drake Mead – TBD
White Claw – TBD
---
This is defiantly a challenge worthy of our most ardent fans! But remember the point is to have fun and explore the village at your leisure. You have two whole months, nine weekends, to complete the Ale Trail before turning in your card. So relax, enjoy the shows, and make a few friends while you're at it.
Got any special "Secret Menu" drink combinations you've discovered at the festival? Let us know on Facebook so others can try it for themselves!