"We know what we are, but know not what we may be."
–Hamlet, William Shakespeare
---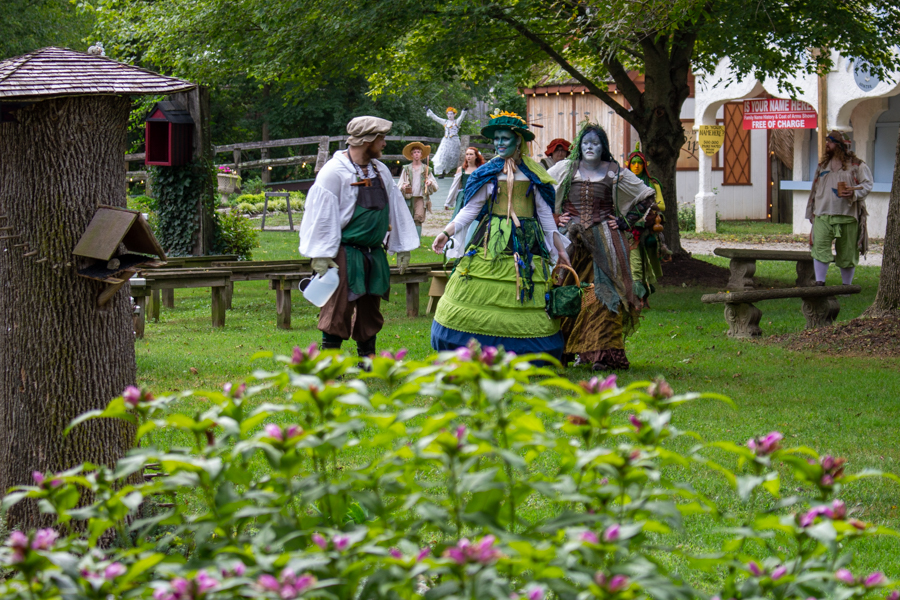 There was a flurry of activity from dawn till dusk, all in preparation for Labor Day weekend when the festival will return from the hiatus of 2020. Each season brings forth new goals and challenges for the folks of the Ohio Renaissance Festival. With record-breaking attendance being the trend in many faires across the country, we find ourselves greeting 2021 with high expectations.
Last Saturday the park hosted a Preview Day for our ORFans members, giving them a chance to come and take a peek behind the scenes of this event. They followed the cast during a quick run of the festival day, took in lunch at the 1572, learned how to curtsy, and got a chance to wander the lanes before anyone else. The ORFans Lounge is already in process, giving these dedicated community plastrons a welcome spot to gather during the run. If you are new to the group, seek out the tent behind the Aleing Knight Pub across from the Chess Field and get to know your fellow Rennies this year!
---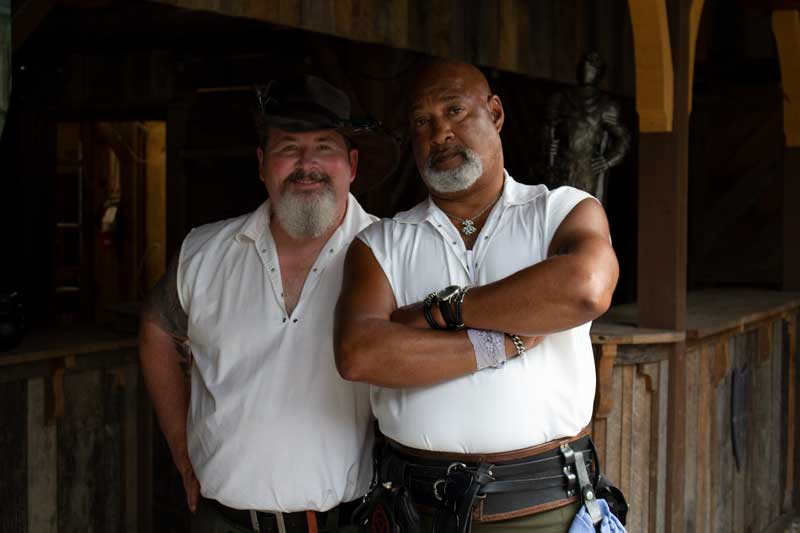 I always like to renew friendship with cast members that I have not seen in a year. I also get to see the new parts of Faire. If you look closely there are things that are evolving, changing, and improving every year but by bit!"

J.W. Max McSayles (ORFans Member)
---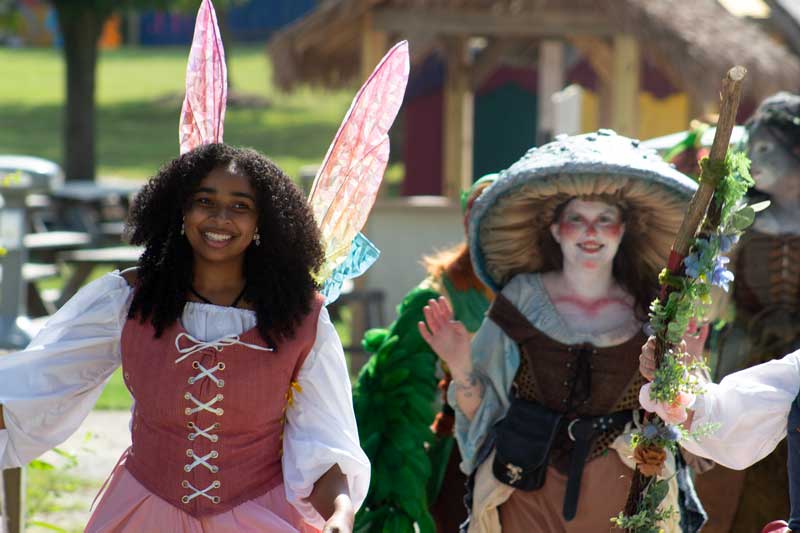 Saturday was dress rehearsal and a final run-through for cast members, giving them the final chance to get approval on their garb. The meeting was a flurry of activity as grommets were hammered into corseting, faes adjusted their wings, and dancers practiced their rounds. Eight weeks of preparation have passed since auditions which help to refine the cast and bring out their talents. Cast does far more than slip-on garb and uses an accent all day long. Many participate in shows and events throughout the festival, providing a wide array of entertainment to the patrons.
---
The thing I am most looking forward to is dancing at front gate. It is my favorite part of the day because it sets the energy for the whole day and it gets the crowd excited."

Bellsy Havoc (Jade)
---
Cast Shows & Events
8 Hands Round Dance Guild
Front Gate – 10:30 a.m.
Upson Downs – 1:30 p.m.
Upson Downs -4:30 p.m.
The Sirens
3 Fools Pub – 1:00 p.m.
3 Fools Pub – 3:30 p.m.
Feast Hall – 5:30 p.m.
Queen's Choice Choir
St. Peter's Church – 1:00 p.m.
St. Peter's Church – 4:30 p.m.
Whiskey Witches
Tipsy Cauldron – 11:30 a.m.
Tipsy Cauldron –1:00 p.m.
Tipsy Cauldron –4:00 p.m.
Human Combat Chess Match
Chessfield – 2:00 p.m
Made Up Mayhem
Feast Hall – 3:00 p.m
Variety Acts
Feast Hall – 3:00 p.m.
Aleing Knight – 5:30 p.m.
Feats Hall – 5:30 p.m.
Keep an eye out for these shows and events featuring Willy Nilly's own cast!
---
I go every year as a patron and have wanted to try out for as long as I can remember. I have never done theater or anything like this before and everyone on cast has made me feel so welcome and part of a family. Now I couldn't imagine not being on cast."

Lady Lennox (Laura)
---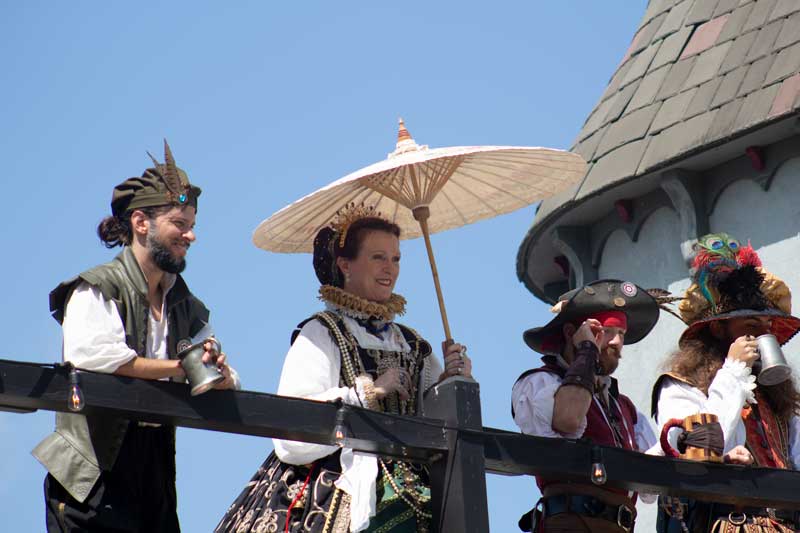 All you have to do is look at these people to know how much effort has gone into the development of their characters. Weeks are spent creating unique garb that accentuates the personality behind it. Even when rehearsals are over, many cast members put in additional hours for fight, choir, and dance with their guilds. While some spend hours researching the lives of noted historical figures, others dive into fae lore to inspire them. ORF prides itself on being the place where 'history and fantasy collide', and the revelry that brings to the village could not be in better hands.
---
Chess match is my favorite. Fighting and entertaining is fun for me."

Sir Thomas Reddington, Lord Sheriff (Eric)
---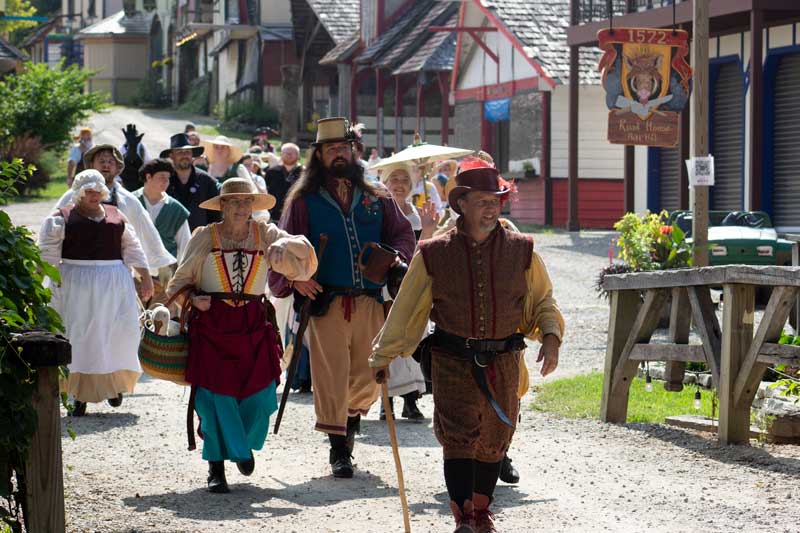 Every moment here is unique, every second belonging utterly and completely to itself. The months between faire seem to go on forever and then suddenly here it is, less than a week away!
Expect large crowds this season as people are eager to get out and enjoy themselves. The Ohio Renaissance Festival starts Labor Day Weekend at 10:30 am and continues every Saturday and Sunday until October 31st at 7:00 pm. That's nine glorious weekends of 'magic, music and mirth' for you and the whole family to enjoy.
Tickets are Now Available so plan your festival day now. We can't wait to see you there!
---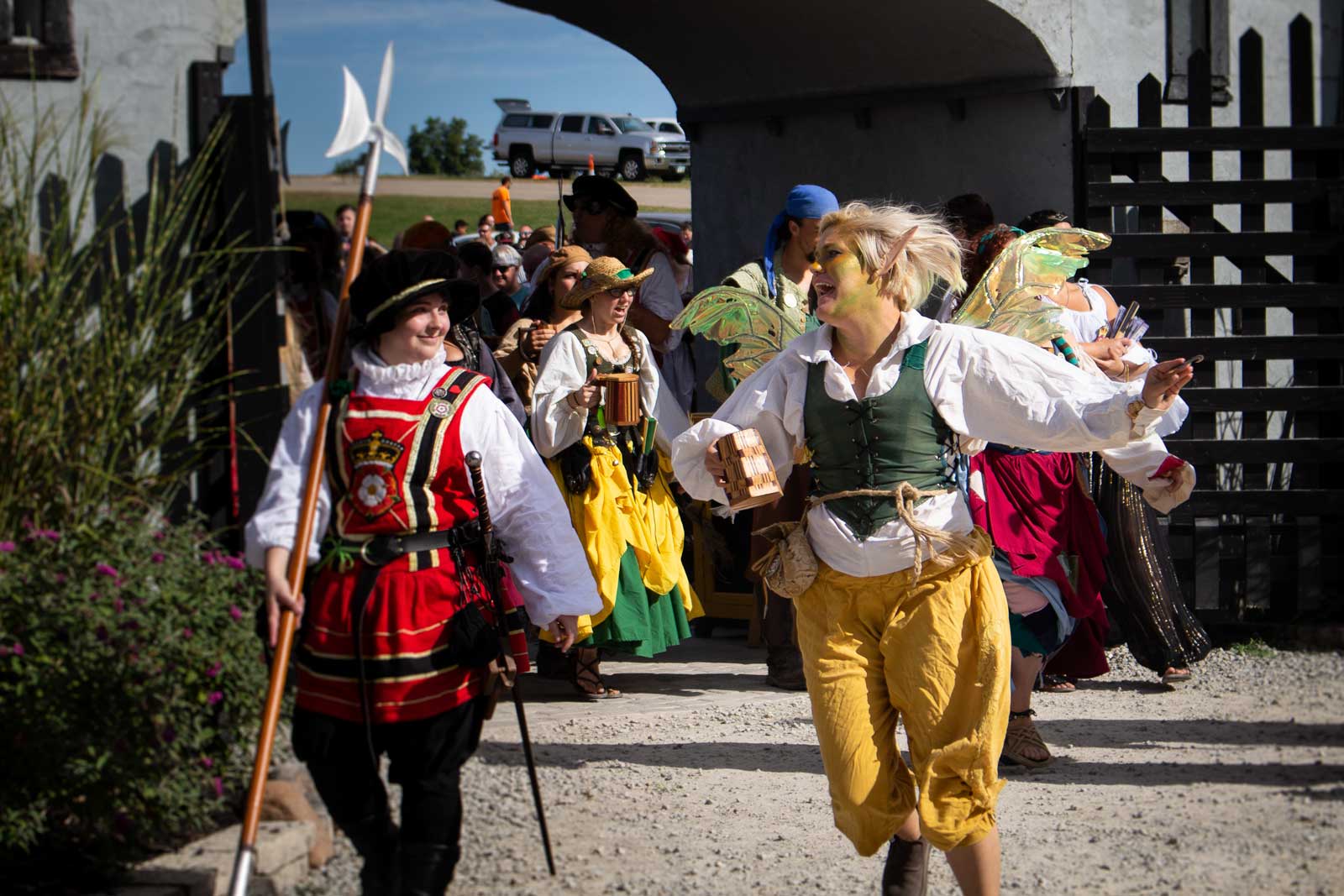 Want To Work At The Festival?
The Ohio Renaissance Festival is looking for Seasonal Employees!