Each day at the Ohio Renaissance Festival offers a wide array of magic and wonder for the whole family to enjoy. It's no wonder that we see guests from all over the place coming to experience the village of Willy-Nilly. With so much to see and do, it can be difficult to narrow down the best way to spend time with your family without missing out on the best our faire has to offer. So sit back, relax, and let us give you our advice on the perfect family adventure at the ren faire!
---
Start Slow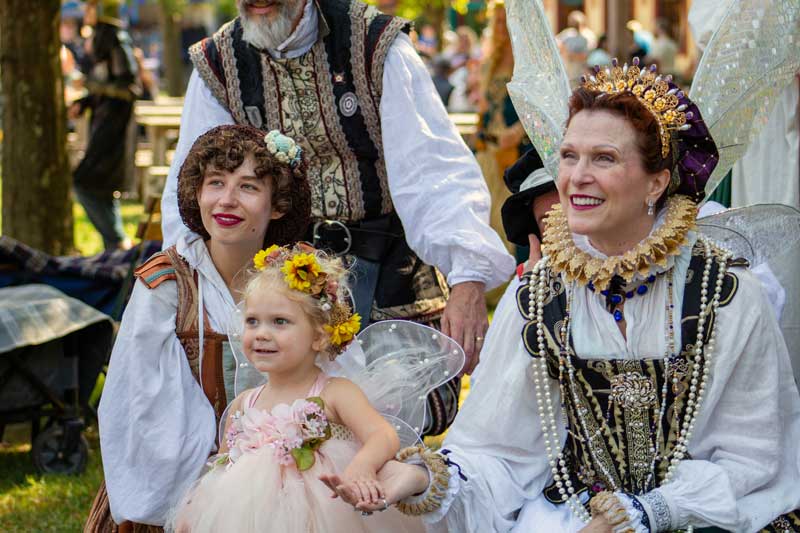 While it's best to arrive at the gates before the festival opens (10:30 am), the first stage acts of the day don't start until 11 am. This is a good opportunity to have a seat and decide what you'd like to see with your family. There are brochures available just beyond the front gate with a map of the grounds and a schedule for the season. Or, if you like to preplan, take a look at our Map and Schedule on the website and discuss how you'd like to spend your day together.
---
Gotta Eat!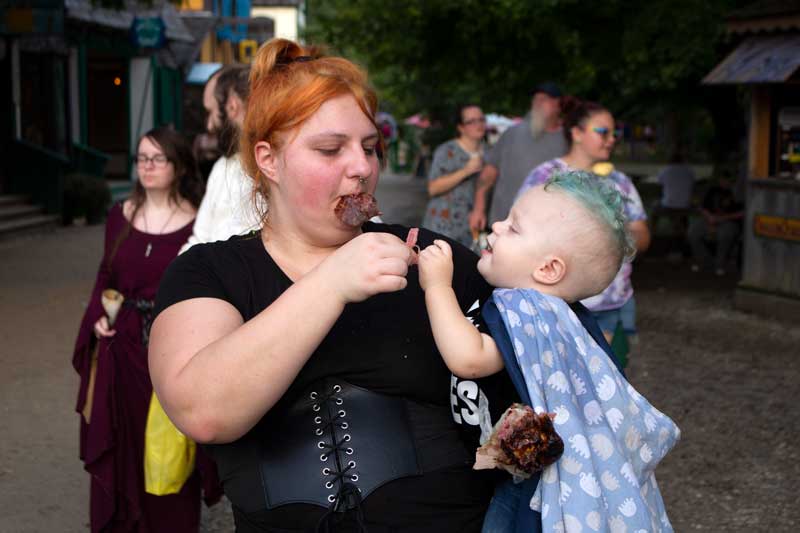 We know you're in a hurry to see your favorite performers like the Mudd Show, the Kamikaze Fireflies, and the Swordsmen. Don't worry! They'll still be there in a few hours. Once you have a plan for the day, take the initiative and go get an early lunch before the midday rush begins. ORF sports over twenty-seven different locations for food and drink throughout the grounds and a variety of visiting food trucks in our brand-new shaded Whimsy Woods!
Turkey leg lines looking a bit long? Skip it! Try something new from our amazing vendors all through out the park! Take a peek at everything you can try on our Food, Pubs, & Taverns page!

---
Games & Rides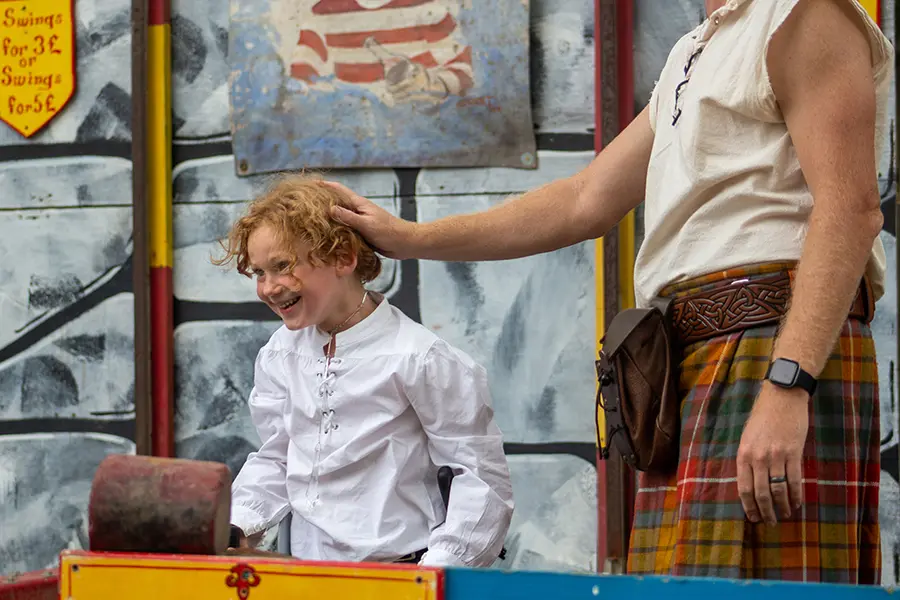 Your children are fountains of seemingly boundless energy! Nothing ensures a quiet car ride home like letting them run it all out in the Games & Rides area. Challenge them to a wobbling climb across Jacob's Ladder or knock one another silly with a (safe) foam weapon! You could introduce them to a new hobby like archery or send them spinning on the Barrel of Bedlam ride. Take some time in this well-shaded spot across the bridge from the Dungeon of Doom and see what skills develop.
Want to offer more unstructured play? Whimsy Woods opens with an all-new Kids Area where you can let your children unleash their imagination and make friends while you take a seat out of the heat.

---

Mini Adventures
The world may be a stage, but your kids are more than mere players! Let them be the main character of their own adventures when you explore deeper into the park and find exciting ways to participate. You might even bring a piece of the Ohio Renaissance Festival home with you! Become a trader with the Viking Trade Game as you exchange trinkets and tchotchkes with other traders as you find them. Become a spy for the Crown and help protect England by joining the Order of the Rose & Skull. Hunt throughout the park for ORFindersKeepers hidden drops generously provided by cast and participants of the festival. Join the Sirens for special games and scavenger hunts with all new challenges every week! There are dozens of little events like this happening everywhere during the run of the festival. Check out more on our Mini Adventures page.
---
Downtime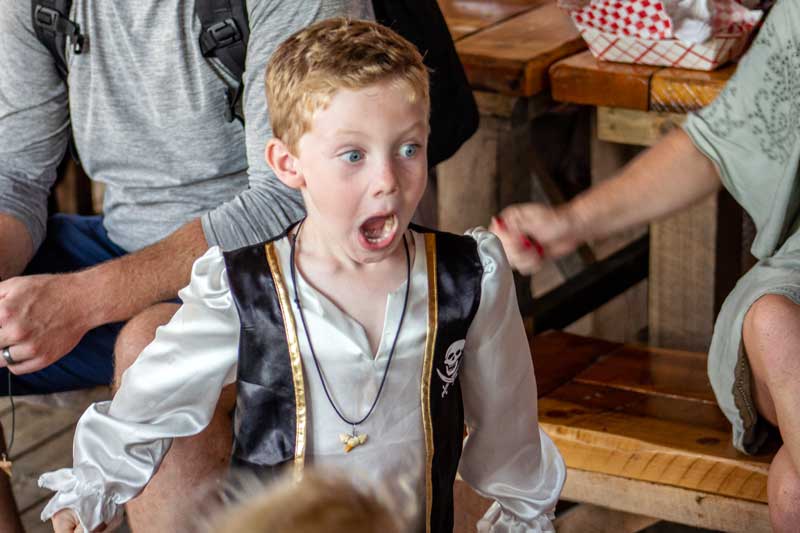 Once you hear that cannon burst the urge to Go! Go! Go! is palpable. There is a bright and colorful source of joy around every corner and no matter where you go there are wonders waiting for you and your family. Don't be surprised if you find your kids are running a bit sluggish. Most small children (under 10) get tired and fussy by around 2 or 3 pm. If you can, visit the St. Peter's Chapel or locate one of the small alcoves throughout the faire where you can recuperate, rehydrate, and reapply sunscreen.
The festival is a wonderful place for kids, but to can be overstimulating to try and conquer from open to close. Plan for multiple, smaller visits if you can so you and your family can maximize joy and minimize stress!
---

Fun & Free

Along with the Mini Adventures happening across the Ohio Renaissance Festival Grounds, there are a plethora of activities your children can participate in that won't cost you a ha'penny! Be on the lookout for special Fairy and Pirate playtimes each weekend where your kids can join in with the glittering fae folk or the rapscallion sea dogs for a round of playground games. Learn traditional English dances with the Eight Hands Round Village Dance at the maypole. Be declared an official knight of the realm, or a Mandalorian, or a fairy mermaid princess when you attend the Knighting Ceremony at St. Peter's Chapel. Or, if you're feeling truly brave at heart, raise your hand when one of the performers asks for volunteers!