The enthusiasm that comes with the choice to join the cast at the Ohio Renaissance Festival is an essential make-up of a future Rennie. People join for all sorts of different reasons; they've been coming to faire for years, they are working on their improv skills as an actor, or they have a spouse on cast and are getting tired of never seeing them July – October! There are no bad reasons to come and audition, as long as those reasons come with a joy of the festival, a willingness to put in the work, and a sense of delight at getting to dress up and play with people.
Auditions 2021 brought out a lovely group of folks who are eager to participate, and they definitely showed their eagerness during the games. There is usually a kind of warm-up period that comes with people who've never met before. A shyness that permeates and takes a little while to work through before the tension divides. That did not seem to exist this year! The potentials leaped at every opportunity, with many showing off their skills in dance, choir, and movement exercises out on the field.

This season will bring back much of the returning cast from previous years, which means the newbies coming on board will have plenty of support moving forward. With the first rehearsal coming up this weekend, now is the time to consider what you'll to make the next four months as much fun as possible. New rennies, from cast to booth workers, are often at a loss for what they need to have on them every weekend. This isn't a job like your normal 9 – 5, or even retail. Being a part of faire is one of the most life-changing experiences you could hope for. But it helps to be prepared for what lies ahead. Let's take a moment to talk about the Rennie Survival Kit – a list of essentials you will need for the coming weeks!
---
Rennie Survival Kit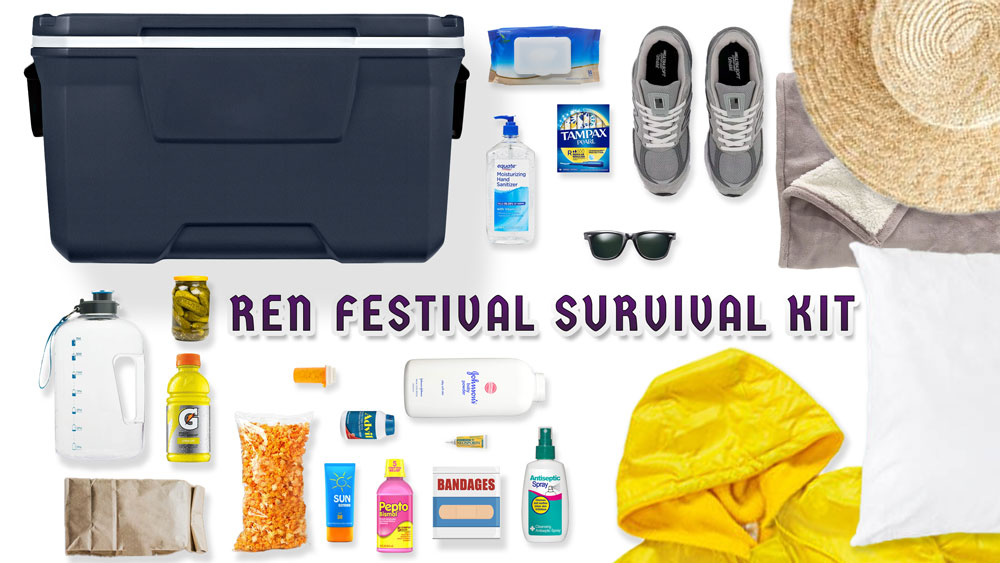 The grounds of ORF are huge, and when you spend your days running around from one end to the other, there are a few things you can bring along to help make the weekends easier on yourself. There is a cast 'green room' provided where you can leave your coolers and daily supplies. I strongly advise bringing a backpack with your base supplies and leaving it in your car. There are always people around who can help when you need it. But I promise it pays to have things on hand and easily accessible.
Health & Safety
When considering the health and safety of the individual, it's important to know that ORF has a First Aid station on the grounds and should absolutely be contacted in an emergency. Staff members have a walkie-talkie on them, and if all else fails run to a pub and let them know something has happened. Someone will arrive shortly to help. But it's a good idea to take into account preventative measures so you don't end up missing the fun. Make sure you bring any medications you may need along with you. I was told during my first season to have a specific pouch on my belt dedicated to any meds and to let someone else know where they were in case of an emergency. Sunscreen is an absolute necessity! Especially for those of us who may be tugging our chemise down to show off our assets. Nothing hurts worse than a sun-blistered bosom. Other incidentals like Tylenol, band-aids, and baby powder will come in handy.

Suggested Items:
sunscreen
Pepto Bismol
Tylenol (appropriate pain relief)
perscribed medications
band-aids
anti-bacterial spray
Neosporin
---
Food & Water
During rehearsals you will need to refuel, so make an investment in a heavy-duty cooler, preferably one with wheels, right now. Be sure to add at least a gallon of water along with Gatorade and even pickle juice to help replace your electrolytes during the day. Bring a lunch, along with some snacks to keep you going. I know the 1572 Roadhouse is tempting, but you won't always want to wait in line during a faire day to get your food. Even something light that you can grab and munch between workshops will go a long way towards keeping your energy up.
Suggested Items:
gallon of water
Gatorade
pickle juice / electrolytes
lunch
snacks
---
Sanitary Needs

If you made the decision to join the ren faire thinking you'd never get your hands dirty, I have some bad news for you. ORF is outdoors and therefore is subject to the whimsy of the Ohio weather system. You will get dirt on your skin, mud up to your knickers, grass in your doublet, and sweat from top to bottom. Make your peace with that now and stock up on a few sanitary supplies. You'll be grateful for some hand sanitizer and a few wet wipes. Those of us who are in the need of it will want to remember tampons or sanitary napkins as a regular addition to the pack.
Suggested Items:
wet wipes
hand sanitizer
anti-bacterial handsoap
baby powder
pads / tampons
---
Clothing
Whether in rehearsals or during the festival, there will be times when you want a change of clothes to get into. You will spend all day sweating in the heat or drenched with rain, so it helps to know you can shuck everything off at the end of the day and get into some clean trousers. Don't forget accessories like a wide-brimmed hat, sunglasses, and socks, especially if you'll be camping over the weekend. And a pro tip: if you buy a pair of 'faire boots' (Son of Sandlar or Catskill Mountain) start breaking them in during rehearsals. Your feet will thank you for it.
Suggested Items:
comfortable underclothes
shorts / cargo pants / et cetera
t-shirt / tank / comfy shirt x2
sneakers / hiking boots / faire boots
gel insoles
extra socks
hat / visor
sunglasses
poncho
---
Comfort
It may seem like there is little opportunity for downtime, especially during the run of the festival. But it's important to pace yourself during your first year. Don't try to sign up for everything all at once! You'll get a lunch break, but if you can find a way to breathe between your obligations then do so. Participation is a key part of getting into the Rennie spirit, but you won't do anybody any good by running yourself into the ground. Find a balance, even if it's just ten minutes here or there where you can sit down, drink some water, and recuperate.
Suggested Items:
folding chair
blanket
pillow
parasol
hand fan
bodice chiller
---
It may seem like a lot, but having these items on hand can prevent a lot of problems down the line. Having your Rennie Survival Kit ready to go shows a level of preparedness and self reliance that you'll need as you move forward. Ask the vets what they do to prep for the weekend and see what advice they can give. You'll be glad you took the time to do so.