Raise a glass to our 100th Blog Entry! That right. I started writing for the Ohio Renaissance Festival in 2019 for the 30th anniversary season. Since then I've been privileged to attend multiple events sponsored or held by Brimstone and Fire LLC. as well as become more involved in the larger faire community. Every experience is a new one. Especially now, when it makes for such a gratifying way to come together safely and share our passion for this way of life.
A toast to 100 blogs and 100 more!
We went into this weekend with a clear determination to see some of the most popular shows at Magical Days, Madrigal Knights. We got on the grounds early and set up camp at the main stage for the trifecta of entertainment that is Cirque Lapin, the PB&J Circus, and the Kamikaze Fireflies. To those of you familiar with their work, it's fascinating to watch how the acts have altered their shows to maintain the necessary distance without sacrificing entertainment value.
---
Cirque Lapin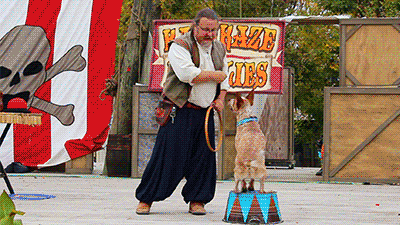 The shows started off strong with Cirque Lapin for half an hour of magic, comedy, and an adorable bunny being fired from a cannon! Hang on there, animal lovers! This bunny is a trained stunt professional and also it is a magic act so I'm sure Zazzel was safe and sound the entire time.
With Dave, Miss Felix, and their cavalcade of dogs ready to literally jump through hoops for a piece of chicken, be prepared to put the 'awww' in 'audience.'
Cirque Lapin at Magical Days show times: 2:30 pm and 5 pm
---
PB&J Circus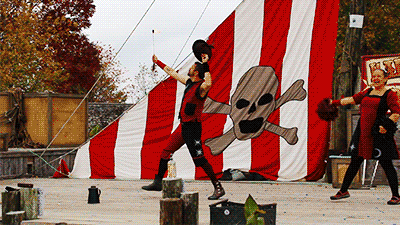 Next up we had the PB&J Circus with Travis and Susan featuring fire breathing, whips, and to date the only shimmying sword swallower I've ever seen. The shtick between these two flows seamlessly as they move into whip tricks with Susan as the reluctant victim of Travis's aim. Flames fly high above the crowd as Susan ("Yay, Susan!") gets him back, letting Travis show off his skills as a fire-eater.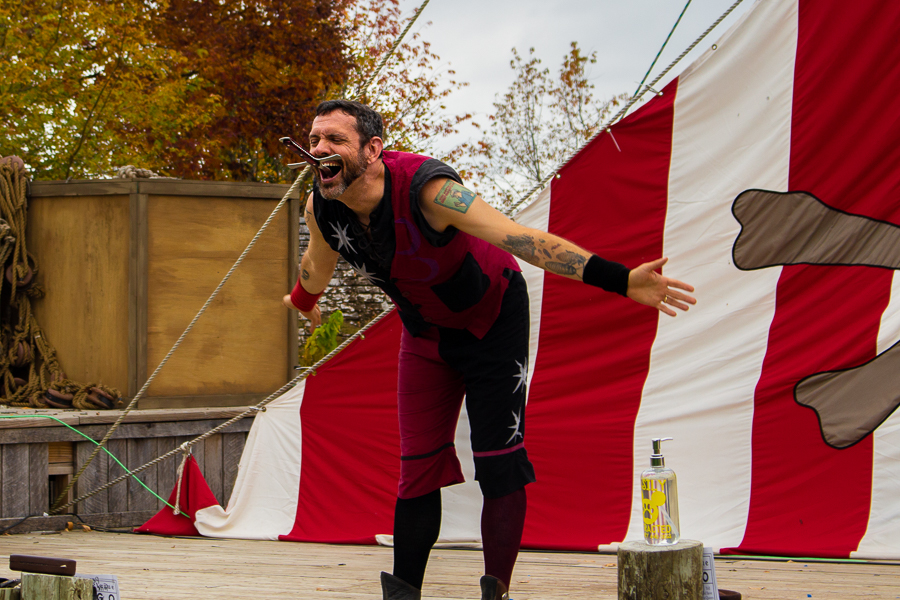 And last but not least, we watch blade after blade vanishes down Travis's throat and he does a full turn to prove that it is indeed lodged down his esophagus. I get a tickle in my uvula just thinking about it.
PB&J Circus at Magical Days show times: 3:15 pm and 5:45 pm
---
Kamikaze Fireflies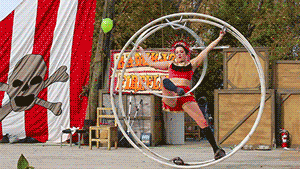 We were very excited to get up to the fence and see the Kamikaze Fireflies at last! The last shows have been really busy to the point of people staking out places with a 6ft radius all the way up over the hill! What really caught my attention this year was how the Fireflies stayed true to their motto of "Set It On Fire" by adding flaming staffs to the chair tower Rob climbs!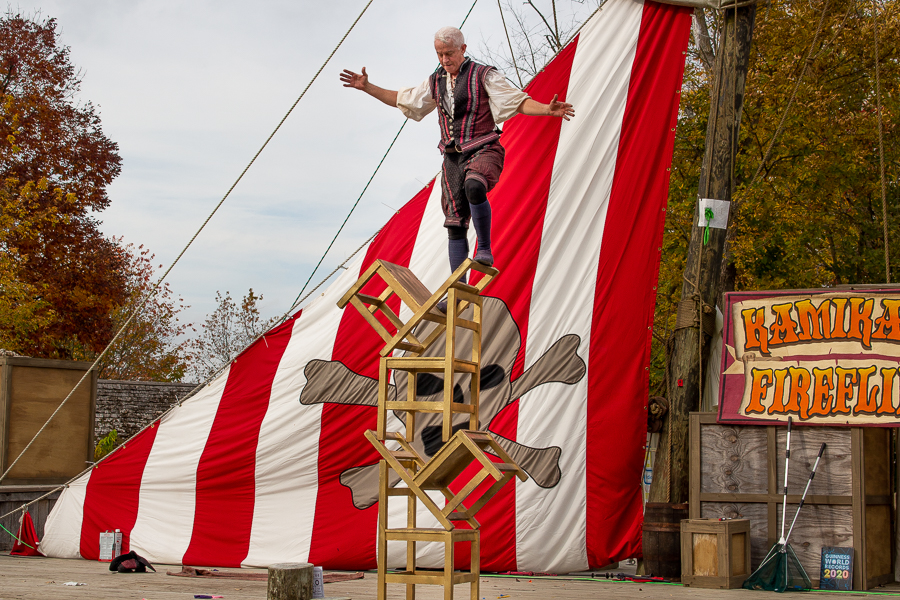 They truly gave it their all, and that's saying something since many ren faire actors have been out of work since early/mid-March of this year. The Kamikaze Fireflies will be doing pop-up events throughout the season so check in with their social media pages to see where they'll end up next.
Kamikaze Fireflies at Magical Days show times: 4 pm and 6:30 pm
It says something about the love people have for this work that they take any opportunity to come out and keep the crowds entertained. They put work into upping their acts, giving new material, and really connecting with the people who came out to see them. Hearing the laughter explode, the squeals of joy, and the cheers peel out brings that joy into focus and reminds me why faire is worth coming back year after year.
---
Events run throughout October
Ther is just one more Magical Days, Madrigal Knights festival to attend on October 17th! Tickets are already sold out for the event but if you want to grab some 1572 BBQ then get there quick on Thursday, October 15th for the last Thursday Bike Night or Friday, October 16th for their end-of-season blow out featuring a bike night + car show + Concert with Sarah Sugar and the High Crimes! Brimstone Haunt still has three more weekends before the end of the spooky season, so pull up to the bonfire on October 16th & 17th, 23rd & 24th, and Halloween weekend for all the scares you can handle!