One Hand on the Throne
The history of Queen Elizabeth I is as fascinating as it is complex. The daughter of Henry VIII and Anne Boleyn, her storied life was one of grandeur and political intrigue. Elizabeth went from princess to bastard, orphan to prisoner, and eventually to Queen. Her reign has since been heralded as the Golden Age of England. Her 44 years on the throne was a time during which the country prospered, religious tolerance was at a relative high, and the arts were being promoted even to the common folk. Elizabeth's rule changed England.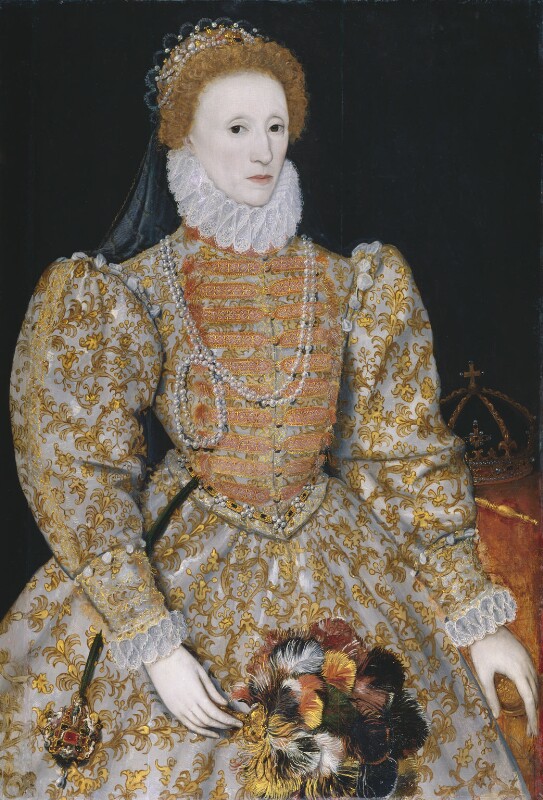 There is a great deal of speculation involving Elizabeth's life from both a historical perspective and wild conjecture. Henry is said to have doted on young Elizabeth when Anne Boleyn (Elizabeth's mother) was still Henry's favorite. However, once her mother lost Henry's favor – and then her head – Elizabeth found herself displaced, no longer a legitimate part of the line of succession.
From the sidelines, she watched a parade of women move in and out of her father's life under dire circumstances. For my part, I believe she learned early how to read people and how to turn things to her advantage, both valuable skills in the tumultuous conditions of court life.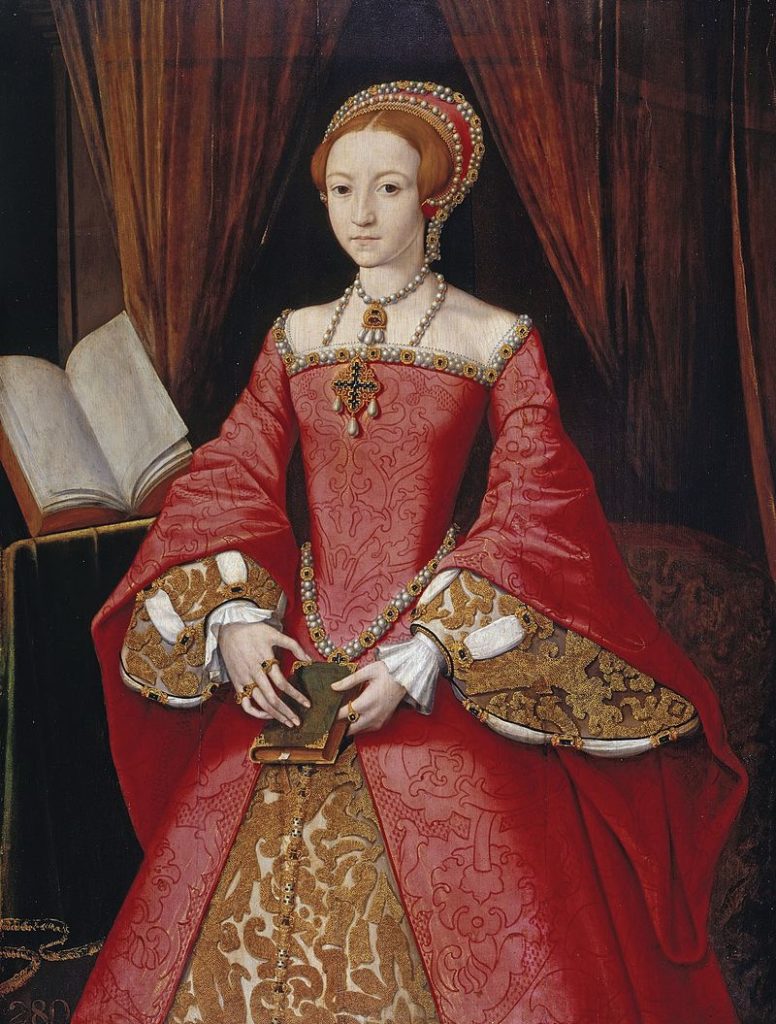 She eventually ended up under the care of Catherine Parr and Thomas Seymour. In some ways, I think she was a precocious young woman. Elizabeth was uncommonly well educated for a woman in her era, speaking six languages and being very well read as well as musically inclined. She had a great deal of personal freedom until her sister Mary Tudor took the throne and became suspicious of insurrection, seeing Elizabeth as a potential catalyst for Protestant rebellion. This threw young Elizabeth into court life whether she wished it or not. She must have been a terrible clever young woman to have kept her cool under such terrible circumstances.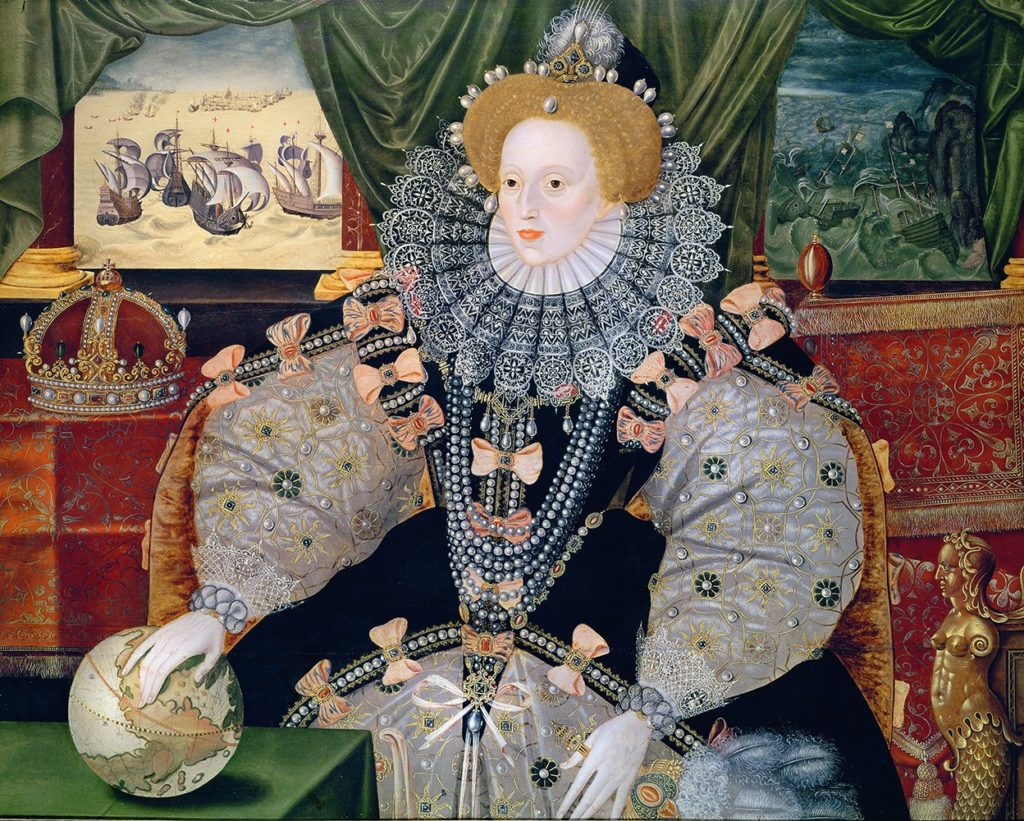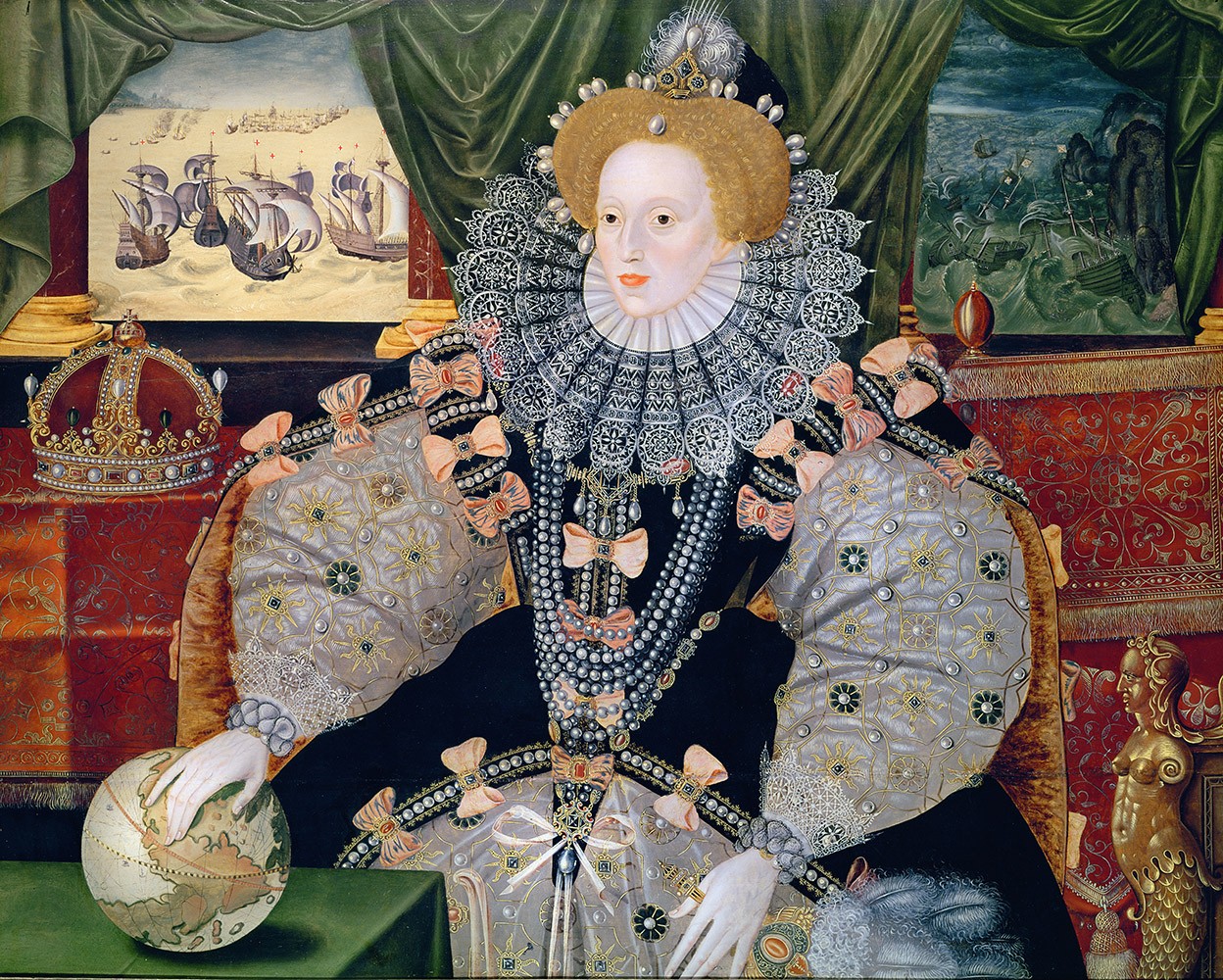 Elizabeth was crowned Queen on 15 January 1559. She inherited a nation in turmoil. Her father's rampant spending on unnecessary luxuries combined with her sister's unbridled religious persecutions had left the country divided and bankrupt. In this, the fledgling Queen had to act according to her own nature. Her approach to government was very hands-on. She proved herself a capable politician and a force to be reckoned with. While her love life remains a favorite topic of conversation, as a Queen she was utterly devoted to the prosperity and sovereignty of England.
---
The Role of the Queen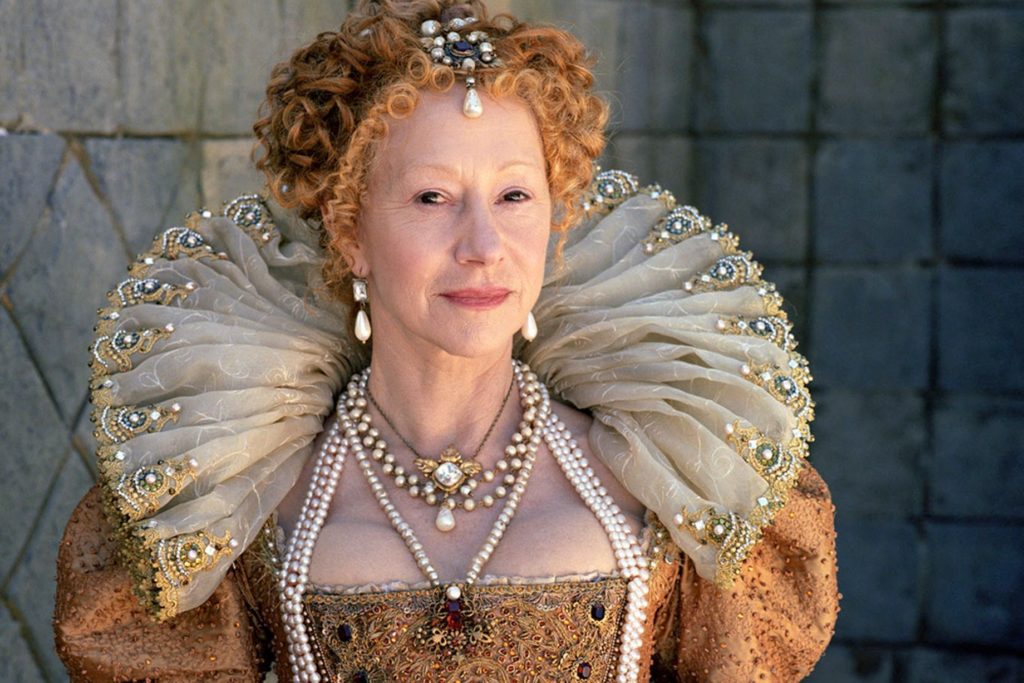 The role of Good Queen Bess is much sought after in both television and cinema. She has been captured by great actresses such as Helen Mirren, Cate Blanchette, Margot Robbie, and Dame Judi Dench. The Queens of a Renaissance Festival may seem humble by comparison, but I can assure you that they have a great and memorable impact on the people who walk through the gate. It takes a special person to portray Queen Elizabeth, and each faire queen has her own unique twist on it.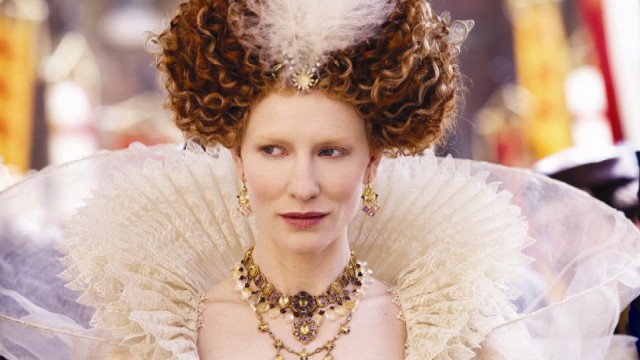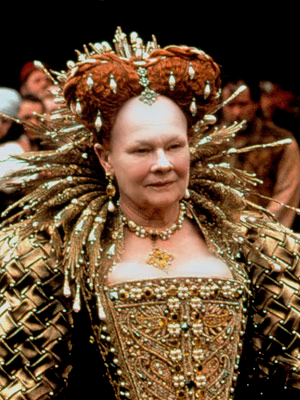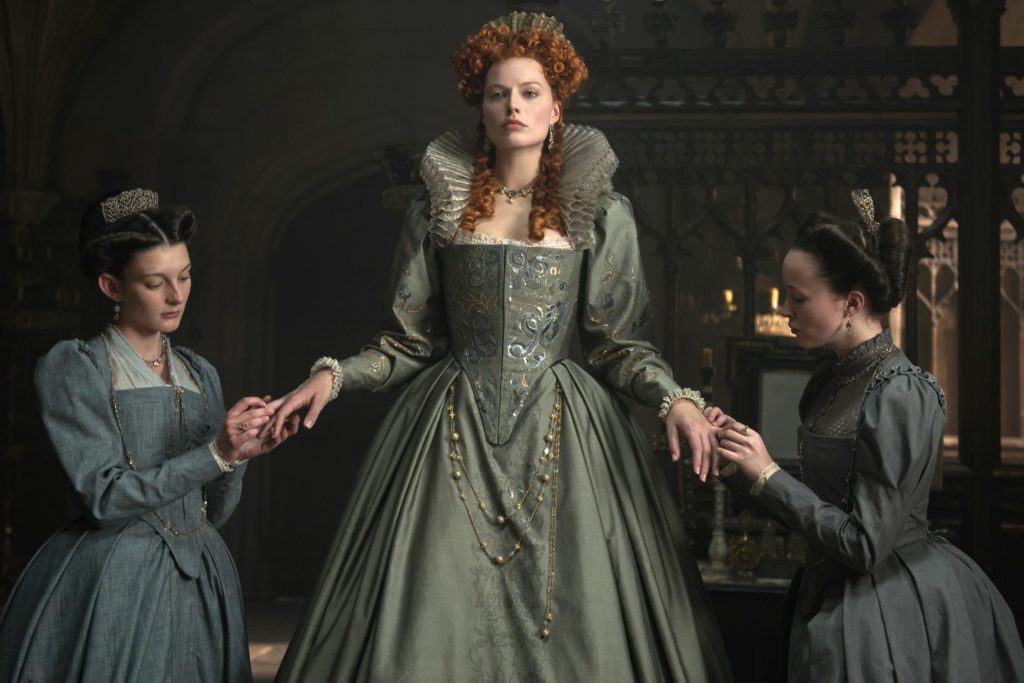 The Ohio Renaissance Festival is proud to have Connie Pfeiffer as their reigning Queen for nine years running! Queen Elizabeth held a special place in the hearts of her people, likewise, it is impossible to know Connie without adoring her company! She began her first year on the ORF cast as the Lord Mayors mother, a role which placed her as gentry. The current Queen, Erin, was planning to move to Colorado and there was already some gentle searching going on as to who would make for a suitable Elizabeth. Connie was auditioning without even knowing it!
"I didn't know anything about court at all!" Connie exclaims, remembering her pursuit of the role wistfully.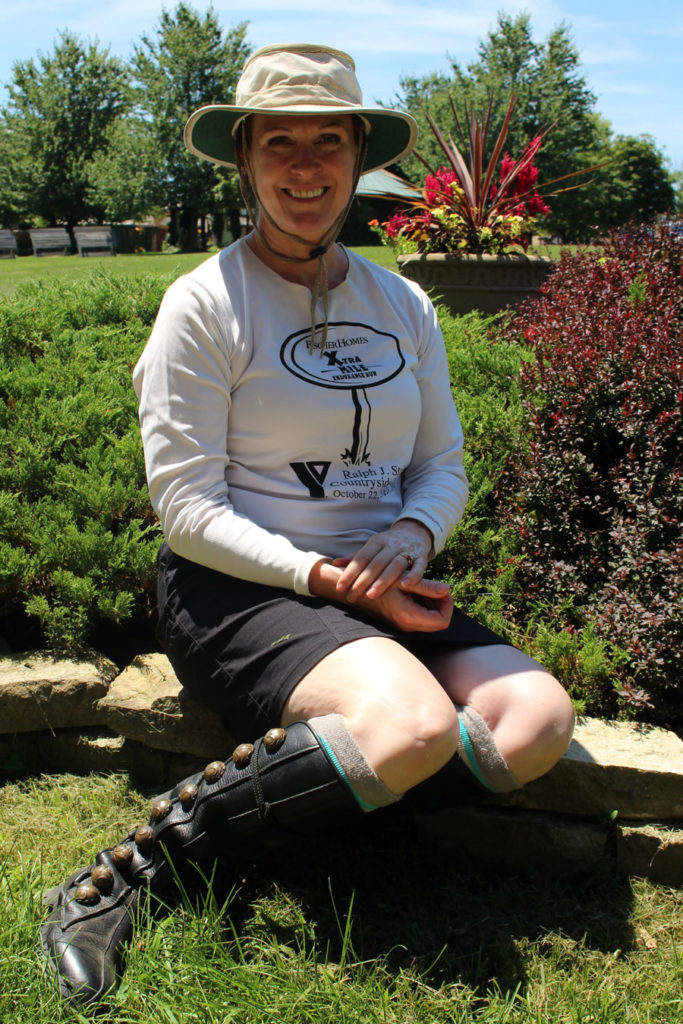 There is a big adjustment from playing one of the gentry to playing a Queen. While some portray the youthful and jovial Queen as she was during the years following her coronation, Connie took up the role as the loving mother to her people and to England itself. We sat together at St. Peter's Church, enjoying the shade and the cool stone benches during lunch and talked about what it takes to play the role and leave a memorable impression on people.
---
Looking the Part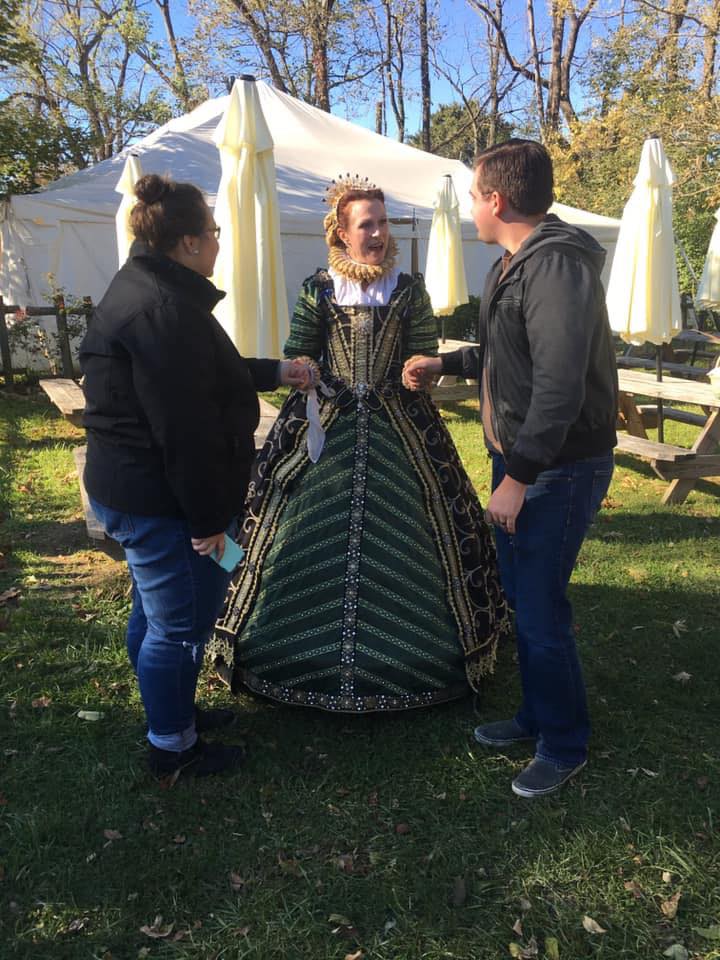 Queen Elizabeth was well known for her gifted sense of fashion. Though few if any of her original clothing survives, her wardrobe was extensively well documented through portraits of her which have survived the ages. From early elegance to dignified raiments, the Queen must look to be regal at all times.
Connie's original gold and purple gown was fondly dubbed "Goldilocks" by her and the cast seamstress Johnna and weighed in at a whopping 40 lbs! The lovely black and green progression gown – call "Darth Queen" – was much easier to bare at a manageable 25 lbs. There is a third gown which should make it's appearance this year to celebrate the 30th Anniversary and I am very excited to see how it looks.
But the Queen is not made by gowns alone. "Rings make Queen's hands." Connie says, showing me how she holds her hands once they are laden with jewelry. There is an elegance to the way she moves, something which holds her above the crowd without removing her from it. She makes herself accessible, which is most obvious when children approach.
---
The Littlest Subjects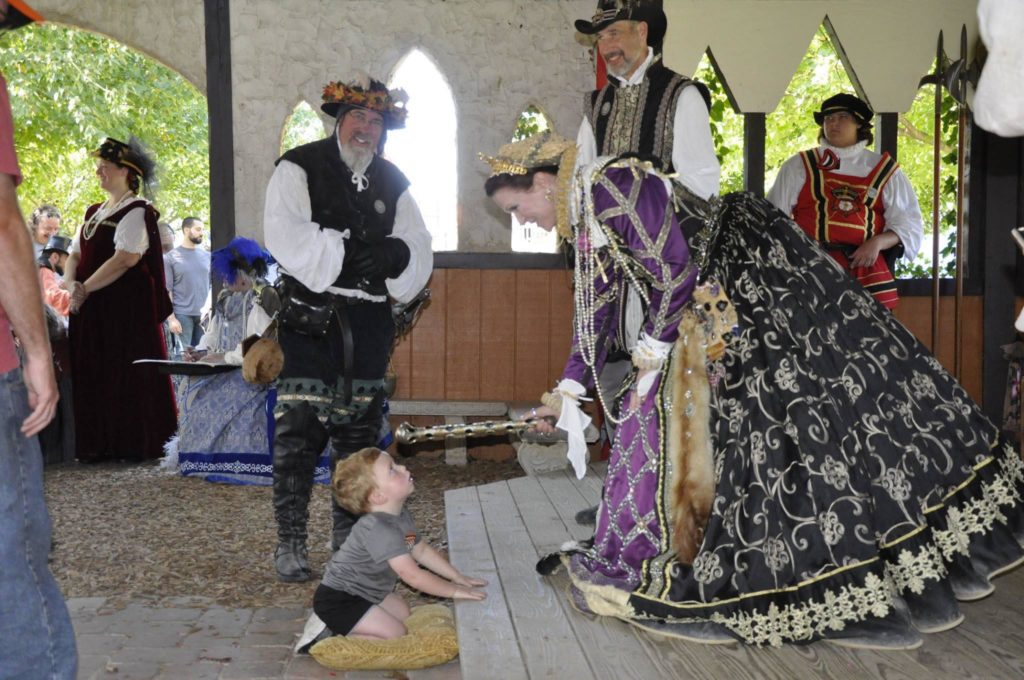 There is a kind of combined Santa Clause/Easter Bunny effect that happens whenever young children approach the Queen. A combination of giddy excitement and sheer awe often overwhelms them, and Connie is an expert at overcoming this shyness. She lets the children choose how far they want to interact, respecting their autonomy and letting them decide if and when to approach, and to what degree.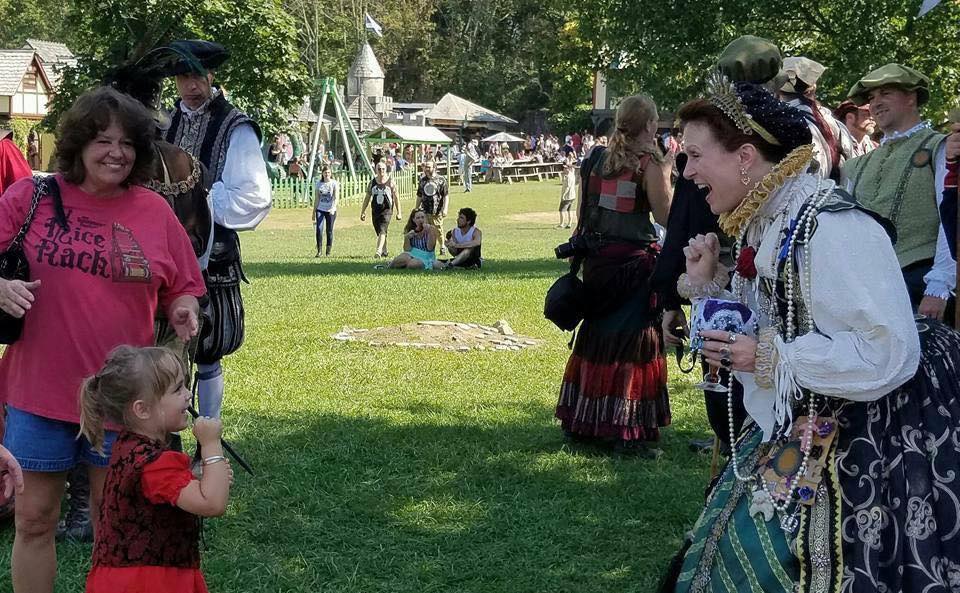 My favorite thing at faire is being able to make people feel special. Providing that love is super important to me."

Connie Pfeiffer
Connie describes her experiences to me, how she leans down and speaks softly to children, asking them which of her rings they like. She finds a way to create a connection, to make each person who approaches feel special. Facebook is flooded every year with pictures of these moments, where for a short while people feel as if they have truly met a Queen.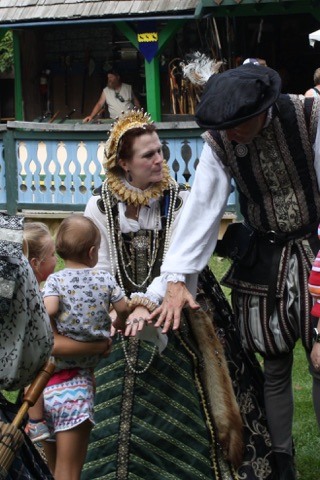 ---
A Queen's Work is Never Done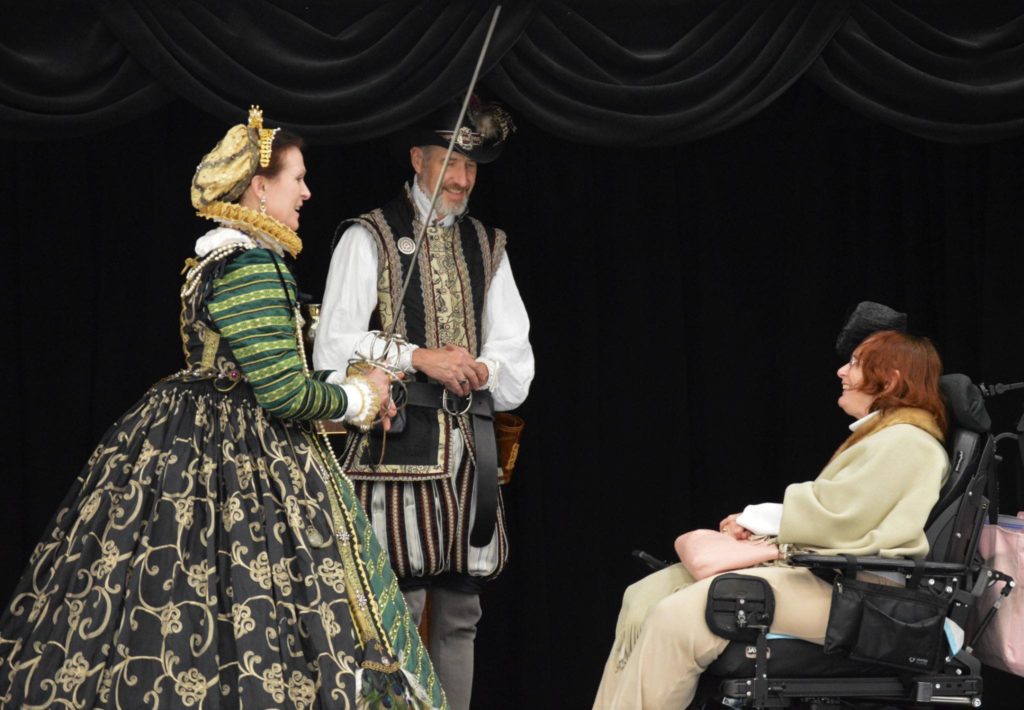 A great deal of responsibility comes with the position. Connie has more demands on her time, and there is usually an appointment she needs to be at. A 35 acre landscape gets a whole lot bigger when you're traveling in-gown with a full court in tow! "If the show doesn't start until I get there, I need to be early!" Connie insists. Because of this, the Queen is almost always on the move. The best place to find her is just after Opening Gate at 10:30 a.m. or at the church at 1:30 p.m. for the Knighting Ceremony where she has a little time in progress from one place to the next.
---
How to Tell the Difference
Connie offers her thoughts on her favorite things and what she believes were the historical Queen's favorites.
Connie
Favorite Color – Green.
Favorite Food – Rhubarb pie.
Greatest Love – My husband, John.
Favorite Pastime – Knitting.
What does family mean to you? – Reaching out and bringing people into my family. I tend to adopt people who need that help and provide them somewhere safe.
Biggest Dream – Travel more and visit historical sites in Egypt, Greece, India, and China.
Queen Elizabeth I
Favorite Color – Purple.
Favorite Food – Gilded Peacock.
Greatest Love – As the Queen her greatest love was England, but as Elizabeth, her love belonged to Robert Dudely.
Favorite Pastime – Dancing.
What does family mean to you? – Ancestry was very important. Elizabeth revered her father and loved her sister but Burleigh and Walsingham were her most trusted companions.
Biggest Dream – To stay a Queen without a king. She would likely have welcomed a romantic partner who would have been content to remain prince consort without higher ambitions.
---
God Save The Queen
I had one last question for Connie, one which I thought all young women aspiring towards greater things might want to ask for themselves. What do you think young women today can learn from Queen Elizabeth? Her answer thrilled me, and I wanted to make sure I shared it with you all in its entirety.
She had many enemies against her simply because of what she was (a rival to the throne, a Protestant, and an unmarried woman). She succeeded because she was flexible, humble and willing to learn, had calculated rages to keep her privy council off-balance, and had staunch, dependable friends that had her back. I think what young women can take from that is that you don't have to be a victim even if you have enemies. Be careful in the friends you select and whom you can trust. If you have a goal, persist, no matter who tells you differently."

Connie Pfeiffer
As we prepare for the 30th year of the Ohio Renaissance Festival, I look forward to the hearing the blast of the trumpet from the ramparts and the Queen appear to greet the crowds and welcome them into the festival. Catching the Queen in the lanes is a special treat, and I look forward to seeing Connie bring her to life once again.