It was beautiful weather last weekend, giving everyone the chance to dress in garb or in street clothes without getting too cold. The limited capacity event was nicely spaced and gave the guests plenty of time to enjoy their surroundings and visit everything. With the second week of Yuletide Village neatly tucked under the tree (and one more on the way), we take a look at some of the cast and characters you can visit while wandering down the lanes.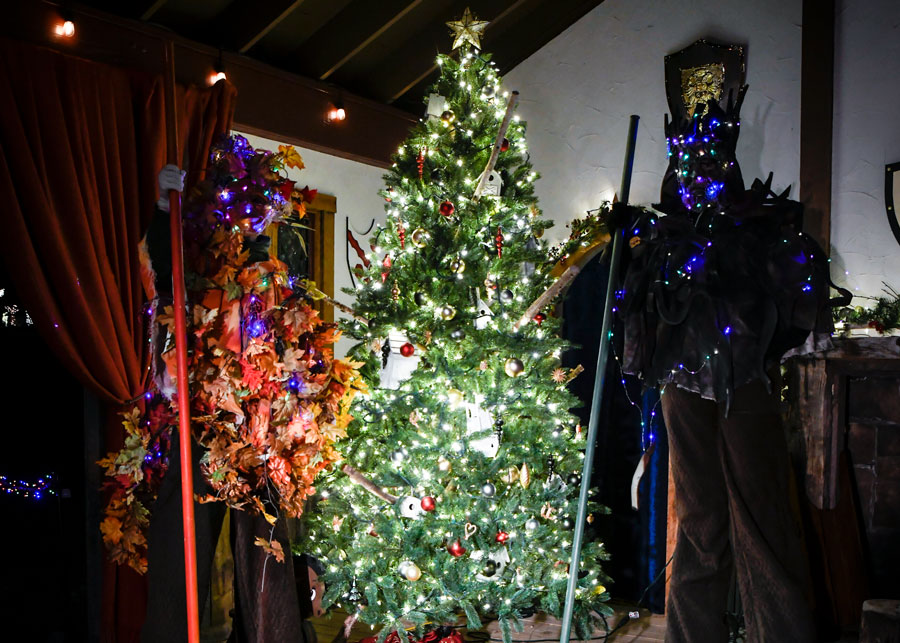 Keep your eyes open and you are sure to catch sight of Fall & Winter, the embodiment of their respective seasons, making their way around to the delight of children and adults alike. These stilts-characters are living trees, towering above even the tallest of the guests and bedecked with lights as they come forward to celebrate with everyone. They can be a little intimidating to smaller children, but never fear they're very friendly. I even caught sight of Winter showing off their flossing skills to kids waiting in line for Santa.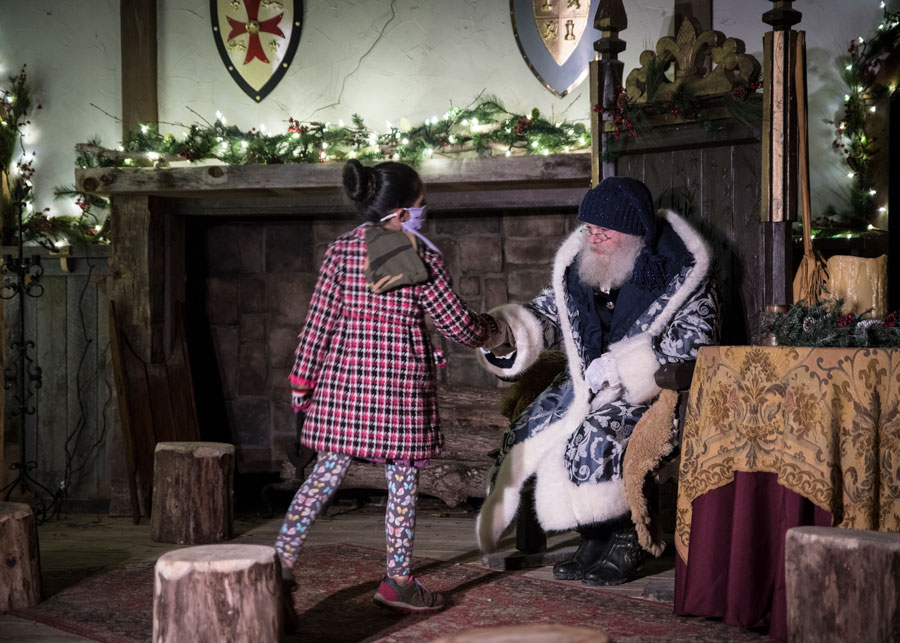 Speaking of the big guy himself, you can catch Santa at the Aleing Knight Pub! Our Woodland Santa makes himself comfortable in a charmingly rustic setting, greeting each child with a sense of delight at their presence. There are plenty of seats in his 'cottage', allowing children to pick where they want to sit for their photo. I personally found him very warm and inviting, helping even the most nervous and overwhelmed children feel more at ease in his presence.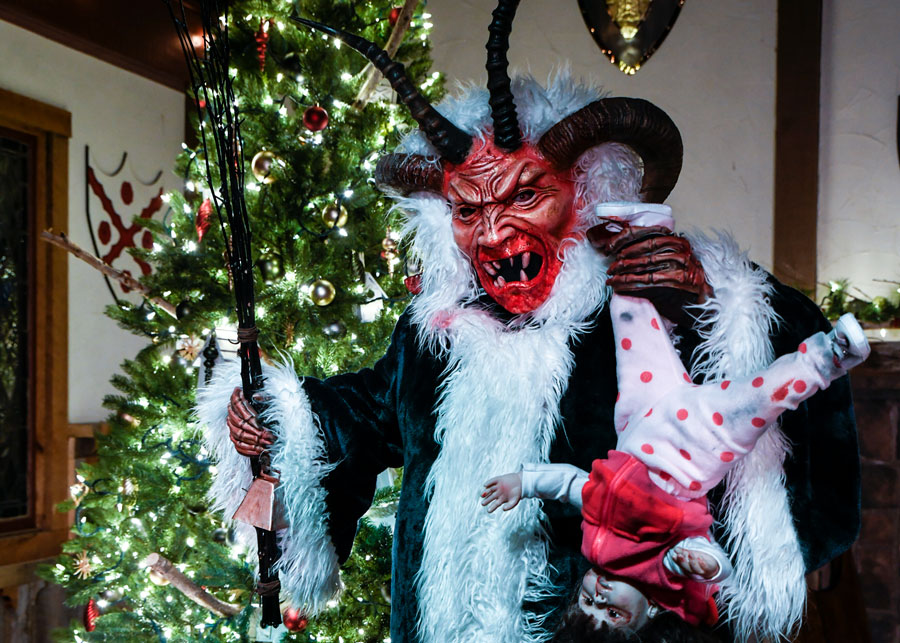 Perhaps you've got a taste for the macabre, you can find everyone's favorite Christmas cryptid Gruss von Krampus sitting on his throne up at the New World Knoll. With a 'child' danging from one hand and a switch bundle ready in the other, Krampus is sure ready for Christmas Eve. He makes for a frightfully fun photo op for teens and adults, but most of the younger children found him a bit too scary to get up close.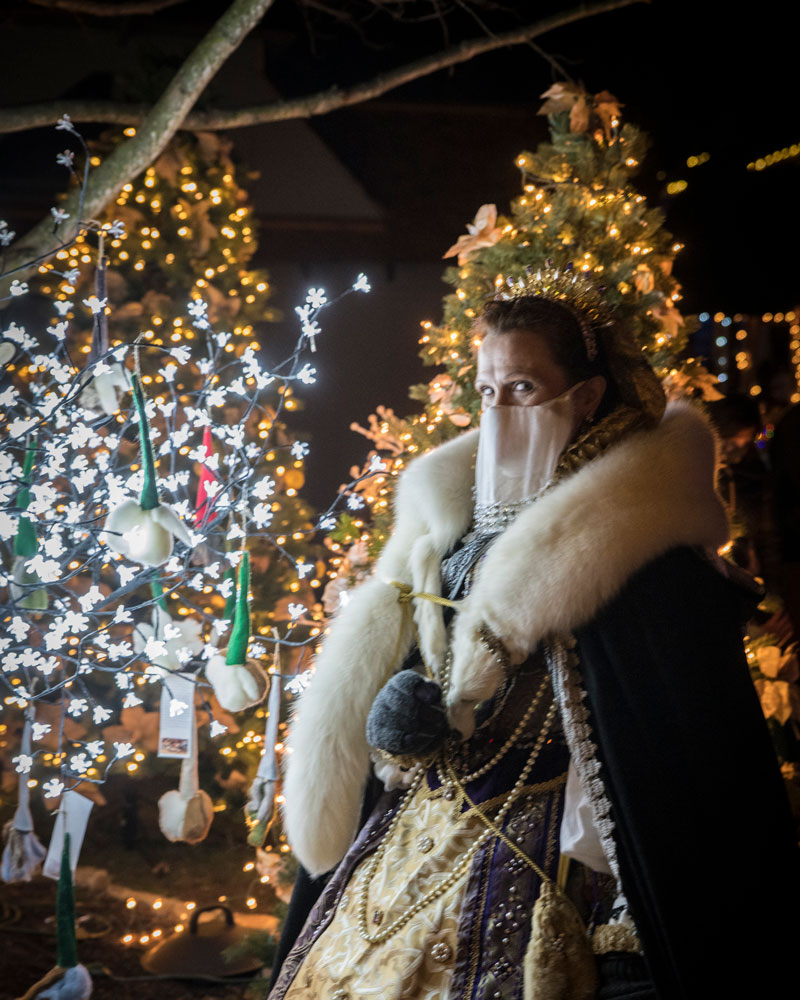 If you've got a good eye and spot a floating lantern in the dark, congratulations! You just won a round of Spot the Queen! That's right, Queen Elizabeth herself pays a special visit to the village to revel in the season. You can catch her here and there along with a few members of court for photo ops and a chance to "oh" and "ah" at how sparkly her dress is amid the lights.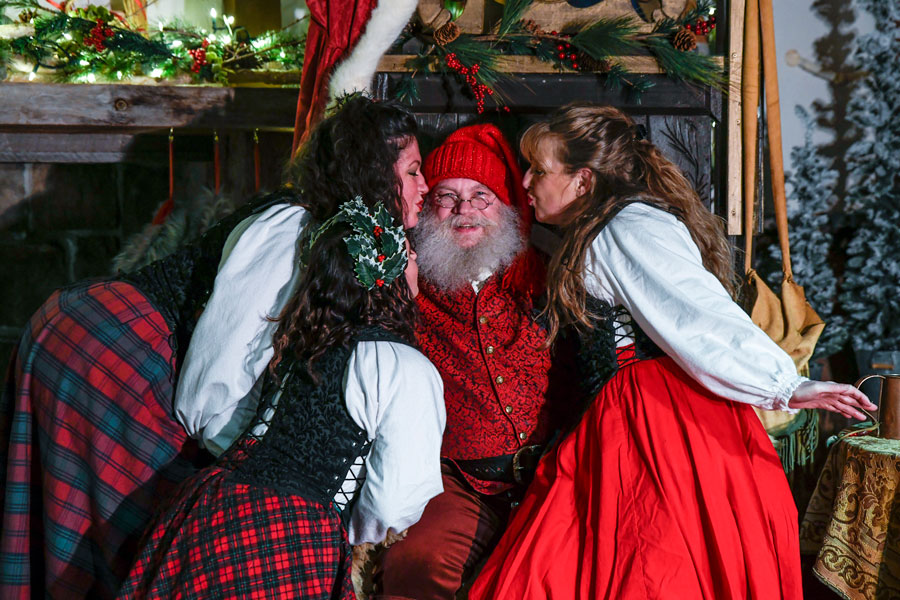 When you start to get thirsty for something to warm your belly, head on over to 3 Fools Pub and enjoy the sounds of Wenches A'Wassailing' (a.k.a. Wenches A'Wailing)! These ORF favorites get together to sing some of your favorite holiday tunes to the crowd. Feel free to sing along while you enjoy a brew or a bowl of chicken and dumplings from the cauldron across the way.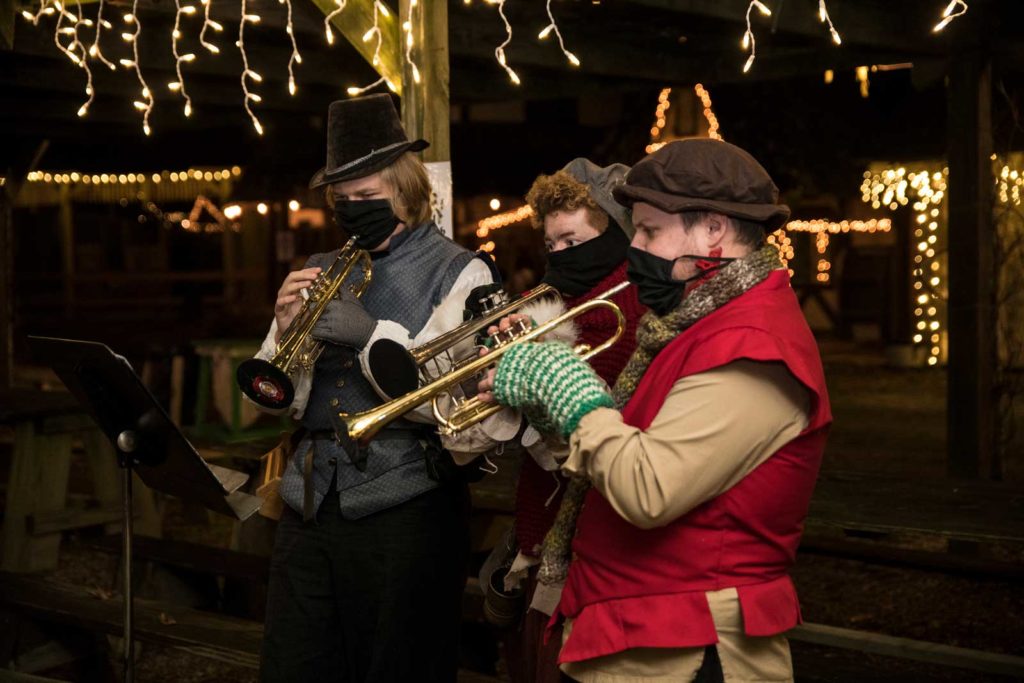 Be sure to make a few round trips through the village and you might catch The Queen's Choice choir or Birmingham Brass from spot to spot. In my experience, they tend to hang out towards the front of the village somewhere between the front gate and the gingerbread men kits at The Chocolate Raven (In the DaVinci Pizza booth). These are some very talented performers who truly add to the atmosphere of Yuletide Village. I honestly can't remember the last time I heard actual carolers around, and it made me so happy to stop and listen to them.
And of course, I would be remiss if I didn't mention how much I adore walking around to see how everyone is dressed up! I swear the community heard 'winter event' and went bonkers at the chance to don their gay apparel! You can spot plenty of Krampus cosplayers, Vikings in their Yule best, rennies decked out in layers of red and green, and even some strange woman wandering around with a goat head on (yes that was yours truly, the blogger, dressed as the Yule Goat. Take a second to stop by and say hi next week!). With this being the inaugural year I sincerely hope to see more of this in the future. Nothing says holiday village like everyone bedecked like a Christmas tree.
There is just one weekend of holiday joy left before the Yuletide Village closes! Saturday the 19th is already sold out, so grab your tickets for Friday the 18th online. Remember, online ticket holders can gain entry a half hour early at 5:30 pm and beat the front gate crowds!