A (Very) Brief History of Belly Dancing
With a history that goes back thousands of years, belly dancing has seen a surge in popularity as a means of self-expression, body confidence, and entertainment. Its origins are traced to rural folk dancing in ancient Egypt (around 3100 BC), where these enticing shimmies and free-flowing movements were utilized among street performers (Ghawazi) and well-educated (Almah) courtesans alike. It could be found at religious festivals as an act of worship or down the street at the neighborhood party where people young and old, male and female joined in.

It wasn't until the late 1800s that belly dancing became known to the wider world as European colonizers made their way into Egypt thanks to a vested development of British imperialism with interests in a permanent trade route between Britain and India to subvert France and maintain a stranglehold on the region. The Victorian era brought with it a fascination for 'orientalism', creating a fantasy of exotic romanticism around Middle Eastern and Asian culture. In short, anything from the region became trendy, including the long-held tradition of belly dancing.
The term 'Orientalism' describes the problematic imitation or use of aspects of Middle Eastern, Asian, and African culture in European 19th century art and literature. While it is no longer an appropriate term to refer to the cultures of these respective regions, it is used here for it's historical relevance to the material.

– Author's Note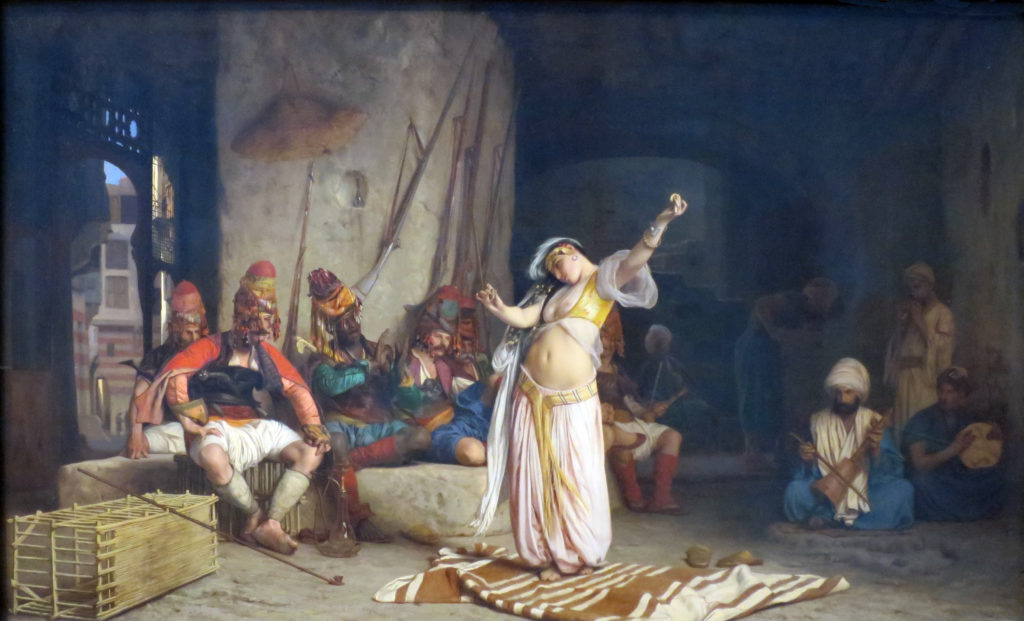 Since then, belly dancing has expanded in popularity, the dynamic and graceful motions incorporated into modern dance styles from burlesque to flamenco. And we at the Ohio Renaissance Festival are thrilled to have Ramblin' Rhythms perform their artistry for visitors season after season!
---
An Interview with Ramblin Rhythms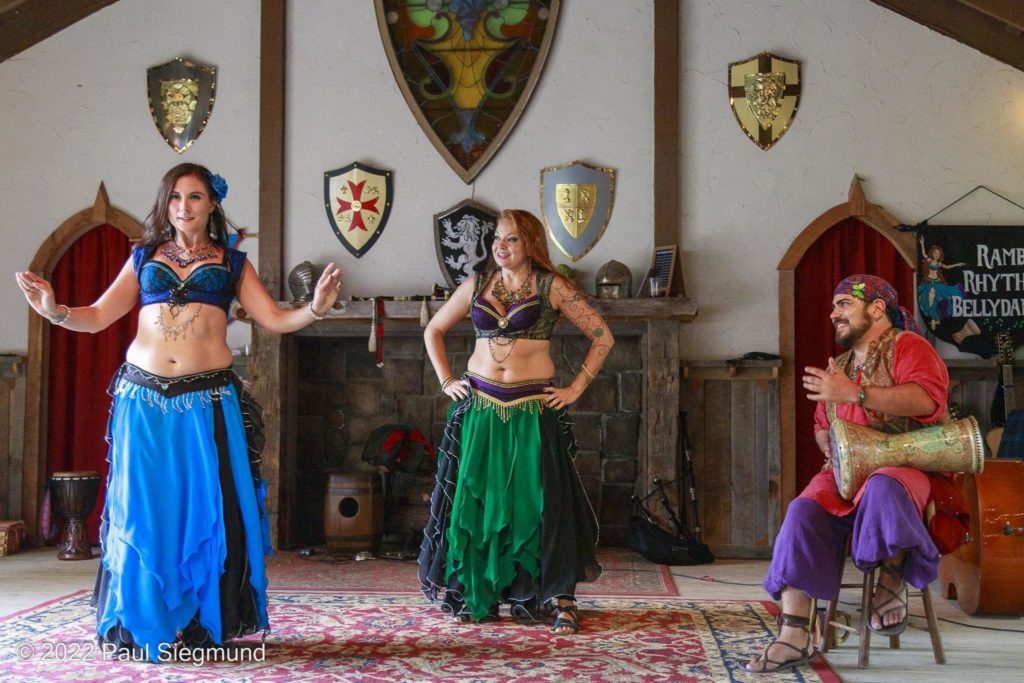 Who We Are
We have been performing together for going on 8 years now. We are an improvisational dance troupe that focuses on Middle Eastern and Greek music. Nadim has a great, creative mind for putting together musical combinations to keep us dancers inspired and on our toes. Our main group is Princess Aerianna, Aluna, and Nadim.
Aerianna has been dancing for about 15 years. She has studied with many teachers over the years and has been performing at the Ohio Renaissance Festival since 2010.
Aluna has been dancing for 19 years and has brought her education into teaching workshops and classes in both Ohio and Rhode Island. Aluna started drumming about 4-5 years ago as well. Sometimes you will see her drum for our show and she often drums for Father, Son, and Friends.
Nadim has been drumming since 2009 and focused on Arabic darbuka playing since 2016. He has been playing cello since 2000. We have special weekends during the season when Nadim pulls out his cello and plays beautiful Arabic music while Aluna drums. Our next cello weekend will be October 7 and 8 this year. He also performs his cello at the Ohio Renaissance Festival during Yuletide as his show, Strings of Light. You can catch Nadim drumming with Father, Son, and Friends during the run!
---
Years of Training
Aluna and I both started belly dancing with the same teacher for several years, Laylia. Since we started with the same foundation of dance technique, we have a lot of things we do naturally that are similar but with our own stylistic interpretation. Over the years, we have both trained with several teachers on different methods to grow our knowledge and continue to personalize our own techniques.
Belly dance is a lot of practice, all the time. We drill constantly whether it is shimmies while we make dinner, chest pops while working on a computer, or practicing hand undulations while reading a book. Aluna and I will motivate each other throughout the year by sharing new classes or teachers we find who are inspiring or simply by texting each other to do some belly rolls in the middle of the day.
The same goes for drumming. Nadim has spent hours upon hours, drilling different techniques, sounds, and new rhythms to keep his skills sharp and to keep growing as a musician.
We all spend time researching different styles, music, and inspirations to continue to grow individually and as a group.
---
Forming a Troupe
I started our group after the show, Naughty Navels, retired. I was a member of that group and with Laylia's help I transitioned to the new show, Ramblin' Rhythms.,
I joke that kismet brought us all together. Aluna and I had known each other for years from classes and performances. Nadim had just picked up a beautiful Arabic doumbek 6 months before I was introduced to him by a mutual friend. We all clicked really well together from the beginning.
Our recurring guests, or honorary members, are Maela (dancer), Inari (dancer), and Huria (drummer, Erich Reith). Maela and Inari have been dancing with our group since the beginning and we love having them join us when they can. Huria is a professional drummer out of the Dayton area and was the lead drummer for Naughty Navels. Seeing him and Nadim drum together is a fun treat. We all have a lot of fun together.
With us being an improvisational dance troupe, we don't focus on specific routines. We have done them in the past, but we have the most joy when we are just responding to the music Nadim plays. When we come up on stage, we usually plan out what props we want to do ahead of time, but we don't know what musical accents Nadim is going to do, or what inspiration will hit us while we are dancing. One advantage of our group being improvisational is that we can focus on our audience interactions every show and customize things in the moment as we are performing. It really creates a magical experience for us all and I think that comes through with the fun we have on stage together and with the audience. We are ready for anything.
We meet up throughout the year to keep our connection strong and to keep our reactions sharp. We will have a rehearsal for 1.5-2 hours at a time of dancing and drumming to condition ourselves, give helpful feedback, and to have a lot of fun together.
---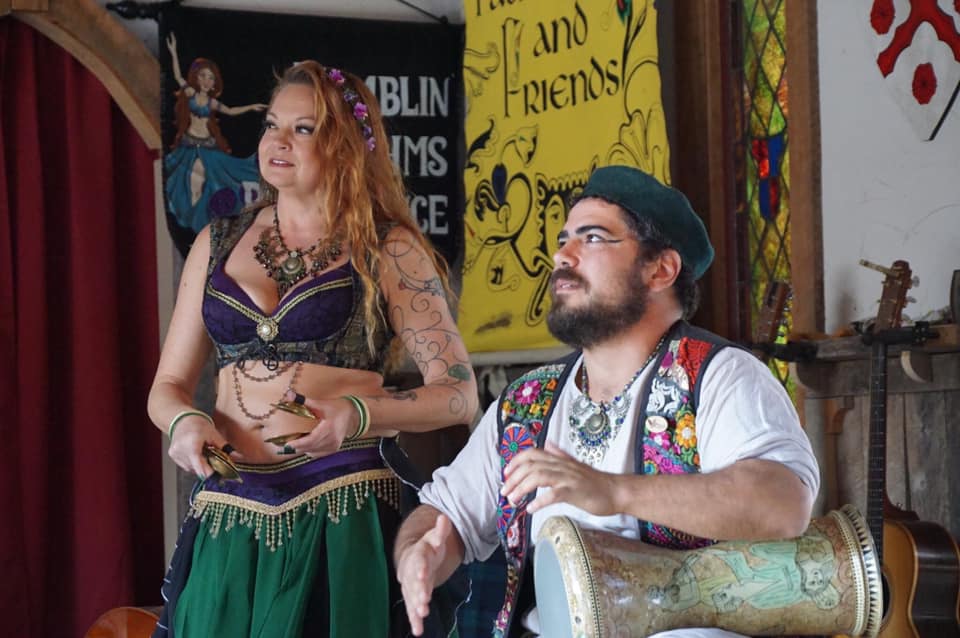 Live on Stage
The first time we performed together as a group was back in 2016 at the Ohio Renaissance Festival and we were definitely nervous. It was our first time performing live together and figuring out a natural flow with each other and for the show. I think the whole first year, we were nervous and scared, but we had so much fun together and we knew we were at the start of something wonderful.
Every year, I think we are all a ball of nervous and excited energy before our first show of the season and once our show is done, we all have that feeling of, oh, we're home again!!
We have refined our show over the years through lots of communication and audience reactions. Sometimes as we are walking away from a show, we will discuss something we really loved and want to try to incorporate more down the road or decide that a joke really flopped and we should never do that ever again.
During our rehearsals, we are always throwing things out there to see if it feels right or even just makes us smile. We follow our gut instincts and love finding new ways to surprise ourselves and the audience. Aluna and Nadim are both percussionists and just last season, in the middle of me dancing on stage, instead of doing the accents on the drum, they clapped the accent and pulled the audience into clapping with them and being part of the music that I danced to. I had no idea they were going to do that and it was so much fun.
---
Just Dance!
I think that we have a lot of fun and the audience feels it and is part of it. As a troupe, we are really close, on and off the stage. Our families spend time together and we genuinely love and root for each other. I think how much we love what we do shines through. We love interacting with our audiences. They make it special and fill our hearts with so much joy. We love playing with little kids and seeing their joy when we shimmy with them and they show us their new hip scarf or fox tail.
We hope that people take joy and love from our shows. We try hard to represent belly dance and our love of Middle Eastern music as well as we can. We want women to feel empowered and love their bodies and the amazing muscles we all have. We want little kids to find happiness when we smile and spin with them. We want people to enjoy the music and have the rhythms hum in their minds as they explore our awesome festival. We want people of all ages to feel inspired to try dance for the first time or go back to the classes they loved. We want drummers to be excited and inspired by the music we play.
We have countless memories with a few little girls who come to see us every year and show us their newest garb, their newest accessory, or they tell us about another type of dance style they now like in addition to belly dance. We get to watch these kids grow up and see how their love for our festival fills their lives.
One family who we love has two little girls and they used to tell us stories about how the girls would have their dolls be Princess Aerianna, Aluna, and Nadim and perform our shows at home in the off-season. It made our hearts melt.
We love hearing from other dancers who stopped going to class for a while and after they came to our show, they were excited to go back and continue dancing.
All of these wonderful encounters are magic for us.
---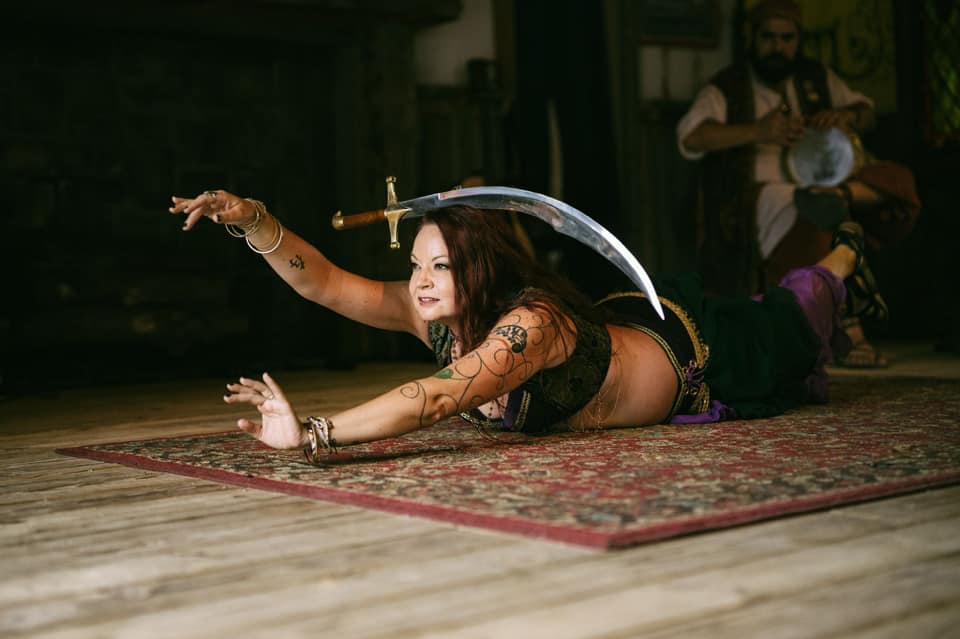 Gig Economy
I think one of the hardest things is the lack of consistency of gigs. For example, we have times in the off-season from the Ohio Renaissance Festival, where we have two or three gigs in a short period of time and then nothing for 2 months. Our creative hearts miss performing when we have slow seasons.
It is also hard to be away from family and friends when we are really busy but our loved ones are supportive and try to come see us whenever they can.
This is our passion. Being a dancer, a musician, a performer is part of our identities. It fulfills us in so many ways and brings amazing people into our lives who wouldn't be here if it wasn't for belly dance and festivals. Middle Eastern music and the intricacies of belly dance really speak to our hearts. There is so much we can express with both.
---
For the Future
We see ourselves still going strong with performing together. We will continue to expand our skill sets and techniques every year. We are always excited to learn new things and challenge ourselves.
The Ohio Renaissance Festival is definitely our favorite. We love the community, the fans, the atmosphere. We work with such amazing individuals. We feel appreciated and lucky to be here.
Another favorite of ours is the Ashville Viking Festival in Ashville, OH. It is a reunion with so many people we love to perform with and spend time around.
We are definitely interested in adding some more local festivals to our season as we can. Having local festivals that are only for one day, or a guest appearance for the weekend are great and we would love to do more. This past year we added the Ohio Viking Festival during the summer and had a wonderful time with the other acts and audience members.
We love what we do and the memories we make with all of these amazing people.