Summer is at an end, but even as the school bells ring bright and early the kids come home full of energy. Autumn is the perfect backdrop for outdoor activities from fall festivals and pumpkin patches to haunted houses and yes, our very own Ohio Renaissance Festival. We're past the midway point for the 2022 run with Viking weekend behind us and Romance weekend ahead, so let us help you make the most of your day in Willy-Nilly with the whole family.
---
Stage Shows
With stages in every corner of the festival, there is no lack of entertainment to go around. If you're trying to plan a day for the kids there are a few standouts you don't want to miss. We all know the favorites of faire, The Swordsmen, The Mudde Show, Kamikaze Fireflies, and the Cincinnati Barbarians. But leave room for these when looking at the pamphlet so you don't miss out on all the fun!
---
Birds of Prey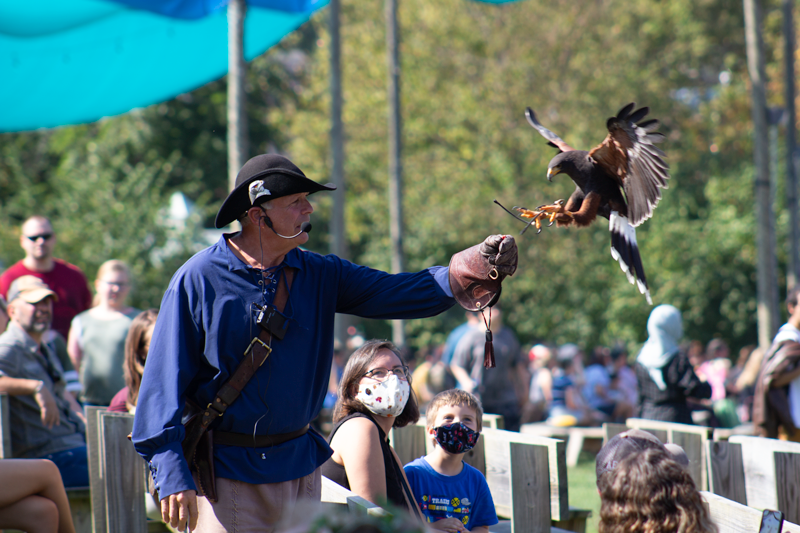 Take this opportunity to learn more about the historic art of falconry from the people who practice it in the modern day. But don't run off after the show ends! You can purchase tickets at their encampment right up the hill and hold one of these beautiful raptors for yourself while you get your picture taken.
1:30 pm – 2:00 pm | Guinness Arena of Champions
4:00 pm – 4:30 pm | Guinness Arena of Champions
---
Cirque Lapin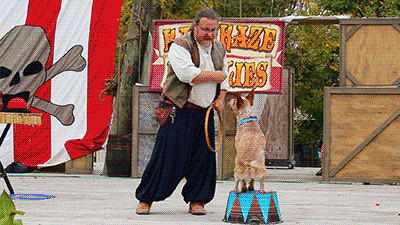 Comedy, magic, and puppies! Join this fabulous family as they bring you clever illusions and well-trained tricks to delight and entertain. There's even time for petting after the show ends so stick around and get a cuddle from Bear himself.
1:00 pm – 1:30 pm | Washer Women Well
2:30 pm – 3:00 pm | Washer Women Well
4:30 pm – 5:00 pm | Washer Women Well
---
High Flying Fools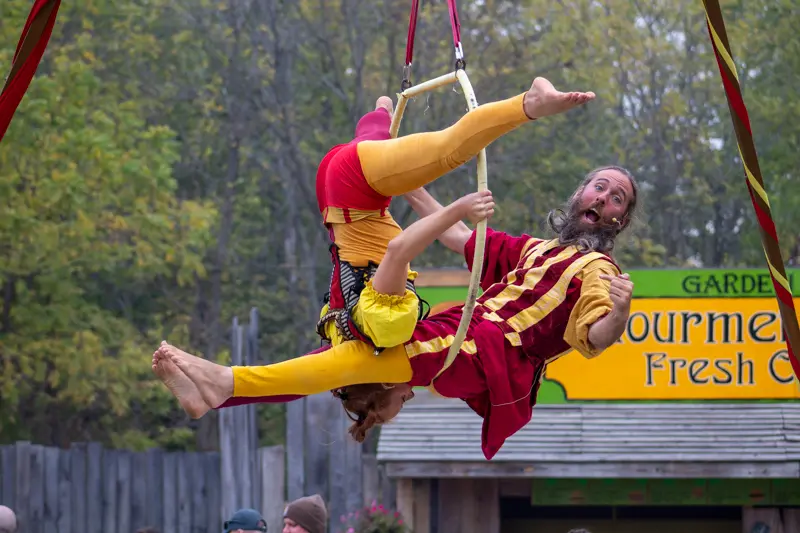 Come one come all to the infamous 'Circus for Idiots'! This daring duo offers up goofy antics and clever acrobatics for an aerial show while you enjoy food and drink from surrounding vendors. The perfect place for a laugh while you take your lunch break.

11:30 am – 12:15 pm | Dragon's Lair
1:00 am – 1:45 pm | Dragon's Lair
2:30 am – 3:15 pm | Dragon's Lair
4:00 am – 4:45 pm | Dragon's Lair
---
PB&J Circus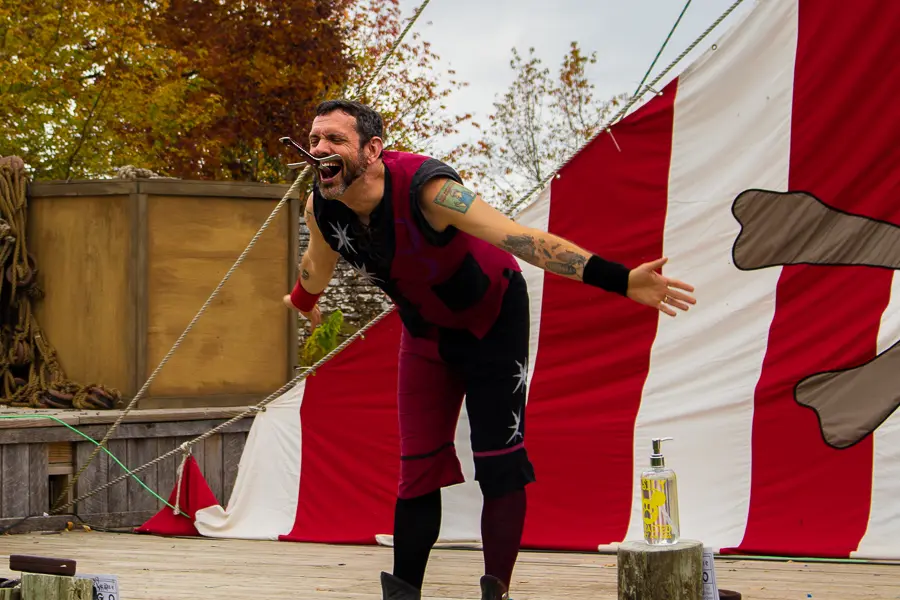 Fire! Sword swallowing! Yay Susan! PB&J Circus brings joy to the stage with wit and warmth as they perform. Their playful banter will bring a smile to your face while their talents stun and amaze! Be sure to say hi to Circe the bird and give her a tip to put in the basket.

12:00 pm – 12:30 pm | Pub View Stage
1:45 pm – 2:15 pm | Pub View Stage
3:30 pm – 4:00 pm | Pub View Stage
5:00 pm – 5:30 pm | Pub View Stage
---
Free For All
One of the hardest tricks is keeping the wallet full while you keep the kids entertained. If it's fun on a budget you are after, we can provide. There are plenty of mini adventures around the park if you know where to look and what to do!
---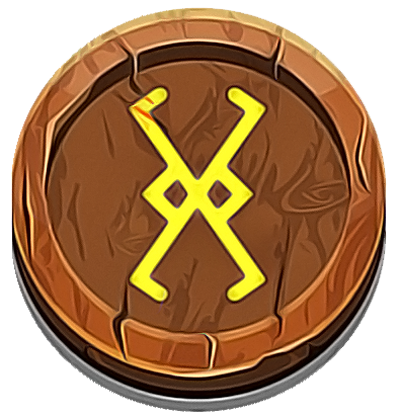 Viking Trade
There is more to a Viking than axes and mead. Give your child a pouch of trinkets to take with them and watch as people come out of the woodwork to trade. Make sure you put the trade rune somewhere visible and keep your eye out around the park to go home with all new prizes for free!
---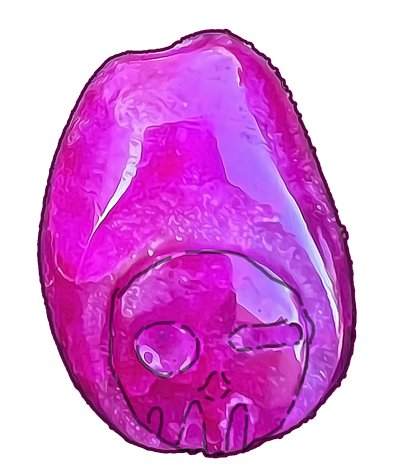 Order of the Rose & Skull
Skulduggery abounds as you take part in a village-wide game for the sake of protecting England. Spot the villagers wearing a little rosebud on their clothing and let them know you are a new recruit seeking a mission. They will pass on a secret code that you take to the next available agent to complete the assignment. Be sure to tag yourself with #ORFORS2022 on social media to be entered for a special prize.
---
Siren Games

Join the Sirens at the Special Event Booth at 1:45 pm every festival day for a weekly rotating game. From Peacock Walking Contests to Magpie's Shiny Scavenger Hunt it's fun for all ages, free to play, and winners get a special prize!
---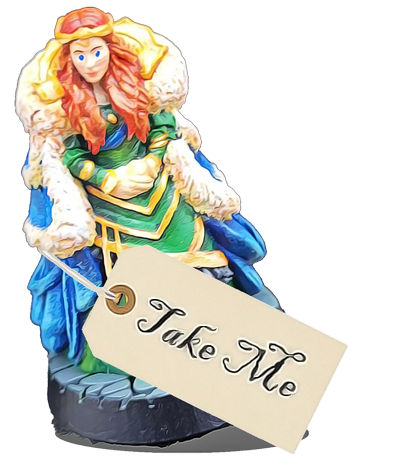 ORF Finders Keepers
Can you find the trinkets hidden somewhere on the festival grounds? Every festival day special prizes are hidden around the festival and hints about their locations are posted on Facebook and Instagram under the hashtag #orfinderskeepers. If you find it it's yours! Just post your find with #orfinderskeepers so we know it went to a good home.
---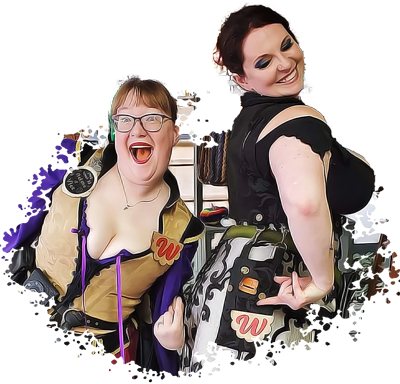 IWG Local 73 Wench Collecting
Collect them all! Find one of the International Wench Guild Local 73 Wenches of Myth by looking for the red "W" pins and ask for a (consensual) photo with them. Once you collect 7 wenches total, you can ask a wench for a mediocre prize.
---
Feeling Brave?
Brimstone Haunt is now open for the 2022 haunt season every Friday / Saturday till the end of October! Head on over after the faire closes for 5 terrifying attractions sure to leave you screaming! You are the best judge of what your kids can handle, so take that into consideration when popping over for a fright.
---
All Ages
The haunt has a carnival sideshow, bonfire, and s'mores just waiting to be made! If you've got small ones with you who might not be ready for the more in-your-face action this is a great way to pass the time while the older kids take on the haunt attractions.
---
10 & Up
The Haunted Hayride is perfect for kids who are up for thrills and chills. This hayride takes you through an abandoned cornfield full of creepy folk that just don't want you to leave! Every twist and turn is a new fright waiting to happen.
Deadshot is a new attraction, putting you at the helm as you defend your position from a zombie attack! Grab your paintball gun and take aim as flashing lights and snarling zombies threaten your safety.
---
12 & Up
The Forgotten Forest takes the long walk home to a whole new level. Shrouded in mystery, it keeps the creatures it shelters beneath its trees. Only the bravest dare enter and those who make it out alive are never the same as when they went in.
Zombie Assault takes you on an interactive ride as hoards of undead try to keep your party from a safe compound. Board the bus with fellow survivors and hope that the assault team is enough to keep you from joining the snarling ranks of rotting undead.
---
14 & Up
Psychosis is an all-out assault on the senses that drags you further from the world you know into a crazed realm of maze-like pathways and horror. Will you make it to the exit or succumb to the dark torment that awaits when sanity dies?