I tend to gauge how good a weekend at faire has been by how exhausted I am Monday morning. If this is true, then Feast of Fools was a spectacular weekend yet! So much happened over just the course of two days that I literally had to go back over my photos twice just to make sure I covered everything. I feel like the cast and performers truly brought their A-game in sheer willful defiance of the heat and humidity. We may be ready for fall, but the Ohio Renaissance Festival bid summer bye-bye with a bang!
I don't think many people realize that the feast of fools was an actual historical festival. I'm pretty sure everybody thinks it was made up the Disney movie, The Hunchback of Notre Dame (though it was called Topsy-Turvy day in this animated classic). It follows in the same vein as Mardi Gras and even the Roman Saturnalia as a festival in which societal 'norms' are turned upside down and the revelry of absurdity is held in the highest esteem. These were held in contrast to the moral and righteous festivals of the Catholic church and were in some cases supported by the clergy through Europe.
---
Visiting Comedic Acts Around Faire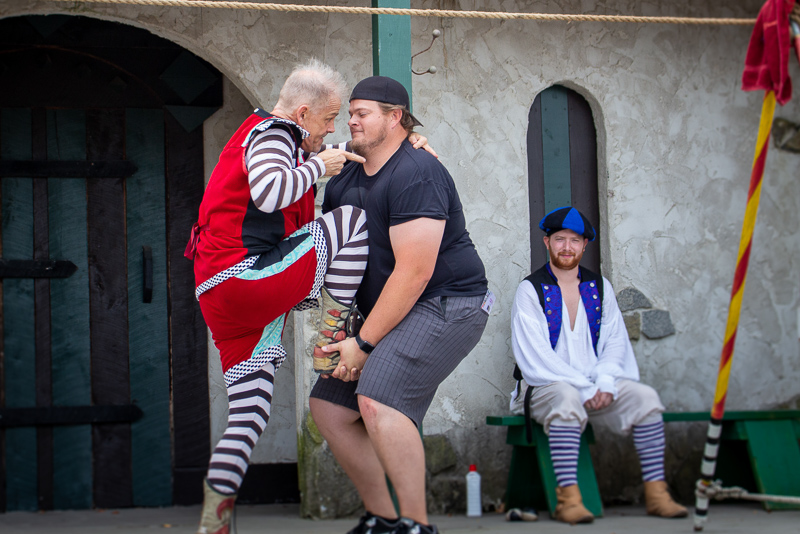 Many of the stage acts around faire feature comedy as their base. And why not? Nobody comes to a ren faire to watch Titus Andronicus, though frankly, I'd love to see that played as a comedy! But you can tell how good a performer is by how loud the crowd is laughing around you. Moonie the Magnif'cent is one of the newer acts to ORF and I've been excited to go and see his show. A combination of tight rope, fire juggling, and audience participation, Moonie was spectacular at bringing the audience into his unique brand of performance art.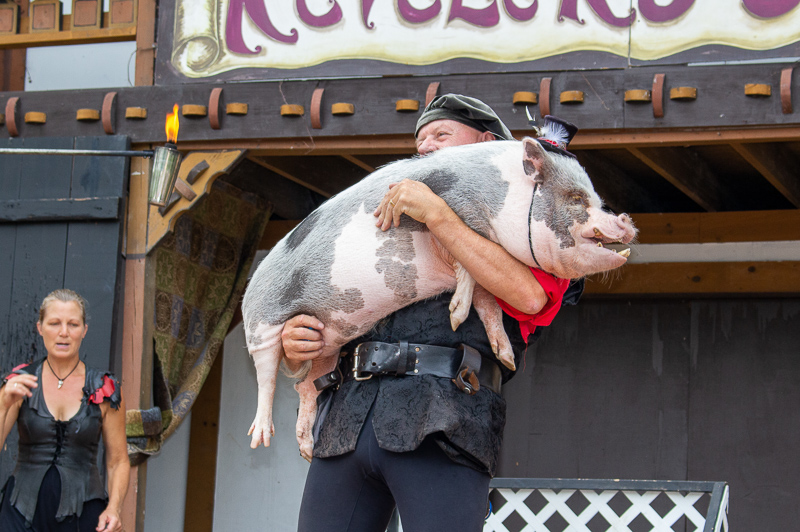 Being an animal act can't be easy. You put hours of blood, sweat, burn marks, and training to learning how to juggle fire, play the harmonica, and tell dad jokes to the crowd only for the pig to steal the show! In all truth, Rick and Jan are amazing performers and very entertaining to watch. Their well-trained potbelly pig Snorkle does a great job of leading you right to the stage and 'hamming' it up for every trick he does. (I'm entitled one god awful joke per blog folks!)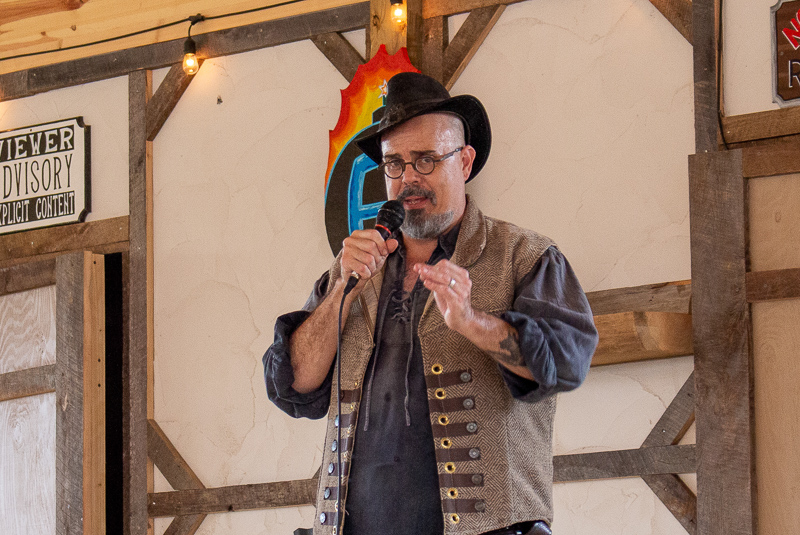 There is an art to insult comedy that not everybody can do well. A balance of being cutting without making it too personal. Of finding the right volunteer victim with an excellent sense of humor that can laugh along with the crowd and thank you for making them a part of the show after. Christoph the Insultor does this beautifully. He really does appreciate the people who let him poke holes in them gleefully for the enjoyment of an audience and I get such a kick out of coming to see him. Few people can leave an entire room red-faced and stunned by the end of the show and it was so much fun to see people face down on the table after getting an earful from him. Be aware though, this show if not for the delicate. Some of the dirtiest language and horrible mental images will be implanted into your brain by the end of one of his shows! Catch him at the Dirty Duchess if you dare!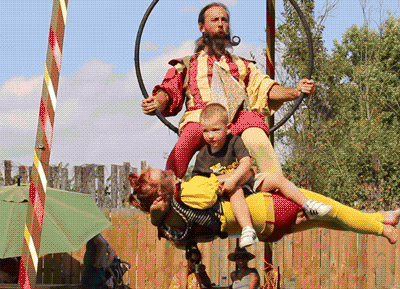 Over in the Dragon's Lair area, you can find a show to keep you entertained while you eat! High Flying Fools did an amazing performance, interacting with the audience as they figured out how to be a successful circus act from their book "Circus for Idiots". It was fun and clever, with a lot of little improvisational bits to keep the kids entertained. These two played very well off one another and I look forward to seeing them again.
Humor can be found at any stage at faire at any time, but most especially on Feast of Fools.
---
Laughing through the lanes
All around Willy-Nilly people were finding ways to showcase their special sense of humor! Since there were so many people running around in jester costumes I took some time to ask people what their favorite jokes were. Most everybody was willing to stop for a moment and give me something funny, even if it left me shaking my head in shame at having to commit it to memory.
---
Games of Tom Foolery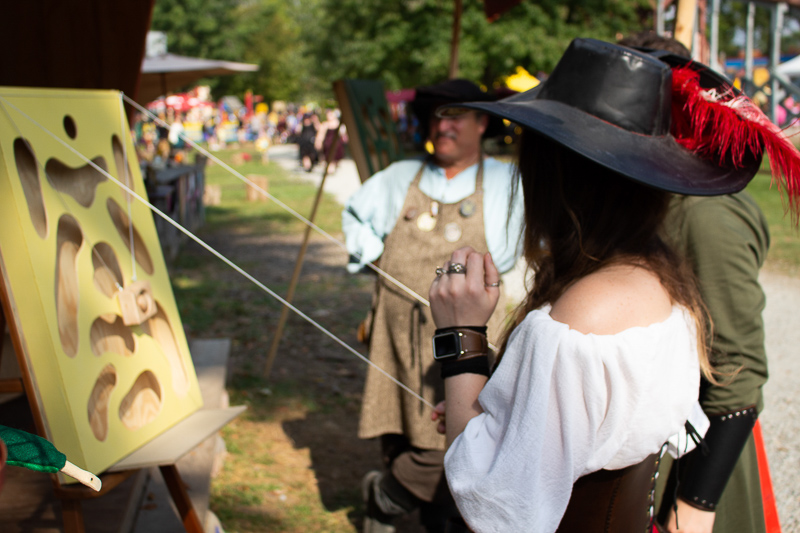 The game booths were really bouncing. I think people came out in the mood to have a good time in the hot sun. People were laughing and joking around as they wandered through, eager to throw a tomato at a smart-mouthed boothie or try to knock down the Mudde Show guys with a glove. I liked watched families work together to figure out a ball maze over at the puzzle booth. It was so clever to see them figure out different methods of getting a ball from the bottom to the top using only two pieces of string and a mirror.
---
A Brief Interview with Pocket the Fool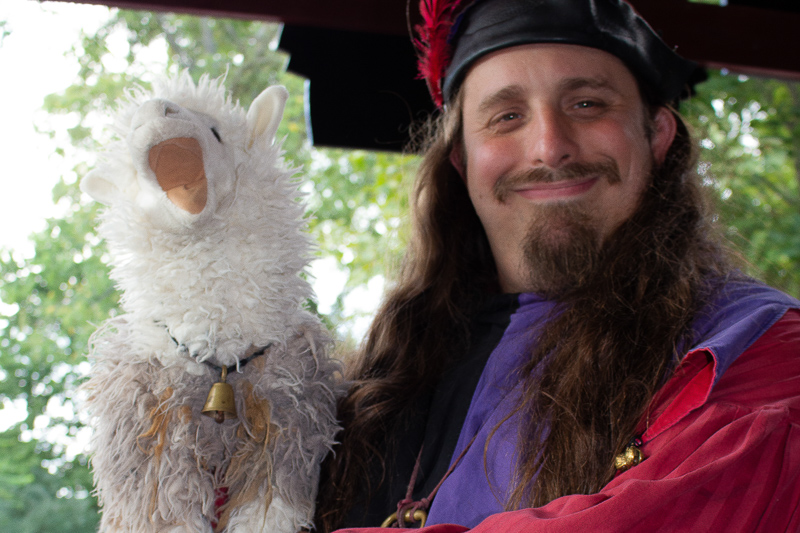 I got a chance to talk with Pocket the Fool, a notable jester who called the Kentucky Ren Faire home. It's not the kind of character just anybody can step up and do well. So I wanted to ask him Why choose to be a Fool?
I had always been drawn to the idea if the Fool as a character for longer than I could remember. Even in my early RPG days, I most often portrayed a wise Fool character. Silly on the outside, with some hidden power/agenda. Doing some study, I found more and more in history, that likened the 20th century me, to the historical me I imagined. There was a type of fool, that rather than being tied to a particular kingdom, actually toured around, like modern-day stand-up comedians do. That appeals to me, to spread the mirth as far as it can go. I kinda draw my ideas of the modern Ren Faire jesters for some of my performing idols like Jane the Fool and Fool Hearty (all WONDERFUL people) And modern heroes like Jim Henson and Robin Williams."

Pocket the Fool
---
ORF's 30th Birthday After-Hours Bash!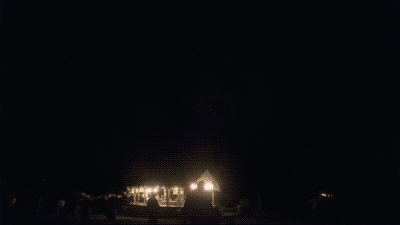 As the day wound down and the sun set beyond the horizon, the party was just getting started! This weekend was the Ohio Renaissance Festival's 30th Anniversary Birthday Bash! To celebrate, the faire grounds stayed open till 10 p.m. and entertained guests with amazing music, fire dancers, and contortionists!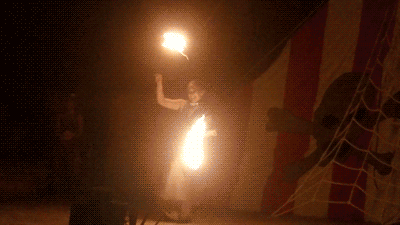 The 1572 Bar-B-Q stayed open late and we got to have an amazing time with Band of Pirates and the Sirens belting out tunes into the night while we ate BBQ and drank frosty brew! But the big finish was the fireworks show at the end of the night. My wife and I headed over to the jousting field and watched as the colors exploded overhead.
---
Casey Martin of Kamikaze Fireflies Goes For a World Record
I came back on Sunday with one founding purpose. To watch Casey Martin of the Kamikaze Fireflies take on the Guinness World Record for Most Flaming Hula Hoops on the Body! The crowd for this was huge! The Fireflies are always a big draw and it was not surprising at all to see them giving their final performance of the day their all. As we watched them do a flaming Rube Goldberg machine and fit themselves inside two giant pink balloons, you could feel the tension mounting. We were all so excited to see her take on the record and when the time came the entire crowd was chanting "CASEY! CASEY! CASEY!" I won't spoil it for you, but take a look at the video for yourself and share the moment!
---
Join us on Friday For Faire Food Favorites!
We're rounding the corner into October, and cool weather is on the way! On Friday we'll be talking about the Best Meals at ORF as voted by the ORFans. The next theme is Highland Weekend! We'll see you with your kilts on!
Highland Weekend is Next!
The village puts on its kilt! Join the village in celebrating Highland heritage as villagers host special events including traditional Highland Games demonstrations. Special Guest this weekend: Tartan Terrors
Make sure to visit the blog Tuesday, October 8th for a breakdown of all the Scottish Shenanigans