Something I love about ORF is how often it surprises me. Along with the scheduled entertainment and returning seasonal acts, if you stick around a while you may find yourself coming across one of the many little ways in which the faire displays our pride. It's not window dressing when I say ren faire is a culture in and of itself. We have a far-reaching community that often extends across entire regions of the US. Hang out in the pub and ask someone where they are from. You'll find folks who traveled up from all over to come and see what our renaissance festival has to offer.
---

When I say that ORF experienced an 'invasion' last weekend, I mean we were privileged to meet with a truly massive group of rennies that included folks from Bristol, MRF, TnRen, KYRen, CRF, and even BARF! I've seen a few of these folks around before. They're easy to spot since they come wearing full-out regalia that meets with the garb standards for those on cast. If you were near the 3 Fools Pub on Sat then I'm sure you noticed the sheer expanse as every photographer within earshot tried to get them all into one photo! As it turns out there is even a group that plans the get-togethers. I spoke with Kupser Shawn, one of the organizes for the 'invasion' so I could learn more.
A group of pirates decided many years ago to invade and plunder the fun to be found at other fairs outside of their home fair Michigan. On an annual basis, many have made our way to a many fairs but Ohio holds a special place in our hearts. Some of their characters have made it to multiple other fairs, having formed long dear friendships. This practice has expanded over the years to most fairs in the region. Ohio being one of the last open, has become a destination for invasions from the surrounding fairs, its steadfast friendships and newfound alike draw us back to share time before the sounds for the seasons end.

Kupser Shawn, Invasion Specialist
---
Speaking of communities, the IWG: Local 73 decided to have a special event this weekend in the form of a cosplay challenge: dressing as the ravens of the Tower of London. For those who may not know the folklore, it is believed that were the ravens ever to abandon the tower of London, the crown would fall and Britain with it. As such, there is a Ravenmaster who tends to the corvids and keeps a small contingent of them present. Many of the ORF wenches showed up in all black with feathers ruffled to honor these birds from across the pond.
---
You may have noticed a collision of crops during last weekend's festivities! The village of Willy Nilly bedecked itself in orange and green to celebrate the reenactment of the Watermelon/Pumpkin War, challenging their rivals to do or die in the field of battle! Or in this case, an obstacle course that put their respective competitors to the test on the chess field as their supporters cheered them on from the benches. The battle itself ended in a slow-motion stuffed animal fight that pitted brother against brother as the field was left covered in fluff!
---
With all this merriment to share, how could we not take in the rich comedy acts that play for the crowd? From the classics like the Mudde Show to the Kamikaze Fireflies and our newer acts of Judas & Magnolia and Johnny Phoenix, there are many talented performers who bring such laughter to our guests. But I have to admit a personal favorite in the duo of David & Angie, the High Flying Fools! Say what you will, but anybody who can create a functional organ out of rubber chickens holds a special place in my heart.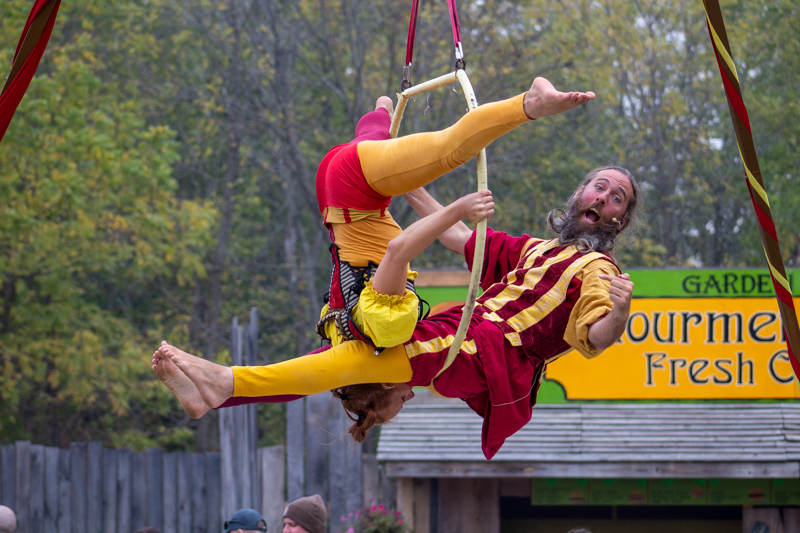 Our show is about making fun of what we do, by doing what we do. Playing on different circus tropes and routines, we create an over the top display of circus entertainment. When creating a new trick we like to play an elaborate game of "the floor is lava" and see what happens and write it into the show.

We love Renaissance Faires because of the genuine connection you make with the audiences. It's a beautiful place with our kind of weird.

David Doyle, High Flying Fools
---
After waiting so long to come back, it's hard to believe there is only one week left of the Ohio Renaissance Festivals 2021 season! Kids 12 and under get in FREE for Trick or Treat (Oct 30th & 31st. Bring the whole family and get in one more weekend of fun before we close up for another year!