We all have a fantasy. This doesn't go away just because you grow up, get a job, and have a family. You hold tight to a light deep inside the soul. A reminder of the days when a ring of flowers made you royalty and stick made you a warrior. We are taught as adults that our playtime must be mature and acceptable to our age. Yet here we are. Letting the light shine brightly for everyone to see, dancing with fairies and mermaids in a cornfield.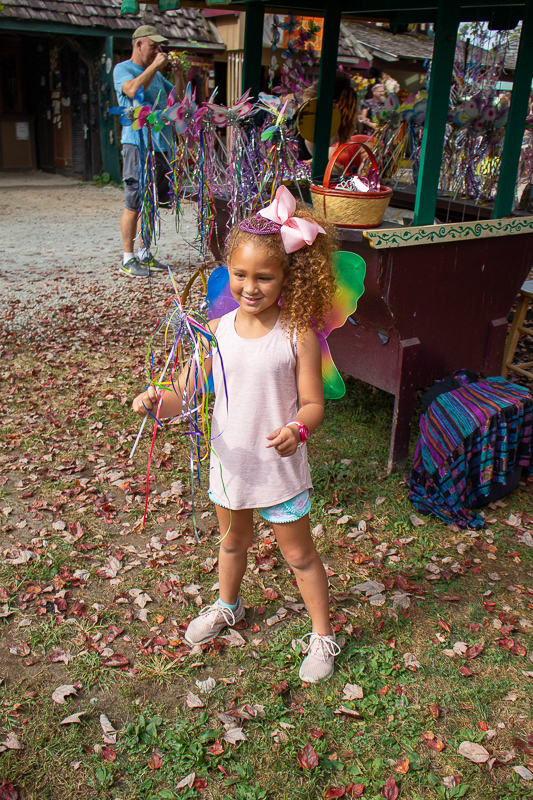 Fantasy weekend is one of the most popular ORF themes. People really came out in droves this weekend, determined to live their best life even in the heat of late September. The smart chose not to dress in garb, while the determined sweated their make-up off by noon. I include myself in this mix. I'd been slacking with garb up till now for the sake of expediency while I enjoy the faire and get to know everyone. But I made the decision to go whole hog with horns and wings, makeup, and glitter and got my pretty photos early on in the day.
This gives me a lot of respect for the Fairies of Willy-Nilly! This is their weekend and they were determined to put out their very best during Fairy Playtime on the Upson Downs. Children of all ages are invited to come and play with the fairies and the Seasons as they roll around in the grass and play "Fairy, Fairy, Troll." I love watching this interaction. Nothing beats the light in a child's face when they run around with delighted shrieks as a friendly troll chases them around the circle.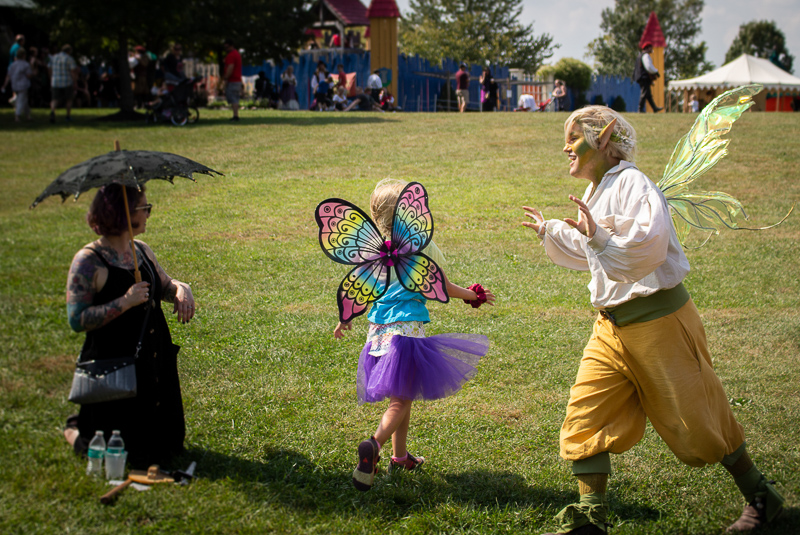 ORF has several fairies to its name! There are Whistle and Whisper, siblings of weather and wind respectively. A freckled selkie by the name of Sael delights as she joins in the games while a dryad called Melia with pink flowers hugging her torso talks with the Seasons. Spring, Summer, and Autumn are walk about stilt characters, their brilliant foliage standing out among the glittering wings. Each one of them is a special character that brings out the magic in everyone.
Speaking of magic, if you wander over past the Revelers Stage, you may just see the brilliantly colorful realm of Spark the firefairy and her tribe as they dwell in their enchanted garden! You can stop by there for some glittery strands to be braided into your hair, or just for a chance to talk to Spark and her crew for yourself. I got a chance to talk with her for a bit and watch her interaction with the guests. You can see the wonder in their eyes as they approach the wide-winged lady, her floral antennas bobbing with her head. In that moment, it all becomes real. The wonder in their face is a special thing to see as she hands them a bit of magic for themselves and helps them find their fairy name.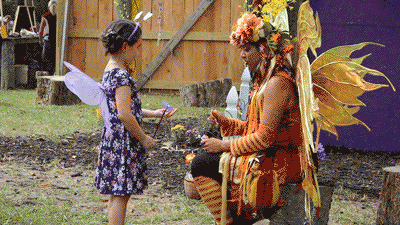 "I saw people who were losing their sense of joy and wonder and I wanted to bring that back to them." Spark explains as we discuss the life of fae. Children especially look to figures that larger than life for a sense of comfort. But that shouldn't suggest that adults aren't welcome in the realm. Spark talked about grown-ups who see her and cry because her philosophy of joy and wonder helped them through a difficult time. It serves as a reminder that we don't lose our imagination just because we get older.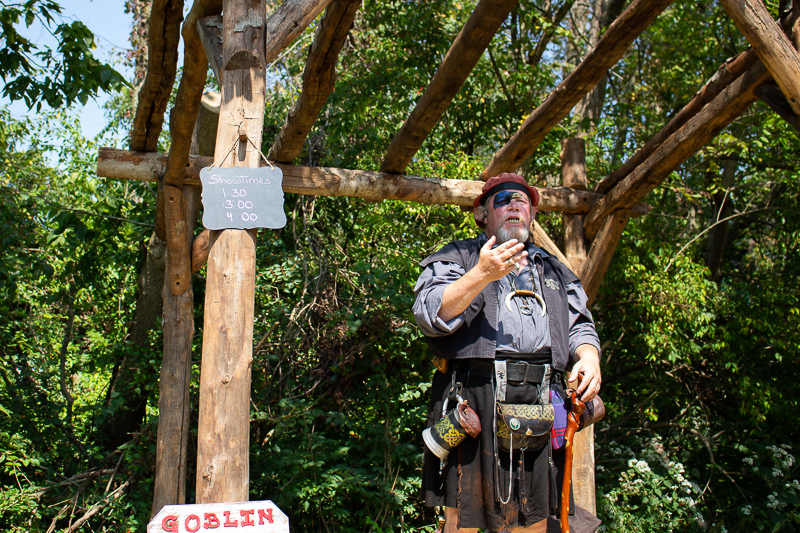 But the fairy realm isn't all glitter and cupcakes. Sparks neighbor is none other than Ebeneezer Grumpypants, a bogel of some note and distinction. With a thick Scottish brogue and broken fang, Ebeneezer lives up to his namesake by providing a counter to all this colorful whimsy. Along with providing some interesting tales of goblin and unseelie (dark fairy) lore for anyone who comes to listen, Ebeneezer is also a bit of a gourmand. He has several recipes for fried fairy and slow-cooked minotaur pot roast.
"The truth in life is that there is good and bad, or bright and somber. I wanted children and adults to be able to laugh at the bad." With the demeanor of a grouchy yet lovable grandpa, Ebeneezer's storytime often ends with a delighted cackle from the crowd as the fairy princess ends up as a troll's birthday supper. He carries these lovely little tokens which declare "Faeries are Food, not Friends". Yet for all the twisted sense of humor, he seems to get along quite well with Spark. So maybe this bogel has a soft underbelly beneath his hardened hide.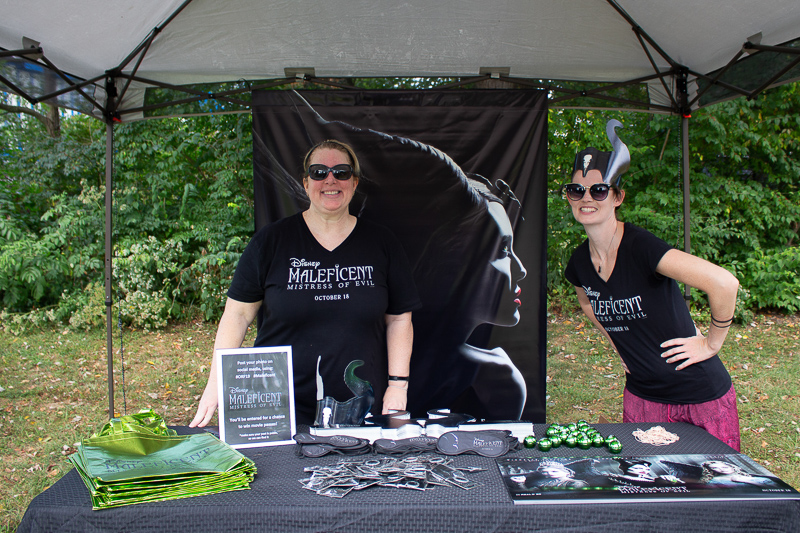 It seems that ORF is growing in a lot of ways! I have to admit I was surprised to turn the corner and see a booth for Maleficent: Mistress of Evil waiting for visitors to come and see! I'm a sucker for the Villainous POV trope, allowing for the 'bad guy' to have their say on events for the sake of clarity. Maleficent was a favorite of mine as a child and that hasn't changed with the live-action retelling of Sleeping Beauty. I thought the story was interesting, and I have high hopes for MoE. So it was really cool to see them hanging out here with plenty of free swag and a chance to get a photo with the Maleficent's wings. Check out the #orf19 & #Maleficent tags on Instagram to see some of the selfies!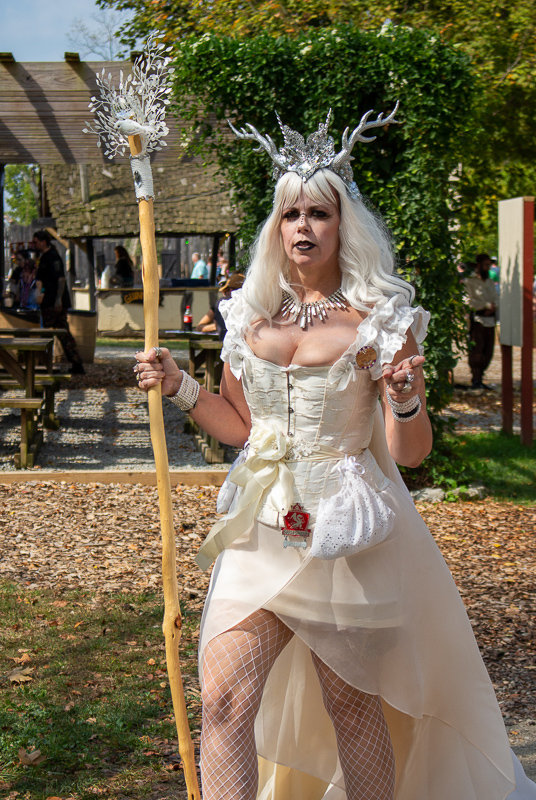 On top of that, I got snagged by a representative of the International Wenches Guild. No, I did not know there was a wenches guild! YES, I will be joining ASAP! You can check out the whole thing at Wench.org, but just to let you know, being a wench is about bringing together women of all kinds to support one another. They are a bawdy bunch of brave barracudas and I'm thrilled to get to learn more about them. They seem to take particular joy in bringing a 'faire virgin' out to their local festival and getting them into the game. I hopped onto the FB page for Local 73: Wenches of Myth and talked with Betsy White about how the "Wenches" formed at ORF.
"When I became a wench in 2003 I joined because I wanted to join a group of amazing women who knew what they wanted and knew how to get it. That has not changed. When Susan Morriss, Sarah Brinkman and myself set out to separate into an Ohio local that is certainly what we had in mind. We officially became a local in late summer of 2018 and we got official presence from the Ohio Renaissance Festival in the summer of 2019. Some of us in the IWG have been waiting for decades to play at our own festival, so we wanted something big, or even mythic, to represent us which is why we chose the Wenches of Myth. We are looking to create a sisterhood of women who love Renaissance Festivals, love to play, want to build each other up and grow together." Explains Betsy
We are four weekends in with five to go! Here's hoping we see a change in the weather soon so everybody can bust out the cloaks. Feast of Fools is next weekend and I'm looking forward to seeing all the jesters and clowns come out. Friday's post will be a little bit late, appearing sometime Saturday or Sunday while the ORF website is under scheduled maintenance. See you soon!
---
Fantasy Weekend in Photos
Next Weekend is Feast of Fools!
It's okay to be foolish this weekend! The village is filled with fools of all sizes and their foolish antics. Visit the blog Tuesdsay, October 1 for the recap!