The term 'hustle culture' is something most of us have become familiar with over the last few years. The phrase denotes the sense of urgency, devoting one's self to a 'side hustle', one usually based on your hobby or craft, in order to make a little extra cash. It became extremely popular over the course of the last two years, with many families trying to make up the income from lost jobs or limited hours. While the hustle can create a sense of independence and empowerment in its early stages, after a while the allure starts to fade. After hundreds of dollars spent on supplies, an over-saturated market, and few sales, most people get burnt out on the craft and it ends up on the back shelf.
With this to reflect upon, people have started to reject the idea of turning every hobby you love into something you are forced to profit off of. There is a push among the interested to get back to crafts – get this – just for the fun of it.
Don't mistake me! One can hardly turn their nose up at small, independent businesses that take on the monumental task of creating original products, especially when you frequent a renaissance festival. But we're not talking about the hard-core leather workers and blacksmiths that have put years of training into their craft. I'm talking about those of us who honestly just want something to have fun with. To try out something new and take the time we need to enjoy the learning process.
---
It's been a while since I've been to the renaissance festival fairgrounds. I wanted to be here and be around all the fun people."

Kaylee Allen
This is where events like Dippin' Fun come in! Hosted by Jenna Fry and held at the 1572 Roadhouse Bar-B-Q at Renaissance Park, this laid-back event allows folks to come in and spend the afternoon relaxing with a cold brew and a brush as they learn some of the basics of painting. There's no rush and no need to play at expertise. Just the opportunity to do something fun and make a few friends along the way.

As we arrived at 1572 on Sunday the stations had already been set up, the canvas and paints waiting for everyone to mill in and get settled. We grabbed a quick bite to eat from the 1572 Roadhouse Bar-B-Q, got a Woodchuck Blueberry cider from the pub, and chatted for a bit with the group. Jenna kept things simple, providing both an example and step-by-step instructions as we went through the process.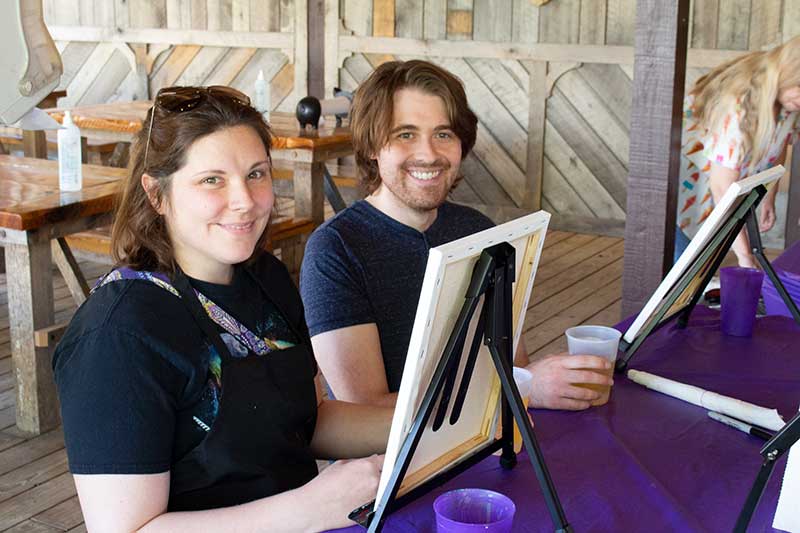 "I like alcohol and painting!"

Ren & Brandon
This month's inspiration came from the legend of King Arthur, a medieval figure of much renowned whose varied mythology ranges as far back as the 5th century. While the details and stories have gone through a metamorphosis in both literature and modern media, two of the most prominent elements are the sword Excalibur and Arthur's connection to the rise of Christianity. Both featured prominently in the theme for this painting.
This was less about creating a perfect reproduction and more about letting yourself learn small, simple painting techniques. Things like watering down your brush to produce a gradient, shading and highlighting, and which brush works best to line an object or help produce the desired effect on the canvas. There was no need to focus on making your work 'perfect'. Just work through the steps one at a time, embellish as you see fit, and have fun!
I came last year to most of these. I saw the advertisement and thought it would be fun. Came out and always have a real good time."

Wayne
The whole process only took about two hours. A perfectly splendid way to spend a sunny day out in the fresh air with a little music and conversation in the background. After everyone had a chance to finish their work and we got a few pictures, I caught up with Jenna to ask her how she got started doing this.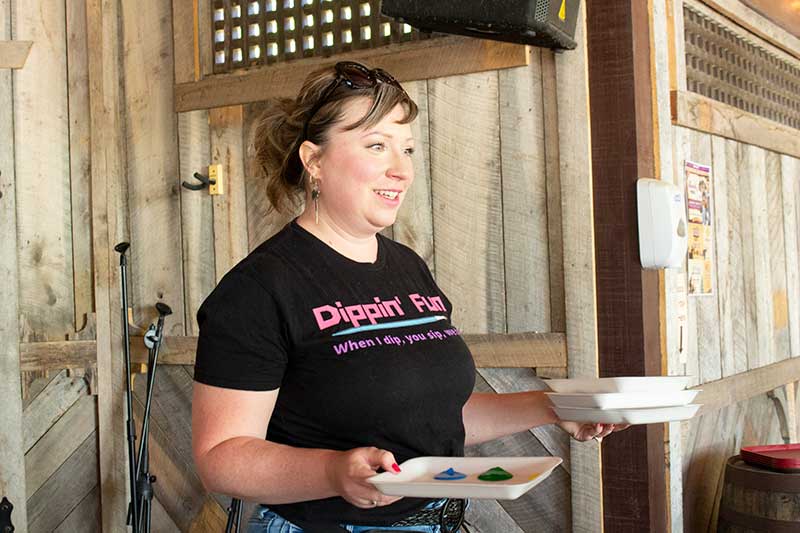 Jenna Fry: I've been here (The 1572 Roadhouse Bar-B-Q at Renaissance Park) for three seasons. This will be my 5th year of Dippin' Fun part-time. Super part-time. *laugh* I was actually a makeup artist for the past 15 years! I was working a retail manager situation and I wanted to do something that would allow me to spend more time with my kids. I had already shown people how to work with color and brushes so I figured why not teach them how to paint! I love it out here. Everyone is so much fun and super amazing. The people have always been so accommodating and the crowd is so creative and nice.
This won't be your last chance to try out Dippin' Fun for yourself! We have three more dates available so get your tickets now and come out to join us.

Event Dates & Themes
June 12th – The Princess Bride
July 10th – Gandalf the Grey
August 14th – The Night King