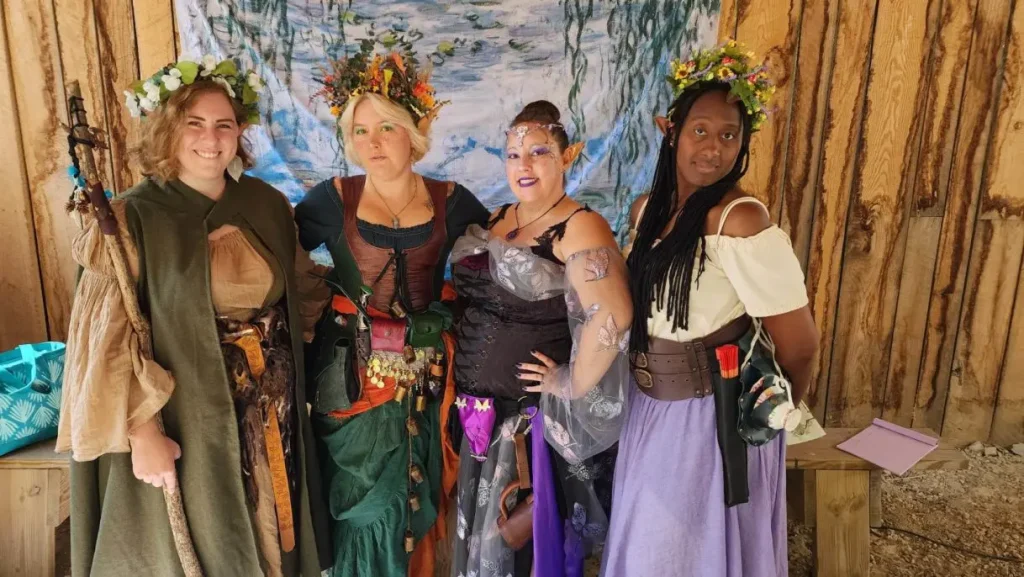 Each season the Ohio Renaissance Festival searches far and wide to bring our guests untold merriment and adventure. Along with a myriad of musicians, singers, acrobats, and performers, our faire proudly brings out specialty entertainers like Birds of Prey, Cincinnati Barbarians, and the jousters of Combatant's Keep. This year, we add an all-new experience to the festival with Roll of Destiny!

Roll of Destiny creates, writes, and hosts interactive RPG adventures for guests to immerse themselves in while they wander the festival grounds. You may have spotted them during this year's Celtic Fest Ohio, "A Festival of Fae" experience. Their clever fairies offered up an exciting series of riddles and challenges throughout the day. Now they are back with more fun and excitement during the Ohio Renaissance Festival season with "The Theurgists' Vault". The cost is $12 for a single sheet adventure, starting at $20 for our Adventure Pack, and starting at $25 for our Immersive Game "Theurgists' Vault"

While we can't share any spoilers for the game, we have an interview with Roll of Destiny so you can get to know more about this fantastic group!
---
Q: Let's begin with the most obvious questions! What is Roll of Destiny?

A: Roll of Destiny is a business that creates immersive game experiences to be played in various settings (in this case, at The Ohio Renaissance Festival)!

Q: How did Roll of Destiny get its start? What are the skills and experiences your group brings to the event? How long have you been doing this?

A: It started at the end of the 2022 Ohio Renaissance Festival. Ben was already counting the days until Labor Day Weekend 2023. He and his spouse, Emily, have always enjoyed making each Ohio Renaissance Festival experience feel different than the last, and he was fantasizing about what next year would bring. A few weeks into November of 2022, when Ben was playing a few board games with his friends, he had an epiphany: "What if we created an immersive game for people to play at the Ohio Renaissance Festival?" Within days, Roll of Destiny was created. Over the next few months, Ben and Emily recruited the other three members of our five-person team to make that vision a reality.
Ben became the CEO & Founder, while Emily became the team's Project Coordinator. We brought on a Director of Narrative Experience (Hannah), Visual Curator (L), and Director of IT (Christian), and had fully formed by March 2023. Drawn together from various creative and technical backgrounds, we are a collaborative team that strives to bring out the best in one another throughout our design process and bring our customers a game that makes each Faire experience unique.

Q: This year you worked with Celtic Fest Ohio to orchestrate a wonderful game with fairies and prizes and all sorts of fun. Tell me about what you've got planned for the Ohio Renaissance Festival. How does this game work? How does one participate?

A: For the Ohio Renaissance Festival we've got two offerings, one for the casual gamer and one for those who want a bit of challenge. Just visit our booth—right from the entrance, past the Tipsy Cauldron—to sign up!
Our Adventure Pack lets players literally "roll their destiny" to pre-determine Faire activities they'll undertake throughout the day. We've divided these into "Adventures", and you'll roll for three "Objectives" your adventuring party has to complete before an Adventure is successful. There are 6 Adventures in the Pack, meaning you'll have 18 Objectives to accomplish on your own time throughout the day.
The Theurgists' Vault is our immersive experience, similar to A Festival of Fae from Celtic Fest. Players will travel the Faire while solving puzzles, which culminate in a final set of puzzles they must unravel back at our booth. This game introduces the Meridian Alliance, an organization of magic item aficionados investigating the titular vault. You'll find Meridian Alliance NPCs across the grounds, to verify your puzzle solutions. Each one also carries something crucial to a puzzle's solution! Join in the fun, follow in the footsteps of The Five Theurgists, and discover the lost arcane formula concealed in their Vault.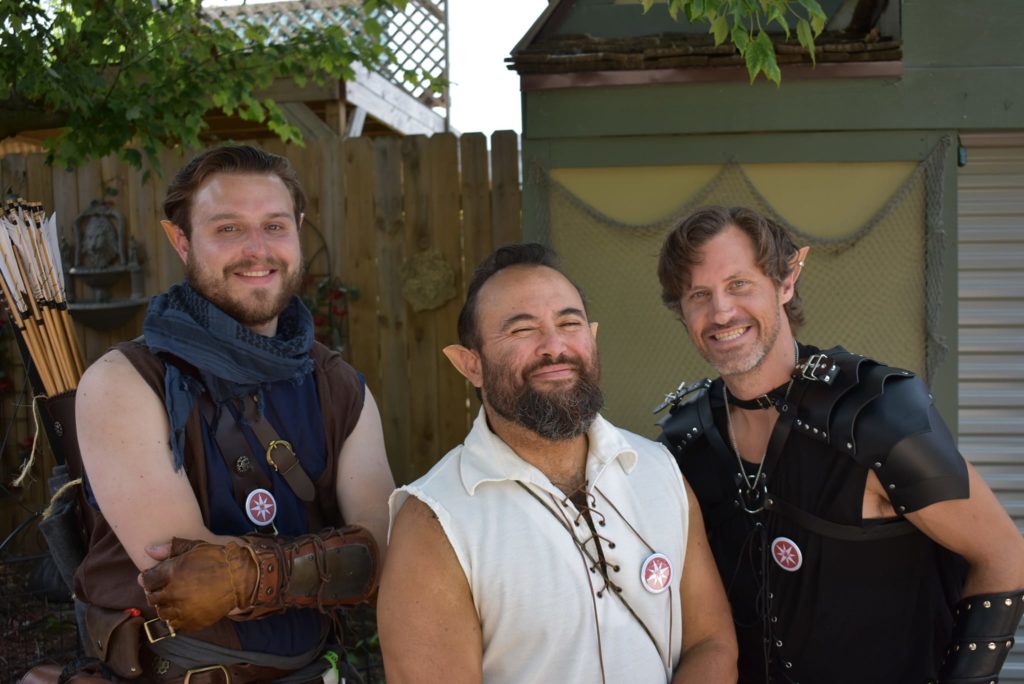 Q: Putting this kind of event together must take a lot of preparation and organization. What all goes into creating a game? How do you start planning? How do you keep the game fun and challenging?
A: Creating an immersive game involves a lot of layers. Our writer, Hannah, dedicates herself to weeks of research before the writing and puzzle creation can begin. The rest of the team then pieces together the props, rewards, and other elements that make our game functional and contribute to its immersive look and feel. Together we coordinate all the logistics that bring the game to life each Festival day!
As a team, we are constantly working to make all levels of gameplay more exciting and engaging for the players. We strive to make the familiar unfamiliar and bring a new perspective to things our players may have seen a hundred times before with each new installment. We take feedback from our players after every event to improve upon our creations, paying close attention to what participants liked the most, what they found too easy or too difficult, and what they found most memorable. In the end, we want to bring our players an experience they'll remember fondly for years to come, and hopefully, one that gets them excited for the next adventure!

Q: How have your games developed since you first began? What experiences helped you learn and expand? What is the most difficult part of facilitating these events? What is the most rewarding?

A: When we started developing games, we had only our own vision and experiences to guide us. You never truly know how a puzzle will be received until a person who knows nothing about it is playing it, and Celtic Fest gave us exactly that.
The most difficult part of facilitating these events is definitely the people part! Not only do we have to keep our team of five coordinated across three different parts of the US, but we also coordinate our ideas to people we work with, interview and educate our volunteers on their part of the game, and adhere to print and shipping schedules for our game materials. It's a lot of things to keep track of!
The most rewarding part is easy: we love to see our players having fun. Everything is worth it when we're at the Faire and watching people walk around with our game booklets, engaged in the game and having a good time. That communal and immersive experience is exactly what we strive for, and seeing it realized is the greatest payoff we can ask for.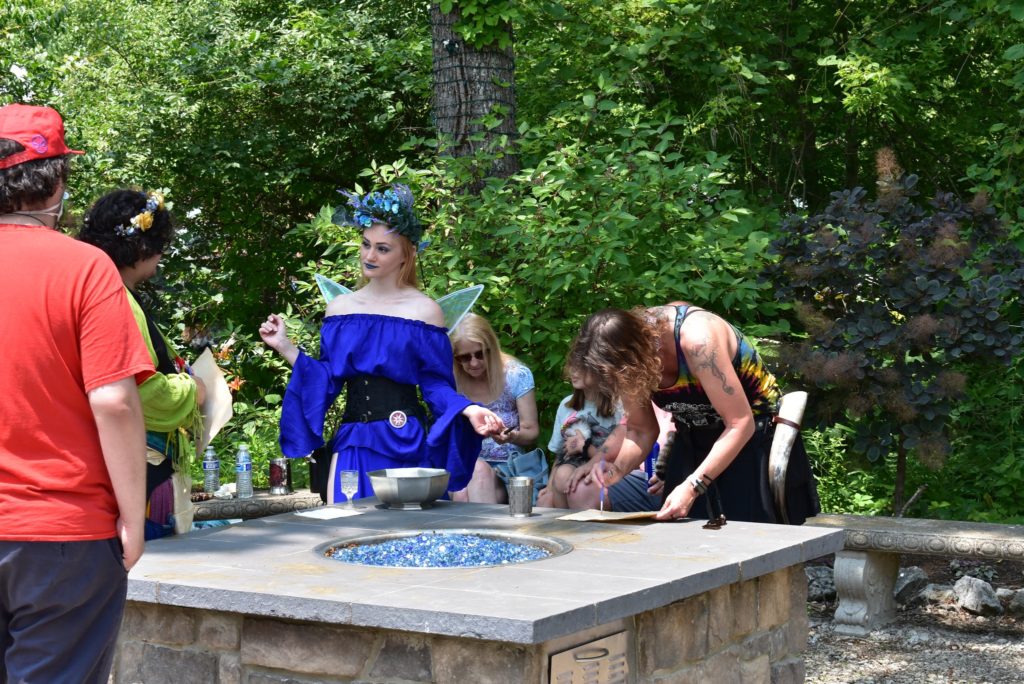 Q: What other events have you worked with? What kind of customer typically approaches you to get started? Are your games made for all ages? Who do you find is more engaged in the game, children or adults?

A: Right now Roll of Destiny is in its debut year, and the Ohio Renaissance Festival has had our full attention! In the coming year, we're planning to connect with new and different clients, bringing our existing experiences to different festivals and helping them facilitate our games. And, of course, we'll be creating new content to release for the 2024 fall season as well!
Our products appeal to customers looking for 1-day events that spark new life into the place they're played in. We make games that can be completed in a matter of hours and allow players to experience other features of the location they're exploring as they play at their own pace. We don't have any multi-day experiences yet, but are hoping to soon!
After Celtic Fest, our team decided to adopt a tiered system of gaming. A Festival of Fae was targeted to adults, yet many families were interested in playing. As such, we developed a simpler Adventure Pack that could engage a group with children, or a set of players looking for some fun and randomness to guide them through the festival. Our core games and immersive experiences, however, may be targeted at those who enjoy challenging gameplay. These games are far more involved, requiring some puzzle-solving skills, hands-on interaction with props, and the endurance to visit almost every area of the park.

Q: Does Roll of Destiny stick mainly with fantasy genre settings or do you branch out into; steampunk, mystery, horror, sci-fi, et cetera?

A: At present, our group is leaning into fantasy as we develop our games. The stories we tell involve magic, monsters, and suspenseful themes because these ideas inspire us. That said, the Meridian Alliance, who will be introduced in this year's game, The Theurgists' Vault is a group that walks the meridians between worlds. Adventures featuring this organization could feasibly end up in any setting: we want to leave our options open.

Q: What do you hope people get from your games that they can't get anywhere else? What kind of response do you get from guests that make you happy you do this? Is there any advice you would give to others looking to form their own LARP-style mini-games?

A: Our team was built on the idea of creating lasting memories. We understand there currently aren't many experiences inviting players to enjoy a game and Faire side by side, helping make familiar regions of the space feel new. From bringing first-time Faire-goers a game that guides them through the park, to giving veteran Faire-goers a way to experience the park like never before, we hope our game inspires everyone who plays by making ordinary days extraordinary.
We've seen people who were uncertain about trying our game come back with big grins and boast about solving our puzzles. We've seen everyone from older couples to groups of high schoolers huddling over our booklet or laughing as they interact with our NPCs. We've seen people sprint across the park to find that last solution before our booth closes for the day, determined to get their prize. That's what brings us the most joy. It's about kids letting out their adventurous side, and adults connecting with the kid in them again.
Our advice to those looking to form their own LARP-style games is to consider every element. It's not just about having a cool idea, it's not just about knowing game mechanics. It's really about developing a team of great people who can cover each other's weaknesses, and who truly value your strengths. Everyone has to give 110% to game development and event hosting, not just one or the other. When you're just starting out, all that responsibility falls on you. The appeal of a LARP is the appeal of immersion—getting to be part of an environment that's different from your normal day-to-day. The players want to be drawn into that world, which means you have to build up that environment, with props and characters and set pieces, so it really feels like they're interacting with a world that's different from their own. In order to accomplish all of that, you need a team that you can trust and grow with, and you need to be ready to put in the effort to make it exceptional.
---
Gallery from Festival of Fae