There is a rapt fascination with the art of the glassblower. From the precision work of the man sitting in front a blow torch as he crafts the smallest detail of a dragon's wing to the powerful forge of an artist as he draws molten glass from the fire and carefully rolls it into shape. The Netflix reality show Blown Away makes this craft accessible to the public, revealing the challenge of working with such a tricky medium. The Ohio Glass Museum offers exhibits where you can see local artists work for yourself. But the Ohio Renaissance Festival offers a chance for you to experience this craft for yourself with chances to not only commission special works but maybe even make your own piece.
---
An Ancient Artform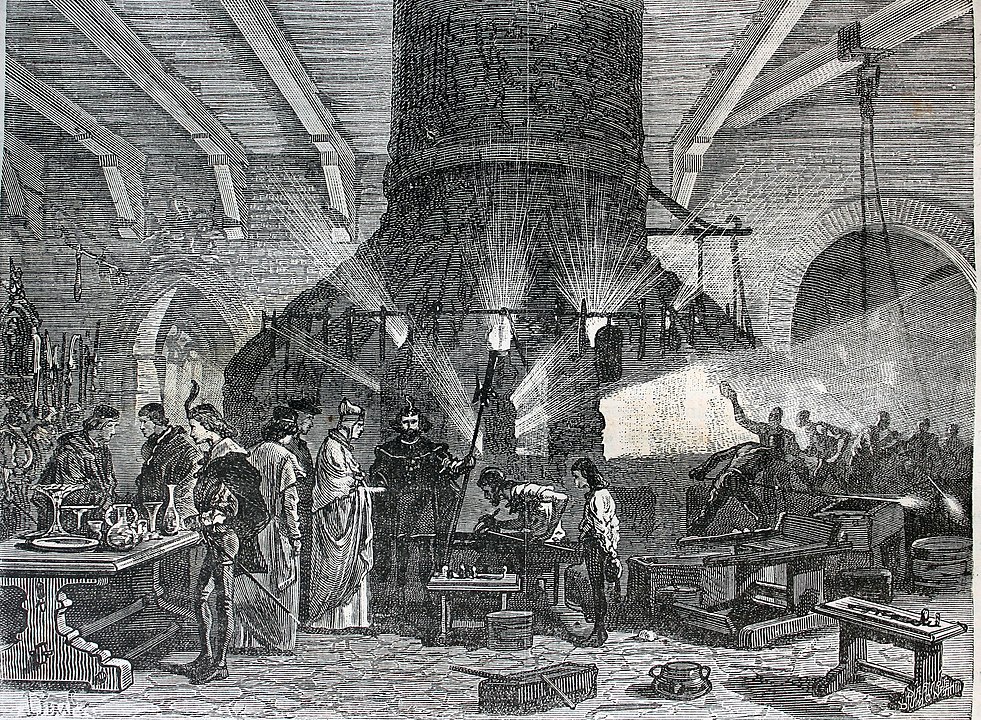 The use of glass is as ancient as civilization, tracing roots back to first-century Mesopotamia where glass beads were used for jewelry. The ability to utilize glass to make actual vessels appeared around the second millennium B.C.E. and continued onward well through the Roman empire and on through the Middle Ages and the Renaissance. For most of history, glassblowing had a relatively practical use, but in the early 1200s, the Venetian Glassblowers Guild was founded. For years they held a monopoly on glassmaking within their region of Europe, refining their techniques and producing their creations from the island of Murano where their secrets were closely guarded. During the 15th century, gold leaf and filigree decorations were immensely popular among the well-to-do of English society. Even today glassblowing (although often done by machine) is still a valued part of our lives. Lightbulbs, bottles, and window panes would not exist if it weren't for the development of techniques over time. So when you pick up a little glass hummingbird tchotchke, you are holding an entire history of craftsmanship in your hands.
---
Tools of the Trade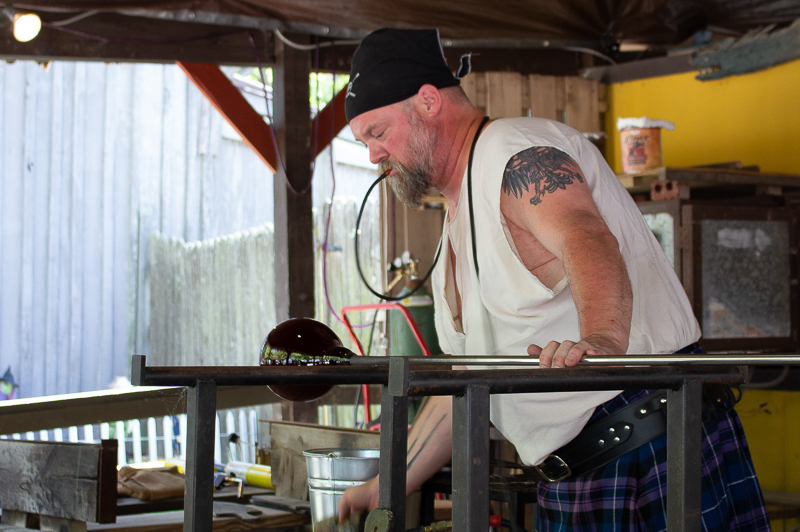 Glasswork is a painstaking process with a lot of variables to consider. The major proponents being heat, gravity, balance, coordination, and artistry for a truly unique result. Glassblowing, one of the featured arts at the Ohio Renaissance Festival, is the technique of shaping molten glass by blowing air into a 'blowtube' to inflate the glass while it is still malleable after being fired. Obviously, the glass is still searingly hot at this point, so an iron rod called a "punty" is used to help hold and shape the glass into it's most basic form.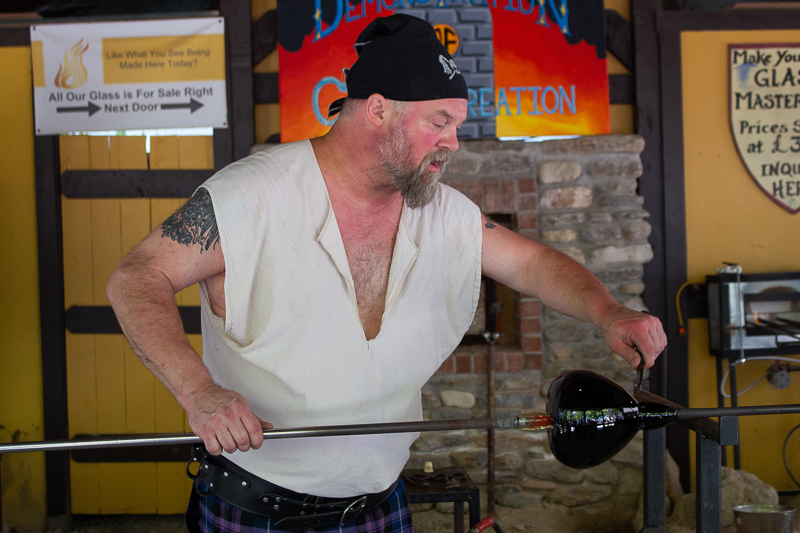 From here a marver, which is a tool made from steel, brass, or graphite, is utilized in order to help with the shaping process. It may be attached to a table, allowing the gaffer (or glassblower) to roll the piece freely and help maintain the necessary temperature for further shaping. Marvers can also have unique forms to create edges, patterns, and texture throughout the piece while it's being shaped.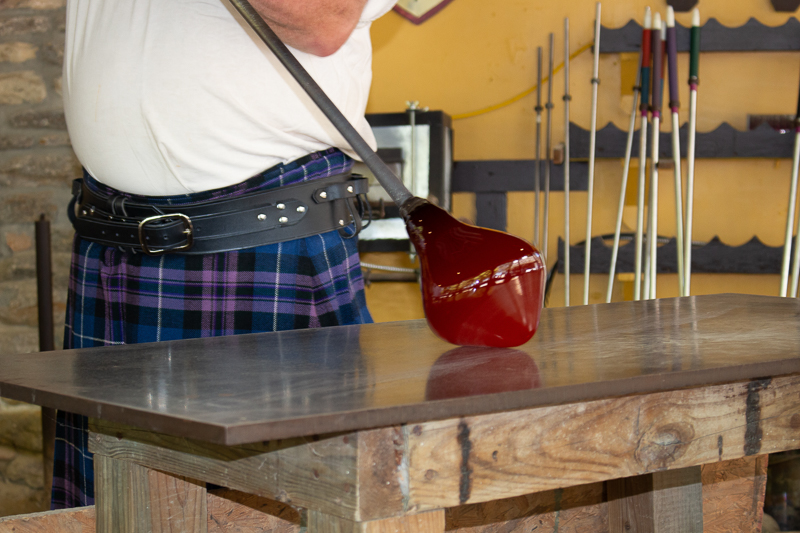 You'll notice many of the glassblower's arsenal is directed at creating the desired end result. Blocks and Paddles are used to help guide the shape of the piece, or helping to make flat bottoms. Jacks are used to form the constriction at the end of the blowpipe where the piece will eventually be separated. Sheers are used to make cuts through the glass for further development towards the final structure. Even wet newspaper is used as a cheap and versatile resource for hand shaping the glass like a potter on a wheel. The potential of these many tools in the hands of a skilled artist is limitless.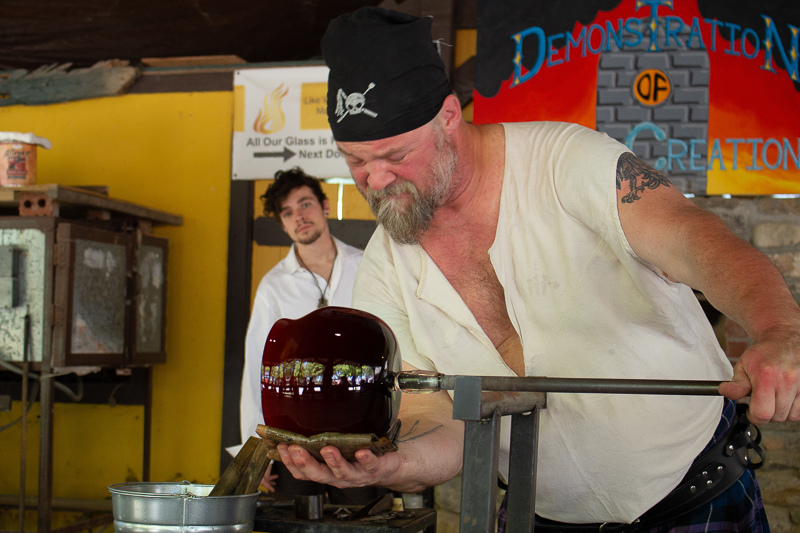 ---
Featured at ORF
Burning Desire Glass Creations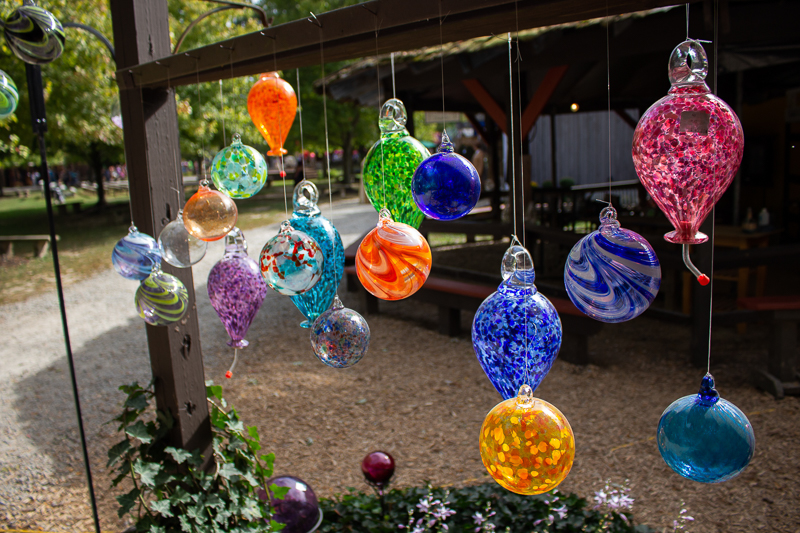 When you first walk in the gate, you will notice a shop set up right across the way. It draws you in with the rich sound of chimes and the cascade of light forming color through dangling glass orbs. Charming multicolor pumpkins line the walls, glass Viking horns hang from the rafters, and as you wader the booth you hear the roar of fire from just next door. The artist, Mike Stepanski of Burning Desire Glass Creations, is hard at work.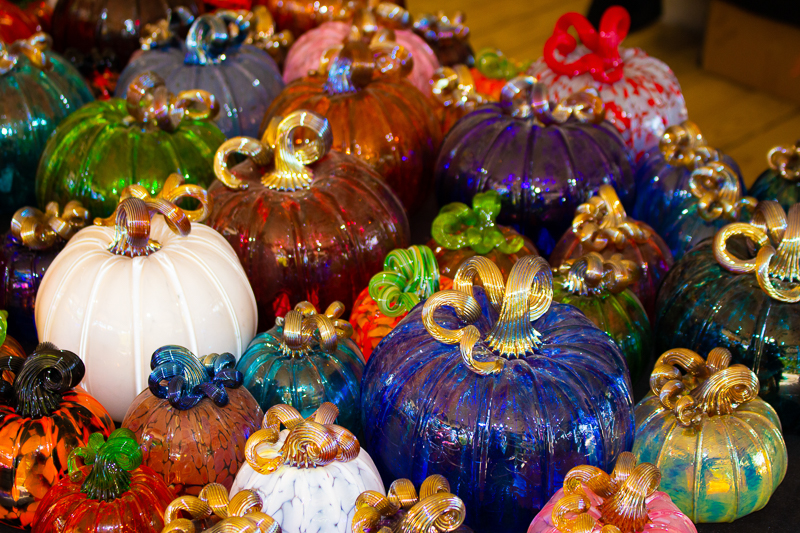 Mike has been blowing glass for well over a decade with many of his pieces available in Lancaster, Mt. Vernon, and Columbus OH. But every year he sets up shop at his studio during ORF, giving people an up-close and personal look at how this art form comes to life. Glassblowing is a risky profession. You working with superheated glass, searing metal, and fiery kilns so it's important to have the proper safety tools and experience before working with such a volatile medium. Burning Desire also has the unique opportunity for a crash course in basic glassblowing, allowing you to create your own piece under Mike's careful instruction.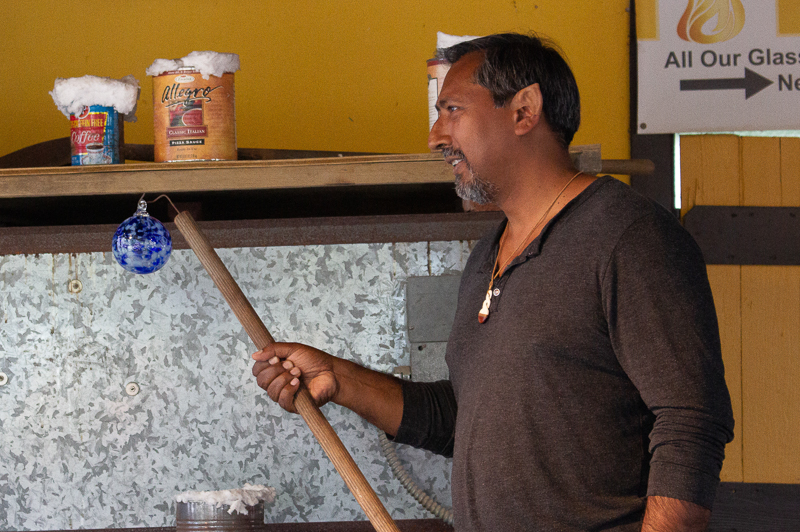 Creations in Glass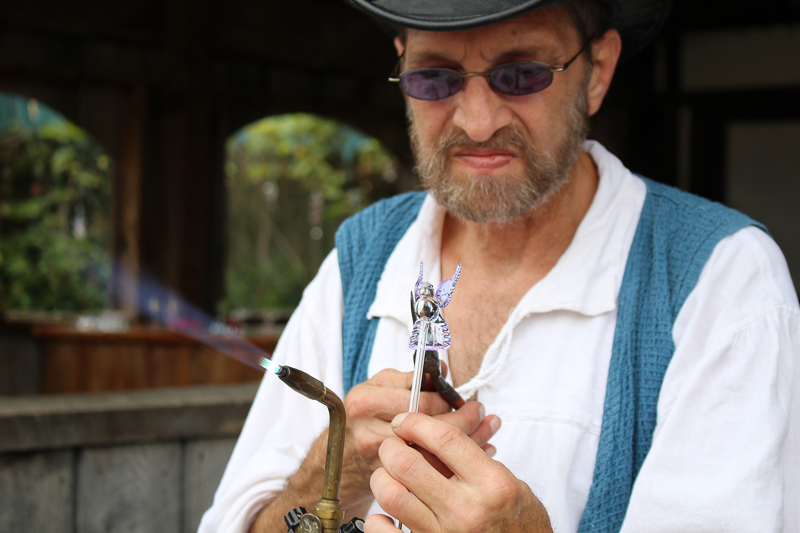 If you turn the corner and head up the hill from the 3 Fools Pub, you'll see the shop Creations in Glass where Al Gardner creates delicate and whimsical glass artistry. From tenderly layered roses to fairies dancing in the breeze, arching dragons to daring pirate ships, these unique works are a feast for the eyes. If you're lucky you may find the creator himself, knelt over a copper dragon with a seemingly endless supply of fire breath as it helps him form these precision glassworks for your education.
---
Looking for More
As you travel throughout the festival you are bound to notice multiple opportunities to make this ancient and stories artwork a part of your home. From brilliant stemware that is sure to add panache to your dinner party, colorful jewelry to match any outfit, or one of a kind artwork to brighten up your bookshelf it pays to indulge in the stunning history and talent of the Ohio Renaissance Festival glassblowers.
---
Sources
The History of Glass Blowing