The Tudor Home
The Tudor style of architecture is so iconic that you would recognize it even if you didn't know where it came from or what it was called. Easily identified from its rectangular shape, timber frame, and jettied second floor, a traditional Tudor house stands out even among modern architecture as having a classic, yet cozy feeling to it. For me, I often imagine a house like this as something in the English countryside, even though it was much more popularly utilized in the cities where there were limits as to how large a building could be on street level. Because of this, it should come as no surprise that the Tudor style home seems tailor-made for a ren faire booth. Many take inspiration from its unique floor-plans for faires across the united states.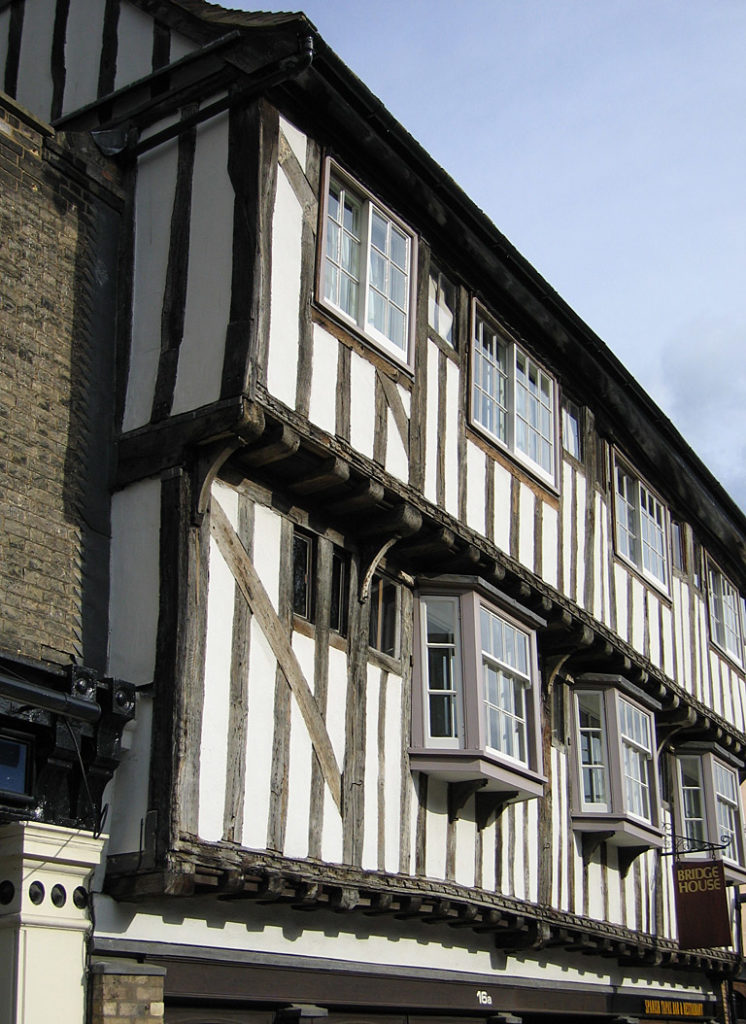 ---
A Renaissance Era Village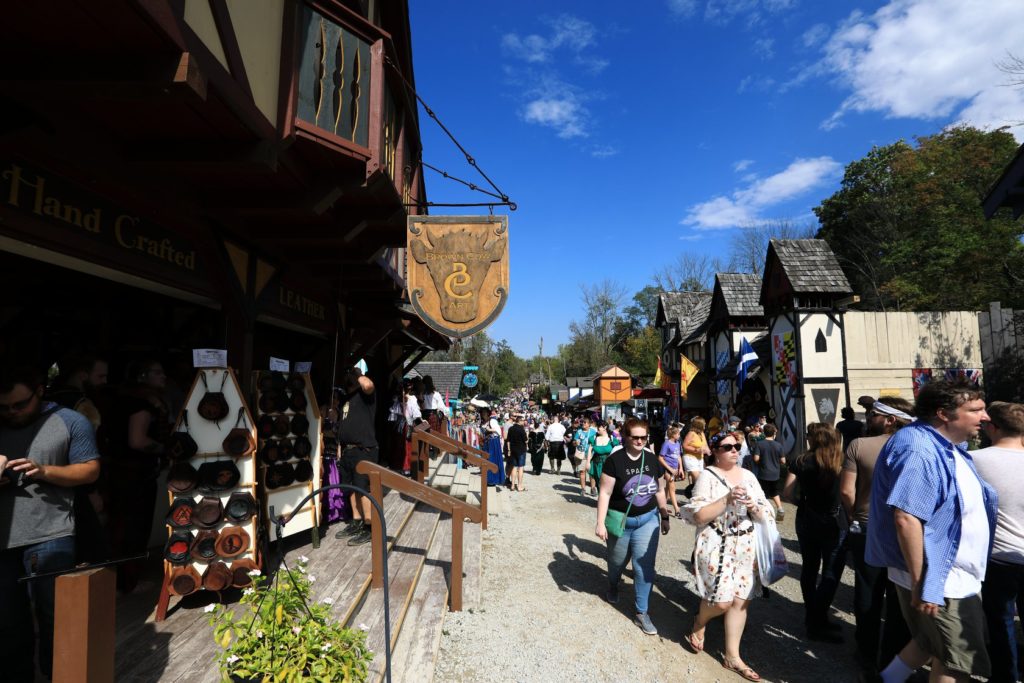 Tudor era architecture dots the Ohio Renaissance Festival, proving the atmosphere of a rural English village from the year 1572. This helps separate Willy-Nilly from the rest of the world and allows the guests to feel as if they are a part of this environment. Many of these buildings are created by the festival, providing stalls for food and beverages, while others are created over time by the "boothies".
Boothies (noun) – crafters, artisans, and creators who provide everything from handmade items to commissions and merchandise.
Standing at the top of the Ups & Downs is my personal favorite booth; The Brown Cow. Owned and operated by Chip Brown, he creates handmade leather-working with everything from corsets to flask holders, journals and pouches. While I adore his work and I have every intention of making a few purchases for myself this year, I am continually impressed by the layout and construction of this particular Tudor 'house'. I've said more than once that (had I the money and the land) I would beg, borrow, or buy the plans off him and happily pay someone to construct it as my house with minimal adjustments.
There is so much love put into this building that I almost hesitate to call it a booth. It is a favorite spot during the festival and after hours. Jam sessions can be found there on a regular basis and the crew that mans The Brown Cow is always some of the friendliest you can find. Chip is always good for a chat if you can catch him between customers, and the atmosphere of the booth really is a microcosm of everything that makes faire special.
---
Putting the Skillset First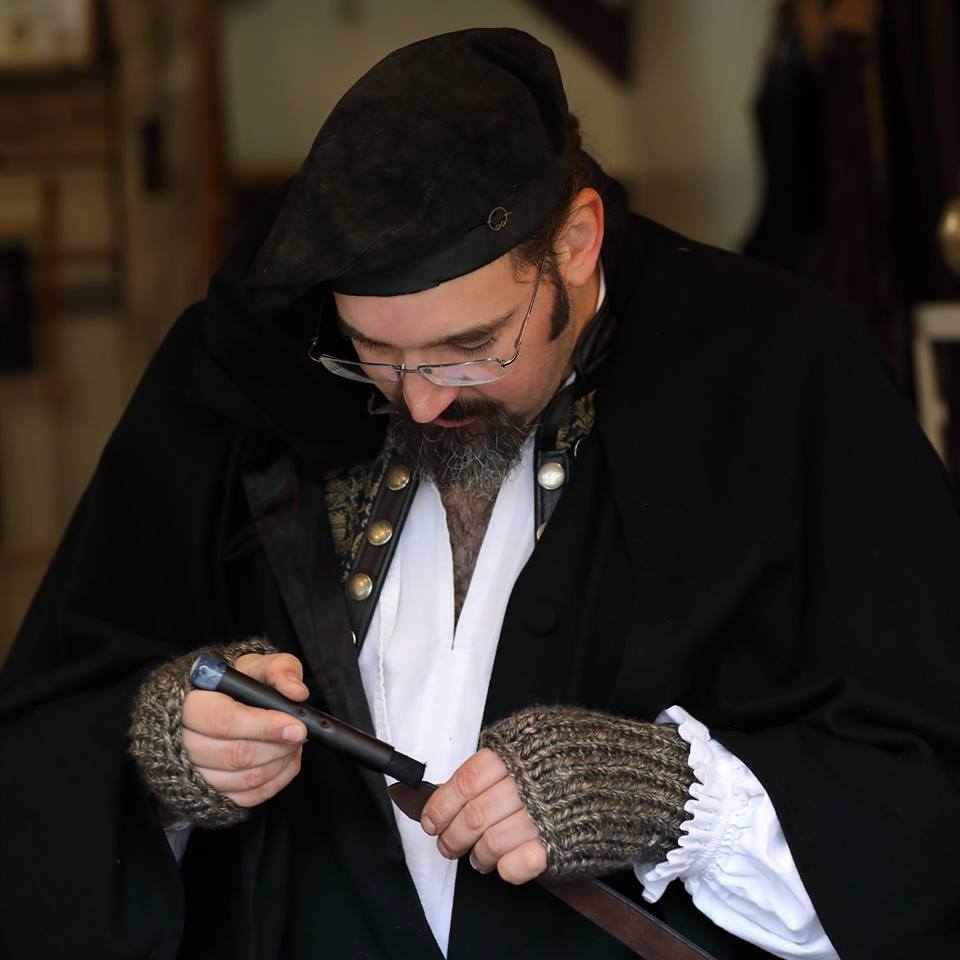 Chip first attended the Ohio Renaissance Festival in 1996 with some friends from college, 9 of them piled in a Geo Metro for the drive down from Columbus.
Chip: "It was an adventure. Fortunately, most of them were tiny people, but it was still akin to a clown car! I was a freshman in college my first time visiting for a day, and was immediately hooked, but little did I know then how it would swallow my life."
He was first introduced to leatherworking in shop class in junior high. Chip made belts, wallets, and keychains, all with the western floral tooling. In 1997, when he was a junior in art school, leatherwork began to translate as just relief sculpture in a different medium, heavily centered on hand carving. He started working the faire in 1999 as a waterboy while his then-girlfriend had a job selling feather fans. Chip ended up part-timing for the Pirate's Treasure booth for a few years but he started getting a real taste for leather work when he switched to the Queen's Armory booth in 2003. Even with the challenges of life outside of faire, Chip began to feel a calling towards the craft as an artisan and eventually, as a businessman.
Chip: "The quantity, quality, and complexity of my leatherwork steadily grew through custom orders. I remember looking at some leather covered sketchbooks and thinking 'I could do better than that.'"
---
Establishing The Brown Cow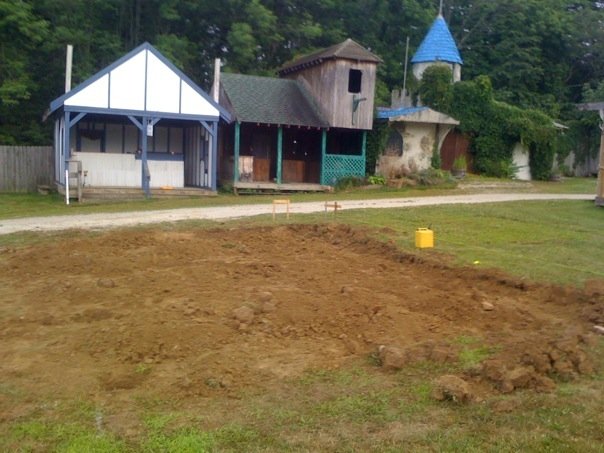 Chip committed himself to opening The Brown Cow as a business for the 2007 ORF season. He had a decade of experience with custom work to his name, but that was just the tip of the iceberg. With a product line to establish and the deadline of opening day looming, building a booth was the last thing on the list. After two years in a tent and surviving Hurricane Ike, there was a scramble to find suitable accommodations to continue until the end of the run. It was at this point that Chip realized building a booth wasn't just a nicety, but an eventuality.
Chip: "I enjoy construction and making things, so building the booth was a definite labor of love, completed in pieces over years."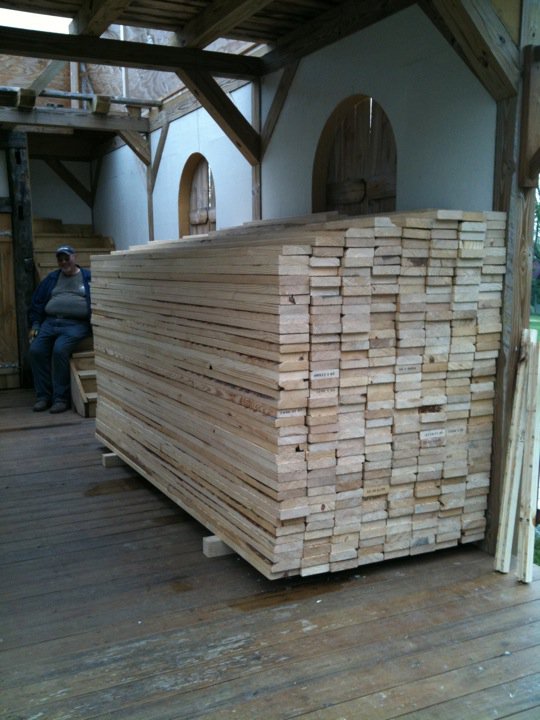 The Brown Cow broke ground in 2009, with Chip and his crew working all through the summer to get it up before faire. The process was long-term. With a full-time job to content with, time had to be taken where it could be found. None the less the walls were up by the first opening gate with the top being made from a tent.
The entire summer of 2011 was spent getting the building up to snuff and creating a second floor to accommodate back stock, storage, and a changing room for their crew. Hours of sweat, splinters, and shingles went into the construction, but The Brown Cow began to take shape as it conquered the hill it was set on. A raised garden was added as well as a trellis and fountain, creating a relaxation area that provides shade and seating to customers after the long walk along the gravel road.
---
Growing and Expanding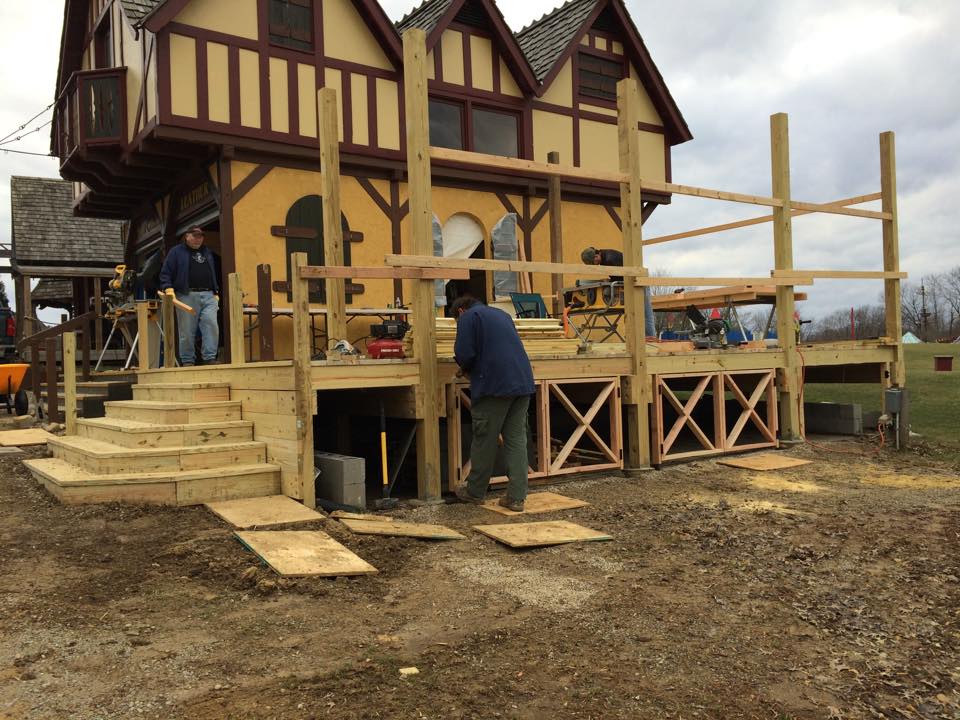 In 2016, Chip faced a new challenge. With the decision to expand the booth there came a new dedication to accomplishing his vision. They broke ground on the extension in October, pushing to get the footers in concrete before the weather turned cold and the ground became unworkable. Weather in Ohio is notoriously unpredictable at the best of times, and you have to make yourself available whenever there is the opportunity or risk losing daylight.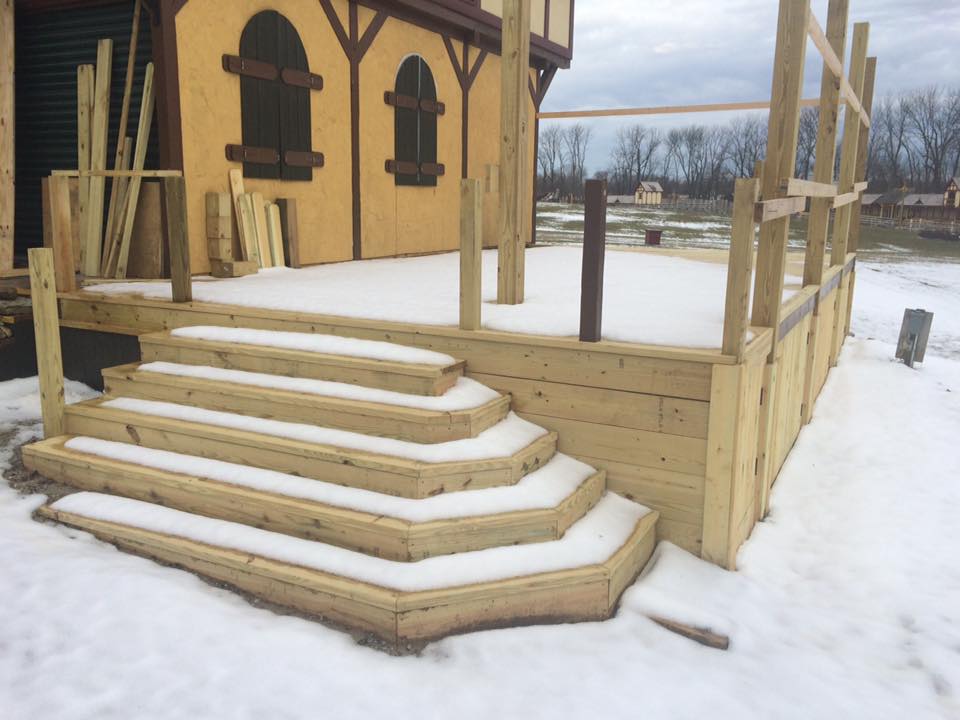 Chip: "We were then onsite building every day during the winter that was warmer than 45°. In the spring of '16 we spend six solid weeks living on site working on the extension, plus 3-4 days a week most of the year."
The process was exhausting but worth the effort. This wasn't just about creating a shop, but about establishing a home away from home for the people who work there during the run of the festival. The goal was a shop that was bright and inviting, with as much natural light as possible, good air flow, and good traffic flow. The open floor plan of the first level makes it easy to move about for commerce or conversation. They took advantage of their position on the hill to create air flow that keeps the shop at a reasonably comfortable temperature, as well as utilizing large second story windows who helps heat move up and out of the booth.
Chip: "When designing the extension, there was a lot of thought as to how to keep the clearstory unbroken, which added challenges to its design, but also adds to its character."
Chip paid a great deal of attention to traffic flow. The large doorways and multiple exits make the space feel open and inviting. Faire can often become a crowded place, but The Brown Cow allows for free movement whether you are just visiting, trying on your first wide belt, or discussing commissions with the leather-worker himself.
Chip: "I designed the booth directly from examples of Tudor architecture, though part of the interesting shape of the extension stems from logistically adding onto the existing booth. Everything in here from concept to construction has been done with practicality in mind without sacrificing comfort or space."
---
Tudor "Revival"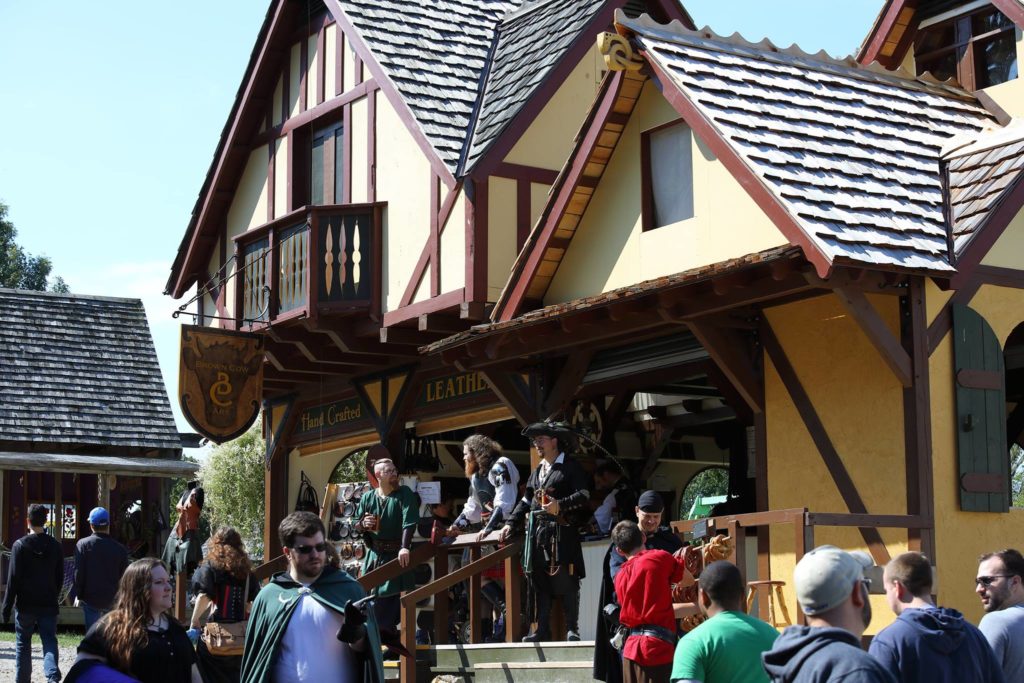 Creating a booth doesn't happen overnight. It is a long term commitment that goes beyond mere business acumen and into a true passion that develops into a lifestyle. The Brown Cow is far from the only excellent example of this on ORF grounds. Each one of these buildings is something special. Each one of them has taken hours of love to achieve. So the next time you visit the Ohio Renaissance Festival, take an extra moment to appreciate your surroundings. Who knows, maybe now is the time to break ground on your own Tudor cottage!
---
The Brown Cow's Construction in Photos
---
Learn More about Tudor Era Architecture
Videos and Documentaries
Informational Articles