Spooky season has been declared, and everyone is ready for the scares to begin! I find it fascinating to see what people gravitate to in times of crisis. I clearly remember people decorating for Christmas in July this year, and for once I understood the need for it. Whatever it takes to bring a little joy into your life. Whatever you need to help keep your chin up. But while some people prefer the 'joyful tidings' of Christmas, others leaned HARD into Halloween, eager to embrace the dark holiday early this year.
Now, I could go into a long explanation about the theory of dark holidays and the psychology behind normalizing the things that scare us, but there are plenty of articles and videos for you to go to if you please. For now, I want to turn my attention towards the fun of fear, and why it's so important for haunt season to happen in 2020.
Right now, everyone is looking for a healthy dose of escapism. A chance to be with friends and experience a bit of 'scream therapy' for a while. This is within the realm of possibility provided that everyone practices a little bit of conscientious courtesy. A good haunt is almost the perfect opportunity. You go through in the small group of people you arrived with, and they always wait a little while before sending the next group in so you have the opportunity to experience it alone. You can scream and howl and get that delightful jolt of fear, followed by laughter and relief because the 'danger' is over. You come out the other side feeling safer, and less stressed. And I think that's something to be appreciated.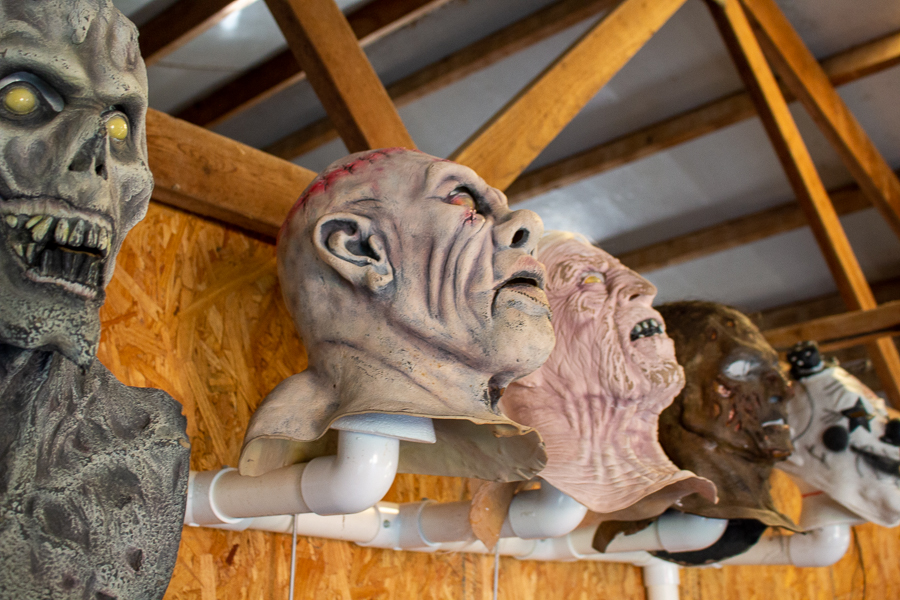 Brimstone Haunt lies in a spooky little corner of Renaissance Park just over the hill from the main gate of ORF. Behind the wooden fences and rows of corn, the BH team works year-round to produce superior scares for just a few weeks of the year. They attend haunters conventions and training camps looking for new ways to bring out the best (or beast) in their attractions. But this year there was the added rigor of preparing to scare with COVID. Many haunts operating around the country are taking into account how best to prepare their teams without sacrificing the experience guests come for. It's a daunting task, but not an impossible one. This year we had David Smith, the entertainment director for Ohio Renaissance Festival, come over to give the cast of Brimstone lessons in projection and socially distanced entertainment.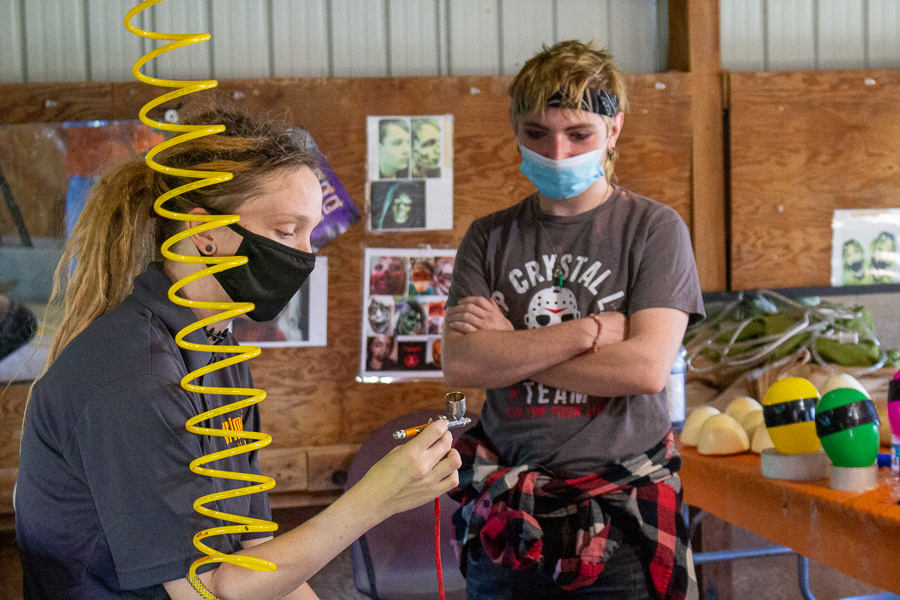 At Brimstone Haunt we adapted the way we scare in the current environment. We start with the actor training, emphasizing social distancing and how to engage patrons from a distance. We reviewed costumes and found inventive ways to include PPE in the designs. We have changed scenes to be elevated and more showcased for all to see and experience. It's a learning experience and we review after each night to find ways we can improve to keep everyone involved safe and entertained. "

David Smith, Entertainment Director at Brimstone and Fire LLC.
Obviously, we couldn't miss the opening night of the season! I love getting there just before the sun sets. You get to watch the crowds arrive, the smell of fall crisp and tingling in the air, and the crackling of a warm fire creates just the right atmosphere for spooky things to begin. I have a hard time picking which attraction is my favorite, as each offers its own unique take on haunts with some amazing scare actors manning them.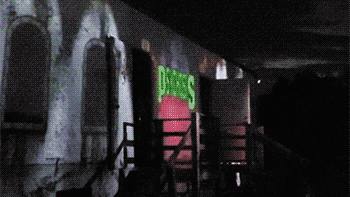 PSYCHOSIS has some of the best shot-for-shot scares in the park. An asylum has gone awry and now the inmates have taken over! With blasting heavy metal music and strobe lights confusing your senses, it's impossible to know where the next scare will come from. As you try to turn each corner with wary eyes, you're forced to dodge spike walls and saw blades coming for you out of nowhere! It's one of the shorter attractions at the park, but very intense. I wouldn't advise this one for anybody under 16, as some of the imagery can be pretty brutal. An excellent start for the night if you're into hardcore haunting!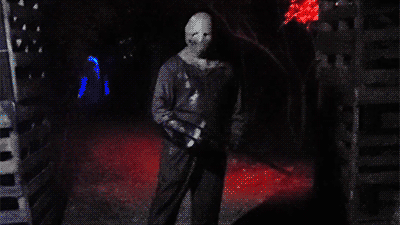 The FORGOTTEN FOREST is shrouded in mist and mystery, with no telling what waits for you around the bend. Each scene is entirely unique, giving you everything from disturbing dolls and trailer park zombies to pitchfork-wielding crazies and killer clowns! The dense trees shroud the environment from outside noise, making you feel utterly isolated from the outside world. The dread builds slowly as you walk the pathways, wondering what comes next. This attraction is a good twenty-minute walk, so you really get the most bang for your buck out of it. It's also less intense and jarring than PSYCHOSIS, so I think it's just about right for the 14+ crowd.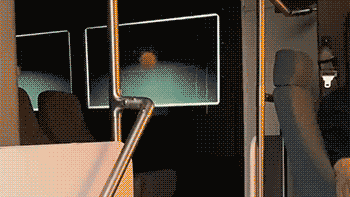 ZOMBIE ASSAULT is perfect for those of you who want to live out your favorite undead apocalypse nightmares! Take a seat for the best (and possibly last) ride of your life as you travel with a group of survivors through dark, zombie-infested back roads as you move from one location to the next. Hoards of bloody creatures moaning for your flesh crowd the bus and try to break through. Your only hope is to escape before they succeed! This is defiantly a fun attraction for most haunt crowds, allowing you to take a seat as your brains get rattled. I wouldn't advise this for anyone under the age of 13+, depending upon what kind of horror movies you let your kids watch.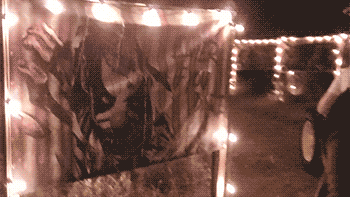 Last of all we have the HAUNTED HAYRIDE! This is a great ride for small groups and kids about 10 or older. What starts as a leisurely hayride through the cornfields turns into a cursed trail where scarecrows and eldritch entities wander freely. There's just enough time between scares to catch your breath, which makes for a well-paced and truly spooky experience for everyone. Perfect for everyone in the 10+ range, the hayride is a great opportunity to get off your feet and still stay spooky!
Brimstone Haunt is open Friday and Saturday now until October 31st. Skip the lines and get your tickets online. The ticket booth opens at 7 pm and closes at 11:30 pm so make sure you get there on time to get your attraction tickets or buy online before arriving!
The attractions open as soon as it's dark and run until the queue is empty with the exception of the Haunted Hayride whoes queue closes at 11:45 pm. If you miss the Haunted Hayride queue deadline no worries, your ticket is good for the rest of the season.
Parking is $3 and there is a concessions booth with hot food and drinks as well as a bonfire to keep you toasty as the weather turns chilly. Please check with the Brimstone Haunt website before visiting to see if there have been any updates to the COVID-19 Policy as it is subject to changes in accordance with statewide mandates.
---
Magical Days, Madrigal Knights #2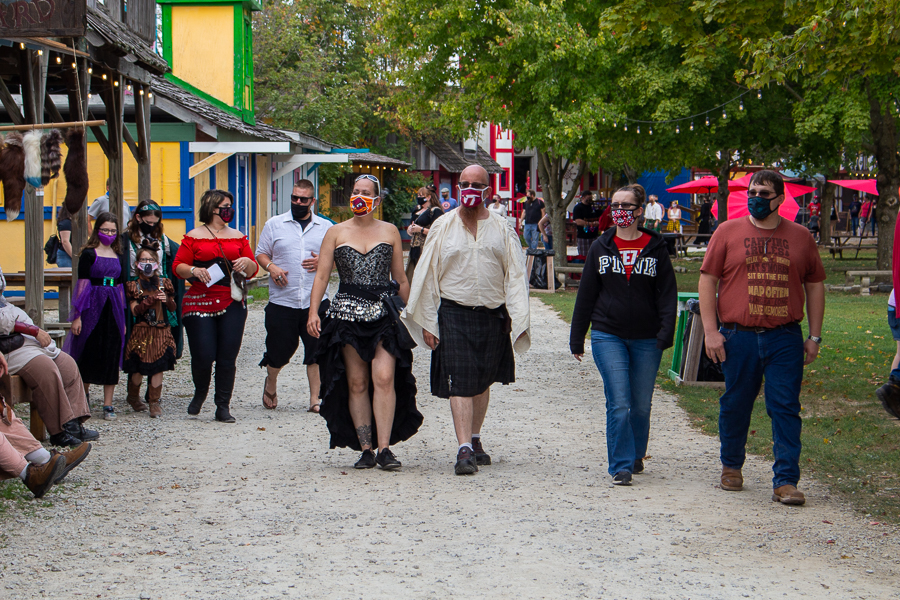 As the weather turns cool more people turn up for the Magical Days limited capacity event on the ground of the Ohio Renaissance Festival. You couldn't have asked for a better atmosphere this weekend. People were out, the mood was high, and the breezes caressed the hillside. It's difficult to describe the feeling that comes with a good faire day. It's a sense of lighthearted ease and the smell of pretzels, the yell of the actors, and the cheer of the crowd. Last weekend nailed it. People were in a good mood, and it was reflected in the atmosphere of the grounds and the activity of the cast.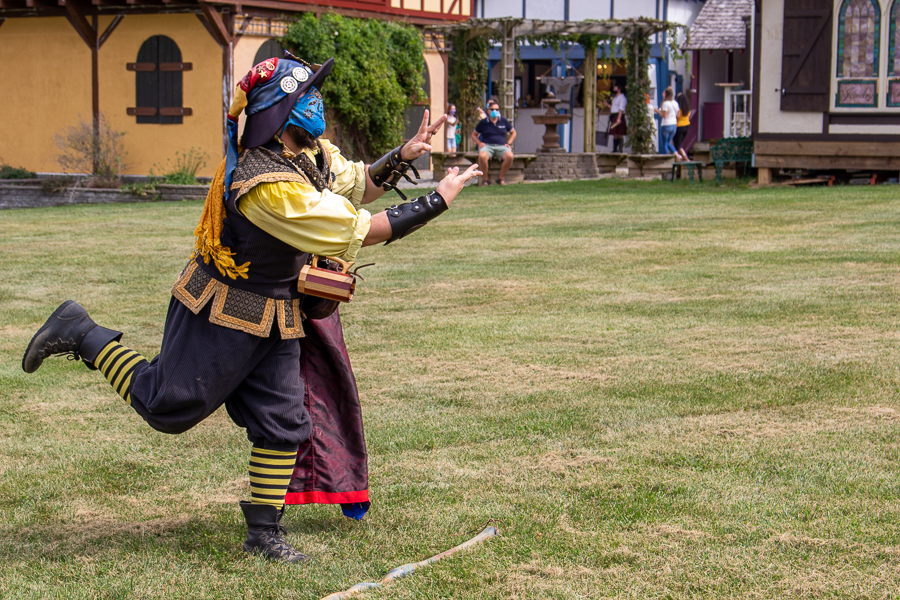 For those of you who's never experienced Rat Tossing, it is a close cousin to Rat Pucking, the Willy Nilly original game of golf except with rats. And what better way to mock the plague than by tossing fabric rats at a goal line! Winners are determined by who gets the closest to the marker without going over, and the game continues around the village for several rounds until a definitive Rat Tosser can be declared. It's even more fun when the village gets involved, providing obstacles between the tosser and the goal! The crowds love watching this strangeness unfold while they eat their lunch, and it's just one of many little ways in which the entertainment never stops.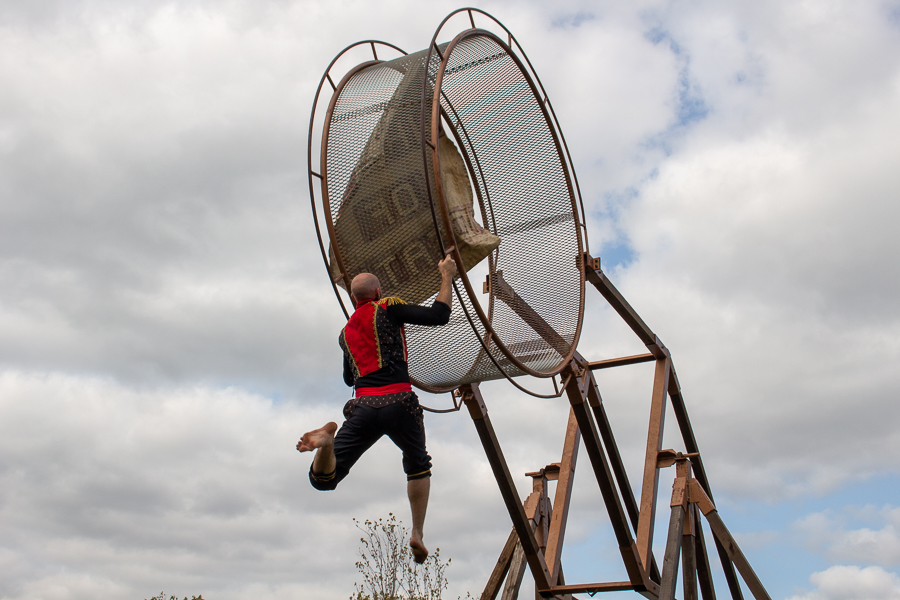 The Wheel of Death drew crowds for show after show as Ichabod Wainwright – a.k.a the Wheel Walker – performed stunts atop a massive spinning wheel behind St. Peter's Church. From the warm-up to the final stunt he kept the crowds going with a flair for sarcastic commentary and flaming axes! Watching this guy take to the air and float for that bracing moment where you don't know if his feet are going to come down in time is massively cool. There is not enough appreciation in the world for the classic carnival-style performances where people have spent years honing this skill. It's great to see more of this coming into the popular culture and I hope we can get the Wheel of Death back in future years.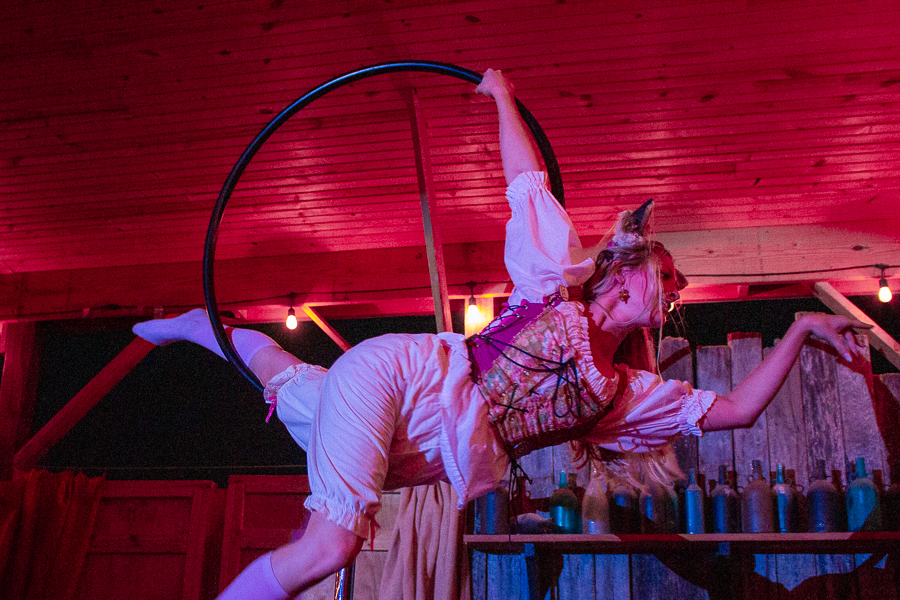 At least once a year we have to take time to so see the Singing Sirens of ORF! They have two shows at the 3 Fools Pub which are suitable for the general public, but it's the Naughty Bawdy Pub Show that takes the cake! They add new bits every year including new songs, performers, and even a beautiful burlesque demonstration that will blow your socks off! You couldn't ask for a better way to end the day than with a few laughs and a super cute enamel pin to commemorate your experience there. There is only one more NBPS, so if you are coming to the October 17 Magical Days, Madrigal Knights event make sure to come see the Sirens for yourself!
It's hard to believe that October is just around the corner. We have two more Magical Days, Madrigal Knights, both of which are entirely sold out! Brimstone Haunt has five weekends of terror just waiting for you. The 1572 Roadhouse Bar-B-Q has Southern Accents appearing on the Shipwreck Stage October 3rd and the BBQ closes to the public for the season on October 16th with its final Bike Night + car show and special guest Sarah Sugar & the High Crimes! Don't miss a moment of fun before winter sets in!