Day One
Music festivals exist as liminal spaces, at least for me. While some names may stick out as the headliners of an event others exist as an unknown, which opens up the opportunity for me to experience something new. This is especially true when it comes to a genre of music I'm generally unfamiliar with, as I was this weekend.
Bellwether is an alternative music festival held during a two-day event. This is its second year at Renaissance Park, which is also the location for the Ohio Renaissance Festival, Brimstone Haunt, and Sun-Henge. This was my first year attending, so I wasn't entirely sure what to expect. But I was interested to see what I was getting myself into. I'd heard of a handful of these acts, such as Cake and Katie Pruitt, but the rest were a mystery to me.
Right off the bat, I recognized this was a very different crowd from the one I am used to. A relaxed but enthusiastic group of music lovers looking forward to spending their weekend coming to see the bands they love and the music they appreciate. Many of them had set up camp on Thursday and began wandering through the grounds, enjoying the atmosphere and grabbing a bite to eat before the bands got started. I followed suit, figuring I'd see what caught my attention and brought me in.
---
Fredrick the Younger at the Acoustic Stage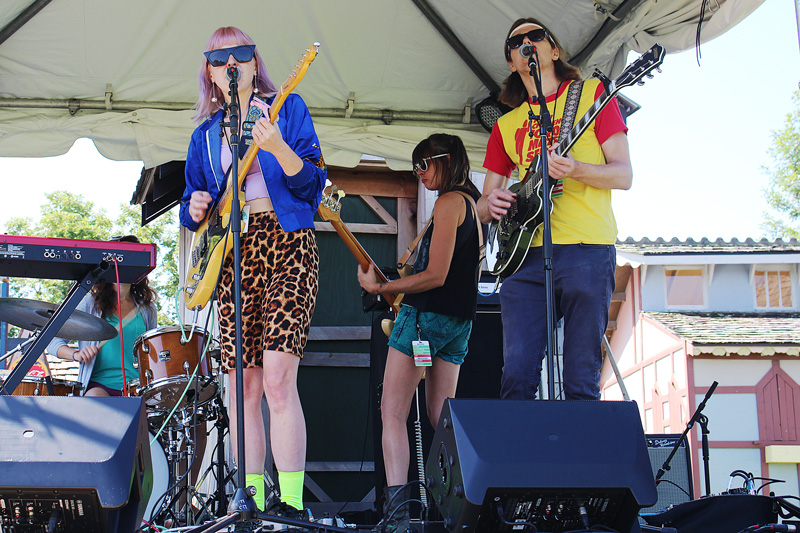 One of the first to really draw me in was Fredrick the Younger. They were a perfect way to start off the weekend. A funky, mellow sound that was very easy to get into. Their lead singer, Jenni Cochran was very impressive. I found her voice had a hypnotic, playful quality which put me in the mind of summer road trips and listening to early 70s music with my mom. Defiantly a band I'll be looking more into later.
---
Caroline Rose at the Sunset Stage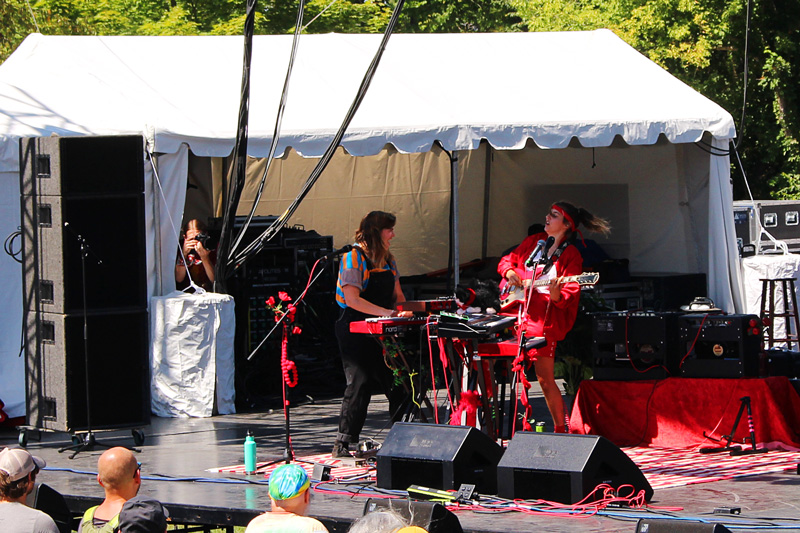 I'm not usually into synthesizers, but I'll admit this group had me from the get-go! There was something truly fun about Caroline Rose, from the way they just got into their music to the dreamy echoing of her voice over the field. Their music has a bouncy, quirky motif that got me bobbing my head along pretty quick! They were on my Spotify the whole way home, and I'll be looking for some albums in the future.
---
Elton John towers over AC/DC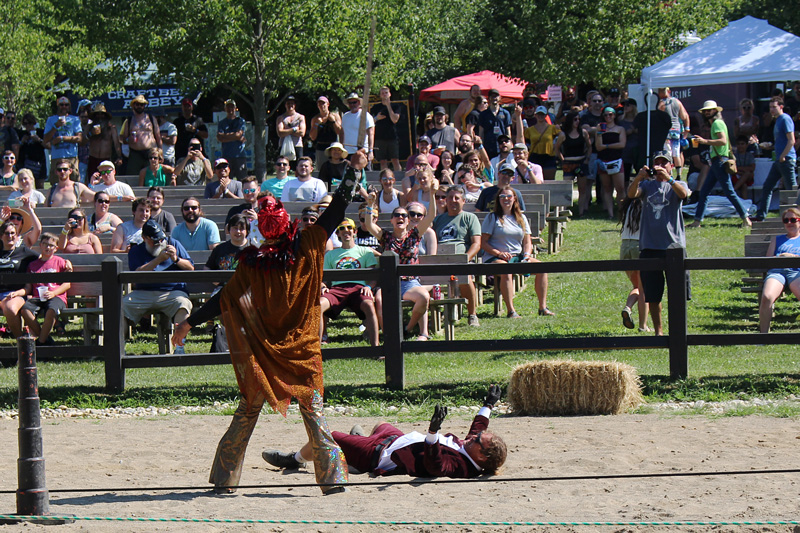 Before I stopped to grab a very late lunch, I caught sight of a joust gearing up! I'd seen something about that on the website, so I was curious to see where this was gonna go. I started laughing when I saw famous rockers like Elton John, ZZ Top, and Freddie Mercury line up to compete in a jousting competition to see who would come out a Knight of Rock & Roll! These are the same guys who do the Knights of Valor jousting during ORF, so it was nice to see them having so much fun in the outlandish costumes and getting to play to the crowd.
---
Lunch Break at Roll On In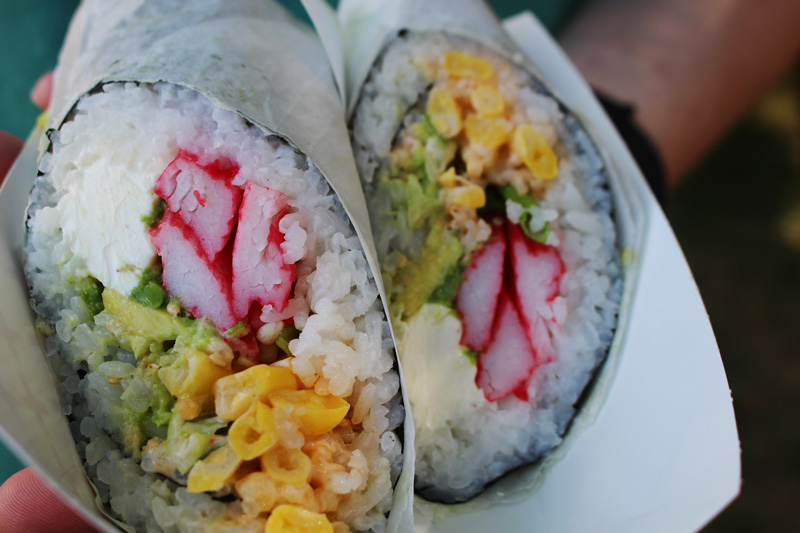 I was SUPER thrilled to see something light available. Don't get me wrong, I love a big BBQ sandwich or a funnel cake. But in the dead heat of the day, it can be nice to have some cool, refreshing options available to you. Since this weekend was about trying new things, I stopped by Roll On In to get a bite to eat. I was very happy with their California Roll sushi 'burrito', especially the crispy tempura texture along with the spicy mayo.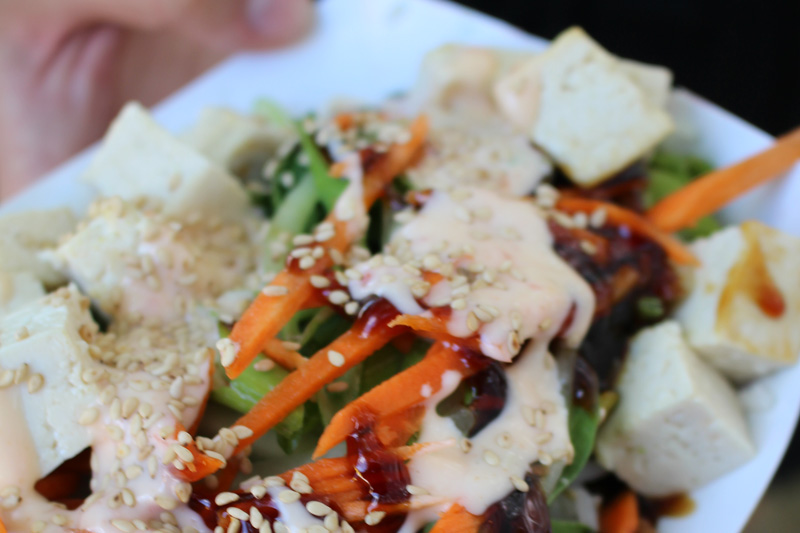 By this point the crowd had started to pick up as more people got off work for the weekend. I started seeing more kids running around, making new friends as they played amid the bubble wands and hula hoops. Everyone was having a really good time, and even a few booths were open around the festival grounds for people to take a peek at. I ended up sitting around and having a chat with different groups and it astonished me to realize how many of them had no idea there was a Ren Faire held here!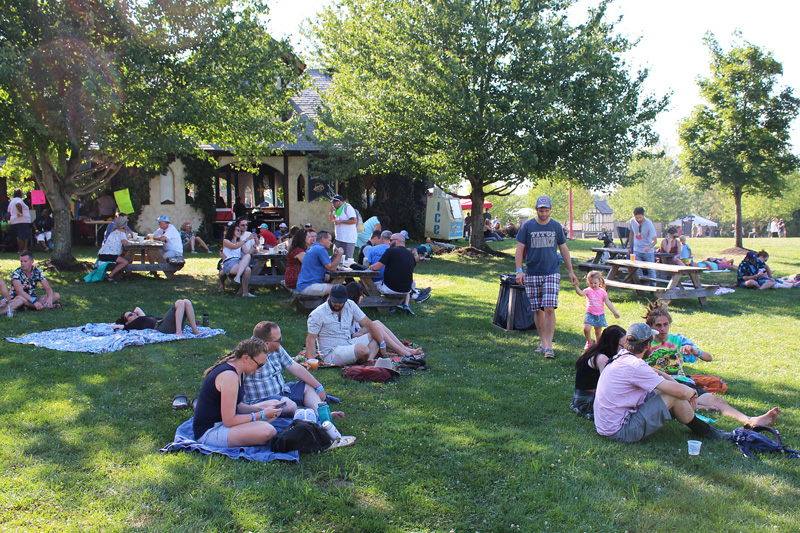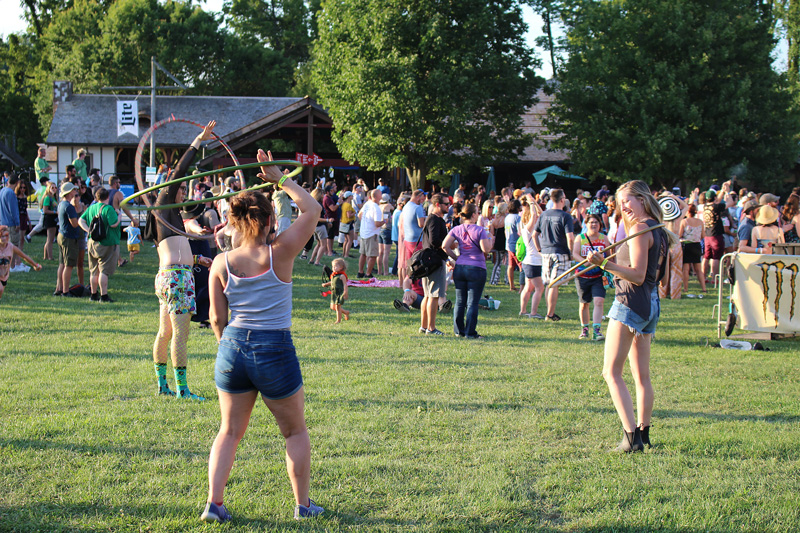 ---
CAKE!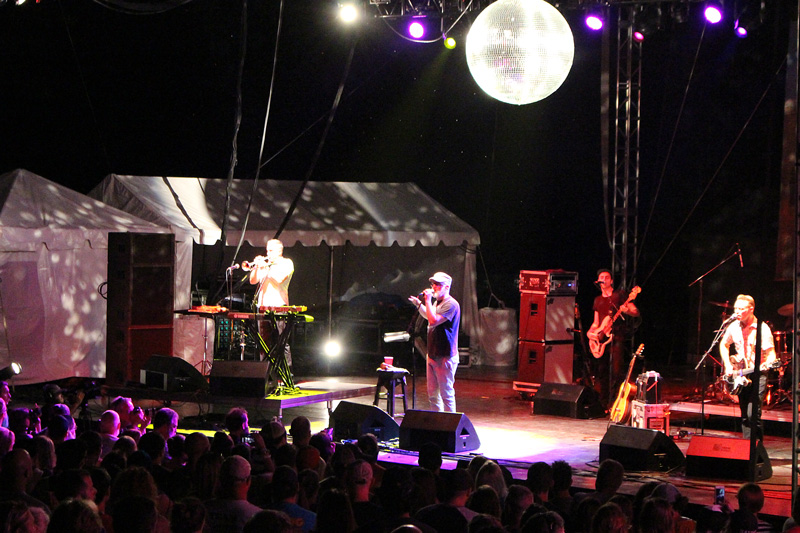 The music acts for Friday evening closed out with Cake on stage, giving the crowd what it came for! It was a truly stunning show, and the field was lit up with glow sticks, LED balls, and everyone dancing their hearts out as the band played on. I was defiantly into the spectacle of it, dancing around the field and as a drone flew overhead for probably the best view of the day!
---
Day Two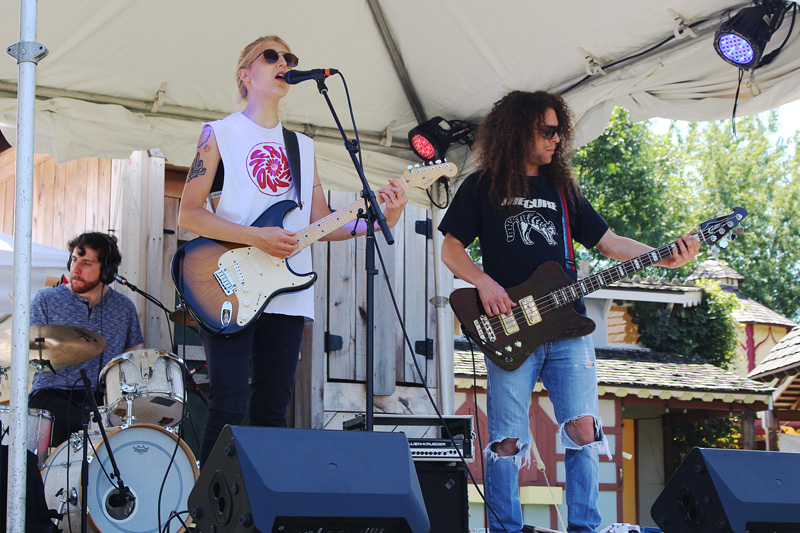 Things were a bit more crowded on day two. I think once the weekend actually hit people were eager for something fun to do. I got on site just in time to listen to Souther start up, which was a really nice way to start the day.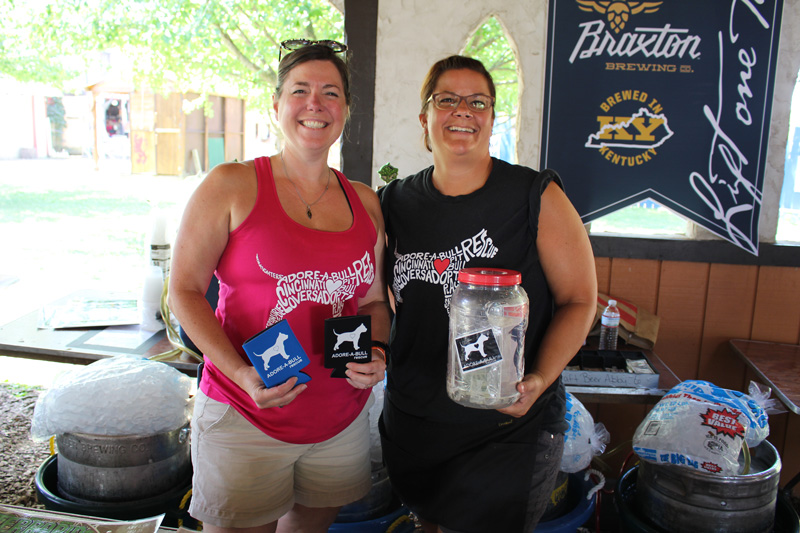 There was beer tasting going on in the church and I ended up meeting these two lovely ladies from Adore-a-Bull Rescue. It was wonderful to chat with them and discuss some of the misconceptions about pit-bulls and what it takes to be a forever parent to your pitty. It warms my heart to see people who take forever homes seriously and want to find good candidates who want to provide a loving home to a future family member.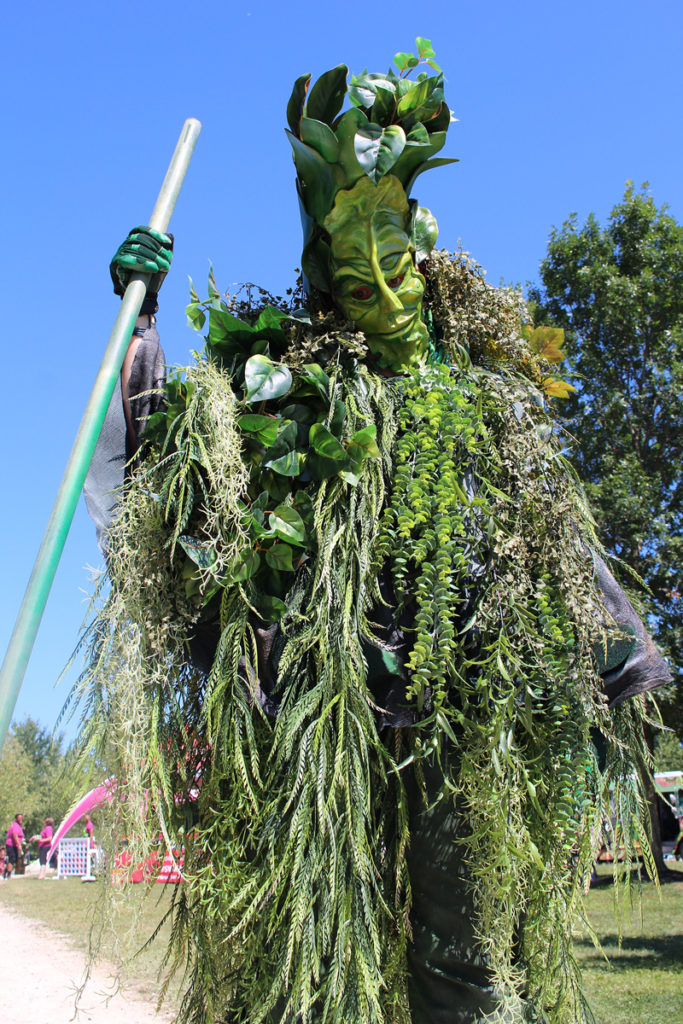 The vibe on day two was very relaxed, which I appreciated. You could just wander from stage to stage, enjoying the music and atmosphere as a nice breeze traveled through. Some of the players from ORF were walking through the lanes, posing for pictures and having fun. It was nice to float around chatting with everyone and seeing what they enjoyed most about Bellwether. A lot of them are making plans to attend ORF when it starts up in just a few weeks, so I'm sure I'll be seeing them again soon!
All in all, Bellwether was a lot of fun! I heard a lot of people expressing their excitement that the festival was being held within the grounds this year as it gave people more to go and look at. I look forward to seeing this grow over the coming years and hopefully I will get to attend in 2020 as well!
---
Bellwether in Photos