Nestled in the neat country village of Morrow Ohio is the Valley Vineyards Brewery. This inviting little venue hosts several events throughout the year, but for my money, the one to attend is the Wine and Beer tasting. Where else can you sit back and enjoy a bottle of their blackberry wine with Queen Elizabeth the 1st? Well, the Ohio Renaissance Festival for one. But if you don't want to wait until September then this is the place to hit. Every June Valley Vineyards holds their Beer and Wine Tasting. This year it fell on Saturday, June 8th.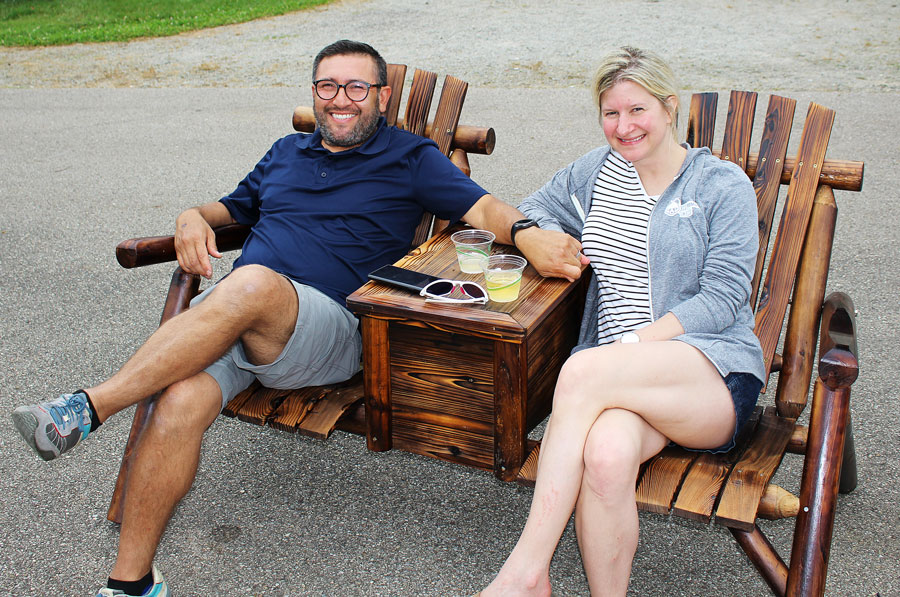 People arrived in groups, some driving for hours just to attend, and others walked from across the street, passing by the vineyards glistening in the breeze. People seem to be making friends easily, either having brought their own or by milling about and discussing their favorites from the selection. It's fun to see the groups forming. Wine Aunts in their chic outfits and monogrammed goblets, Cargo Short Dads sipping from their stacked cups as they work their way through the delicious variety of beers. It encouraged an environment of conversation, inviting in both the casual drinker to the more refined palate.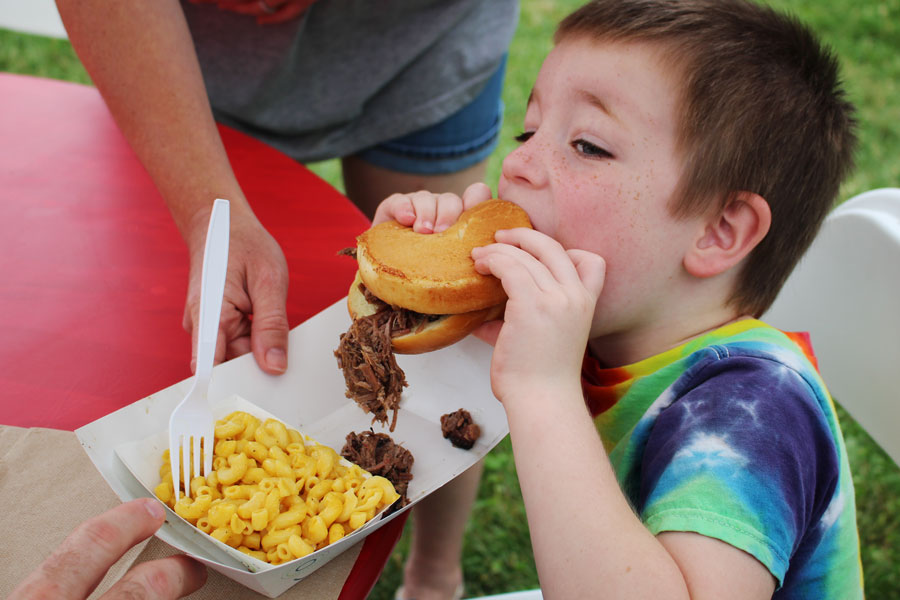 You could not have asked for a better day to stroll around sampling beer and wine. The light sprinkling of rain did nothing to dampen the spirits as people walked from booth to booth, excited to see what Celler Dwellers had to offer. The smell of BBQ and funnel cake rose in the air, and kids who never met before were happily making up their own games in the field behind the tent. Music by the cover band Templin Rd 186 cast a welcoming mood to the event, and it was easy to find a place to enjoy your glass.
I am by no means a wine connoisseur, but I know what I like and when I taste it I am likely to indulge. Being a part of the ORF community is important to me, so this was a wonderful chance to say hello to some of the cast members both returning and new. Partnered with ORF for the better part of the last 15 years, Valley Vineyards is a treat I keep coming back to enjoy. It is a happy little trip for me to go once a year and take back a few bottles for myself, not to mention one or two for some friends.
This year I was especially enamored with the silky texture of their blackberry wine. Growing up in southeast TX, we had a patch of woods just beyond the easement. If you didn't mind carrying a bucket and watching out for snakes you could find a treasure trove of wild brambles, bent low with fat, juicy berries just waiting to be picked. My mom and I would go out every summer to collect them, and if we were lucky about half would make it home, the other half vanishing with nothing but the dark purple juice staining my fingers and clothes as evidence. As I sampled the Valley Vineyards blackberry wine I was immediately reminded of the bowl of sugared, fresh blackberries that would be on the table for the next few days. It couldn't have made me happier until, of course, Her Royal Majesty was kind enough to show me her favorite drink, the Purple Reign.
How to make Purple Reign: A mixture of both the Blackberry wine and their tingling Champagne, Purple Rain makes for the perfect summertime combination to sip as you wander the grounds.

Queen Elizabeth 1st (Connie Pfeiffer)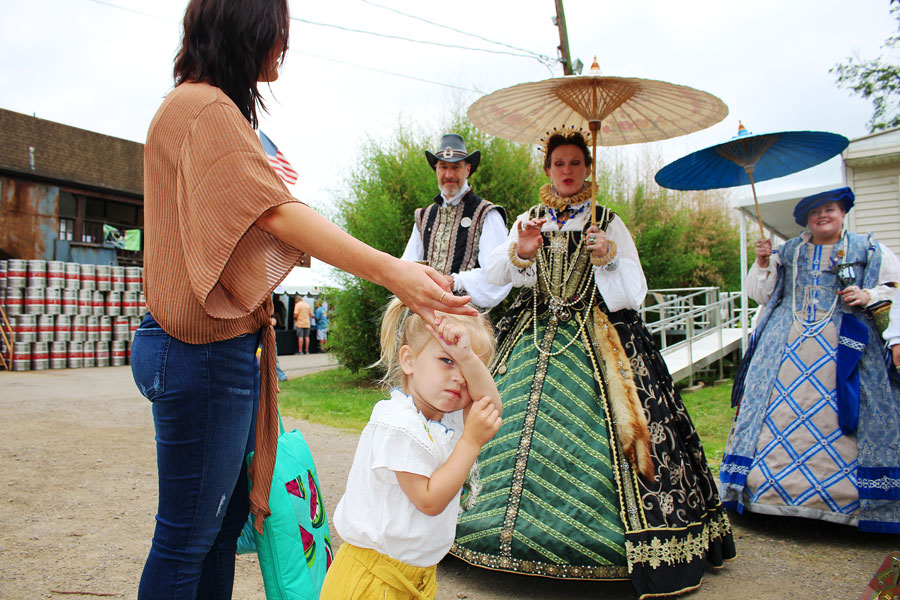 As the day picked up, Her Royal Majesty, Queen Elizabeth the 1st, made an appearance with her entourage, gliding through the venue with her goblet at the ready. As she posed for photos and knelt down to provide little glittering 'gemstones' to curious children, her inviting personality intrigued even the shyest little girl to linger.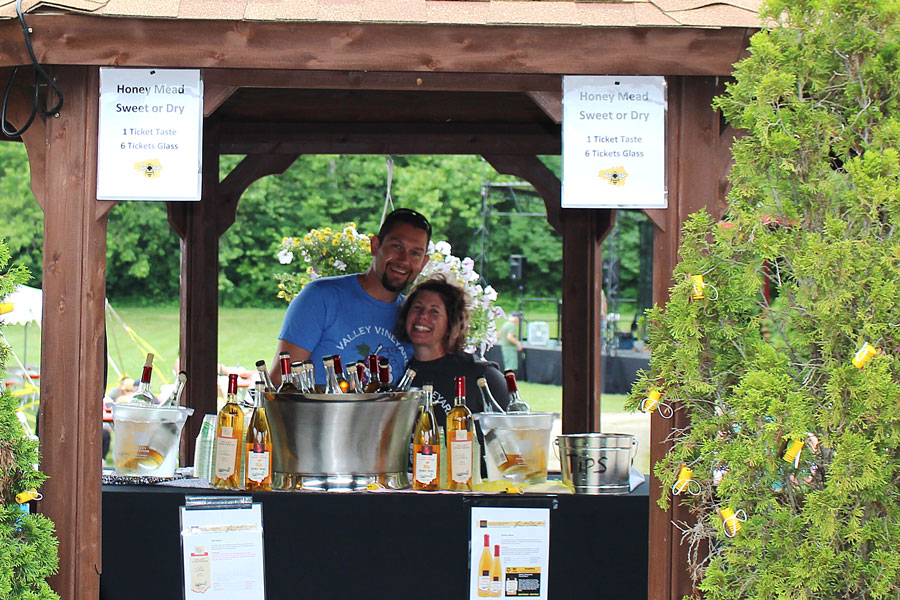 Right around the corner was the gazebo, sporting iced mead! If you've never tried mead, it is a devilishly sweet concoction made from honey that hearkens back to the Viking era. Valley Vineyards boasts a fabulous traditional mead along with a crisp dry and a beautifully aged bourbon barrel variety. But I cannot walk away without a bottle or two of the classic version. You might have noticed I have a thing for dessert wines! What can I say? I like 'em sweet as sin! The golden flavor marries so well with a dark chocolate dessert or a thick, creamy stracchino cheese that it is nigh irresistible. You can find this particular treat at ORF all season long, so be sure to hit the pubs starting in September for this beautiful beverage.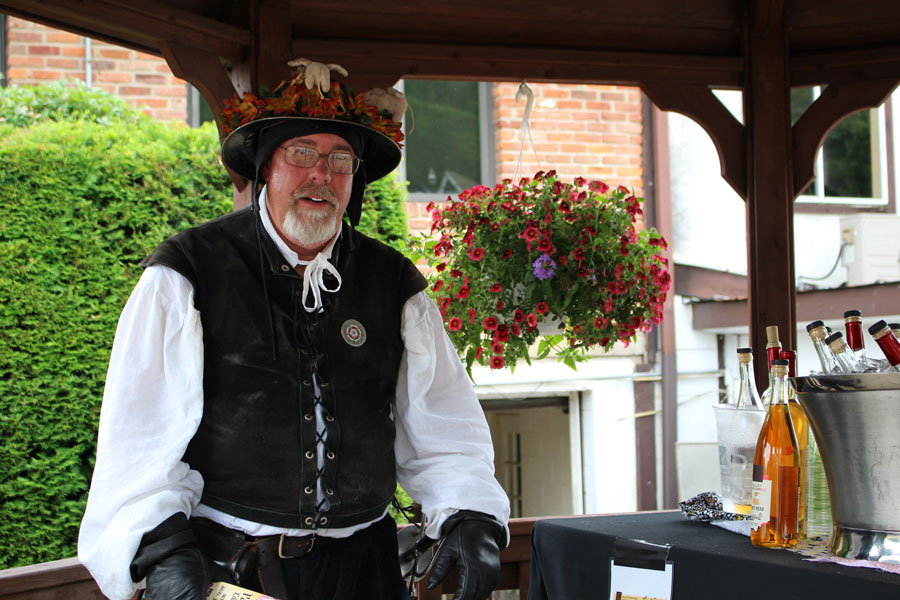 Part of the fun here is getting to know people and asking what their favorites are. A wonderful woman by the name of Tammy was happy to share her thoughts on the Chardonnay with me as she arranged her sample tickets to her liking. People were more than happy to stop for pictures and show off what was they were enjoying. As the crowds began to pick up and the music played on, people danced happily to some of their favorite songs. Now was the time to sit back, relax, and take in the atmosphere as the smell of rain carried on the breeze.
Before heading off for the night, I popped inside to grab a couple of bottles for myself as well as some of their fruity Sangria for a friend of mine. Wine is about friendship, and sharing bottles of your favorites with people you love is just a part of the experience. So you had better believe I'll be pulling my friends to Valley Vineyard and ORF to show them what they've been missing!
Next Week: Celtic Fest Ohio
Join us next week when we check out Celtic Fest Ohio at the Ohio Renaissance Festival grounds!
Correction: Doug Daniels was incorrectly identified as David Dickson in a pervious version of this article.