As the weather turns brisk and the layers come out, so do the hoards of guests determined to pay a visit to ORF. There were plenty of smiles and swords out this last weekend as every iteration of the term barbarian came to play. Everything from Conan to Mad Max made an appearance, allowing for an intensely fun-filled weekend spent out in the village.
---
Vikings Ho!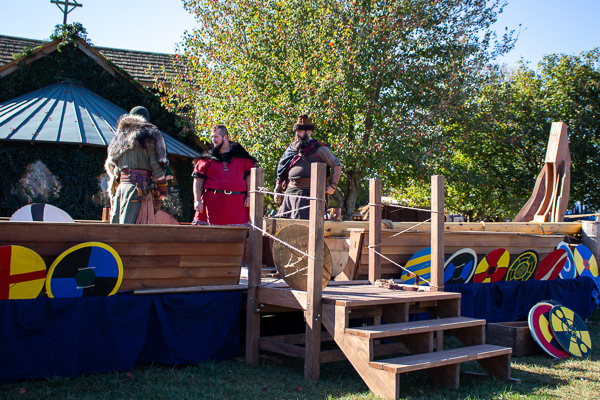 Two encampments of Vikings raided ORF this weekend, representing the Nordic culture of ages gone by. Behind St. Peter's Church we dropped in at the 1:1 replica of an actual Viking ship, The Wolf Tamer, provided by the Ashville Viking Festival. The Wolf Tamer is manned by some of the most amazing people you can meet. The Misplaced Vikings stop here during the Celtic Fest in the summer and Barbarian Weekend during ORF's run to provide you with historical reenactments and give the public a little taste of Viking life.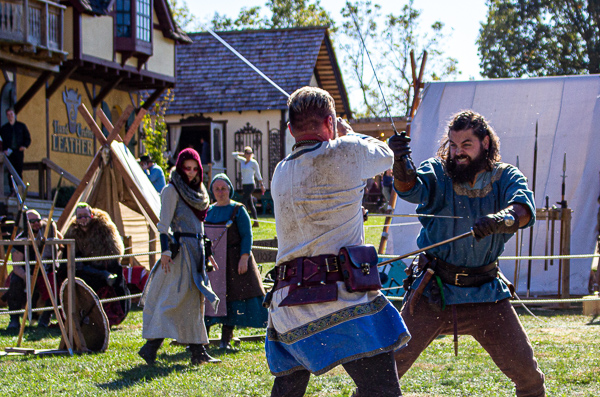 We had a new group on the chess match field, the Ulfhedinn Vikings. This entertainment troop really puts their all into creating an amazingly intricate show full of song, history, and stunt shows. Jarl Aros (also known as Tim Roberts) heads the group, and each player has a character they embrace, fulfilling the role with dedication for the roaring crowd.
We are artisans, storytellers, performers. We have over twenty years of experience between us. We're hoping to add more to the show such as musical performances and rune readings as time goes by."

Jarl Aros
I had fun getting to meet with them and I sincerely hope to catch another of their shows during the rest of the year!
---
Birds of Prey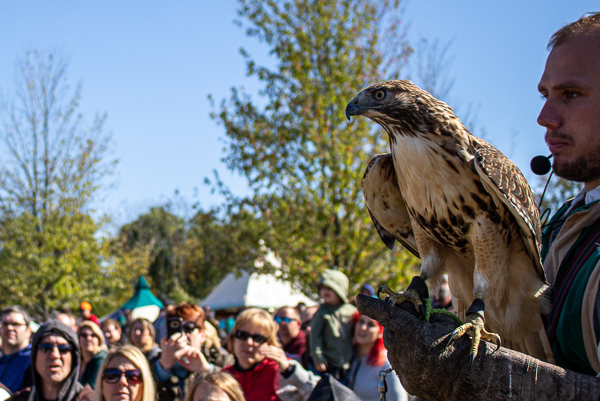 Continuing a sport that has existed for over 4,000 years, Miami Valley Falconry allows you to see some magnificent birds up close and personal. If you head to the Arena of Champions (jousting field) at 11:45 am and 2:15 pm you can watch them display the talents of their birds of prey for the audience.
The sheer power and ferocity of these animals are amazing and you can see why they go to such lengths to protect them. My personal favorites are the barn owls, but Bubo Baggins the Eurasian Eagle Owl is a crowd favorite with his sheer size and huge orange eyes.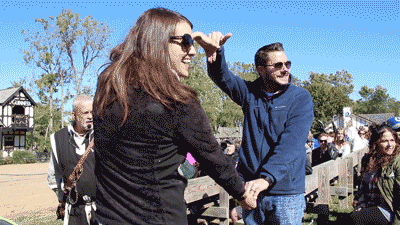 The show includes demonstrations of free flight from the birds, an impressive takedown of some liver attached to an RC car, and a raptor swooping between heart hands held up by a lucky couple from the audience. All of these feats are peppered with education and conservation information about these magnificent birds.
---
Albannach!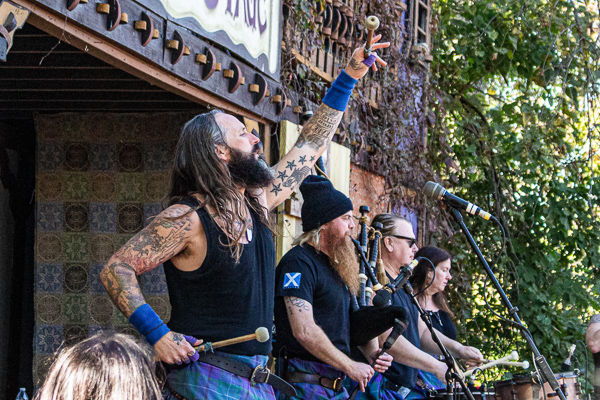 Hailing from Scotland itself, the land of tartan and unicorns (Scotlands national animal), Albannach comes to visit bringing their bagpipes, drums, and songs to the Revelers stage! You never have to worry about missing their show, since no matter where you are at the festival you will hear them! I love being part of an Albannach crowd. As soon as the drums start the dancing begins, and there is nothing like joining in with everyone as they take over the stage. The driving rhythm beats down into your soul, and it feels like a true revival to get lost in the music.
---
Turkey Leg Eating Contest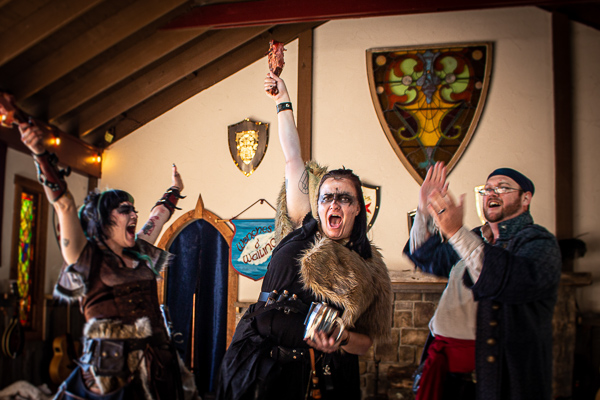 This isn't about speed and it isn't about cleaning the meat down to the bone. This is about the sheer uncivilized brutality of devouring your enemy…which – in this case – is a turkey leg. Vegetarians avert your eyes! It is such a kick to watch people tear into the rich, smoked turkey as they smiled and laughed their way through it. One bold fellow dunked his leg in beer while a fur-clad shield-maiden took a single bit and shredded it! They were all great competitors, but in the end, only one rose victorious. Congratulations to the winner!
---
RESCU Rally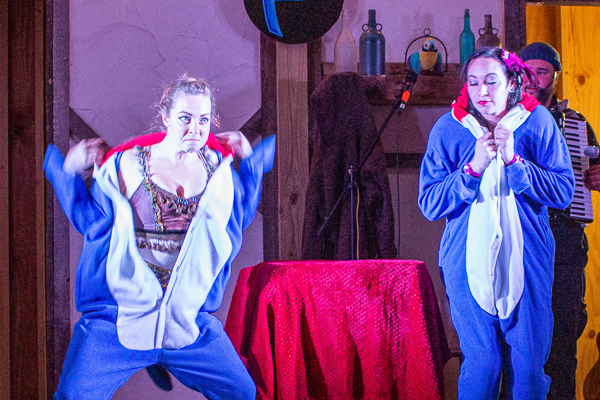 After the crowd retired to their carriages and the lanes belong to the rennies, the day wasn't quite over yet. The Dirty Duchess was commandeered and tables are strewn with items donated from the people who make ORF a truly special place. A table was set up with potluck dishes covering it from end to end, and as the stage is lit, RESCU rally began!
For those who've never attended, RESCU is a 501(c)3 non-profit organization that dedicates itself to promoting the well-being of ren faire performers, artisans, and everyone who helps make a faire possible. The event is usually open only to people who work at the festival, but the ORFans pass holders can also join in!
As the temperature drops, we were treated to special performances from Cirqa Brava, Lads on the Lash, and Stuartski Siskonovich as everyone took a look at the items up for bid. There was a mystery brown bag auction where you could buy tickets and take your chances, a silent auction full of amazing pieces offered up by different people at the festival, and a live auction hosted by John and David. It's no time to be shy, as bidding can get quite competitive. The proceeds go to help support RESCU in its mission to help rennies with medical bills and healthcare.
If you didn't get to come to the rally, it's no problem! You can still donate to RESCU on your own and help support your local ren faire performers. Take a moment to consider helping out. They offer some nifty pins and patches too as gifts for those who contribute.
---
Coming Up…
Later this week we'll be talking about the best things to do during the chilly weather at Willy-Nilly-on-the-Wash! Next up is Romance weekend, so don't forget to buy your significant other a rose and come join us!
---
Barbarian Invasion Weekend In Photos
Romance Weekend is next!
Celebrate Sweetest Day with us! Hearts a-fire as couples renew their vows in a free Mass Renewal of Vows Ceremony held at St. Peter's Chapel. Come back to the blog on October 22 for all of the mushy details!