Waking up that first Saturday after the run brings a sense of bittersweet disappointment to the morning. It's been a little over a week since the gates closed on the 30th anniversary season of the Ohio Renaissance Festival. As the dust settles in the lanes and the temperature drops, we look back at one of the most amazing years that ORF has ever experienced. As I think about the people who put their hearts and souls into this amazing tapestry of creativity and I know they must feel the same way too.
There was no end of things to see and do this year, and even now I keep going back, worried I've missed something important! So what better way to ensure we get everything than to let the people of ORF tell you for themselves! We compiled a video of everyone's favorite moments from the 2019 season, our favorite moment caught on camera, plus a special thank you. Check out the video below.
With that in mind, I thought now would be a great time to take a look back at some of my favorite moments of the 2019 ORF season! There was so much to do and so many people to talk to that I had to sit and revisit everything before I could even narrow it down. In the end, I decided to pick the things I'd never done before, the new experiences I would have missed out on had I not been able to hit the faire every weekend. So let's get started!
---
30th Anniversary Bash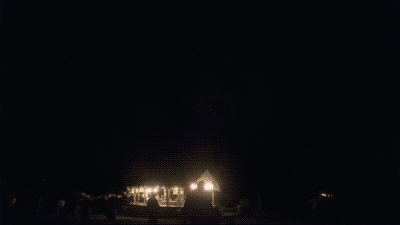 Some things are a once in a lifetime experience. The 30th Anniversary party of ORF was one of them! The grounds stayed open late for rennies and ORFans alike, and the cast really strapped on their boots to ensure all the guests had an amazing time at this one-of-a-kind after-hours experience.
The 1572 BBQ stayed open late and the bars were open, a few of the stage acts stuck around to give us a show, and when the lights went out the sky lit up with fireworks exploding over the grounds! The magic of the moment shimmered through the night and the crowds cheered as the spectacle captivated us.
---
The Swordsman Anniversary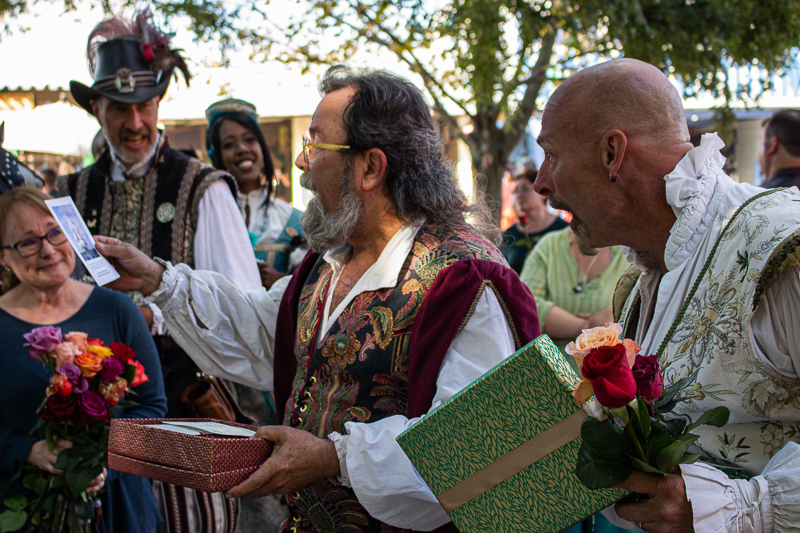 Faire truly is a family. We have our moms and dads, our brothers and sister, and of course the weird uncles! Dirk and Guido are one of ORF's mainstays. It just isn't a true ren faire season without going to see them.
Not only was this ORF's 30th season, but theirs as well. With the combined effort of their lovely wives and the rennies amassed, a 'super-secret' celebration was thrown in their honor with cake, punch, and plenty of roses. The two gentlemen were teary-eyed at all the love and appreciation given, and I truly hope we will continue to see these two perform for another 30 years.
---
Casey of the Kamikaze Fireflies Breaks a World Record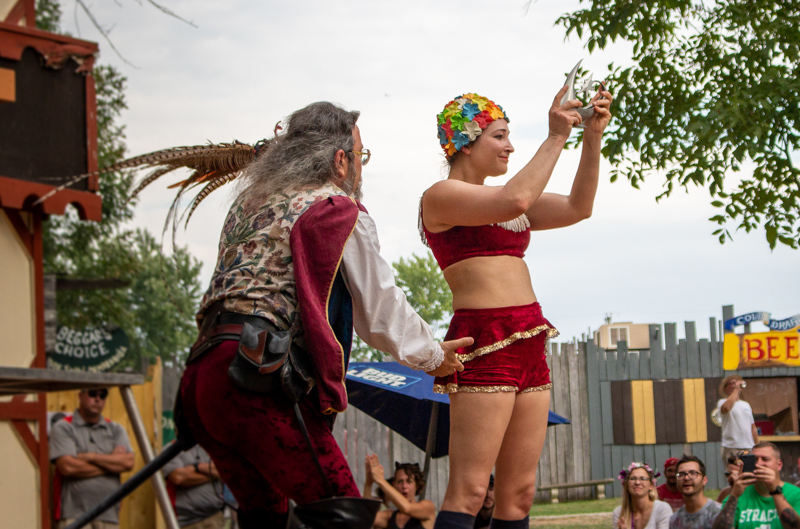 If you weren't there, then you didn't get to share in the wonderful moment when Casey Martin broke her flaming hula-hoop record! The crowd watched as 5 hoops went spinning, the fire whipping around as she swerved her hips and kept her arms high! This was an official record, with plenty of people recording the moment for posterity as Casey received the award! The cheer that rose up from the crowd was deafening, and we absolutely loved getting to see this! Huzzah for the Kamikazi Fireflies!
If you haven't seen our video of the world record attempt, check it out on the ORF blog Youtube channel.
---
Makeup at Brimstone Haunt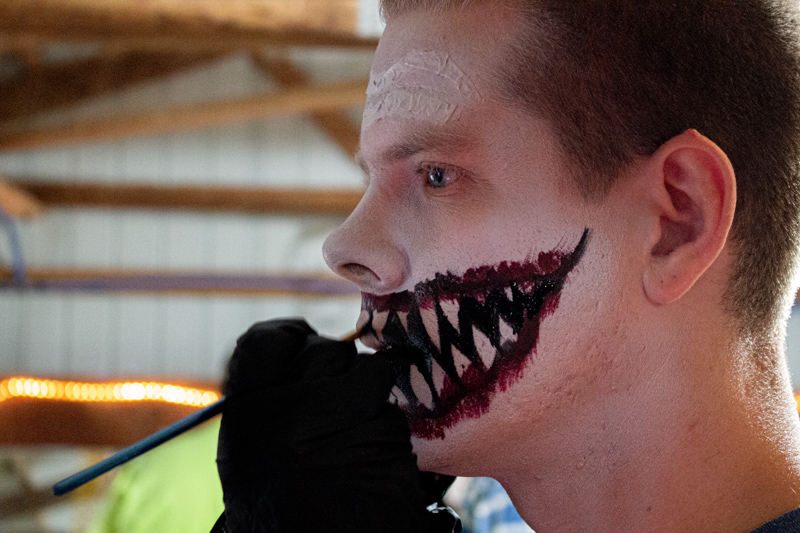 What can I say? I've discovered a part of myself that loves scaring the living daylights out of people! Getting to play with the makeup and prosthetics to create a truly frightful look excited me. I loved watching the artists work as the other actors came in as well as getting to enjoy the unusual aesthetic of horror from this end.
Brimstone Haunt truly has a phenomenal group of people from behind the scenes to the actors themselves, and I hope I get to work with them more in the future.
If you haven't seen our video on the monster makeup transformation, check it out on the ORF blog Youtube channel.
---
Blues Night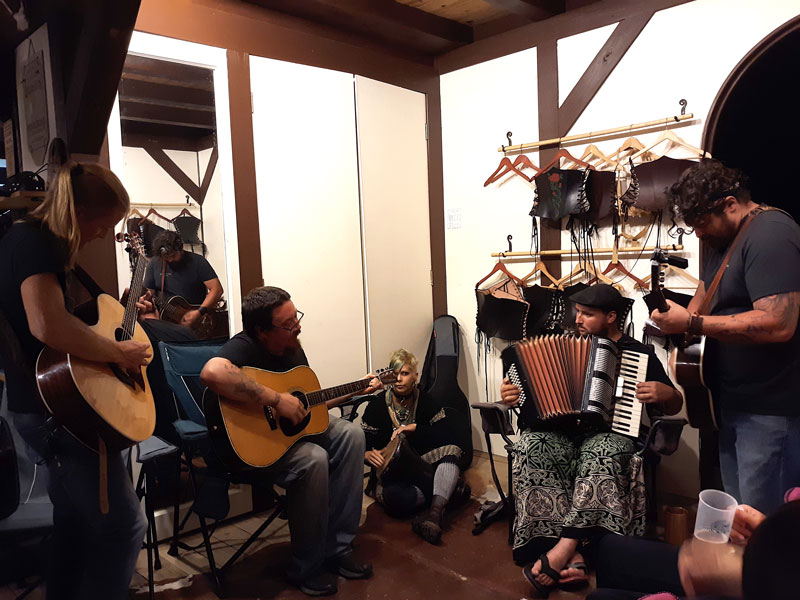 Good food, good music, good company, and fire-spinners. What more could a gal ask for? Hitting up The Brown Cow after sundown for their regular blues night sessions is a fantastic way to wind down after a long day in the sun and sweat.
I loved sitting back and having a good chat with everyone. It's amazing how quickly we lapse from nerd culture into philosophy, hobbies and favorite books just through the natural slide of conversation. BBQ is laid out, the musicians start tuning, and the faire grounds echo with the sounds of acoustic guitars and rough voices singing out old tunes.
If you're allowed to stay after hours I promise you, it's well worth it to swing by and enjoy the jam session.
---
All the New Acts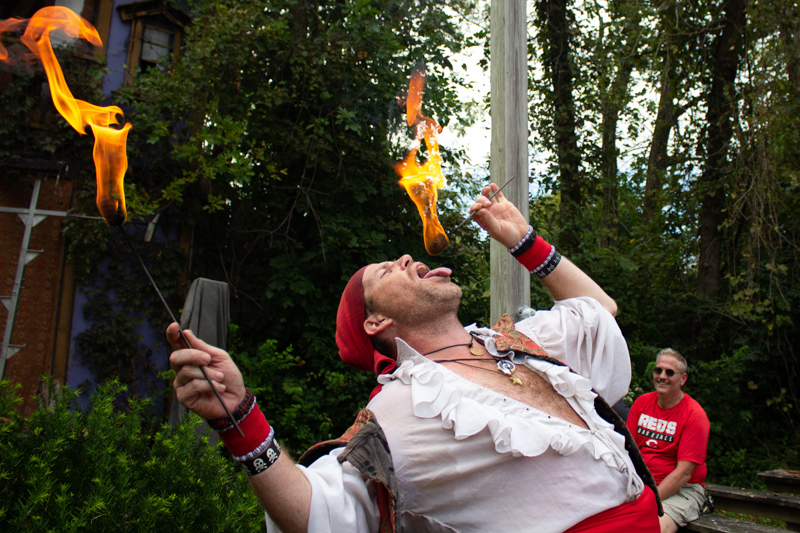 Knotty Nauticals had me in a cackling fit every time I caught one of their shows. The Harmless Danger Juggling Show was wicked good fun. I'm a sucker for the sarcastic humor and this guy delivered. And of course, Theater of Fools struck me hard right out of the gate. It's not often you can see a full comedy show delivered by a bunch of chickens without Gonzo being involved! But they were a fabulous duo and I really enjoyed them.
---
Joining IGW Local 73: Wenches of Myth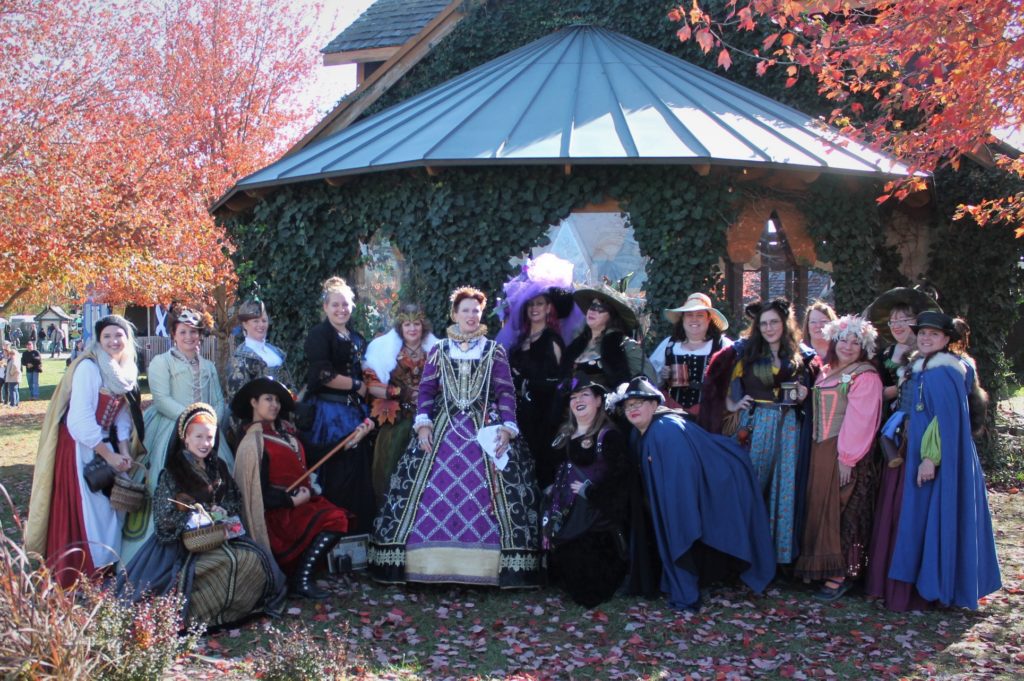 Technically I didn't join until after the run was over, but I started learning about our local wench group during the festival and got to know some of these amazing people! A group of good-hearted 'trouble-makers', the wenches have recently joined in with the atmosphere of ORF, delighted to bring their unique brand of lighthearted fun to events.
I'm excited to get my pin and participate in their future events and I'm so grateful to the ladies who introduced me to this group!
---
We are just getting started
There is plenty more coming your way, so don't forget to check back Tuesdays and Fridays for more blogs on faire culture!