We've only got two weeks left before the 30th Anniversary of ORF, and I think everybody is ready to hear the first canon fire! It excites me to know how many people visit for the very first time and get to experience all the sights, sounds and smells. There is always a great deal of commotion during the Opening Weekend with thousands of people flocking to wander the village of Willy-Nilly for themselves.
One of the best parts of ORF is the stage acts, providing a wide variety of entertainment for their guests. There is no shortage of performers to enjoy and I am fond of telling people that if you sit anywhere long enough, somebody will come by to keep you smiling. Grab a beer, find some shade, and see who (or what) pops onto the stage next.
While there are some personal favorites of mine I can't wait to go and see, I am always excited to see new acts come through the faire. Most of them are practiced veterans of other festivals, although now and again a promising newbie has come through to the delight of the crowds. Let's take a look at some of the acts coming to the Ohio Renaissance Festival in 2019!
For a full list of shows, new and returning, for the 2019 season, check out our entertainment page.
---
Rick Stratton – Hypnotist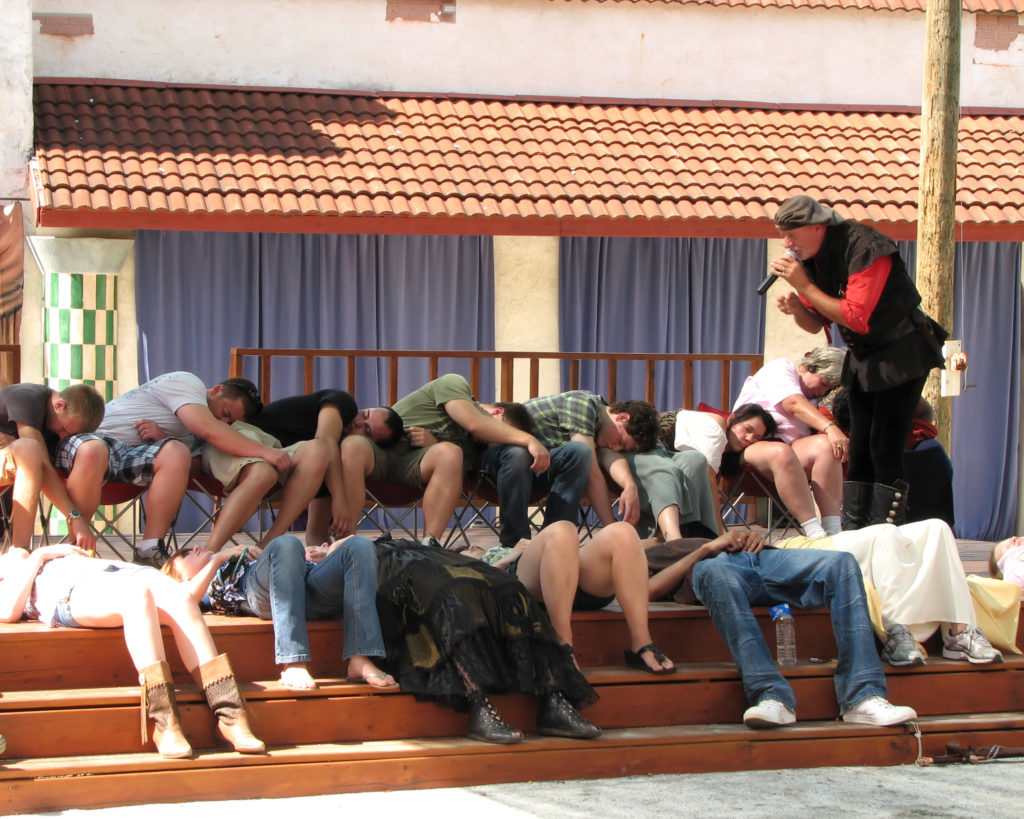 I never know quite what to think of hypnotism. I like being taken in by the moment in much the same way that we all let ourselves believe in magic while watching sleight-of-hand tricks. There always seems to be a debate about whether or not what you are seeing is 'real', but to me the point is moot. It doesn't matter if it's real, what matters is that it's happening right now.
Rick Stratton is a hypnotist with a prolific career both on and off stage. His performance is a bold mixture of comedy, education, and hypnosis, allowing the audience to participate in new and inventive ways. From the looks of his website, everyone seems to be having a rollicking good time! I'm really interested to see what he does and how he pulls the audience into his act. You can catch him for yourself at 2:45 p.m. On the Revelers Stage across from the Camel and Pony Rides.
---
Rick & Jan Show featuring Snorkel The Dancing Pig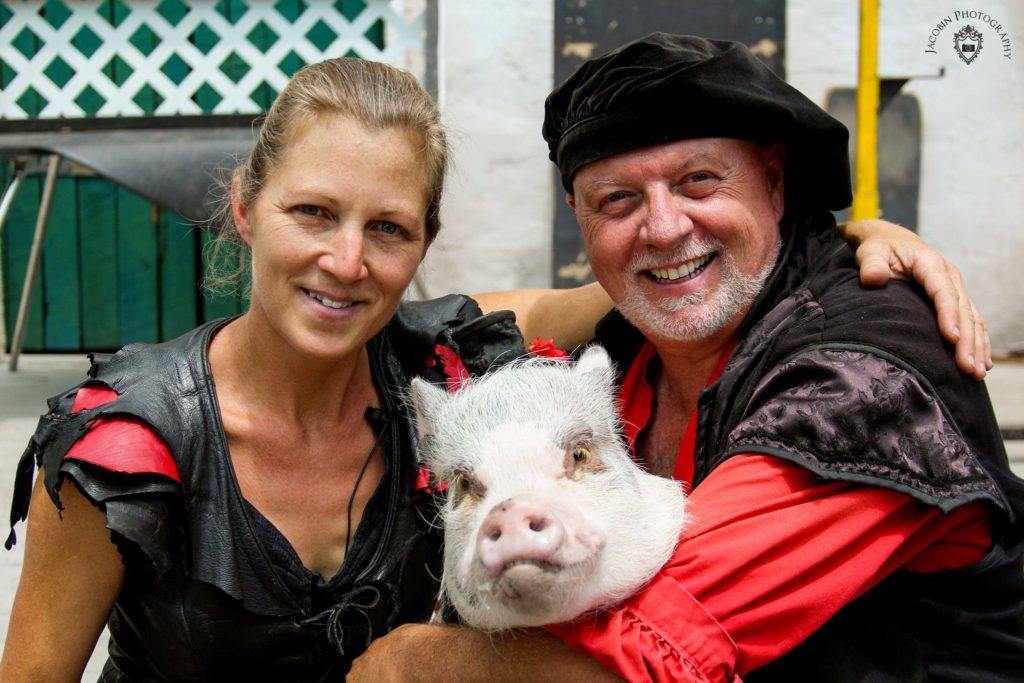 Not gonna lie, I am a sucker for animal acts! All it took was one look at those cute brown patches around his eyes and I am sold. While I've never considered pigs to be particularly graceful, they are wonderfully intelligent creatures. So it comes as no surprise that they are trainable. I'm excited to see what this little guy can do, and I'm sure Snorkel's mom and dad will be pretty entertaining as well!
Rick and Jan have 25 years as touring performers under their belt at a variety of different venues. They refer to themselves as a variety show with "more culture than a bucket of yogurt!" which to me means there will be a little bit of something for everyone. With juggling, jokes and of course Snorkel himself, it's sure to be a blast. You can find them at 12:15 p.m. and 3:30 p.m. At the Revelers Stage across from the Camel and Pony Rides.
---
The High Flying Fools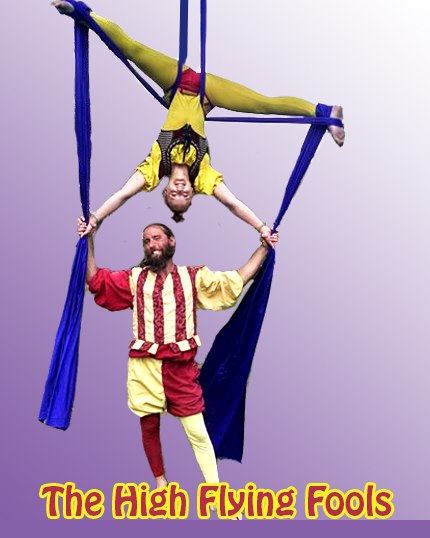 More and more acrobatic acts have been popping up at ORF, and I just can't get enough of them! It takes some real coordination to balance comedy and physical entertainment at the same time. I love watching the silk dancers spin around and show off their powerful muscle control. It's always a crowd-pleaser, especially when you add in their flexibility and an unusually bad taste in puns.
High Flying Fools, also known as Pester and Soso, promise high quality, family-friendly entertainment. Dubbing themselves "Circus for Idiots", I feel we expect some seriously amazing things from these two. They have four shows, so you'll get plenty of chances to catch them in action at 12:15, 1:45, 3:15, and 4:45 p.m. at the Dragons Lair stage next to the Tower of London.
---
Harpist and the Minstrel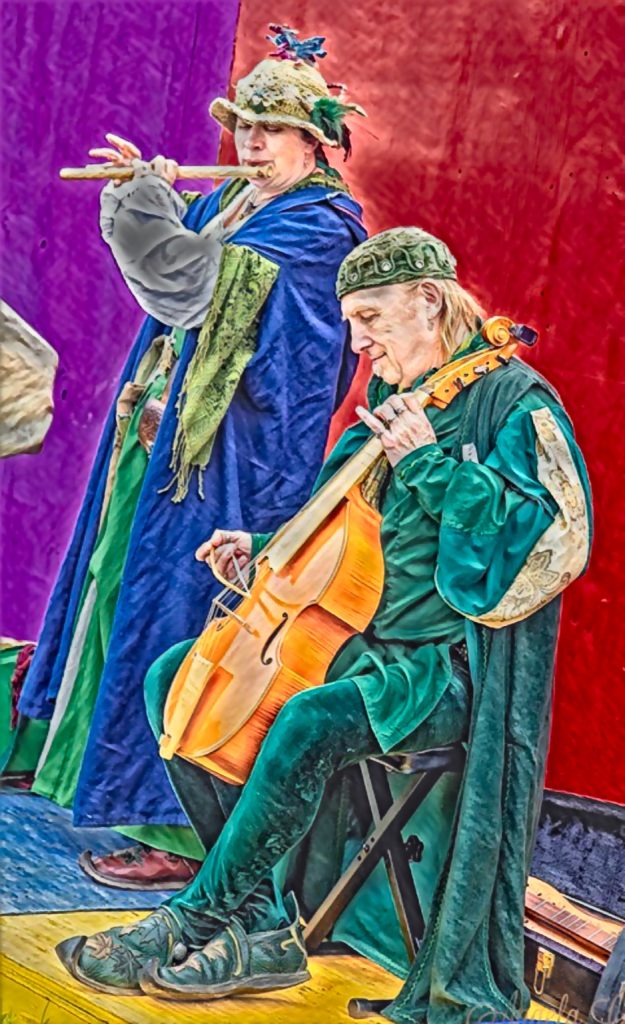 Nothing quite compares to the music found at faire. In an earlier article, I talked a bit about how ORF helped develop my taste in music, introducing me to Celtic ballads and pirate sea shanties. Music is a part of faire culture, keeping traditional tunes alive and providing unique artistry to the venue that you can't find anywhere else. It's a pleasure to see more musicians coming to ORF, and I'm really excited to see what they bring to the festival.
Having performed together since 2002, this husband and wife team operate as accomplished musicians in Renaissance festivals, farmers markets, and churches all over North America. With knowledge of over a dozen instruments between them, I think it will be a truly fascinating experience. You can find them at 1:00, 3:00 and 4:30 p.m. at the Lorelei Biergarten across from DaVinci's Pizza.
---
Theater of Fools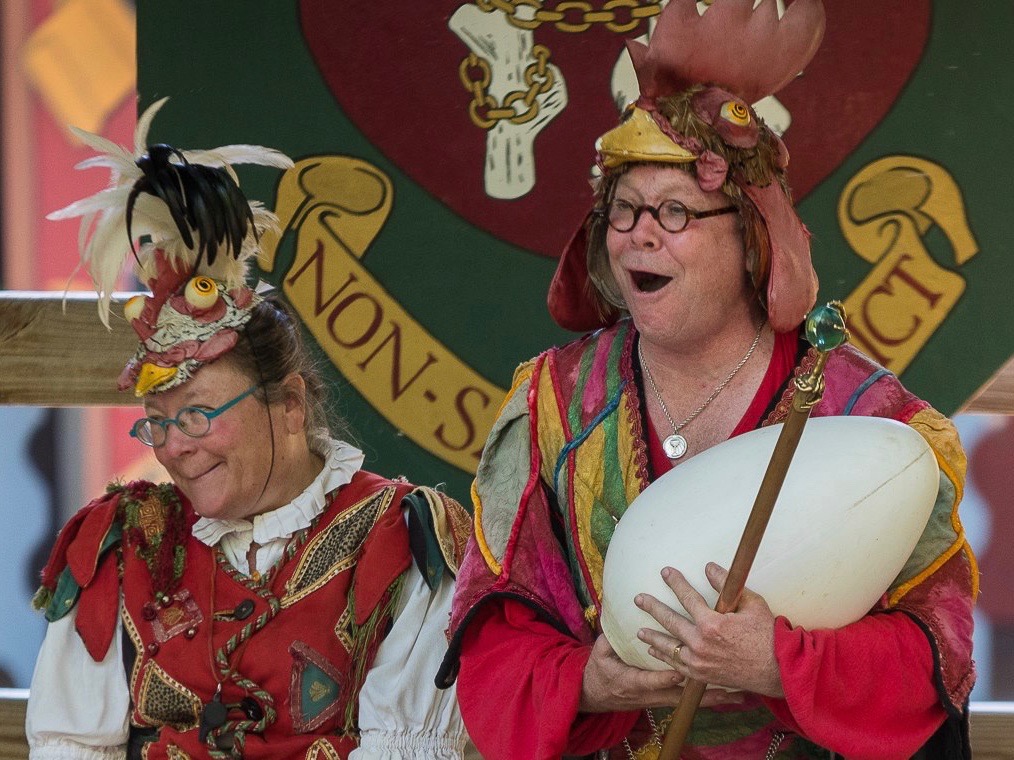 People come to a faire to laugh! You can tell what the best shows are by how loud and enthusiastic the crowd is. The engagement between audience and performer is something special, so it's no surprise to find that many of the most popular acts are comedic ones. Each act has its own way of getting a smile out of you, some more eclectic than others.
Or in this case, e-cluck-tic!
Theater of Fools will be hitting the Ohio Renaissance Festival for a limited engagement! This colorful husband and wife team bring their bizarrely charming routine to the stage, taking inspiration from traditional theater and clown acts. They have been at this for decades, touring the country as professional clowns and even founding the Emergency Clown Nose Company. Theater of Fools will be at ORF for the last two weeks of the festival, so keep checking back for their available times and location.
---
Ohio Renaissance Festival 2019 Promises to Be Full of Fun!
With all of this on top of the returning favorites, it's no wonder you need nine weekends to take it all in! The best thing you can do is grab a schedule as soon as you hit the gate (or our interactive festival grounds map). Check the Marque Board next to the ATM! They'll put special events and times there for your consideration so you can adjust if there is something for 'This Weekend Only'. Now is a great time to get season passes. Once you see how much there is to do, you'll want to come back every weekend!
Want to share your ORF experiences with everyone?
Be sure to tag #orfstories on Instagram and your pics might end up on the homepage!