Did you know there are over 40 different stage acts and performances at the Ohio Renaissance Festival? From singing to comedy, stunt shows to animal acts, everywhere you turn you will find a different display to enthrall and delight your senses. Every year, ORF does it's best to put forth some of the most skilled performers they can find, each of them with years of practice under their belt. They present their best to the audiences and all they ask in return is your applause (and maybe a fiver in the tip basket).
While many acts are there for the breadth of the nine-week run, some are surprises brought for only a week or two. Some are special engagement while others come as a visit and decide (with permission) to do a little work. You meet some of the most fascinating people, well-traveled and eager to bring their talents out. We had many new special acts come to the grounds this year, and it was wonderful to see the new shows mingle in with the familiar.
While each of these creative people deserves their very own closeup, I want to present to you the favorite acts of the 2019 season as voted on by the ORFans, our growing fan club of ORF playtrons and guests. There were a few clear standouts as well as some new and lesser known among the tally, and it's nice to see them getting some well deserved attention. I sincerely hope this will mean returning favorites as well as more new performances for the 2020 season!
---
#10: Pirate Comedy Stunt Show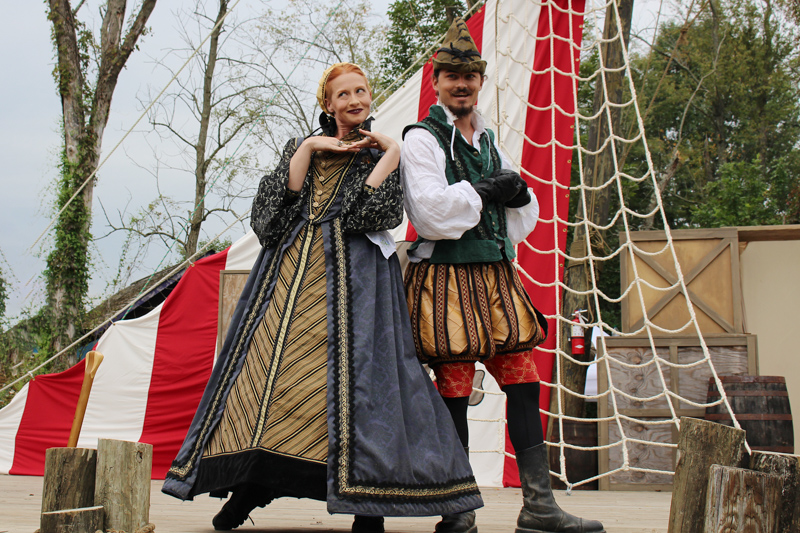 Every year the cast of ORF turns out some amazing stunt shows from their fighters guild. They spend months coordinating their blend of comedy, action, and drama into a wonderful 30 min show at the Shipwreck Stage and Chessmatch for the entertainment of the crowds! This year they had a huge crew joining them including pirates, sea dogs, the village and even a few nobles! They had the crowd laughing in the aisles as they bantered back and forth in a slapstick version that was half Captain Blood, half Men in Tights!
---
#9: Lads on the Lash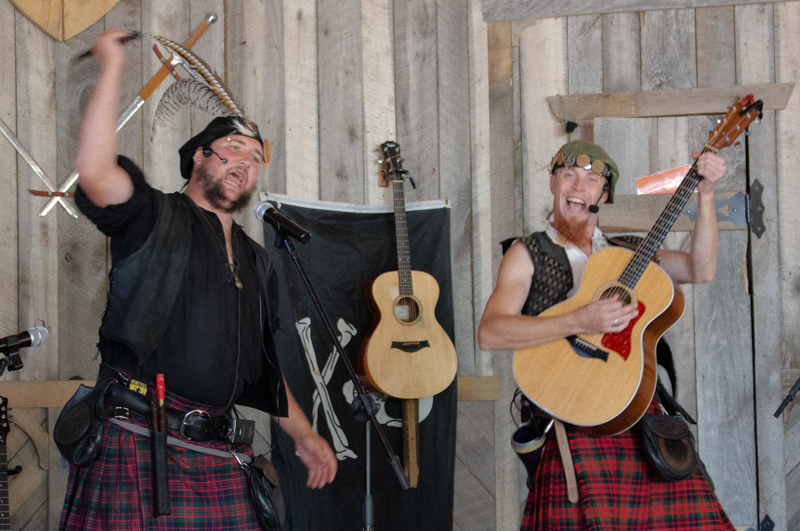 This sweetheart duo of sings brought fun to the faire with their upbeat songs. They had a great sense of camaraderie and they brought that energy both on and off the stage, performing at 3 Fools Pub, RESCU Rally, the Naughty Bawdy, and Pub Sing. Every musician has a different style of music that helps draw the crowd in, and these two are no exception. As quick-witted as they are cunningly kilted, Lads on the Lash was a welcome addition to ORF this year.
---
#8: Christoph the Insultor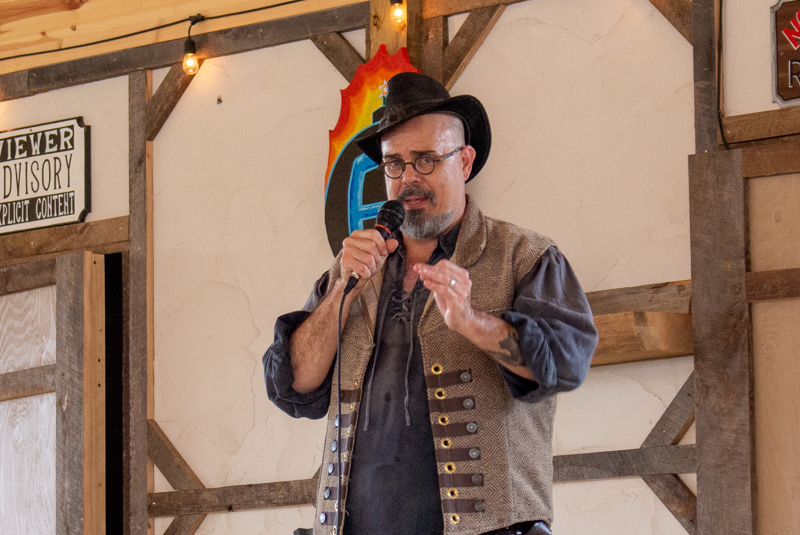 Rare is the talent given to one of such a loquacious tongue so as to insult you directly to your face and make you glad you had the opportunity! A festival favorite for years, Christoph is a professional comedian, writer, and smart-aleck who has been keeping crowds entertained for years. He has a book coming out in 2021 called The Blacktongue Thief, and recently wrote an episode – called "The Man in the Suitcase" – for the revival of Creepshow on the streaming service, Shudder. A dedicated performer and creator, he never failed to bring a smile to those around him, even at the cost of their pride!
---
#7: Father, Son & Friends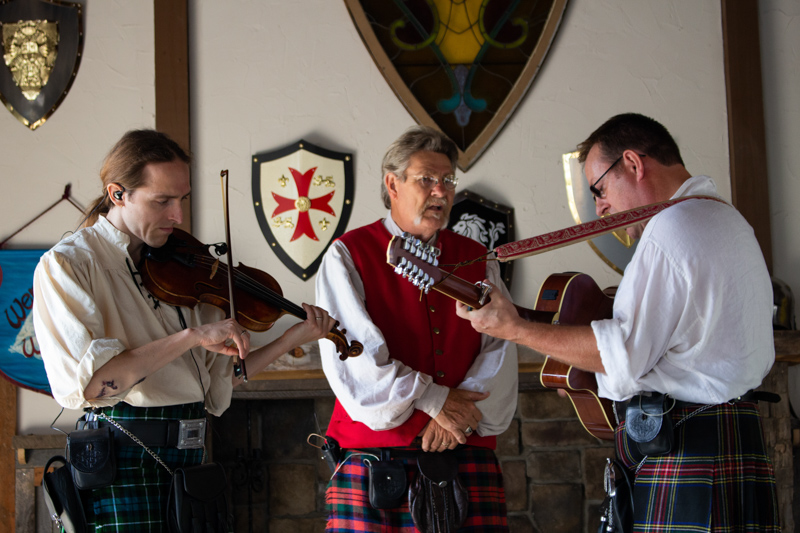 Say what you want, Pub Sing doesn't start until these guys hit the stage with the ORF Cast for a chorus of the Mingulay Boat Song! Father, Son & Friends has celebrated 30 years together, bringing the joy of ribald Irish music to thrilled people. They play at Celtic Fest Ohio as well as the Dayton Celtic Festival and are well known for their proud and unyielding voices carrying out over a packed pub.
---
#6: Miami Valley Falconry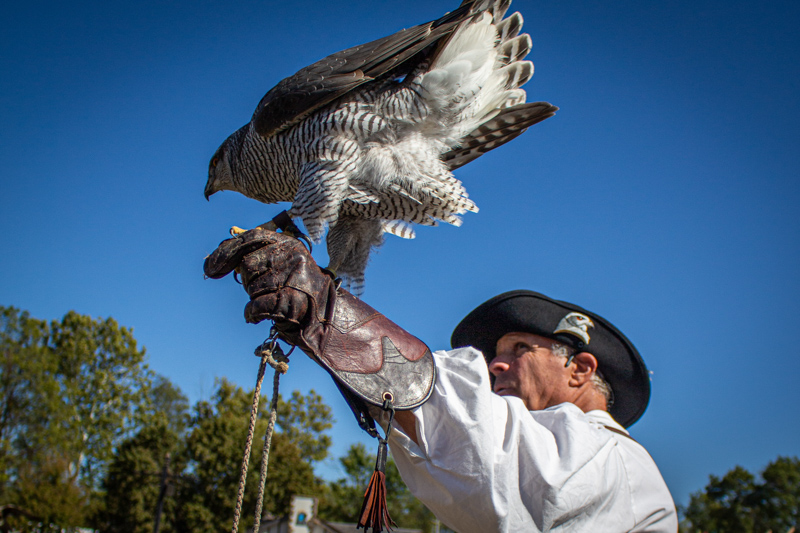 Bringing to life an ancient sport, these falconers preserve not only a tradition going back thousands of years but the lives of the birds of prey they care for. They put forth the time and effort it takes to train these beautiful wild animals and prepare them for live shows. It's amazing to watch the natural skill of these birds as they swoop and dive, taking down prey – or in this case a remote control car – or sliding in through the outstretched arms of two volunteers.
---
#5: The Swordsman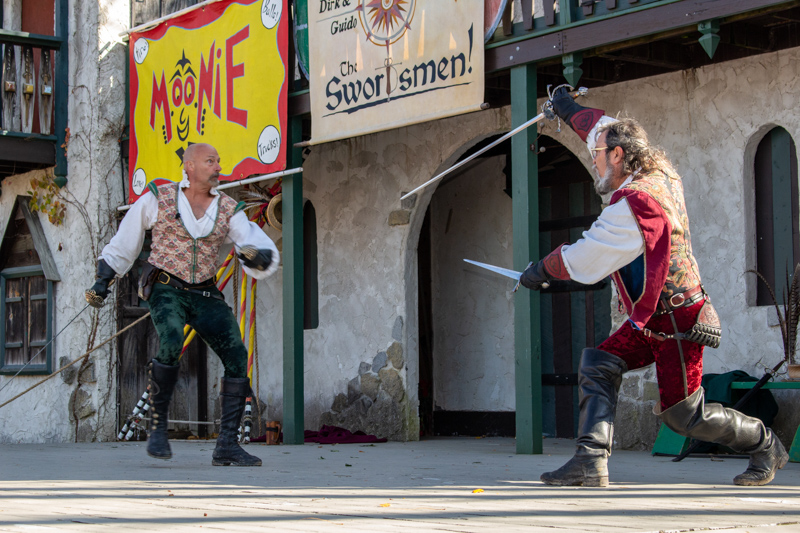 You know them, you love them! It's Dirk and Guido, Itinerant Gentlemen Adventurers! These two have been giving people true examples in the manly arts of sword-fighting, posing, and wearing very tight pants for 30 years. Their swagger and sense of humor never fail to delight, and it is wonderful to watch them play out their showmanship on stage. We got to help them celebrate their anniversary this year with a special surprise party full of tears and laughter. So here's to another 30!
---
#4: Band of Pirates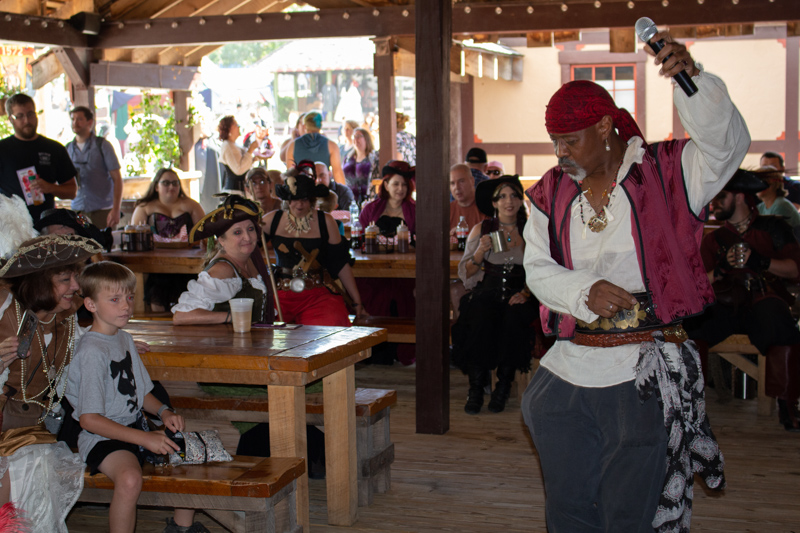 Looking for a bunch of scurvy sailors to keep your pub cheering? Look no further! This lot will bring the crowd into the show with a variety of sea shanties both old and new. They jump up on the tables and go dancing through the aisles with lively wenches, singing the whole time. Their bouncing beats drive home songs that you just can't get out of your head! Band of Pirates put out some extra special performances during the ORF Birthday Bash and Pirate Weekend that kept us clapping the entire time.
---
#3: Circa Brava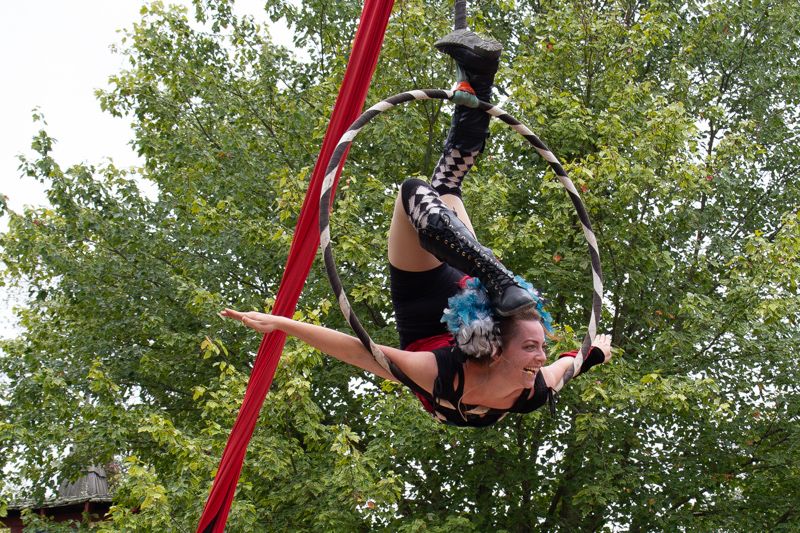 These two lithe ladies stun and amuse with their high flying acrobatics and goofy sense of humor! Between defying gravity on the aerial silks, spinning towards the ground in a blindfold, or twisting themselves till they can literally stand on their head, the Circa Brava duo pulls out some amazing feats. It's great fun to watch them tease the volunteers they pull up on stage, and it always gets a big laugh out of me!
---
#2: Moonie the Magnificent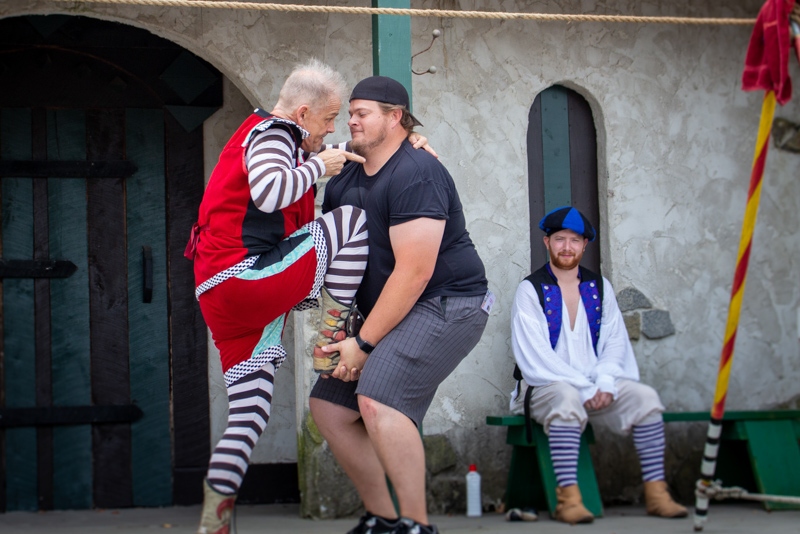 Fa-la, fa-la-la-la. If you don't have that running through your head then I'm not sure you really went to go see this guy! This off-beat brand of comedy, fire juggling, and tight-rope walking is a stunning way to spend a half hour. Moonie's ability to convey sarcasm, jokes, and the punchline with only whistles and expressions is an unusual routine, making the audience truly pay attention to the act and drawing them in so they don't miss a moment.
---
#1: The Kamikaze Fireflies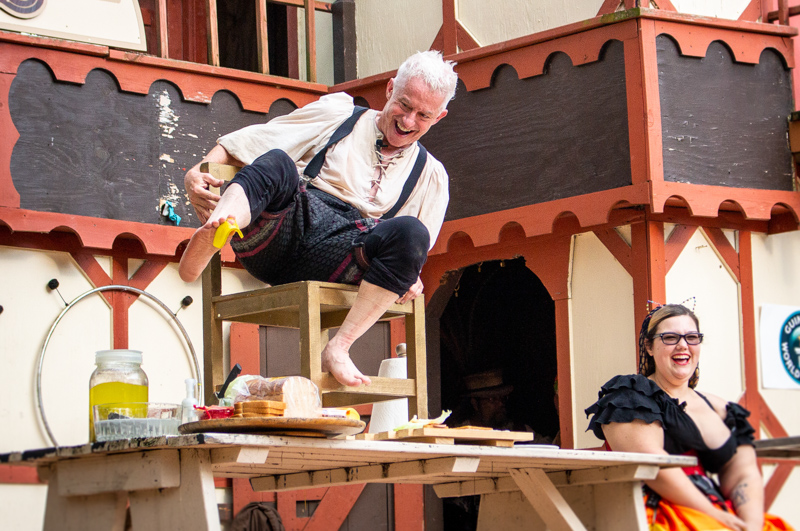 No, your eyes are not playing tricks on you. That is a man making a bologna sandwich with his feet! Just one of many amazing talents displayed by the Kamikaze Fireflies at ORF! This year Casey broke her own World Record by spinning 5 flaming hula hoops around her body for the thrill of the crowd! Every show is a delight and they are always finding a way to bring new acts and new sights out onto the stage. Their tongue-in-cheek sense of humor puts everyone in a good mood, and you find yourself enthralled for every moment of their performance.
---
With each passing run, we see the ren faire develop more as one of Ohio's most stunning attractions. It introduces people to a world outside of expectation where entertainment comes with fresh air and joy included. I sincerely hope the future continues to bring forth more brilliant shows from these great folks. Each season brings new attractions, and I can't wait to see what happens next!
Who were your favorites from 2019? Post with the #orf19 and #orfstories to Instagram to let us know who you loved!
Coming up this Friday – The Most Amazing Costumes at ORF!